This post has been sponsored by Vermont Creamery, but all opinions are mine.
Last summer I made a big mistake.
The TV feature on IGTV had just come out. I wanted to share a quick video of me making a recipe shot with my iPhone. You know, one of those casual videos showing me as I make a dish. I had been making a lot of galettes (with homemade galette dough) using the stone fruit that was in abundance, so I thought to myself, what is a better way to celebrate IGTV than making my favorite summer dessert, this peach and blueberry galette recipe.
I prefer you not to watch it, but if you do you will quickly realize that being in front of the camera is not my forte´. Still, I got through it, and in spite of all the discomfort I felt about putting myself out there, I hit publish.
The format, I decided, should be simple: Make a quick and straightforward recipe with step by step instructions and provide the recipe at the end of the video.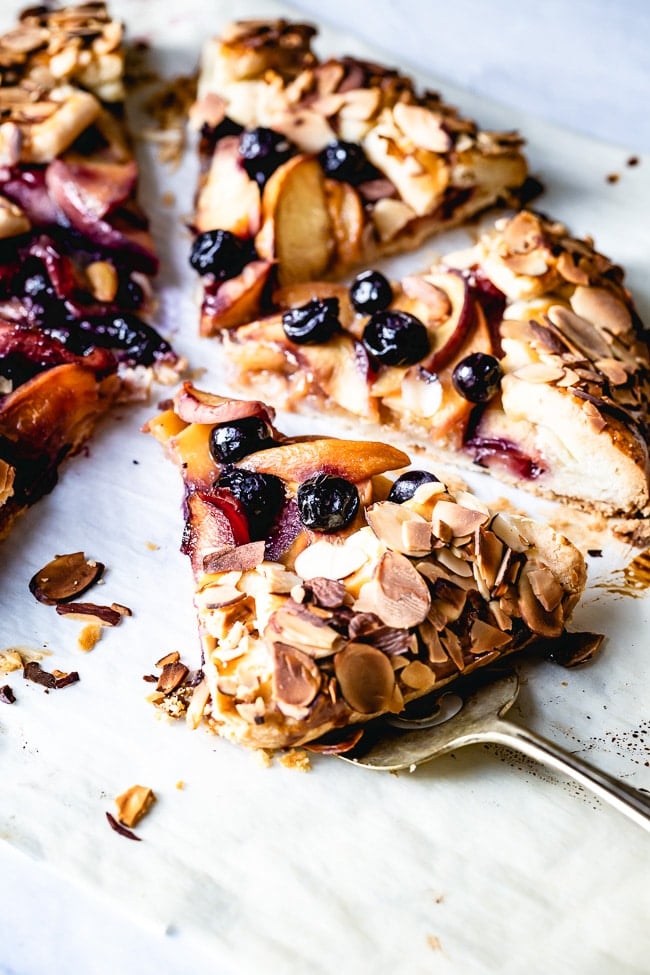 I kid you not, in less than 30 minutes after I hit publish I had over 35 DMs telling me that I left out the most important ingredient in the recipe. On that day, the Instagram algorithm that usually ignores the existence of my posts decided to show my video to what it feels like the whole world and I forgot to include the butter in the ingredients section of the recipe.
I felt embarrassed. The imposter syndrome fully kicked in and for a long while I thought about deleting my account and ignoring Instagram altogether.
Of course, having been a full-time blogger, I didn't have the luxury to do that. Instead, I apologized to every single person who pointed out my mistake and moved on. Don't ask me why I didn't delete the video and republish it. I don't know.
So this year, when folks at Vermont Creamery reached out to see if I wanted to feature their new cultured butter (that is sold in stick format) in a recipe, I knew exactly what recipe to use it in.
This time, believe it or not, I made sure that the butter is included in the recipe.
What is a galette dessert
A galette is a rustic French dessert made by rolling the pastry dough into a large circle, filling it with fruit, and then rolling the edges of the dough onto the fruit before baking it directly on the baking sheet rather than in a pie pan.
The galette dough is very similar to pie dough but easier to manage since there is no fitting into the pie pan or cramping that needs to be done. Unlike carefully decorated picture-perfect pies, galettes usually look rustic and more amateur-like. To me, it is the easiest way to enjoy a fruit-filled buttery pie without the extra work.
How to make a galette with blueberries and peach
This blueberry peach galette recipe has four folds:
Make the galette dough
First, you make the galette dough. The dough recipe I use here has only 4 ingredients: All-purpose flour, kosher salt, unsalted butter, and water.
If you have ever made any pie dough before, you know that the most important ingredient here is the butter. When it comes to butter for galette dough, I prefer cultured butter (some people call it European Style dough) that has over 82% fat content. I find that it produces an easy to manage galette dough and a flaky and nicely browned galette at the end.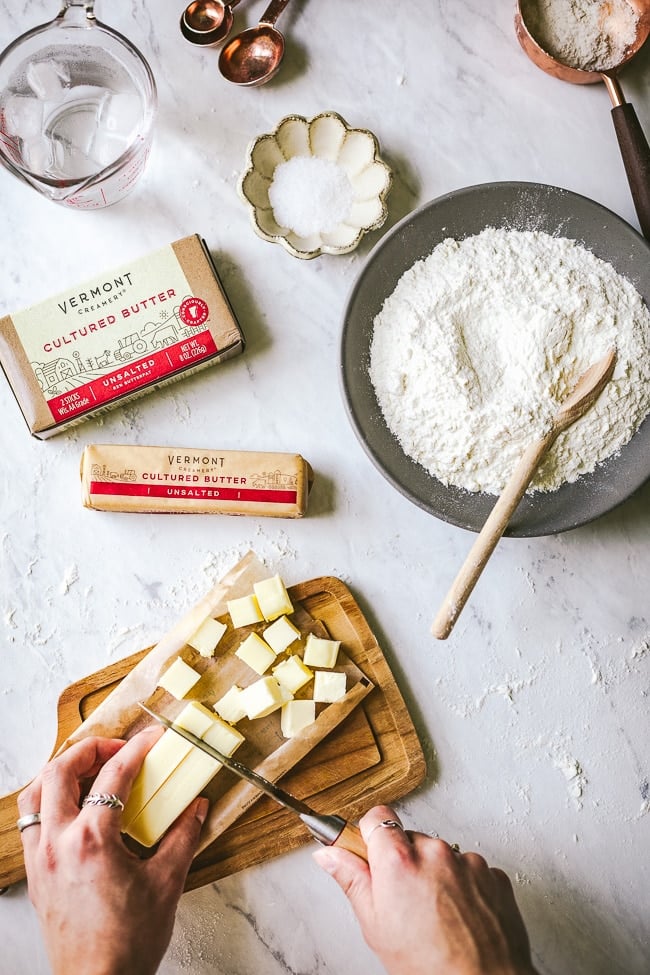 And when it comes to butter, Vermont Creamery's cultured butter is my favorite. They recently started selling it in an easy-to-measure stick format that is not only delicious but also convenient for all your cooking and baking needs.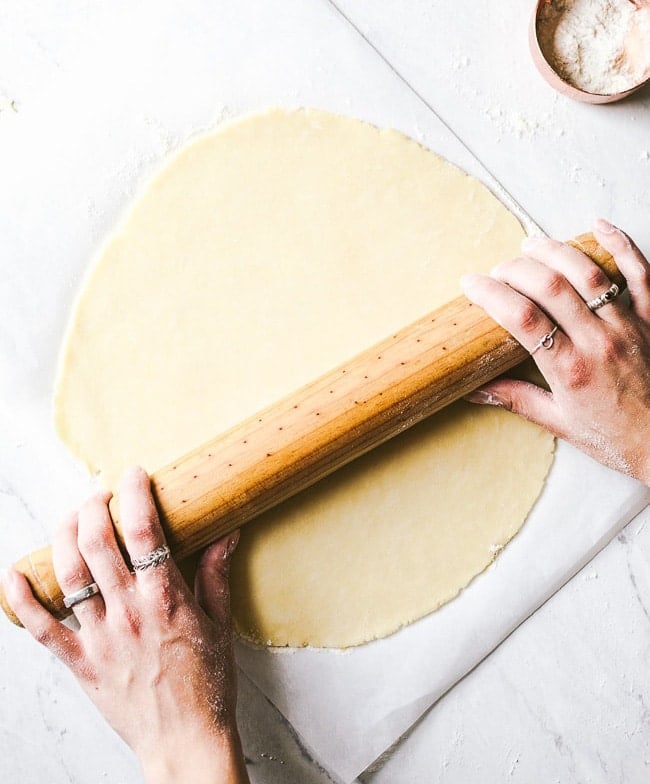 I recently published a blog post with all my tips and tricks for how to make the best galette dough recipe. Feel free to give it a read to learn more about how to make a foolproof and easy-to-make galette dough.
Prepare the fruit filling:
The second step is preparing the filling. In terms of fruit, I used peaches, plums, and blueberries. While you don't have to add plums, I find that it breaks the sweetness of the peaches and gives the end product a welcome sour taste.
I sweetened the fruit filling with a little bit of coconut sugar. I find coconut sugar to be a bit healthier, but if you don't have any, you can use brown sugar instead.
To prepare the fruit filling, slice the peaches and plums in ¼-inch thick slices and place in a bowl with the blueberries. Sprinkle it with coconut sugar and let it macerate while you are waiting for the dough to cool in the fridge.
Assemble and bake:
The last step is assembly. To do so, roll out the galette dough into a 12-inch circle. Sprinkle the dough with almond flour (or almond meal) for additional nutty flavors. This step is optional. If you do not have almond flour, you can skip it.
Place the fruit filling in the center of the dough mounting it in the middle. Be sure to leave 2-3 inches border around the edge.
Fold the edges towards the middle onto the fruit pleading gently every 2-3 inches. Brush the galette dough with an egg yolk and sprinkle it with almond slices.
Bake in a preheated 375 F Degree oven for 50-55 minutes for a delicious, flaky, and rustic peach galette recipe.
How to serve this fruit galette recipe
I don't know about you, but I think this fruit galette is best when it is served with a scoop of vanilla ice cream on top or a dollop of creme fraiche on the side.
You can wait for it to cool down a bit or slice and serve warm. It is totally up to you.
A Word on the sliced almonds on the crust:
When I first baked this blueberry galette, I was a little worried that the thinly sliced almonds wouldn't be able to stand the 50-minute 375-degree oven heat and burn. However, this was not the case.
Yes, they were browned a little bit, but not burned at all. And they added a nice crunch to the overall recipe.
I wanted to mention this just in case you had that question in mind as well.
Variations for this peach blueberry galette
What I love about this blueberry and peach galette recipe is that it is so versatile. You can use any fruit you have on hand. Below are a few variations that you can make with summer fruits:
Blueberry Nectarine Galette: Swap peaches with nectarines
Peach Blackberry Galette: Swap blueberries with blackberries
Nectarine Galette Recipe (or 1-type of fruit): If you prefer, you can use only one kind of fruit. Nectarines, peaches, apricots, blueberries, etc. all work well for filling in this recipe.
A Few FAQs answered for the best peach and blueberry galette:
Can I use canned peaches? If peaches are not in season, you can use canned peaches instead. Though I would recommend draining them as extra moisture may cause a soggy galette. Additionally, since most canned peaches are mixed with sugar syrup, I recommend skipping on adding any sugar into the fruit filling.
How about peach galette using frozen peaches? While my favorite peach galette recipe is made with fresh summer peaches, you can make this recipe with frozen peaches that are fully thawed. If you decide to do so, be sure to thaw your peaches on paper towels so that they are fully softened and not too watery.
Can I assemble this galette in advance? You sure can. I usually assemble the whole thing an hour before serving and keep it in the fridge until I am ready to bake it. The important thing is to make sure that you are draining the fruit filling to get all the liquid out (because we do not want a soggy dough) before placing it onto the galette dough. Also, keeping it in the fridge and baking in a preheated oven help to produce a flaky galette recipe.
How about peach galette with puff pastry? Can I use storebought puff pastry instead of galette dough? Yes, you can. Though in my opinion, the version made with galette dough is better. Still, if you prefer the convenience of puff pastry you can follow the recipe exactly as is and use it instead of the homemade galette dough. The only difference would be the time of baking. Puff pastry bakes faster than pie crust so I recommend baking in a 425 F degree oven for 15-18 minutes or until the crust turns golden brown.
Other peach and blueberry recipes you might like:
Other peach recipes you might like:
Peach Blueberry Galette Recipe
This delicious Peach Blueberry Galette recipe has all the amazing flavors of a pie without all the stress. It is a rustic fruit tart recipe you can make in no time.
Make the easy homemade galette dough, fill it with the juicy summer fruit, fold the sides of the dough onto the fruit, and bake for the ultimate summer dessert. 
Print Recipe
Ingredients
For The Galette Dough:
1 ½

cups

(213 gr.) of all-purpose flour, more to flour the surfaces

½

teaspoon

kosher salt

10

tablespoons

(142.5 gr.) cold unsalted butter, cut into small cubes

4-5

tablespoons

ice-cold water
For The Filling:
2

medium-size peaches

sliced ¼ inch thick slices

1

plum

sliced ¼ inch thick slices

½

cup

blueberries

1 ½

tablespoons

coconut sugar

or brown sugar

2

tablespoons

almond meal or almond flour

optional

1

egg yolk

lightly whisked

½

cup

sliced almonds

with or without the skin on

1

tablespoon

honey
Instructions
To make the galette dough:

Place flour and salt in the bowl of a food processor. Pulse for a few times to mix. Add in the cold butter cubes. Pulse 8-10 times until butter resembles small clumps.

Turn the machine on and add in 4 tablespoons of ice-cold water in one tablespoon increments.

At this point, it should start to come together and form into a ball. If not add in the rest of the water until it does. 

Transfer onto a lightly floured surface, form it into a 4-inch disk, and wrap with plastic. Place in the fridge for at least 1 hour or overnight.*

Take it out of the fridge 10 minutes before you are ready to roll it out.

To make the filling:

Place peaches, plums, blueberries in a bowl. Sprinkle it with coconut sugar. Set it aside to macerate. 

Pre-heat the oven to 375 F degrees (190 C.) Prepare a sheet of parchment paper that will fit into the baking sheet.

To assemble: Lightly flour your working surface. Roll the dough into a large 12-inch circle. Transfer onto the parchment paper and then onto the baking sheet. 

If you are using, sprinkle it evenly with almond meal leaving a 2-inch border on the sides. 

Spread the fruit on top slightly mounting in the middle, again leaving a 2-inch border around the edges.

Roll the sides of the dough overlapping as you go around and pleating the dough.

Brush the outer crust with egg yolk and sprinkle with sliced almonds lightly pressing to make sure they stick.

Bake 50-55 minutes or the crust turns golden brown. Transfer the galette onto a wire rack to cool. 

If preferred, dilute honey with a tablespoon of water and lightly brush the top of the fruit.

Serve while it is still warm.
Notes
The dough can be kept in the fridge upto 2 days or can be frozen (tightly wrapped) upto a month.
Prep-time below includes 1 hour resting of the dough in the fridge.
Nutrition
Calories:
383
kcal
|
Carbohydrates:
33
g
|
Protein:
8
g
|
Fat:
26
g
|
Saturated Fat:
10
g
|
Cholesterol:
62
mg
|
Sodium:
155
mg
|
Potassium:
221
mg
|
Fiber:
4
g
|
Sugar:
10
g
|
Vitamin A:
620
IU
|
Vitamin C:
4
mg
|
Calcium:
67
mg
|
Iron:
2
mg
Did you make this recipe?
Tag @foolproofliving on Instagram and hashtag it #foolproofeats
Like this recipe? Consider sharing: