If you are a follower of food blogs and food publications in general you would know, raw cashews are pretty popular. Most people use them as a base for sauces similar to this Green Cashew Sauce. Also lately, I have been seeing a lot of bloggers use them as a base for vegan ice creams. I am in the process of testing such ice cream recipes and cannot wait to share them with you in the next couple of weeks.
In my opinion, there are 2 reasons for their popularity. First, they soften as they soak in water. When they are pureed in a blender (or in a food processor) with a little water, they turn into a creamy sauce. Second, they have a very mild flavor making them a great ingredient to use as a base.
I have been making variations of this sauce for over a year now. To tell the truth, it felt weird to write a recipe for it. Because, even though I use the same principle every time, the end product is rarely the same. It really depends on what I want to use it for and what kind of flavors I want to create. Therefore, I suggest that you use the below recipe as a place to start to create your own cashew sauce.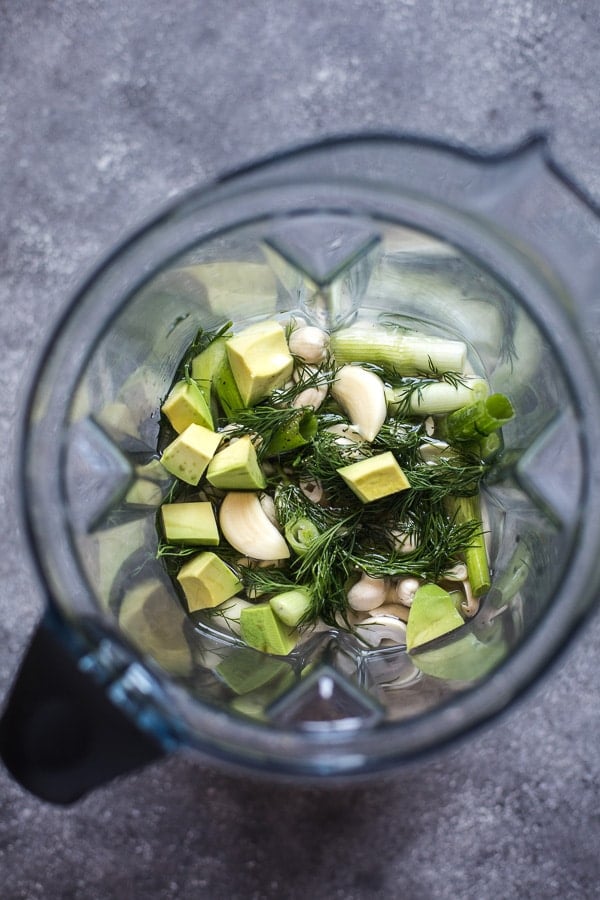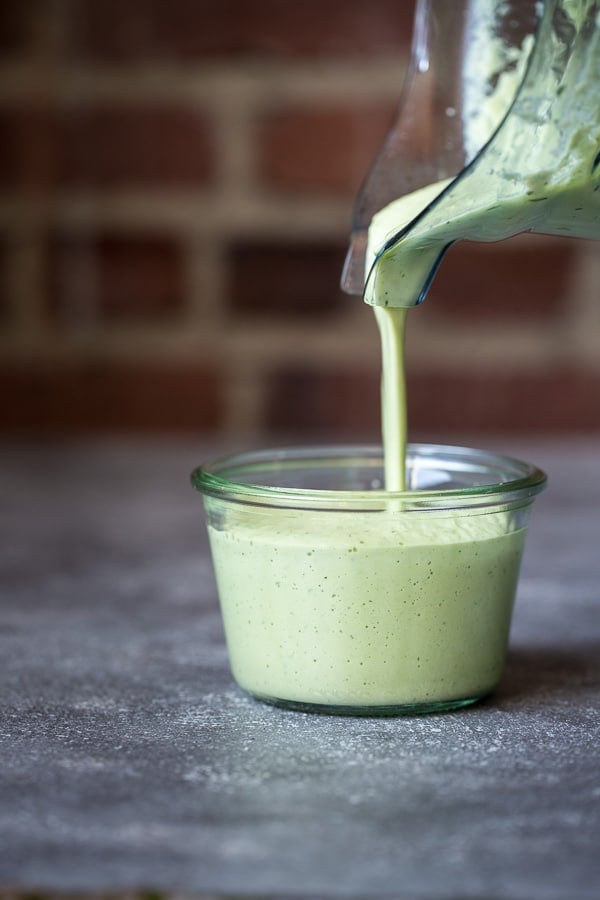 About the Recipe:
The main principle is to use cashews soaked for a couple of hours, as a base. You can soak them overnight as well, but I found that 2-3 hours of soaking is usually enough. You can blend them together with water, or if you want a little bit more creaminess and flavor, with some unsweetened almond milk (or any other nut milk of your choice). In addition, you can add flavor boosters like garlic, avocados, scallions, fresh herbs, spinach, kale, Sriracha, chipotle peppers, celery stalks, nutritional yeast, etc. Literally, sky is the limit.
As you blend everything, you have 100% control on its consistency. If you want it to be thick, use less liquid and vice versa. I prefer it to be semi-thick and pourable so I usually start with ¾ cup of liquid for ¾ cup of cashews and adjust it from there.
Like I mentioned earlier when it comes to creating variations of this recipe the sky is the limit. For this particular green cashew sauce, I used dill, lemon juice, scallions, and garlic as flavor boosters, because I am planning to use it as a topping for an upcoming slow-baked salmon recipe. However, if I were using it as a sauce to flavor tacos, perhaps I would use cilantro as the fresh herb and lime as the acidic flavoring agent. Or if I were using it in a Middle Eastern recipe, I would use parsley and mint as fresh herbs and even add in a small cucumber.
You get the idea.
Here, one thing I want to caution you on is the amount of salt being used. I usually start with half a teaspoon and go from there. The amount of salt really depends on whatever else you are adding to flavor it. I usually end in between a teaspoon and a teaspoon and a half of salt, but I recommend giving it a taste as you blend and adjust it accordingly.
Before I let you go, here are 3 recipes that I used a variation of this cashew sauce:
Kale Waldorf Chicken Salad with Avocado and Cashew 'Mayo'
In this recipe, I used it as a healthier alternative to mayonnaise that is traditionally used in Waldorf salads. To make it super creamy and flavorful, I used avocado and unsweetened almond milk mixed with garlic and freshly squeezed lemon juice. To get the recipe, please click on the image.
For this recipe, I used it as a topping. Since this bowl was a Mexican dish, I flavored it with adobo sauce, avocados, garlic, and almond milk. To get the recipe, please click on the image.
Slow-Baked Salmon with Butter Beans
In this recipe, I used it as a topping on slow-baked salmon served over butter beans. The flavor boosters in this version are fresh dill, lemon juice, and garlic. I topped each salmon piece with a dollop of this green cashew sauce to give it a refreshing taste and a pop of color.
---
Green Cashew Sauce
Use this vegan green cashew sauce as a topping for power bowls, dressing for salads, or simply as a spread on a toast. It is an alternative to dairy-based sauces made with mayonnaise and yogurt. And the best part is: It takes less than 10 minutes to whip it all up.
Print Recipe
Ingredients
¾

cup

cashews

soaked for 2-3 hours

¾

cup

water or unsweetened almond milk

½

ripe avocado

1

scallion

both white and green parts roughly chopped

1-2

cloves

of garlic

peeled

2

tablespoons

of fresh herbs of your choice

for this recipe I used dill

Juice of a lemon

1

teaspoon

Kosher salt

¼

teaspoon

black pepper
Instructions
Drain and rinse the soaked cashews.

Place them in the bowl of a food processor or a blender.

Add in the water (or almond milk), avocado, scallion, garlic, fresh herbs, lemon juice, and salt and pepper in to the blender.

Puree until very smooth.

Every 30 seconds, stop the machine and scrape the sides (or the bottom) of the bowl with a spatula.

Taste for seasoning and add in if necessary.

It will keep its freshness up to 4 days as long as it is kept in an airtight jar.
Nutrition
Calories:
353
kcal
|
Carbohydrates:
20
g
|
Protein:
10
g
|
Fat:
29
g
|
Saturated Fat:
5
g
|
Sodium:
1178
mg
|
Potassium:
563
mg
|
Fiber:
5
g
|
Sugar:
3
g
|
Vitamin A:
239
IU
|
Vitamin C:
7
mg
|
Calcium:
24
mg
|
Iron:
4
mg
Like this recipe? Consider sharing: