The first time I shared this recipe was back in 2016, right around the time we were in between jobs and moving. Life was so chaotic back then. I was juggling between keeping my blog alive and the challenges that life was throwing my way.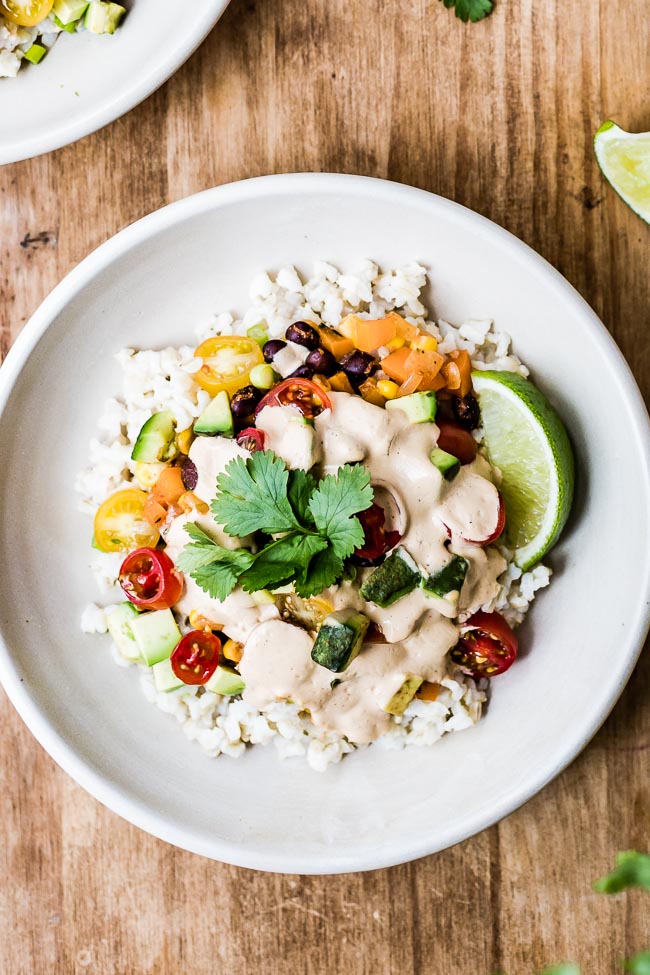 During all of that drama, I needed easy to make, cost-effective and healthy meals that were filling, cheap and super simple. And this Vegan Burrito Bowl recipe was my go-to dish. I still make it often, so today I am giving it a new look with a few additional photos and a quick how-to video.
About this Mexican Burrito Bowl with cashew chipotle cream sauce recipe
If you look at the recipe below, you might think that it has a lot of ingredients. While I agree with you that I also know that this is a very forgiving recipe and that you are totally fine if you are missing a few ingredients or want to make substitutions. Additionally, all of those ingredients are pantry staples and/or could be easily found in any supermarket.
I usually cook some brown rice and/or quinoa on Sunday to use in salads or bowls like this throughout the week. If you have your rice cooked, this vegan taco bowl recipe comes together in less than 30 minutes. I recommend making the Cashew Cream Sauce with Chipotle first and then the black bean mixture. Also, if you like, you can make the cashew cream sauce a day in advance and keep it in a jar in the fridge.
Whatever you do, do not skip the sauce. The smoky kick that comes from the adobo truly takes this dish to the next level. It also goes so well with all the other ingredients.
Chipotle burrito bowl ingredients
The list may look long, but trust me, you probably already have the majority of them in your pantry. This vegan Mexican bowl comes together in three separate parts – the sauce, the filling, and the assembly. You will need:
Vegan burrito sauce ingredients
Cashews – Unsalted, raw, whole cashews will produce the purest and creamiest cashew dressing.
Garlic – One clove of raw garlic goes a long way. If you find the taste of raw garlic too astringent, simply use half or omit it altogether.
Adobo Sauce – Purchase a small can of Chipotle Peppers in Adobo and spoon out one tablespoon of the sauce.***
Avocado – The avocado adds fat and richness. Don't worry – there will be more avocados to come!
Lemon Juice – A fresh burst of acidity makes this sauce pop. If you don't have lemons, lime juice can be substituted. Just make sure it is freshly squeezed, not the bottled variety.
Salt – For flavor and balance, of course. Taste and adjust to your liking.
Unsweetened Almond Milk (or Water) – Either liquid will work, just make sure not to use sweetened or flavored almond milk. This will completely alter the flavor of the cashew sauce.
*** PRO TIP: Need only a small bit of chipotle, but don't want to throw out the rest? Once you have the amount of chipotle sauce you need for the recipe, transfer the remainder of the can to your blender and blend until smooth. Transfer the now-pureed peppers to a small plastic freezer storage bag, label, date, and store in your freezer. Every time you need Chipotle peppers in adobo, break off the amount you need, seal tight and place back in the freezer. Keep in the freezer for up to 3 months.
Burrito filling
Olive Oil – A mild, cold-pressed olive oil will do. You can substitute using grapeseed oil, too.
Coriander – Light and bright, grinding whole coriander seeds in a spice grinder will offer the freshest flavor.
Cumin – Savory and smoky, it pairs beautifully with fresh coriander. Again, grind the whole seeds at home in your spice grinder, if possible.
Onion – Use a mild white or yellow onion. If you want a sweeter filling, red or Vidalia onions can be substituted.
Red Bell Pepper – I specify red bell peppers for their sweeter flavor, but you can use any color of the rainbow – orange or yellow would be just as delicious.
Tomato Paste – Purchase tomato paste in a tube rather than a can. The tube variety is much easier to work with and the remainder can be stored in your fridge.
Garlic – Adding the garlic near the end helps to prevent it from burning and becoming bitter. As soon as you can smell the aroma of garlic in the skillet, you know it's ready.
Unsweetened Canned Corn – Make sure to purchase unsweetened corn and drain and rinse thoroughly. Some canned corn varieties have added sweeteners and preservatives that are just unnecessary. If you prefer, one 15 oz bag of frozen corn can also be used – no need to thaw!
Canned Black Beans – Drain and rinse the beans along with the canned corn. This helps to rid of excess starch and liquid.
Vegetable Stock (or Water) – If you use vegetable stock, make sure it is low-sodium so you can control the amount of salt in the burrito bowl recipe. Alternatively, you can always use water.
Salt + Black Pepper – Adjust the seasoning during cooking and at the very end to your liking.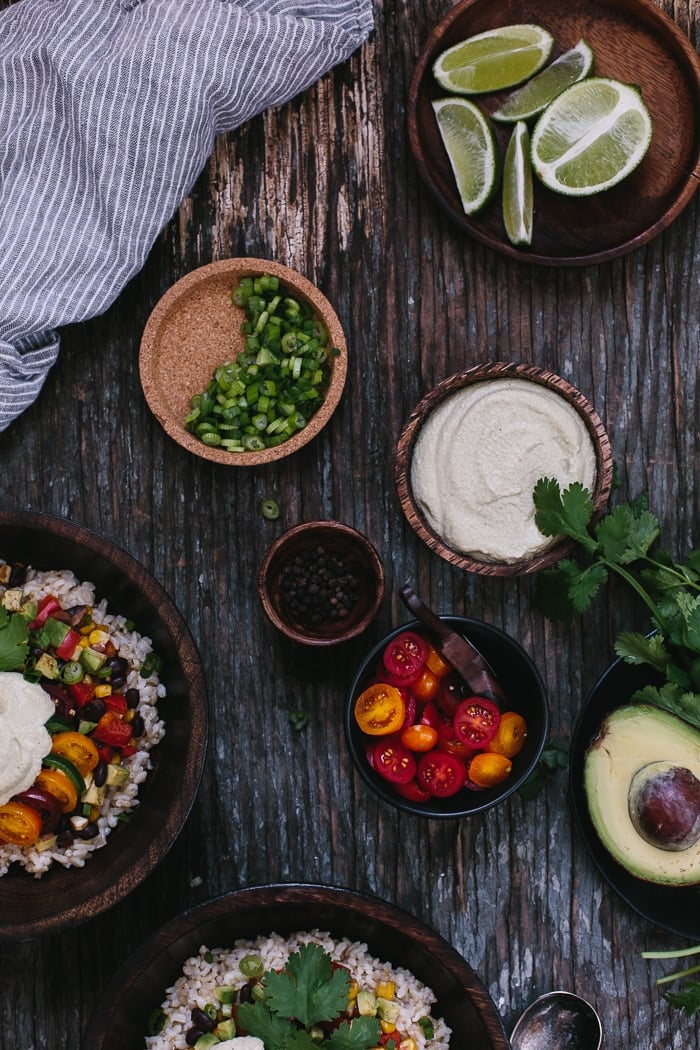 Assembly
Cooked Brown Rice – I always have a big batch of cooked brown rice in the fridge, which makes this recipe so quick and easy, but any of your favorite grain will offer a well-balanced meal. Follow the steps in the recipe card below if you don't have any brown rice already prepared.
Grape Tomatoes – Grape tomatoes add such a beautiful color and fresh, sweet flavor. If the grape tomatoes don't look good at the store that day, use sweeter cherry tomatoes, which always seem to be in season!
Jalapeno or Bell Pepper – If you want this vegan burrito bowl a bit spicy, slice a jalapeno with the seeds and ribs intact. For a milder garnish, simply remove the seeds and ribs or substitute with a bell pepper instead.
Avocado – I told you we would be using more avocado! Pile it on for an extra creamy meal!
Cilantro – The quintessential garnish to any Mexican meal! Don't skip it – it really rounds out all the flavors!
Lime Wedges – To serve, to brighten it all up at the very end!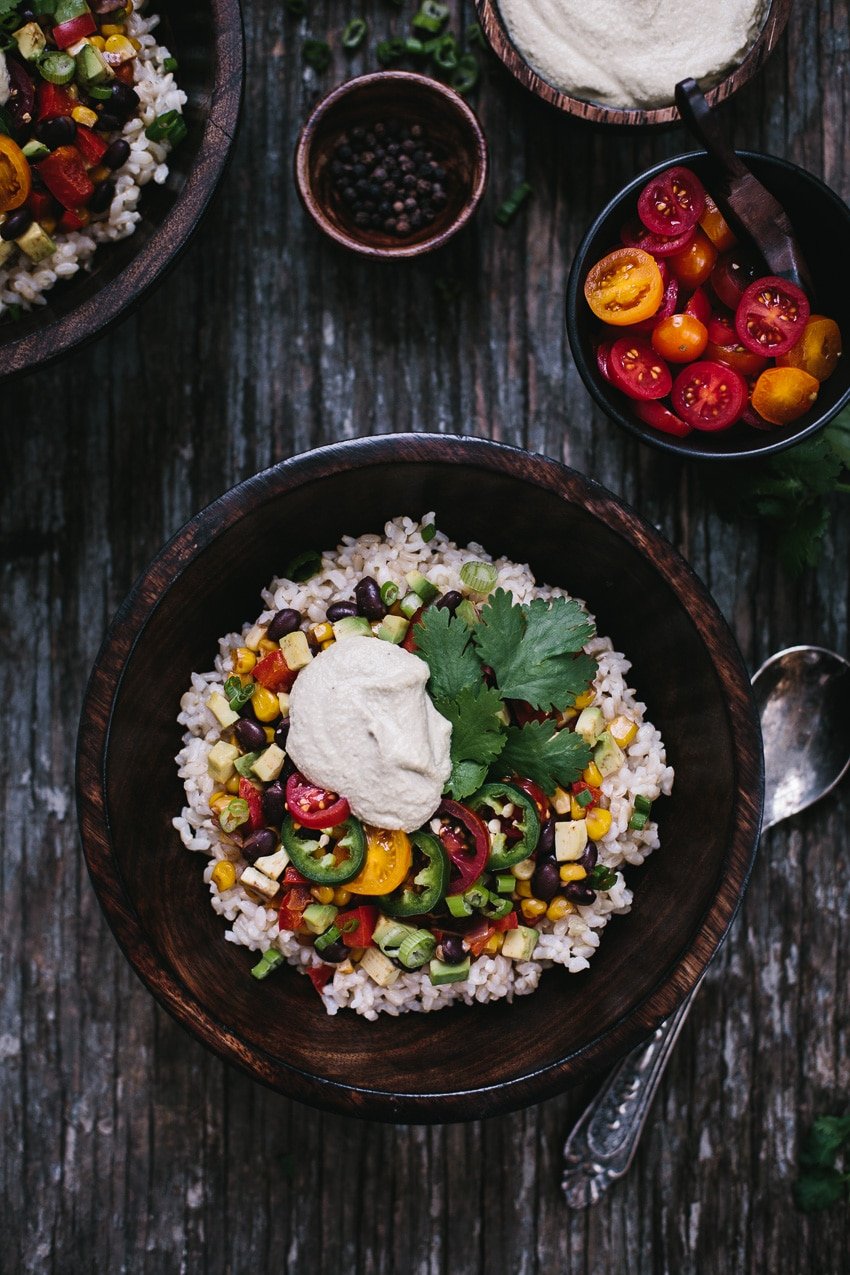 How to make this vegan chipotle sauce recipe
I recommend making the Mexican cashew cream sauce before the actual burrito bowl. This way, the sauce, and all other ingredients are prepped and ready – all you have to do is toss it together in a bowl! To make the cashew chipotle cream sauce, simply:
Soak the cashews. The secret to any creamy cashew cream sauce is softening the cashews so they easily blend to a smooth puree. To achieve this, soak the cashews in water for at least two hours or up to overnight.
If you're in a pinch, speed up the process by pouring boiling water directly over the cashews in a heat-proof bowl and let sit for one hour.
Puree all the sauce ingredients in your food processor. Once the cashews are properly soaked, drain and rinse, then add them to the bowl of your food processor and pulse 5-6 times. Add the garlic, adobo sauce, avocado, lemon juice, and salt.
Process for 15-20 seconds or until it forms into a paste. With the motor running, add the unsweetened almond milk (or water) through the tube and process until smooth. Adjust the seasoning and set aside.
How to make chipotle veggie bowl
This chipotle veggie bowl comes together in a few easy steps. Simply:
Bloom the spices and aromatics. In a large skillet, heat the olive oil over medium heat. Add the cumin and coriander and bloom for 30-45 seconds, or until fragrant. Add the onions and peppers and cook, stirring occasionally, for 5-6 minutes, or until translucent. Stir in the tomato paste and garlic and mix until combined and fragrant, about 30 seconds.
Add the vegetables. Add the rinsed and drained black beans, corn and water. Season with salt and pepper, give it a stir and simmer for 10-15 minutes.
Assemble and serve. Place about 1 cup of cooked brown rice in the bottom of a serving bowl. Spoon around ¼ of the vegan burrito mixture on top of the rice (this helps the rice soak in all those wonderful juices) and garnish with tomatoes, jalapeno (if you like it spicy) or bell pepper, avocado and cilantro. Drizzle a generous amount of the burrito bowl dressing on top and serve with lime wedges. Enjoy!
Variations
If you're looking to add a bit more protein to this vegan Mexican bowl recipe, try one of the below variations.
Vegetarian Burrito Bowl Recipe: Add 1-2 freshly fried eggs for every rice bowl for a complete and filling meal.
Tofu Burrito Bowl: There are two options – either crumble 4oz firm tofu over each burrito bowl prior to adding the sauce. Or, for a more flavorful meal, cut 1lb firm tofu into ½ inch cubes and simmer in the burrito mixture along with the corn and black beans. Note – you may need a few tablespoons additional stock or liquid, as the tofu will absorb some of those juices.
With Quinoa: To stick to a vegan burrito bowl with a boost of plant-based protein, replace the brown rice with an equal amount of quinoa similar to how I did in this Mexican Quinoa Recipe.
Vegan Burrito Bowl with Cashew Chipotle Cream Sauce
A healthy vegan burrito bowl recipe flavored with homemade cashew chipotle cream sauce. Our favorite burrito ingredients are lightly sautéed, placed on a bed of rice and drizzled with creamy and smokey cashew sauce.
Print Recipe
Ingredients
For the Cashew Chipotle Cream Sauce:
1

cup

cashews

soaked for at least 2 hours or overnight

1

clove

of garlic

minced

1-

tablespoon

adobo sauce

from a can of chipotle peppers in adobo

1/2

ripe avocado

1

teaspoon

lemon juice

1/2

teaspoon

salt

1/2

cup

unsweetened almond milk

or water
For the Burrito Mixture:
1

tablespoon

olive oil

1

teaspoon

ground coriander

1

teaspoon

ground cumin

1

medium onion

chopped

1

medium size red bell pepper

seeded and chopped

1

tablespoon

tomato paste

2

cloves

of garlic

minced

1

15 oz. can of unsweetened corn, drained and rinsed

1

15 oz. can of black beans, drained and rinsed

1/4

cup

vegetable stock or water

1/2

teaspoon

salt

1/4

teaspoon

black pepper
To Assemble:
4

cups

of cooked brown rice

1/2

cup

colorful grape tomatoes

sliced

1

jalapeno or bell pepper

seeded and slice (optional)

2

stalks of scallions

chopped

1

ripe avocado

sliced or cubed

handful of fresh cilantro leaves

rinsed

lime wedges

to serve it with
Instructions
To make the cashew chipotle cream sauce: Drain and rinse the cashews and place them in the bowl of a food processor. Pulse 5-6 times. Add in the garlic, adobo sauce, avocado, lemon juice, and salt. Process 15-20 seconds until it turns into a paste. Pour in the almond milk (or water) over the tube and process until creamy. Taste it for seasoning and add in if necessary.

To make the burrito mixture: Heat oil in a large pan. Add in the coriander and cumin and cook until fragrant, 30-45 seconds. Stir in the onion and red pepper, and cook stirring occasionally, until translucent. This should take 5-6 minutes. Stir in the tomato paste and garlic. Mix until totally combined. Add in the black beans, corn, and water. Season it with salt and pepper. Give it a big stir. Allow it to simmer for 10-15 minutes.

To assemble the vegan burrito bowls: Place some brown rice at the bottom of a large bowl. Spoon some burrito mixture on top. Garnish it with tomatoes, peppers, scallions, avocados, and cilantro. Add a dollop (or more) of cashew chipotle cream sauce. Continue with the rest of the bowls. Serve each bowl with lime wedges.
Video
Notes
If you do not have cooked brown rice on hand, you can make it as follows:
Heat olive oil in a medium size pot with a lid. Add in the brown rice. Stir constantly until the rice is coated with oil and somewhat toasted, 3-4 minutes. Add in the water and salt. Let it come to a boil. Put the lid on, turn down the heat to low, and let it simmer for 40-45 minutes. Turn off the heat and let it sit 10 minutes without opening the lid. Fluff it with a fork and set aside.
Cashew Cream Sauce with Chipotle can be made a day in advance and kept in an airtight jar in the fridge.
Nutrition
Calories:
706
kcal
|
Carbohydrates:
90
g
|
Protein:
20
g
|
Fat:
32
g
|
Saturated Fat:
5
g
|
Sodium:
1948
mg
|
Potassium:
1317
mg
|
Fiber:
19
g
|
Sugar:
7
g
|
Vitamin A:
1296
IU
|
Vitamin C:
61
mg
|
Calcium:
153
mg
|
Iron:
7
mg
A Few Notes On the Recipe:
I sometimes switch things up and add a few cups of leftover cooked chicken into the pot towards the end just to warm it up. If you have a husband like mine, who loves chicken, this is an easy way to give this dish a new life.
You can make the cashew cream sauce a day in advance and keep it in an airtight container in the fridge. On the next day, be sure to shake it well before use.
The consistency of the cashew cream and chipotle sauce depends on your preference. As you can see, in these new photos (and in the video) I made my sauce more liquid-y than the version I made back in the version I published initially (you can see the images below). The consistency of the sauce is a personal preference. Though you can't go wrong either way.
If you don't have cooked brown rice on hand, you can use slightly warmed corn tortillas and serve this as a taco dish.
This dish makes the best leftover lunch the next day and can even be enjoyed cold.
Other vegan dinner recipes you might like
Like this recipe? Consider sharing: