3 Bean Turkey Chili Recipe
The unpredictably of weather and the fluctuations in temperatures have been a welcome change in our lives. We spent the whole of last weekend outdoors, mostly enjoying the weather in the nearby Valley Forge National Park. I find it fascinating that a week ago our backyard was covered in snow and it was below 20 degrees. Now as I am typing this, the sun is shining and it is almost 50 degrees outside.
I do not know if this is a sign of spring coming, but I am realizing more than ever that seasons and the lifestyle changes that come with it is what make our lives interesting. Especially when it comes to cooking. It was just a week ago I was making this chili to warm us up. Then this morning, waking up to sunshine I found myself thinking about baking with summer berries.
Isn't it funny how our mood and daily lives are connected to the weather outside?
While we were living down in the Caribbean it was really hard for me to cook winter food.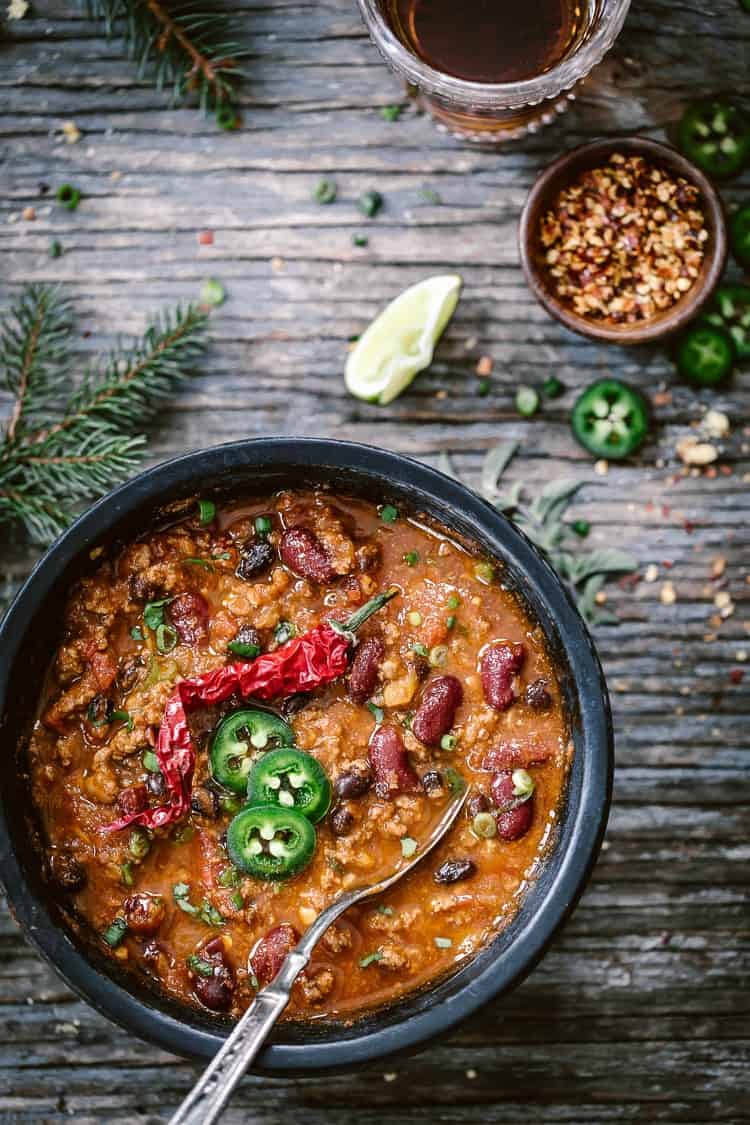 Imagine cooking a big pot of chili in the middle of July?!! Do not get me wrong, it was nice to have warm weather throughout the year, but still, I was envious of all those things people would do during the winter.
Even small things like reading a book by the fireplace, watching a movie with my husband under a blanket, watching the snowfall, and cooking heartwarming food like this 3 Bean Turkey Chili Recipe.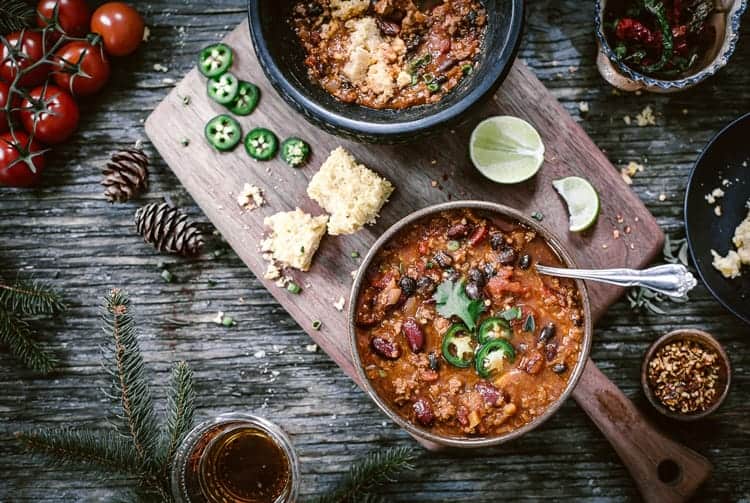 To me, a big pot of three bean turkey chili is the definition of winter food. I love using this recipe as a place to start and try it with different vegetables, beans, and meats. I also love the fact that it is a great crowd pleaser. I can't imagine a better one-pot dish to make if you have a big family. Or, if you are a two-people family like us, no dish freezes better than this one.
I will go into ways of making your own version of chili in a minute based on this recipe, but first let's talk about how to make this ground turkey chili.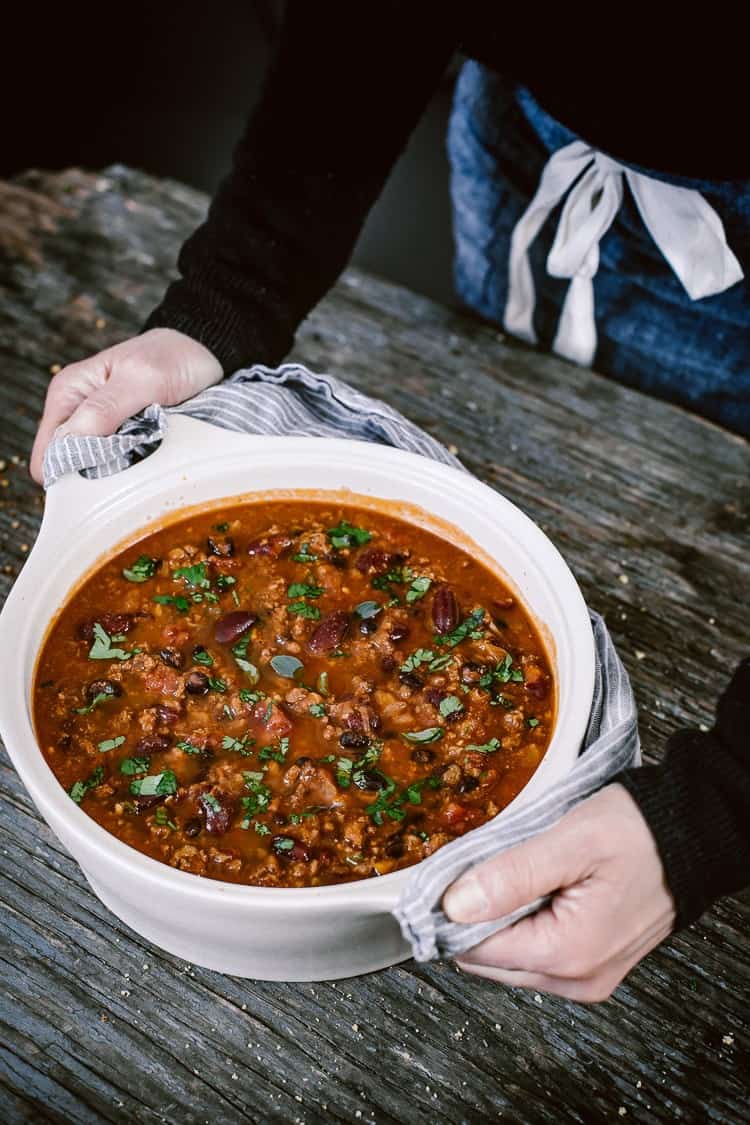 How To Make Turkey Chili
The process for the recipe has 2 folds. It takes around 45 minutes from start to finish to make this turkey bean chili.
First, you start with sautéing some onions and peppers along with some chili spices like chili powder, chipotle powder, ground cumin, and ground coriander. This step is important because spices like cumin and coriander are oil soluble. In other words, they need to interact with oil to release their flavors. If you skip this step you will not have as much "chili" flavor.
Once the veggies and the spices are cooked, you add in 2 pounds of lean turkey meat and sautée it until it turns pink. At this stage, you don't have to worry about cooking turkey throughly as it will continue to cook once all the other ingredients are added into the pot.
Second step is to add in all the other ingredients; all three beans, pureed and diced tomatoes, and chicken stock. I also chose to combine pureed tomatoes with diced tomatoes as I love the richness and umami flavors that simmered tomatoes provide.
Once everything is in the pot, all you have to do is to bring it to a boil and let it simmer for 20-30 minutes or until it thickens to your liking.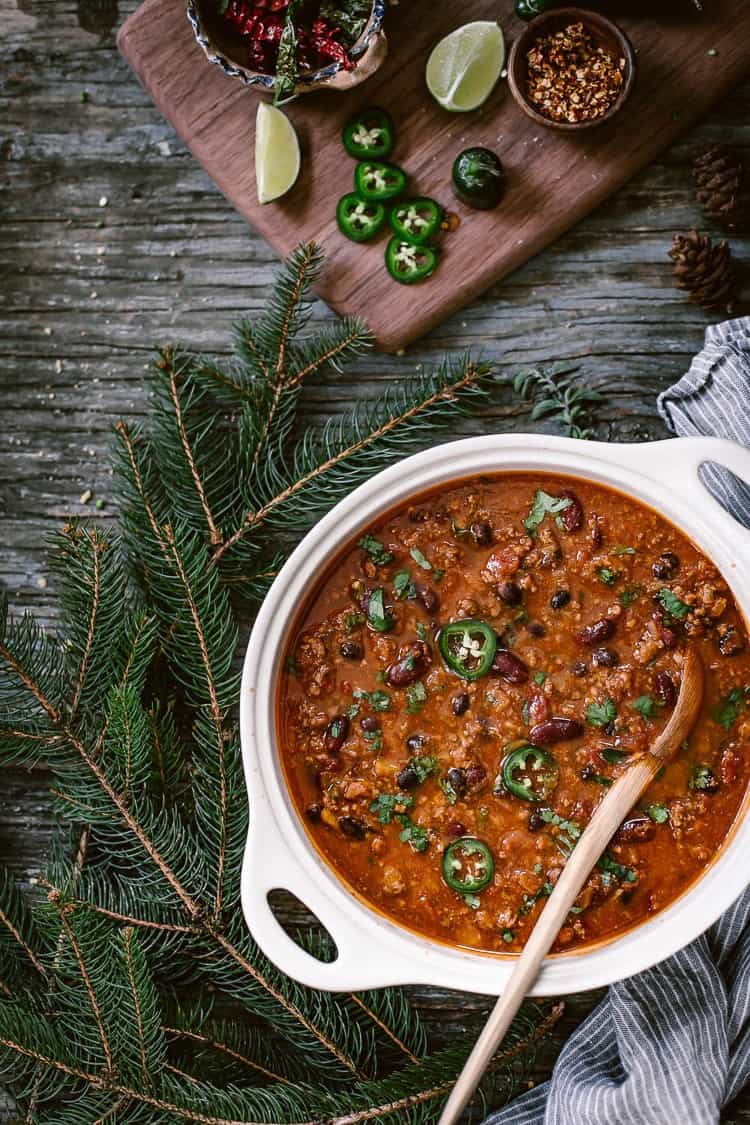 What Kind of Beans To Use For Chili
In terms beans, I used a combination of canned kidney, black and Cannelini beans. However, you can use whatever beans you can on hand. I opted for canned beans as they are a life saver when you need to put dinner on the table on a Tuesday night, but if you have time you can cook your own.
How To Use this Versatile Three Bean Turkey Chili To Create Your Own Chili Recipe
As I mentioned earlier, my favorite thing about this recipe is that it is so versatile. Using it as a place to start you can easily create your own chili recipe.
Here are some ideas to get you started:
Try it with other ground meet: The recipe below is made with ground turkey meat, but feel free to change it up with ground beef, chicken, and even lamb. I have tried them all and they all worked well. I used 2-pounds of ground meat, but you can use less than that if you want. In the past, I have also made it with 1 pound of ground meat and added an additional can of beans to make up for it.
Try it with other types of beans: I used a combination of red kidney beans, Cannelini beans and black beans, but feel free to play with it. In the past I have tried it with pinto beans and they were delicious as well.
To save on time, I used canned beans but you can definitely cook your own beans. I bet a little bit of the cooking liquid from the beans added to the chili would be a nice addition.
Different Toppings are a great way to switch things up: I cannot think of a big bowl of chili without toppings. When I serve this for dinner, I usually skip making a salad. Instead, I prepare as many toppings as possible, similar to how they do in restaurants.
To do so, I fill a bunch of small bowls with chopped cilantro, red onion, sliced jalapenos, cubed avocados, fresh corn, tortilla chips, lime wedges, and sour cream with a spoon in each bowl. That way we can garnish our chili bowls with whatever we like.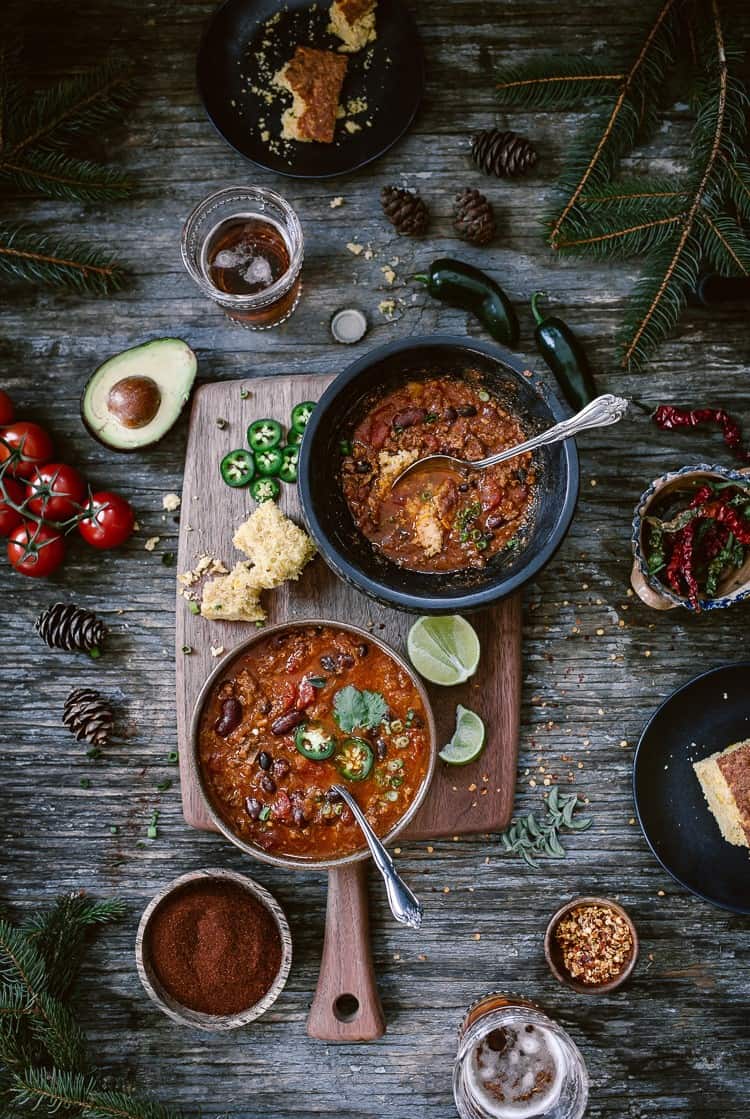 A Few Helpful Tips for The Best Turkey Chili Recipe
What to do with leftovers: As most chili recipes, this 3 bean turkey chili tastes better on the next day. If I have leftovers, I bring it to a room temperature, place them in an airtight container, and keep it in the fridge up to 3 days.
Freezing Instructions: This turkey and bean chili freezes beautifully. I portion it in small airtight containers (or ziploc bags) and freeze up to 2 months. I thaw it in the fridge the night before I am ready to serve it.
How Many Calories in Turkey Chili: This three bean turkey chili has 388 calories per serving (see full nutritional information card underneath the recipe card). This calorie information doesn't include the toppings as they are optional and it is hard to predict how much of them will be used to top of a bowl of chili.
What To Serve with Turkey Chili: In addition to all kinds of colorful and delicious toppings, I love serving chili with cornbread. This Cornbread Muffins with Cheddar and Scallions recipe as well as this Jalapeno and Scallion Cornbread recipe are my go-to recipes to serve along side my chili.
If you liked this Healthy Turkey Chili Recipe, You Might Also Like
Turkey Pumpkin Chili ~ Foolproof Living – Easy Chicken Chili ~ Foolproof Living – One-Pot Chili Mac and Cheese ~ Belly Full – Hearty Homemade Chili ~ The Fed Up Foodie – Spicy Vegan Chocolate Chili ~ Foolproof Living – Five Bean Salad ~ Foolproof Living ~ Black Bean Quinoa Chili – Foolproof Living
Three Bean Turkey Chili
Who could say no to a big pot of Three Bean Turkey Chili in the middle of a freezing cold winter? What I love about this recipe is that it is so versatile. Once you get the basics (which are explained in detail below), you can make any chili with whatever meat and bean you have on hand.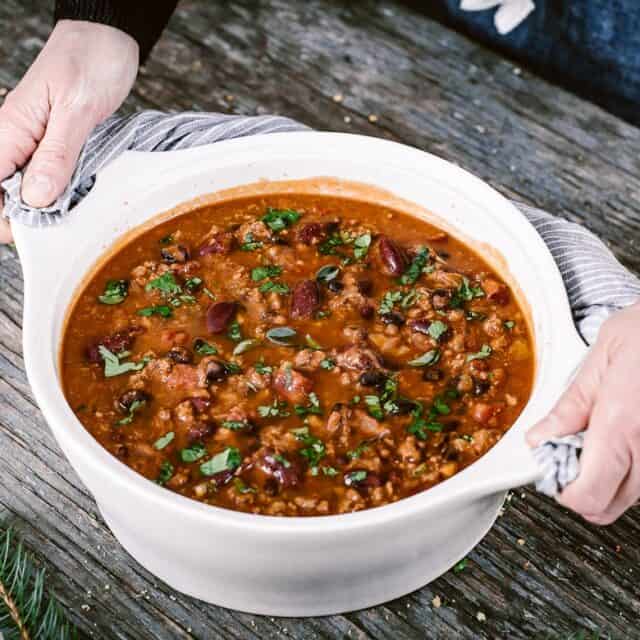 Print Recipe
Ingredients
For The 3 Bean Turkey Chili
2

tablespoons

olive oil

3

medium onions

chopped

1

red

or yellow bell pepper, stemmed and cut into small pieces

1

jalapeno chile

seeded and chopped

5

cloves

of garlic

minced

1/4

cup

chili powder

1

teaspoon

chipotle powder

1

tablespoon

ground cumin

1

teaspoon

ground coriander

1

teaspoon

red pepper flakes

1/2

teaspoon

cayenne pepper

1/2

teaspoon

dried oregano

1

teaspoon

salt

1/2

teaspoon

black pepper

freshly ground

2

pounds

ground turkey

1

(15 oz.) can black beans, drained and rinsed

1

(15 oz.) can red kidney beans, drained and rinsed

1

(15 oz.) can white beans, drained and rinsed

1

(28 oz.) can diced tomatoes

1

(14.5 oz.) can pureed tomato

1

cup

of low-sodium chicken stock or water

1/2

cup

fresh cilantro

chopped
Optional Toppings:
1

fresh jalapeno

sliced thinly

1

ripe avocado

cut into small cubes

Lime wedges
Instructions
Heat olive oil in a Dutch oven (or a large heavy bottom pan) over medium heat. Add in the onions, chopped bell pepper and jalapenos. Cook, stirring frequently until they are softened, 4-5 minutes. Add in the garlic, chili powder, chipotle powder, cumin, coriander, red pepper flakes, cayenne pepper, oregano, salt and pepper. Cook while stirring frequently until vegetables are softened, 5 minutes.

Add in the turkey. Using a wooden spoon, break it up into smaller pieces and cook until it is no longer pink, 8-10 minutes.

Add in the black beans, red kidney beans, white beans, diced tomatoes, tomato puree, and chicken stock. Give it a big stir. Put the lid on and bring it to a boil.

Once it boils, turn the heat to medium-low and put the lid ajar. Let it simmer, stirring every 10-15 minutes, for 25-30 minutes. It will thicken as it cooks.

Taste for seasoning and add if necessary. Right before serving, stir in the fresh cilantro.

To serve: Ladle the chili into soup bowls and garnish them with jalapeno slices and diced avocado. Serve with lime wedges on the side.
Nutrition
Calories:
326
kcal
|
Carbohydrates:
14
g
|
Protein:
29
g
|
Fat:
11
g
|
Saturated Fat:
2
g
|
Cholesterol:
62
mg
|
Sodium:
489
mg
|
Potassium:
816
mg
|
Fiber:
6
g
|
Sugar:
3
g
|
Vitamin A:
2572
IU
|
Vitamin C:
11
mg
|
Calcium:
62
mg
|
Iron:
4
mg
Like this recipe? Consider sharing: