On a Friday afternoon on our way to Saba Rock, Hog Heaven was calling our names. Our friends, Sandra and Stacy, were visiting the island for their first trip to the Caribbean. In my opinion, there are three things you cannot miss when you come to Virgin Gorda: Saba Rock, The Baths, and Hog Heaven.
Our guests already checked The Baths off of that list, and were about to check off Saba Rock later that evening for dinner. However, there was one special view they had not been to yet, and that was Hog Heaven.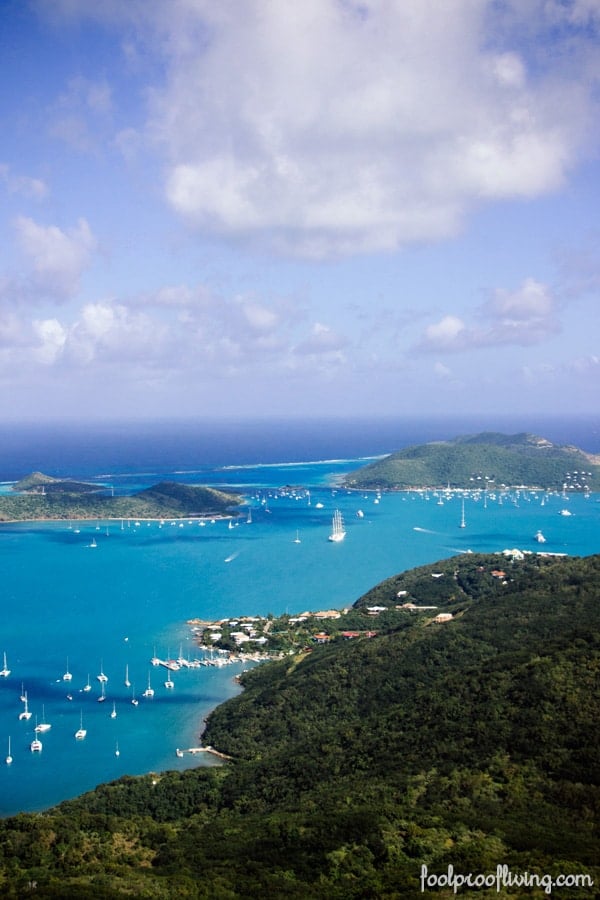 Hog Heaven is a small casual restaurant that sits on top of one of the highest peaks on the island. A blue shack on the side of the road, this restaurant has a wrap around porch with stools at the edges created just for the purpose of admiring the view. At the center is a bar where you can read over the menu and order your drinks.

We parked our car on the side of the road and headed inside, beelining straight to the back to grab some stools and sit at the edge of the porch. It was incredibly windy here, we all had to keep an eye on our bags to make sure they wouldn't fly away. However, that powerful wind is an indication of how high up the restaurant truly is. This altitude creates an amazing view… sitting from the deck we could see Mosquito Island, Necker Island, Eustatia Island, Prickly Pear Island, Anegada Island (the picture below), and Saba Rock.
Below your feet is a slow drop covered in bushes and cacti—Virgin Gorda's signature plants. In my opinion, this is the coolest spot on the island to enjoy a drink. Hog Heaven's cuisine focuses on meat, specifically pork. This time we only ordered drinks, but I recommend you try their BBQ pork.
Besides the beer, there is also an abundance of drinks. We were disappointed to leave Hog Heaven without eating any food, but we knew we'd be back…
You might also like to read:
Like this recipe? Consider sharing: