Prior to living on an island in the Caribbean, I thought these islands are all about luxury resorts and beautiful beaches. But then 19 months ago we moved to Virgin Gorda, BVI. It was not much later, I realized I was wrong.
Yes, they have the most beautiful beaches, nice resorts, amazing bays, gorgeous views, etc. But there is much more than that. As we traveled (or I should say "cruised") around the Caribbean and visited other islands, I learned that each island has something unique to offer in addition to the beaches and resorts.
So I thought I could show you the side of "my island", Virgin Gorda, that you would not see unless you make a trip here. I took my camera and walked around a mile radius of our apartment and photographed things that make it unique in my eyes.
Please join me as I walk along my neighborhood and allow me to share things that make Virgin Gorda special to me.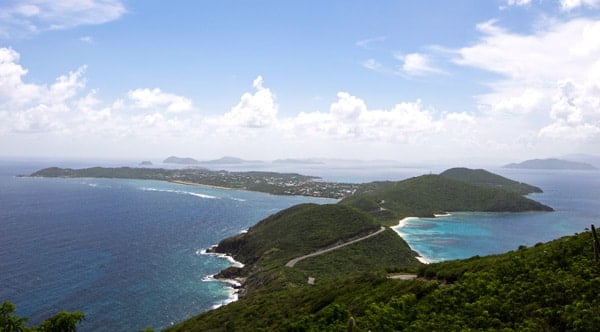 Virgin Gorda meaning "Fat Virgin" was named by Christopher Columbus because the island's profile on the horizon looks like a fat woman lying on her side.
We live in an apartment complex called Olde Yard Village. Most tenants here are expatriates or foreigners, who rent (or own) an apartment for vacationing purposes. It is a calm and pretty complex with a restaurant, pool, gym, and a tennis court. Every single apartment has a beautiful view of the Handsome Bay.

The population in Virgin Gorda is around 5000. Most people are either from here or migrated from one of the neighboring islands to work and live here. One thing they have in common is that they are very religious. Mostly Christian, locals are a big part of the church and church activities. The church you see in the picture is the oldest building on the island and can also be used as an emergency shelter, if needed.
We have a police station here but there is almost no crime on Virgin Gorda. It is considered as a very secure island. So much so that one of the biggest resorts on the island, Rosewood Little Dix Bay, does not give keys to their guests.
As you walk around the island it is customary to exchange friendly conversations or a simple hello or good afternoon with people you encounter. As a matter of fact, it is considered as rude to not to properly greet each other.
As it is a pretty hilly island, when you climb up the hills throughout the island, you are welcomed by the stunning views of the bays of Virgin Gorda.
The graffiti on the walls of the street going to the world-known famous "The Baths" are a great reflection of the community and culture.
Locals live in small, modest, and colorful houses.
Somebody once told me that there are more chickens and roosters than people on Virgin Gorda. They are everywhere around the island. They love spending time in garbage bins. If you ever discard your trash I recommend you to be careful because there maybe a chicken party going on inside.
After people die, they are buried in a place overlooking the ocean.
It is not just the ocean that makes my island spectacular. The nature is at it best around here. The occasional rain showers throughout the day feed the nature and its habitants so much so that I feel like the green is greener here than anywhere I had ever seen before.
We have bars too. Green House is one of the fun places for locals to hang out. If you want to make friends, listen to good Latin music and have some local food, Green House should be on your list to visit when you come to Virgin Gorda.
There are at least 5 beaches within walking distance from where we live. Each with its own personality. Sometimes, in the afternoon, I take a walk on the beach. I found it to be a fantastic way to calm my mind.
As you walk along the beach, you can always make friends with these crabs.
Like I mentioned at the beginning of this post, I took all these pictures on the same day as I walk around in my neighborhood. The beauty you see here is just the tip of the iceberg and if you want to see the rest, you would have to come and see it with your own eyes.
And if you do, make sure to say hello to me… 🙂
Enjoy Lifestyle Posts Like this? Here are a few more:
Like this recipe? Consider sharing: