Are you ready for summer? I do not know you, but I am very excited for our first summer in the city since we moved back from the British Virgin Islands. I also am pumped about all the outdoor activities that are coming up. It is really hard to concentrate on work indoors while the weather outside is so nice and so much is happening in the city. Just this weekend there are 3 different music festivals within 5-mile radius of our house, which I am hoping to at least stop by.
As the temperatures rise, I am also excited about getting together with friends on our terrace. Well, it is not our own terrace per se, but more like a terrace of our apartment complex. In addition to having a nice breeze, it offers one of the most beautiful views of Atlanta's skyline. Years ago, while Dwight and I were dating he took me up there to drink a couple of glasses of wine and watch the city lights. I still remember how I couldn't believe my eyes when he first took me up there. I thought it was spectacular.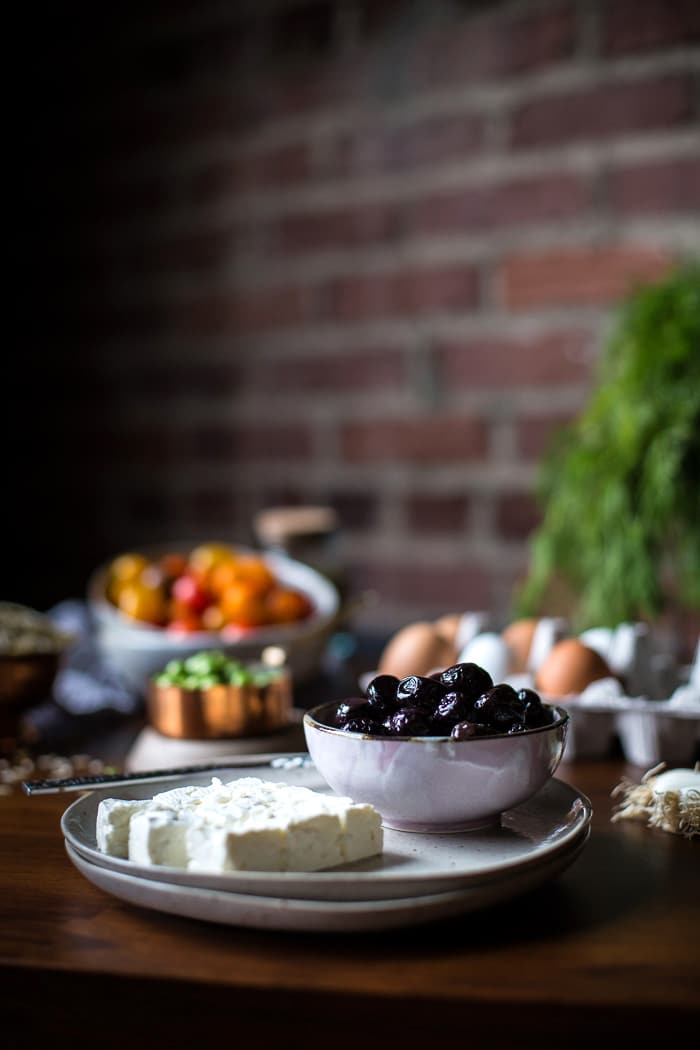 As I am thinking about outdoor parties and friends coming over, I am also thinking about simple dishes that are easy and simple to put together and serve. To me, a good pasta salad is a great place to start. I love it because (1) it comes together in no time, (2) you can pretty much use any seasonal vegetable you have in the fridge, and (3) everyone loves a good pasta salad.
For this orzo salad I picked a Mediterranean theme, because I was able to get my hands on really good quality feta cheese and olives from a Turkish supermarket in the city. In fact, the olives were exported from Bursa, the city where I grew up. There was no question – I had to use them. After I found some freshly picked asparagus, dill, cherry tomatoes, and fresh peas at our local farmer's market on the same day, my orzo salad recipe wrote itself.
To make it, I started with cooking the eggs. For perfect-every-time hard-boiled eggs, I used the Barefoot Contessa's 'foolproof' recipe. Her method is super easy: Simply place the eggs (I used 4 large eggs) in a medium size pan with a lid and cover them with cold water. Bring it to a boil and then turn the heat off. Cover it with the lid and let it sit for 15 minutes. Rinse the eggs under cold water. When they are cool enough to handle, crack them on each side and roll back and forth with your palm on the counter. The shells should come off easily. Keep in mind that if your eggs were older, they will be much easier to peel. My eggs had 5 days until their expiration date.
As the eggs were cooking, I steamed the asparagus and peas in a steam basket for 12-14 minutes, just until they were al dente. I wanted them to be al dente because they were super fresh. However, if you prefer it more on the cooked side, feel free to steam them a little longer. As my veggies were steaming, I cooked a box of orzo. In order to make sure that it was flavored well and not sticking together, I immediately drizzled it with a quick lemon vinaigrette I made by whisking lemon juice, one clove of garlic, olive oil, salt & pepper. Finally, I placed the orzo, steamed vegetables, scallions, tomatoes, and olives in a large salad bowl. After giving it a very gentle stir, I topped it off with eggs, crumbled feta cheese, and freshly chopped dill. And voila! I ended up with what you see in the photos.
Of course, Dwight and I ate the whole thing, but I know that I will be coming back to this recipe for our upcoming summer picnics and terrace parties. I hope you will get a chance to give it a try as well.
Mediterranean-Style Orzo Salad with Spring Vegetables
Spring Orzo Salad with Mediterranean flavors: An easy to make orzo vegetable salad that is perfect as a side dish or as a light lunch. If you love the Mediterranean's fresh and zesty flavors, this vegetarian orzo salad is going to be your next favorite vegetable side dish to serve with all your meals.
Print Recipe
Ingredients
For the dressing:
2

tablespoons

lemon juice

freshly squeezed

1/4

cup

extra virgin olive oil

1

clove

of garlic

peeled and minced

1

teaspoon

salt

1/2

teaspoon

black pepper
For the salad:
4

large eggs

1

lb.

orzo

A bunch of

10-12 stalks asparagus, trimmed and cut into smaller sizes

1

cup

fresh peas

shelled

1

cup

cherry tomatoes

rinsed sliced

4-5

stalks of scallions

chopped

20-25

black olives

pitted and chopped

1

cup

feta cheese

crumbled

3

tablespoons

fresh dill

chopped
Instructions
Make the dressing: Whisk together the lemon juice, olive oil, garlic, salt and pepper in a bowl. Set aside.

To cook the eggs: Place eggs in a medium-size pan and cover them with cold water. Bring to a boil. As soon as it boils turn the heat off. Put the lid on and let them sit for 15 minutes. Rinse eggs with cold water. When they are cool enough to handle, crack them on each side and roll back and forth with your palm on the counter. The shells should come off easily. Slice each egg into 4 pieces. Sprinkle them with a little salt and pepper. Set aside.

Steam the veggies: Fill the bottom of a medium-size pot with 2 inches of water. Place the steam basket inside. Bring the water to a boil and let it simmer. Add in the asparagus and let it steam for 5-7 minutes. Add in the peas and continue to steam them all together for 6-7 more minutes.

To make the salad: Cook orzo according to the package instructions. Drain. Transfer to a large salad bowl and drizzle it with the dressing while it is still warm. Add in the asparagus, peas, tomatoes, scallions, and black olives. Give it a gentle stir making sure that everything is evenly distributed. Taste for seasoning and add more if necessary. Sprinkle it with the crumbled feta cheese. Evenly distribute the sliced eggs on top. Garnish it with chopped dill. Serve.
Notes
* Keep the leftovers in an airtight container and in the fridge to enjoy it the next day.
Nutrition
Calories:
774
kcal
|
Carbohydrates:
96
g
|
Protein:
28
g
|
Fat:
31
g
|
Saturated Fat:
10
g
|
Cholesterol:
197
mg
|
Sodium:
1389
mg
|
Potassium:
540
mg
|
Fiber:
7
g
|
Sugar:
8
g
|
Vitamin A:
1077
IU
|
Vitamin C:
29
mg
|
Calcium:
266
mg
|
Iron:
4
mg
---
Like this recipe? Consider sharing: