When I was 10 years old, with the hopes of building their very first home, my parents bought a small land with a couple of their friends outside Bursa, the city that I grew up. After many years of living in small rented apartments, they wanted a larger house that also has a garden that my father could grow fruits and vegetables.
It wasn't like we were a wealthy family. Most days, it was hard for them make the ends meet. They were both working in jobs where they could live as a middle class family in a country that was (and, still is) politically and economically unstable. But with some luck, several years of hard work, and some help from friends and family, they finished building the house of their dreams on that land. We moved in when I was 13 years old. To this day, I still remember how proud they were for becoming first time homeowners.
One of the many reasons why my father wanted to move to the suburbs was to make his life long dream come true: to grow his own fruits and vegetables in his own backyard so that he could eat fresh and organic produce every day for the rest of his life. To his advantage, the climate and location of our new home offered him the perfect conditions for what he wanted to achieve.
So he spent the next 5 years of his life working on that backyard. He planted trees strategically making sure they get just the right amount of sun exposure and water. He cared for them on a daily basis to ensure that they get the right amount of water, sun, fertilizer, and most importantly, love.

At the end of many years of hard work, we ended up with trees like mulberry, quince, pomegranate, walnut, apricot, and fig. At first, they were small, but over the years they became exactly what he dreamed of: trees that offer variety of fruits year round that are organic, sweet, and delicious.
Nowadays, my father spends his mornings eating fresh fruit from the trees that he planted twenty-five years ago. He refuses to buy fruit from anywhere else and if you ever criticize or mistakenly say something bad about his trees, you may end up with a punch on your nose. He still maintains his backyard and experiments with new produce every year. If you ask him about his trees, I guarantee you that he will tell you everything he learned in the last twenty-five years of his adventures in planting and maintaining fruit trees and vegetable gardens.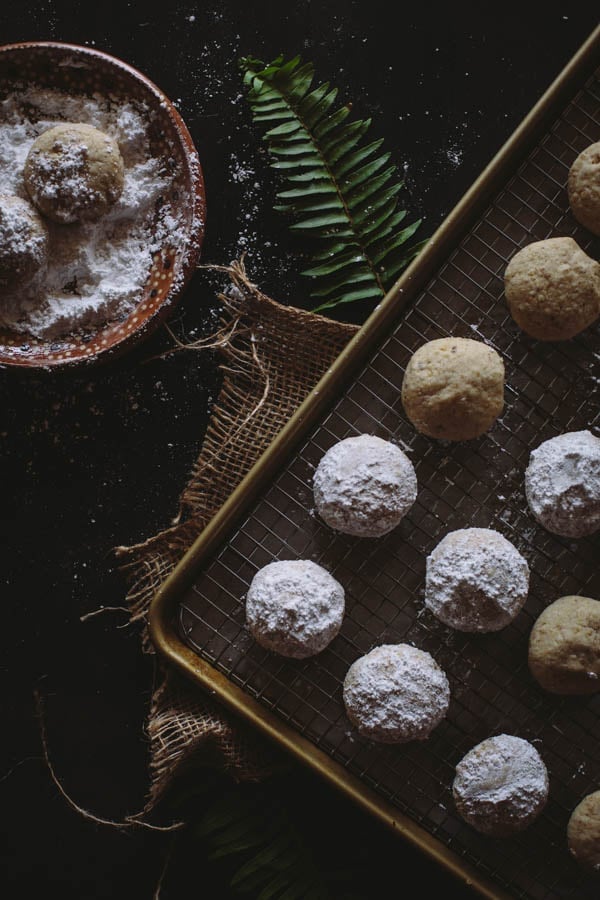 When he asked me what I wanted from back home, knowing that he was not allowed to bring fresh fruit to the U.S. and the BVIs, I asked him for some walnuts from our backyard. I knew that back in September, he spent many days picking, cracking, and drying them. I also knew that after many days of hard work, he ended up with more that 60 pounds of the most delicious walnuts that I have ever had in my life. Therefore, as you can imagine, it was a wonderful surprise to see that he took my request to heart, and carried almost 6 pounds of walnuts in his luggage all the way from Bursa, Turkey to Virgin Gorda, BVI.
With all the walnuts I had on hand, I wanted a recipe that would celebrate and appreciate the deliciousness of this amazing nut. And that is why I decided to make these Mexican Wedding Cookies.
We have had these cookies back in September in an artisanal coffee shop in San Miguel de Allende. Though I have eaten them many times before, for some reason I have never made them myself. I thought this was a perfect opportunity to give it a try. Luckily, with the foolproof recipe of America's Test Kitchen and my father's help (hence, the hand in the picture), my first attempt of making Mexican wedding cookies in my own kitchen resulted in the most delicate treat for our afternoon teatime gatherings.
With the perfect combination of butter, flour, and finely ground walnuts, these cookies break into the finest of crumbs the moment you take a bite. And as you chew them, they melt in your mouth leaving a nutty flavor that makes you want more.
Try it, I promise it won't disappoint.
Mexican Wedding Cookies
Print Recipe
Ingredients
2

cups

8 ounces whole walnuts*, chopped fine

2

cups

10 ounces all-purpose flour

1/2

teaspoon

table salt

16

tablespoons

8 ounces unsalted butter, at room temperature

1/3

cup

2 1/2 ounces superfine sugar *

1 1/2

teaspoons

vanilla extract

1 1/2

cups

6 ounces confectioners' sugar
Instructions
Pre-heat the oven to 325 F. degrees.

Place 1-cup of the walnuts, flour, and salt into a mixing bowl.

Place the other 1-cup of the walnuts in a food processor. Process them until their texture is like a coarse meal. Stir it in the bowl with the flour mixture.

Place the butter and superfine sugar in the bowl of a standing mixer fitter with the paddle attachment. Beat them in medium-high speed for 2 minutes, scraping down the bowl halfway through.

Stir in the vanilla extract and continue to beat 30 seconds.

Turn it down to slow speed and add the flour mixture. Mix until the dough comes together, 15-20 seconds. (Do not overbeat; otherwise you may end up with tough cookies.)

Line two baking sheets with parchment paper.

Using a tablespoon measure, divide the dough into 48 pieces. Roll each piece into a ball in the palm of your hands. Divide them in between the baking sheets. It should be 24 balls per sheet.

Bake one sheet at a time for 18-20 minutes*, or until they are golden-brown on the bottom and just pale on the top. You should rotate the baking sheet halfway through to ensure even cooking.

Allow them to cool on the baking sheet for 2 minutes, and then place them on a wire rack to cool completely.

Place the confectioners' sugar in a dish and roll the cookies in them.

Serve. These cookies will keep their freshness for 5 days as long as they are stored in an airtight cookie jar (or container).
Notes
Cook time: 20 minutes[br]Yields: 48 cookies[br][br]* You can substitute walnuts with pecans.[br]* If you do not have superfine sugar, simply process granulated sugar in a food processor for 45 seconds.[br]* I recommend keeping a close eye on the cookies after the 18-minute mark as they turn golden brown very suddenly. If you allow them to bake longer than they should it may result in a tough cookie.
Recipe is adapted from Americas Test Kitchen's Crescent Nut Cookies recipe.
Like this recipe? Consider sharing: