The number one thing I love to get when I go to Starbucks is a dark roast cup of coffee and the number two thing is this Crumb Cake, especially if I want to spoil myself.
This post was originally published in August 2013. It has been updated with additional helpful information with no changes to the originally published recipe in June 2020.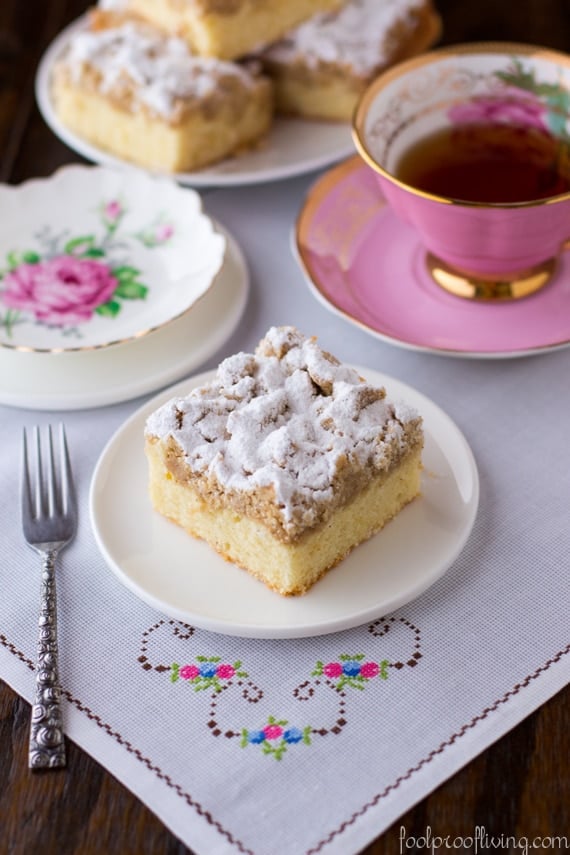 After we moved to our lovely island, Virgin Gorda, with no Starbucks (or any other coffee shop), I had to take the matters into my own hands and make it myself.
Yes, I said " No Coffee Shop!". Can you believe it??? It's tragic isn't it?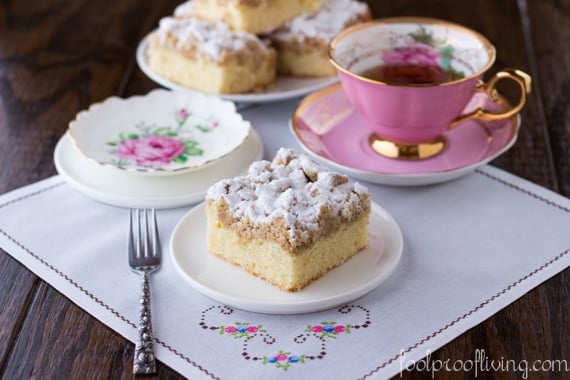 If you are a fan of breakfast baked goods, this crumb cake is the best thing to have with a cup of coffee or tea in the morning. It is the kind of breakfast that you can cut a piece, grab, and go.
With its thick crumb layer, it is incredibly moist and delicious. And the best part of it is that it takes no time to prepare.
A Few Helpful Tips for The Best Crumb Topping:
Just a couple of things to know to help you make the best NY Style Crumb Cake: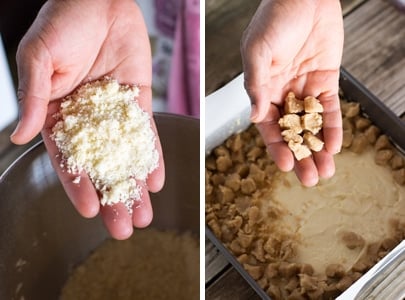 While making the cake batter take your time with mixing the butter. You should add each piece one by one. The end result should look like moist crumbs. (Picture on the left)
Take your time when getting the crumbs ready. You want each crumb to be the size of a pebble. Also, when placing them on top of the batter, start from outside edges and work your way into the middle. The batter is very thick, almost like frosting.(Picture on the right)
The ratio of cake batter to the crumb mixture may surprise you. This cake is all about the crumb topping so do not be alarmed when you see the amount of batter. It is considerably less than a normal cake batter.
When topping the cake with crumbs, there is no need to push the crumbs into the batter. They will magically incorporate with each other during the baking process.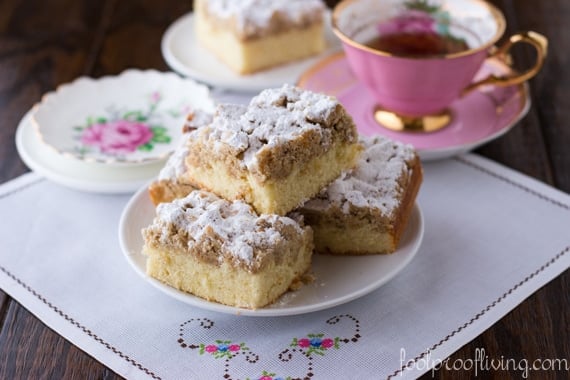 Whether you serve it with a cup of coffee, milk, or almond milk, this easy crumb cake recipe is worth the try.
A Few Other Baked Goods You Might Like:
New York-Style Crumb Cake
Your search for the best New York crumb cake is over. This is the only crumb cake recipe you'll ever need. Made from scratch, this buttery and crumb-heavy cake is simply irresistible. Ready in less than an hour, this is the perfect treat with your afternoon tea time.
Print Recipe
Ingredients
For Crumb Topping:
1/3

cup

(2 2/3 oz.) granulated sugar

1/3

cup

packed

2 1/3 oz. brown sugar

1/8

teaspoon

salt

3/4

teaspoon

ground cinnamon

8

tablespoon

1 stick unsalted butter, melted and warm

1 3/4

cups

(7 oz.) cake flour
For The Cake Batter:
1 1/4

cups

(5 oz). cake flour

1/2

cup

(3 1/2 oz.) granulated sugar

1/4

teaspoon

baking soda

1/4

teaspoon

table salt

6

tablespoons

(3 oz.) unsalted butter, cut into small pieces, softened but still cool

1

large egg

1

large egg yolk

1/3

cup

fat-free yogurt

1

teaspoon

vanilla extract

2

tablespoons

confectioners' sugar for dusting
Instructions
For the crumb topping: Mix together granulated and brown sugar, salt, and cinnamon in a small bowl. Once they are all incorporated evenly, add in the butter, and continue to whisk until combined. Stir in the flour and mix with a rubber spatula until it looks like a thick dough. Set aside and let it cool for 10-15 minutes.

For the cake batter: Place the oven rack to the upper-middle position and preheat the oven to 325 F Degrees.

In the bowl of a standing mixer (or a hand mixer), fitted with the paddle attachment, mix the flour, baking soda, sugar, and salt on low speed. With the mixer running on low speed, add the butter pieces one by one until there are no visible butter chunks and it has a uniformed texture. (For a visual, please look at the pictures above).

Add the egg, egg yolk, yogurt, and vanilla and beat them until the batter is fluffy, resembling frosting, about 1 minute.

Cut a piece of parchment paper that is slightly less wide than an 8X8-baking pan. Spray the pan with vegetable oil spray. Place the parchment paper pushing it into the corners and up the sides. Let the excess to overhang the edges. This will help you get the cake out of the pan easily after it is baked. Spray the top of the parchment paper with vegetable oil.

Transfer the cake batter into the prepared baking pan and spread the batter into the pan evenly using a rubber spatula.

Using your fingers, break away the crumb mixture into small pebble size pieces. Evenly spread them on top of the cake batter starting from the outside corners and working your way into the center.

Bake it for 35 to 40 minutes, until the crumbs are golden and a toothpick inserted into the batter comes out clean.

Cool the cake (in the baking pan) for 30 minutes. Once cooled, remove it from the pan by lifting the parchment overhang. Dust it with confectioners' sugar.

Cut it into 9 small squares and serve.
Nutrition
Calories:
430
kcal
|
Carbohydrates:
55
g
|
Protein:
8
g
|
Fat:
20
g
|
Saturated Fat:
12
g
|
Cholesterol:
88
mg
|
Sodium:
166
mg
|
Potassium:
83
mg
|
Fiber:
1
g
|
Sugar:
25
g
|
Vitamin A:
599
IU
|
Calcium:
37
mg
|
Iron:
1
mg
Did you make this recipe?
Tag @foolproofliving on Instagram and hashtag it #foolproofeats
Recipe from America's Test Kitchen.
Like this recipe? Consider sharing: