A recap of my recent trip to Stowe Vermont as a part of Stonyfield Organic's Summer Farm Tour with some of my notes and photos about organic dairy farming.

This post has been sponsored by Stonyfield Organic, but as always all opinions are my own.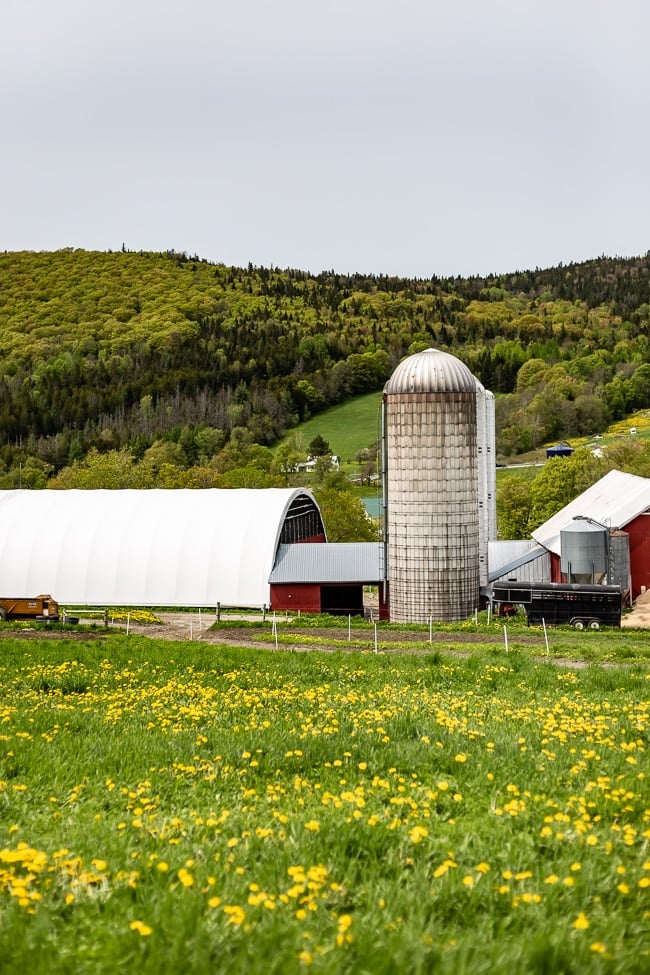 Back in 2002, when I first moved to the US, my new American friends were surprised that I put yogurt on everything. Like any kid who grew up in a Middle Eastern or Mediterranean country would testify, yogurt was (and still is) a staple in many households in those regions.
When I say we put yogurt on everything, I mean it in a literal sense: a dollop of it on a bowl of pasta, a drizzle of yogurt dressing on a green salad or even on fried eggs sprinkled with sumac.
So you could imagine my surprise when I realized that people in the US were not putting yogurt on their food and that it was actually hard to find plain yogurt in the supermarket. Trying to be okay with this new norm, I continued to enjoy yogurt and stocked it in my fridge whenever I could get my hands on it.
Fortunately over time, things changed. Over the next 15 years, as healthy living and eating became more popular, yogurt took its well-deserved place on the shelves of American supermarkets and became a go-to breakfast/dessert for many people.
Finally, Americans caught up with the rest of the world.
Today's post is about yogurt. Not just any yogurt, but Stonyfield Organic Yogurt.
Below are some of my notes and photos from a recent trip I took to Northern Vermont as a guest of Stonyfield Organic. My intention and hope here are to share what I learned about organic dairy farming, what it means to produce organic dairy, and tell you why it is worth spending the extra few bucks and buy organic yogurt.
STONYFIELD ORGANIC
I was very excited when the folks at Stonyfield Organic invited me to participate in a bloggers trip. Having been a life-long lover of yogurt, this opportunity to learn more about their organic dairy practices and meet the people behind this successful company was a dream come true.
The two-day trip to Stowe, Vermont ended up being a source of inspiration and enhanced my appreciation for people who are passionate about their animals, land, and business practices to produce the highest quality of food that they can provide for us.
MEET GARY – Co-Founder & Chief Organic Optimist
The invitation e-mail came with a few links for us to familiarize ourselves with the brand and what it stood for. Having been a long time customer of Stonyfield Organic yogurt, I knew what it tasted like, but I had no idea about the people behind them and how they became one of the top-selling yogurt brands in the nation.
My first introduction to co-founders Gary Hirshberg and Samuel Kaymen was through Gary's interview in the popular podcast, How I Built This, which I listened to in my car as I drove to Stowe. While I highly recommend giving this great interview a listen, this is what I got from their hour-long conversation:
The yogurt production that started with one cow as a means to support an organic dairy school in 1983 is now an environmentally-friendly organic yogurt company that supports over 1700 dairy farmers who provide us with the best-tasting yogurt in the market.
Of course, as in most businesses of this size and level of success, Gary and Samuel experienced their share of drama over the 35 years of production with multiple instances where they almost lost everything and took on millions in debt.
However, by working tirelessly, taking risks, and getting help from family (including a kick-a$$ mother-in-law and a wife with the utmost patience in the world), they were able to prove that you can make money from a business model that not only supports our health and local dairy farmers but also does good for the planet.
THE MISSION:
In Gary's words, the mission of Stonyfield Organic is simple: Healthy Planet – Healthy People – Healthy Food.
One will not work without the other. The circle of life.
In line with the company's mission, Gary told us that he believes that the only way to guarantee healthy food for ourselves is by keeping farmers on their land, where they grow their food.
To give us an introduction to how they live and breathe by their mission, they took us to two local organic dairy farms on that day.
MEET JENNIFER AND HER CHILDREN SAM AND NORA OF THE WONDER WHY FARM
I took the photos you see below when we first arrived at the Wonder Why Farm, and I essentially saw a mom who lovingly cares for her kids in a farm setting.
That was before I toured the farm.
But the next two hours of watching these people proved to us that they were not only caring for one another equally but also taking care of their animals and land altogether. It all worked like a well-oiled machine. We were told that everyone, including the little girl, had a vital role in the farm and its operations.
Imagine 2 young kids, coming home from school and actually working and taking care of the farm chores every single day. No video games, no TV, and no iPad. It is hard not to admire.
The Wonder Why Farm uses robots to milk their cows, so it is quite futuristic in the milking parlor. As a part of the requirement of organic dairy farming, cows spend most of their day grazing the lush pastures but know how to get in line and walk up to the machine that milks them when they are ready.
Like I said, a well-oiled machine (pun intended).
MEET RHONDA & MYLES OF THE MOLLY BROOK FARM
Rhonda and Myles are the seventh generation to run their family farm. After a warm welcome, Rhonda gave us a tour of their farm along with a family album slide show showcasing over 180 years of work that went into making the farm what it is today.
Even from the outside, we could see the farm was a well-lit and well-maintained sanctuary for cows that provides the highest quality of living conditions imaginable, which even included a large brush where the cows can massage and scratch their backs.
WHAT DOES ORGANIC DAIRY FARMING MEAN
As Rhonda and Gary spoke, I learned what organic dairy farming really meant. Here are a few takeaways:
For farmers, going organic means using no pesticides, artificial hormones and antibiotics to protect their animals or treat their crops (aka the food that cows eat). In other words, as Rhonda put it, they have very few tools in their toolbox to treat their cows if they get sick. Therefore, the name of the game is being proactive and taking necessary measures to prevent their cows from getting sick in the first place.
Organic Farming Starts With The Farmers On Land: These farmers work with nature to allow the soil, crops, pasture, and products to reach their potential organically. Their primary focus is to build healthy soil and pastures for their cows to graze each day.
Organic Cows are Happy and Healthy Cows: It was obvious that living in a spa-like environment and pasture grazing more than 120 days a year (a requirement by the government to get the stamp of approval for being "organic") creates happy and healthy cows. These animals are unlikely to get sick compared to conventional cows. In return, the milk they provide is the highest quality.
Organic Farming is Better For The Environment: Organic farming does not allow for the use of harmful chemicals on the land or in the animals. Everything that the animals consume and deposit as manure benefits both the animal and the land.
WHY BUY ORGANIC
Based on everything I learned on my trip, now I know that when I buy Stonyfield Organic yogurt I am not only feeding my family the highest quality yogurt but also supporting the family-owned farms that are kept to very high standards by the government to maintain their organic status.
Now, I also know that it may be expensive to go completely organic in every purchase you make at the grocery store. Even after this experience and everything I learned, I am not sure if I can go 100% organic for everything I buy.
However, knowing what I know now, I will be more deliberate in how I make my decisions at the store. Because I believe that a few extra dollars spent on food that is free of pesticides, hormones, antibiotics, and GMOs are going to help me continue to live a healthy life and prevent spending (potentially) more of that money in a hospital later in my life.
THE #PLAYFREE INITIATIVE
In the spirit of living a healthy life, the folks at Stonyfield have recently started working on a new project.
Think about it. One of the reasons why we buy organic is to reduce our exposure to pesticide residues, but how about the weed and insect killers that are used in our parks and playing fields? How can we protect our family and pets from them?
The newest (and "the biggest" as they call it) initiative of Stonyfield is to work with communities around the US to help them manage their playing fields organically, and eventually, turn all of the public parks in America to organic.
To do so, they provide knowledge and support as well as a monetary donation to locals about organic landscape management by experts in this field.
How awesome is that? If you want to know more, check out #playfree.
All in all, this was an incredible learning opportunity with like-minded friends. I left with a new level of appreciation of the local farmers and people who are supporting them. Needless to say, it was also fun to connect and make friends with other food bloggers.
Thanks a million to the folks at Stonyfield for hosting us!
Like this recipe? Consider sharing: