I have to admit – I have never cooked or intentionally eaten oxtail before. I knew that most people use it while making beef stock due to its high bone content, but I had never attempted to cook with it until I made this dish. With that being said, I have been thinking about making something with it for a while, as it is very popular and (shockingly!!?!) always available in the supermarkets of our small island, Virgin Gorda. I was told by some of the locals that oxtail is a popular meat type frequently used in Caribbean cooking, mostly in stews.
This Oxtail Macaroni Gratin recipe that I found in Mimi Thorisson's new cookbook, A Kitchen in France
, came in at a perfect time while I was looking for a creative way of making mac and cheese. It felt like shooting two birds with one stone.
If you are like me, and had never cooked with oxtails before, they come from the tails of cattle, a well-exercised muscle that is marbled with fat and high in jelatin-rich bone content. They release a ton of flavor when cooked for a long time, and therefore they are best for braising. Just like this recipe, a lot of French meat dishes use oxtail while creating a flavor base.
I have to say – this Oxtail Macaroni Gratin is like Mac and Cheese on "steroids". It is a great alternative when you are looking for a way to make the good old mac & cheese more interesting and somewhat luxurious. It certainly is a crowd pleaser and perfect for a winter meal.
This recipe has 3 components. This first part is cooking the oxtails. After being flavored with shallots and onions, they are cooked in red wine for 3 hours, or until tender. You are more than welcome to cook the meat a day in advance, especially if you are short on time. In fact in my opinion, it is best to do that, as the meat gets better as it rests.

The second part is making the béchamel sauce. Mimi's original recipe doesn't have mushrooms in it, but I had some in the fridge and thought that it would be a nice addition. However, if you want you can omit mushrooms. Béchamel sauce in this recipe serves like glue made with butter, flour, milk, and chicken stock holding everything together while adding an additional layer of flavor.
The last component is putting everything together. To do that, all you have to do is to layer the meat (with its sauce), cooked elbow shaped macaroni, cheese, and béchamel sauce in two batches, and bake it in a 400-degree oven for 20-25 minutes. In the original recipe, Mimi suggests using the juices of the meat (after being reduced) as gravy on the side, but I chose to use all of it in the gratin.
Whether you want to impress your friends, or you are looking for a way to transform a classic, this Oxtail Macaroni Gratin is a great way to go. It sure is more complicated (and time consuming) than a regular mac & cheese dish, but certainly more rewarding. Not to mention, it is a perfect meal on a cold winter evening…
Oxtail Macaroni Gratin Recipe
Oxtail Gratin aka Oxtail Mac and Cheese: A scrumptious pasta dish made by mixing baked oxtails with bechamel sauce and pasta and baking it in the oven for perfection. This is your usual mac and cheese recipe taken to a whole new level. A great recipe when you are feeding a crowd.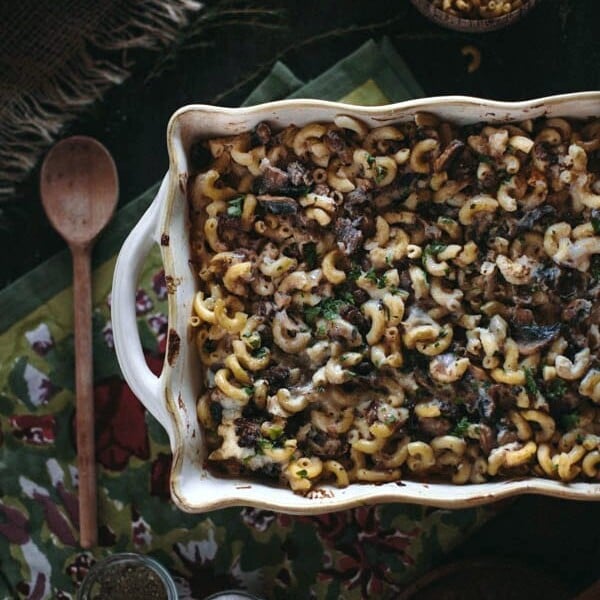 Print Recipe
Ingredients
2

tablespoons

of unsalted butter

plus more for the baking dish

2

pounds

oxtails – cut into pieces

1

large onion

chopped

1

small shallot

chopped

4

garlic cloves

peeled and minced

2

sprigs of fresh thyme

1

bay leaf

1/2

teaspoon

salt

1/2

teaspoon

black pepper

1

bottle

750 ml red wine, such as Beaujolais*

1

pound

small elbow macaroni
For the béchamel sauce:
1

tablespoon

vegetable oil

1

+4 tablespoons of unsalted butter

divided

8

ounces

button mushrooms

1/4

cup

(1.25 ounces) all-purpose flour

3/4

cup

whole milk

warm to touch

1/2

cup

chicken stock

warm to touch

1/2

teaspoon

nutmeg

freshly ground

1/2

teaspoon

salt

1/2

teaspoon

black pepper

1-

cup

Gruyere cheese

grated

2

tablespoons

Fresh Parsley

chopped (optional)
Instructions
Pat-dry and season the oxtail pieces with salt and pepper on both sides. Set aside.

Heat butter in a Dutch oven (or any other heavy bottom pan with a lid). Add the meat and brown well, 4-5 minutes on each side.

Stir in the onion and shallot, and cook until translucent, 5 minutes or so. Add in the garlic, thyme sprigs, bay leaf, and wine. Bring it to a simmer.

Turn the heat down to low and cook until the beef is tender, 3-3 1/2 hours.

Remove the meat from the bones and roughly chop, if necessary. Fish out the bay leaf and thyme sprigs.

Transfer the meat into the pot and cook for 10-15 minutes in medium heat, or until the sauce thickens.

Half an hour before the meat is cooked, make the béchamel sauce. Start with heating the vegetable oil in a large non-stick skillet. Add in the mushrooms and cook, stirring occasionally, until some of the juices are absorbed, 7-8 minutes. Stir in the 1-tablespoon of butter and make sure it is melted and mixed within the mushrooms. (Here, butter serves as a gloss.) Transfer it to a plate and set aside. Do not wash the skillet.

In the same skillet, heat 4 tablespoons of butter until melted. Stir in the flour.

While whisking it constantly, gradually stir in the milk and chicken stock. Add in the nutmeg, salt and pepper, and cook, stirring constantly until the sauce thickens, 8-10 minutes.

Transfer the mushrooms (with its juices) into the sauce and give it a large stir.

Bring a large pot of salted water to a boil, add in the elbow macaroni and cook according to the package instructions. Drain and set aside.

Pre-heat the oven to 400 degrees.

To assemble: Butter an 8X11 ovenproof casserole dish with butter. Add a layer of half of the meat (with the sauce), half of the macaroni, half of the béchamel sauce, and sprinkle it with the half of the cheese. Repeat the same process with the second half.

Bake until it is golden on top, 20-25 minutes.

When ready to serve, sprinkle it with chopped parsley.
Notes
Note: You can substitute Beaujolais with a bottle of Pinot Noir, Chianti, or Burgundy.
Nutrition
Calories:
650
kcal
|
Carbohydrates:
50
g
|
Protein:
50
g
|
Fat:
27
g
|
Saturated Fat:
13
g
|
Cholesterol:
153
mg
|
Sodium:
604
mg
|
Potassium:
312
mg
|
Fiber:
3
g
|
Sugar:
4
g
|
Vitamin A:
377
IU
|
Vitamin C:
4
mg
|
Calcium:
232
mg
|
Iron:
6
mg
Adapted with minor changes from Mimi Thorisson's cookbook A Kitchen in France
.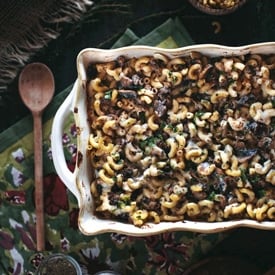 Like this recipe? Consider sharing: