After my mother's passing, her best friends became my best friends. Though I wish it was under different circumstances, I am glad I have them in my life. Sevil is one of those friends, and she is very near and dear to me. Though she lives in Turkey, she and I regularly have coffee dates over Skype, where we almost always talk about food and recipes. Lucky for me, she is one of the best home cooks I know, and she is always available to help when I am in need.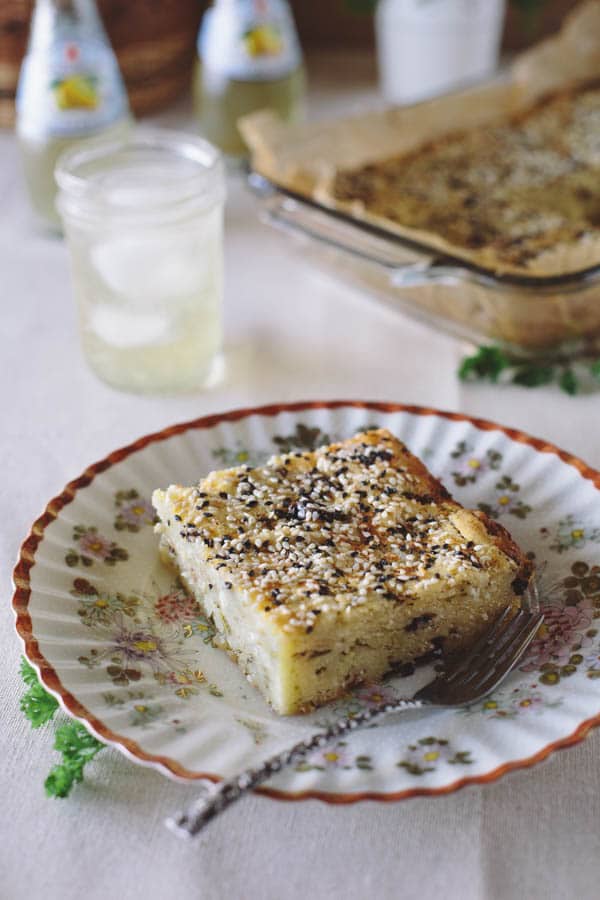 This Savory Feta Cheese and Kalamata Olive Cake recipe belongs to her. It is one of her signature dishes that you can almost always find in her kitchen. I can even say that the smell of this cake while it is baking is the smell that welcomes you when you visit her house. However, for me, it is the smell of my childhood years spent with accompanying my mother to afternoon teatime gatherings with her friends.
I love this cake, not only because it reminds me back home, but also because it embodies the characteristics of a true Mediterranean savory teatime cake. If you have ever visited a country from that region, you would know how much they love a cup of afternoon tea accompanied with a savory (or sweet) cake.
Growing up in Turkey, we were no different. Even at school, they would feed us with something similar as an afternoon snack.
Making it is rather easy and quick. All you have to do is to mix the dry ingredients and wet ingredients together, add feta cheese, Kalamata olives, and fresh herbs, place it in an ovenproof dish, and sprinkle it with sesame seeds. After baking it in a low-heat setting for 45-55 minutes, you end up with a classic Mediterranean treat.
Here, I must mention that even though it is still a moist cake, it has more of a dense texture than a fluffy one. It is incredibly delicious after it comes out of the oven. And if you keep it in an airtight container in the fridge, it keeps its freshness for at least 3 days.
After those 3 days, if you still have some leftovers, you can also cut it into small cubes and freeze them to use as croutons. When ready to use, simply place them on a baking sheet, bake at 350 degrees for 15-20 minutes, and add it as a garnish to soups.
It goes especially great with soups that have tomato as basis. I think, using it as croutons is such an easy way to give a Mediterranean twist to an otherwise ordinary soup.
Savory Feta Cheese and Kalamata Olive Cake
This Feta and Kalamata Olive Cake is studded with briny olives and feta, scented with fresh herbs and sprinkled with sesame seeds. A one-bowl savory cake, this delicious recipe is perfect for a Mediterranean themed breakfast or brunch.
Print Recipe
Ingredients
8.8

ounces

all purpose flour

2 1/2

teaspoons

baking powder

1/4

teaspoon

baking soda

1

teaspoon

salt *

1/4

teaspoon

black pepper

8

ounces

feta cheese

crumbled

1/2

cup

fresh parsley and/or dill

chopped

1/2

cup

pitted Kalamata olives

chopped

4

stalks scallions

both green and white parts chopped

2

eggs

at room temperature

1/2

cup

whole milk

at room temperature

3/4

cup

yogurt

at room temperature

1/2

cup

olive oil Vegetable spray

1

tablespoon

black and white sesame seeds
Instructions
Preheat the oven to 350 degrees.

Spray an 8X11 oven-proof casserole dish with vegetable spray. Set aside.

Sift flour, baking powder, baking soda, salt and pepper in a bowl. Set aside.

Mix feta cheese, fresh parsley, olives, and scallions in a bowl. Set aside.

Whisk together the eggs, whole milk, yogurt, and olive oil in a bowl. Reserve 3 tablespoons of the egg mixture (we'll use this to glaze the top of the cake later.).

Gradually mix in the dry ingredients into the wet ingredients just until combined.

Fold in the feta cheese mixture while making sure that it is equally distributed within the dough.

Transfer the mixture into the casserole dish. Equally spread the reserved 3 tablespoons of the egg mixture on top. Sprinkle it with sesame seeds.

Bake for 20 minutes in the preheated 350 degrees oven. And then turn down the heat to 325 degrees and bake for another 25-30 minutes, or until the top is golden and a toothpick inserted in the middle comes out with no crumbs.

Allow it to cool for at least 20 minutes before serving.
Notes
Note: Be sure to taste the olives and the feta cheese before adding the salt into flour mixture. If they are salty enough, you may omit adding additional salt.
Nutrition
Calories:
489
kcal
|
Carbohydrates:
42
g
|
Protein:
14
g
|
Fat:
29
g
|
Saturated Fat:
10
g
|
Cholesterol:
94
mg
|
Sodium:
1267
mg
|
Potassium:
218
mg
|
Fiber:
2
g
|
Sugar:
4
g
|
Vitamin A:
847
IU
|
Vitamin C:
8
mg
|
Calcium:
390
mg
|
Iron:
3
mg
Did you make this recipe?
Tag @foolproofliving on Instagram and hashtag it #foolproofeats
Like this recipe? Consider sharing: