If you are a lover of goat cheese, I think you'll agree that it is one of those magical ingredients that immediately elevates any dish. Simply crumble a log of goat cheese over a salad or bake it in a ramekin and voila, just like that you are in for a treat for a luxurious dish with almost no effort.
Over the years of sharing my favorite recipes on this blog, goat cheese has been one of my favorite ingredients that I have used in many salads, meat dishes, appetizers, and breakfast recipes.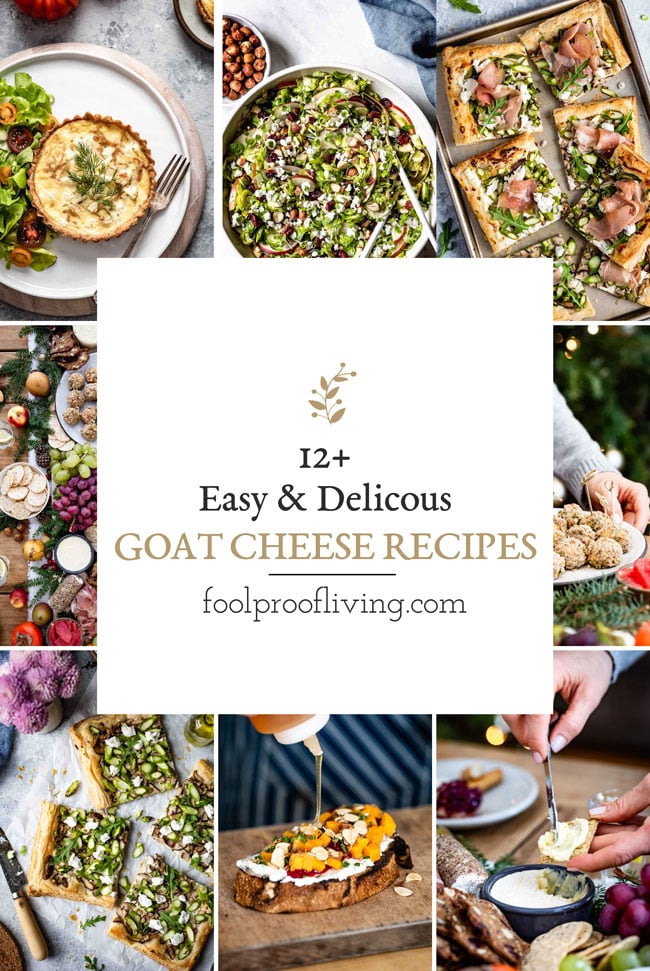 In today's post, I want to talk about creative ways you can use this humble ingredient in your daily cooking, along with some of the goat cheese recipes I shared on my blog throughout the years.
But before that, let's go back to basics and answer a few questions about goat cheese.
What is Goat Cheese?
Simply put, goat cheese is cheese made from goat's milk. Originally called by its French name, Chèvre, it has a slightly tangy flavor that lends itself beautifully in many sweet and savory dishes.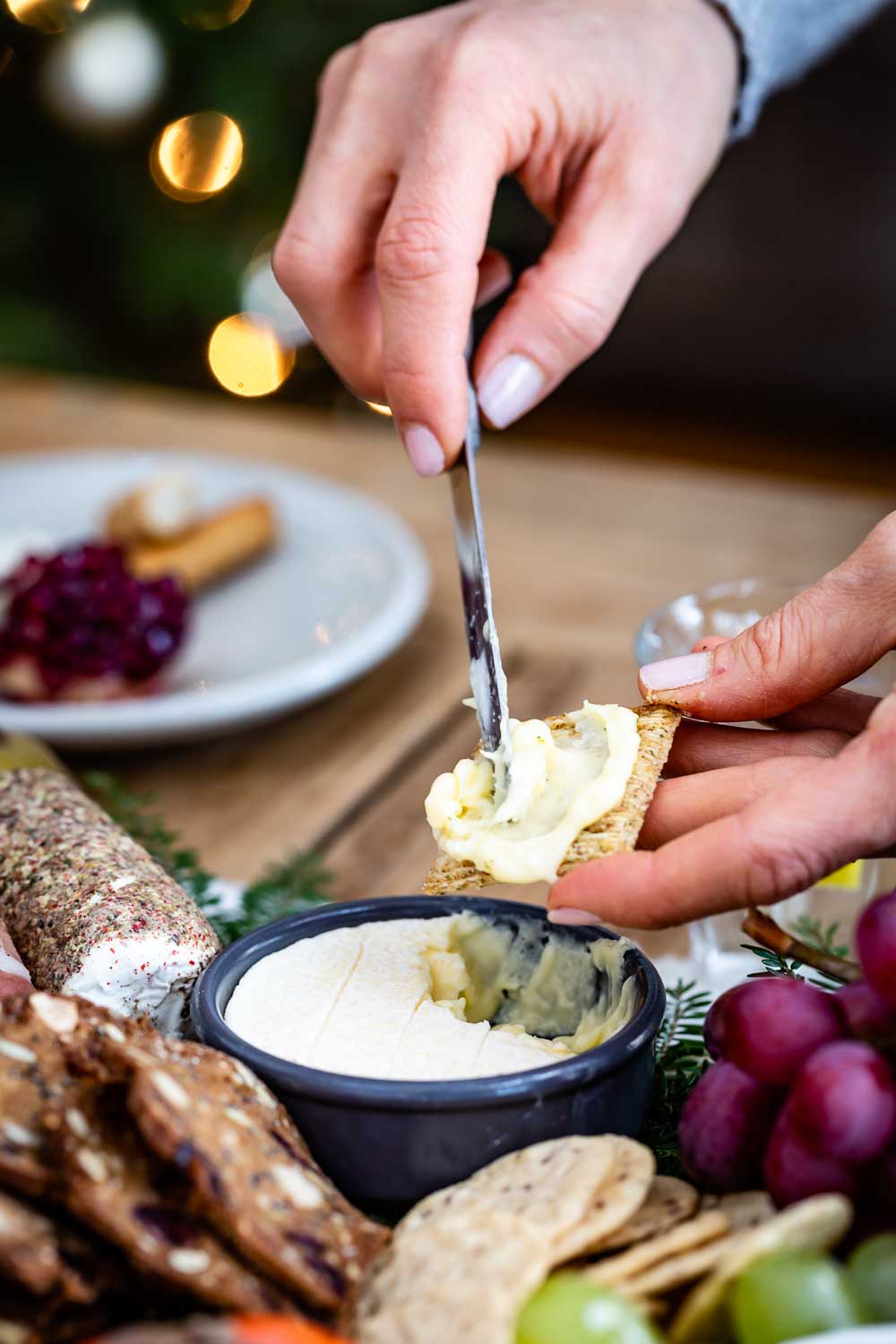 As in most cheeses, goat cheese comes in a variety of forms. The most popular form of goat cheese is fresh (or white) goat cheese that is usually sold in the form of a log. While you can find this simple fresh cheese in its original form, nowadays goat cheesemakers also sell it rolled in varies spices, herbs, and fruits. This version of the chévre is usually the most affordable and versatile one to use in cooking.
Another popular goat cheese variety is aged goat cheese, which comes in various shapes and sizes. It is usually covered in ash or herbs to prevent it from drying out and to protect its fluffy middle and creamy exterior. As it is more expensive to its fresh version, most people use aged goat cheese as a part of cheese boards on special occasions.
Need a recommendation for a great goat cheese brand? My favorite goat cheese brand in the market is Vermont Creamery. I love them not only because they are a Vermont company but also because they are very innovative.
They have an extensive collection of goat cheeses that are sold in log form with or without flavorings. I always keep a tub of their spreadable goat cheese and a log of wild blueberry and lemon-flavored goat cheese (affiliate link) in my fridge.
Full disclosure: Even though I have worked with Vermont Creamery in the past, this post is not sponsored by them.
What is the best way to store goat cheese?
If you are buying packaged goat cheese, the best way to store it is in the fridge in its packaging. Once opened, it is best to wrap it in wax paper and seal it tightly in a plastic container to prevent it from drying out.
How long is goat cheese good for?
As long as it is tightly sealed and kept in the fridge, goat cheese will last for 2 to 3 weeks.
How to crumble goat cheese for salads and other recipes?
Nowadays most supermarkets sell crumbled goat cheese in their cheese section. However, you can easily crumble a log of fresh goat cheese in your own kitchen.
To crumble goat cheese at home:
Remove a log of fresh goat cheese from its packaging, cut it in half, and place it in the freezer for 15 to 20 minutes. This will help dry out some of its moisture.
Take it out of the freezer and immediately break it into small parts with the help of a fork. I do not recommend using your fingers to do this as the temperature of your body will melt the cheese and make it too creamy to crumble.
What to do with goat cheese?
Now that we answered some of the popular FAQs, let's talk about what to make with goat cheese. Below are some recipes without recipes (yes, there is such a thing) and some of my favorite goat cheese recipes that I shared on this blog over the years.
Easy Goat Cheese Appetizers and Snacks:
I'll be honest, I would be content with munching on a log of fresh goat cheese with a box of multi-grain crackers on the couch. However, when it comes to snacks and appetizers, goat cheese has the potential to be a star ingredient.
Here are a few ways I use goat cheese to create next-level easy appetizers and snacks:
01
Make Goat Cheese A Part Of Your Cheese Boards
---
I have never met a cheese lover who doesn't enjoy a colorful cheese board that is decorated with various cheeses, fruits, nuts, and vegetables. Whether it is fresh or aged goat cheese, my go-to soft and creamy cheese for cheese boards is goat cheese.
I have never met a cheese lover who doesn't enjoy a colorful cheese board that is decorated with various cheeses, fruits, nuts, and vegetables. Whether it is fresh or aged goat cheese, my go-to soft and creamy cheese for cheese boards is goat cheese.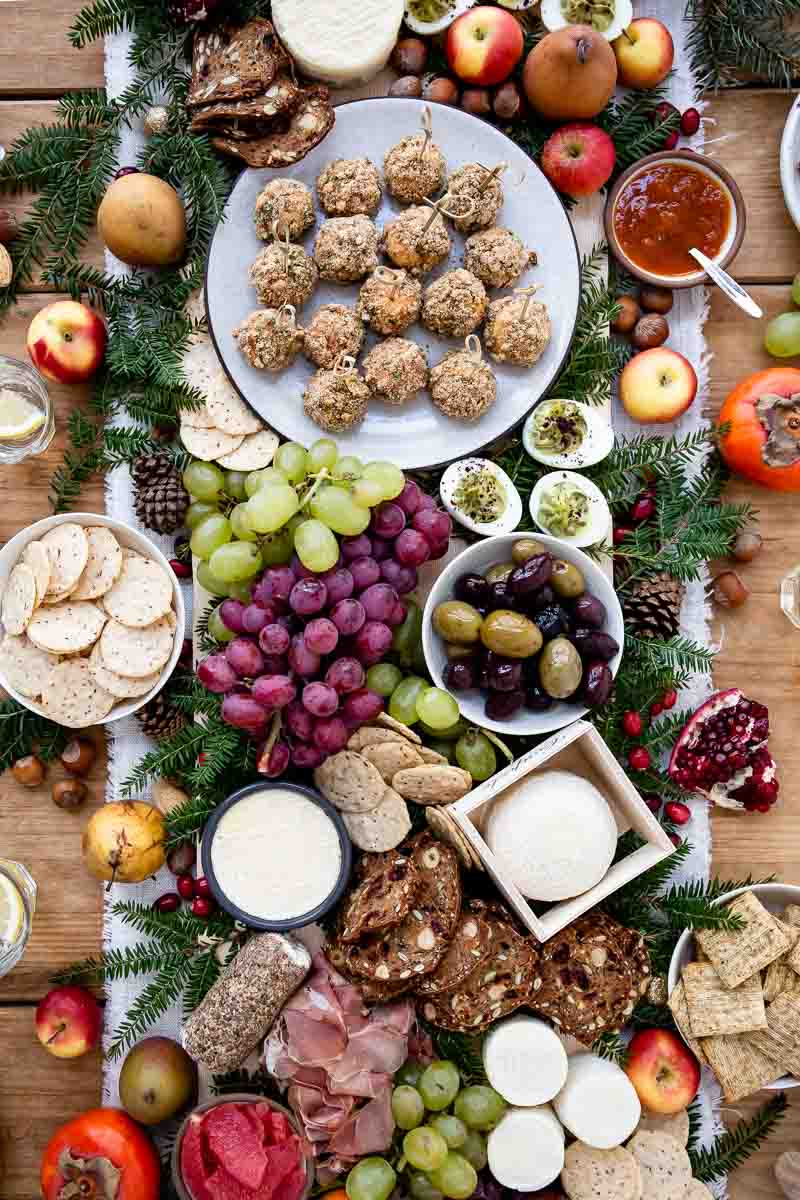 Here are a few FAQs answered about what to serve with goat cheese for your next meat and cheese platter:
What other cheese goes with goat cheese? I love pairing goat cheese with semi-hard cheeses like gruyere and manchego and aged and firm cheeses like cheddar and aged gouda.
What fruit goes well with goat cheese? It is no secret that the tangy and creamy flavors of goat cheese pairs well with fruits. According to, The Vegetarian Bible (affiliate link), my go-to book for matching flavors, apples, figs, grapes, pomegranate seeds, and apricots pair beautifully with goat cheese.
What meat goes with goat cheese? My two favorite types of charcuterie meat for pairing with goat cheese are salami and prosciutto.
Best Crackers To Pair with Goat Cheese:
I think we can all agree that a great cheese board needs some delicious crackers. Lucky for us, nowadays most supermarkets carry a variety of cracker selections to help us up our cheese and meat platter game. Below are a few of my favorite cracker brands that I love and recommend.
The below links are affiliate links.
Jan's Farmhouse Crisps: A small Vermont business, Jan's Farmhouse Crisps has a variety of crackers you can choose from. My favorite one in their selection is salted almond.
Castleton Crackers: Another Vermont business, Castleton crackers offer a variety of all-natural artisan crackers with different flavors. My favorite ones are salted maple and alehouse cheddar.
Raincoast Crisps: You can find these crackers in most supermarkets in the US. They too offer a variety of flavors. My favorite one is the one flavored with salty dates and almonds.
---
02
Baked Goat Cheese Balls
---
If you want to up your cheese board game to another level, you should try my baked goat cheese balls. This finger food like goat cheese snacks can be made ahead and kept in the freezer until you are ready to bake them right before serving. They are warm, deliciously creamy, and not-so surprisingly addictive.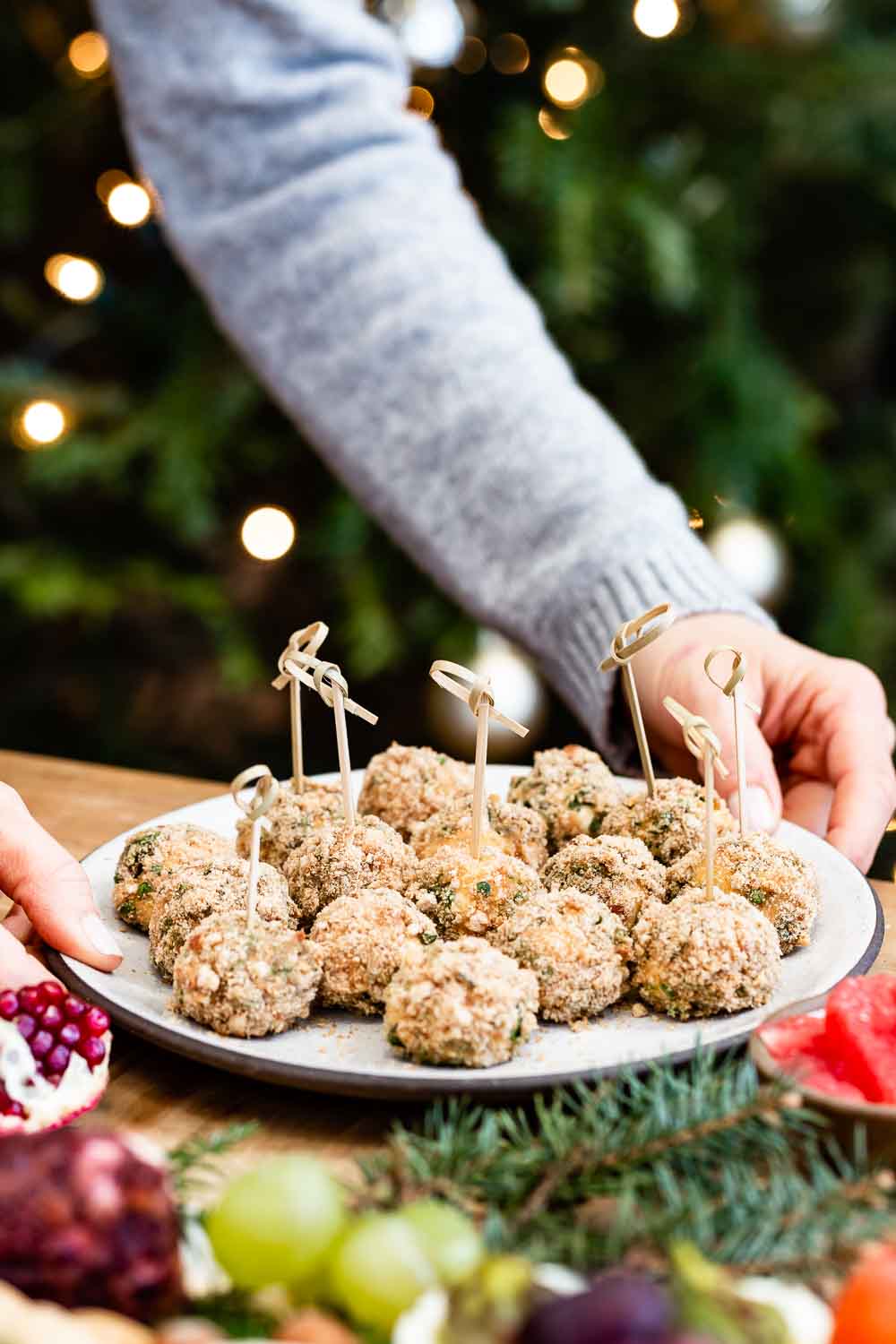 ---
03
Baked Goat Cheese Dip
---
This melted goat cheese dip recipe is one of my go-to dishes for potlucks, holiday parties during the winter months and picnics during the summer months.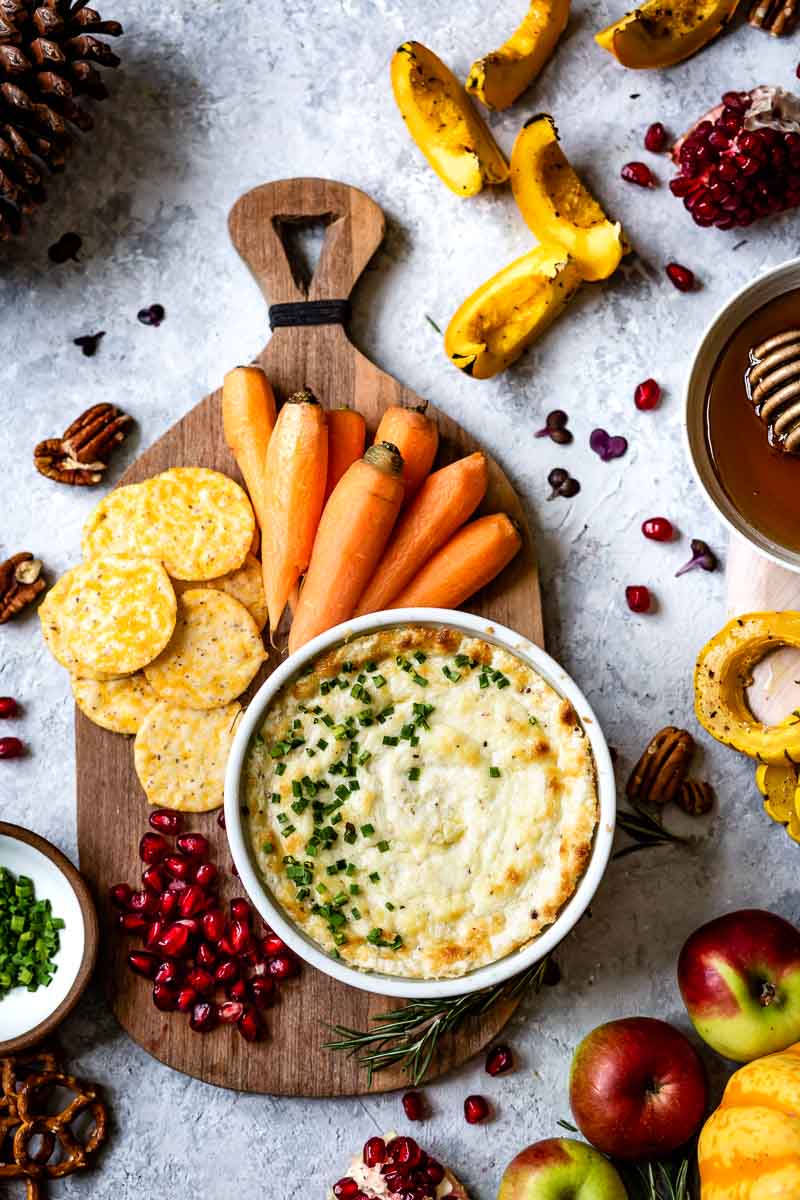 Made with whipping a combination of goat, parmesan, and cream cheese, it is one of the easiest appetizers you can make. Serve it warm with crackers, fruits, honey, and/or vegetables, and accept compliments from all of your party guests.
---
04
Herbed Goat Cheese Bruschetta
---
During the holiday season, when there is leftover cranberry sauce, this goat cheese bruschetta is what I make. Simply roast butternut squash (or my roasted delicata squash) in the oven. While it is roasting, spread a generous amount of goat cheese and cranberry sauce (or jam) on a toast. Then top it off with the roasted squash, sliced almonds and fresh herbs. Finally, finish it off with a drizzle of honey.
This makes an incredible goat cheese appetizer/ finger food that you can also serve on crackers.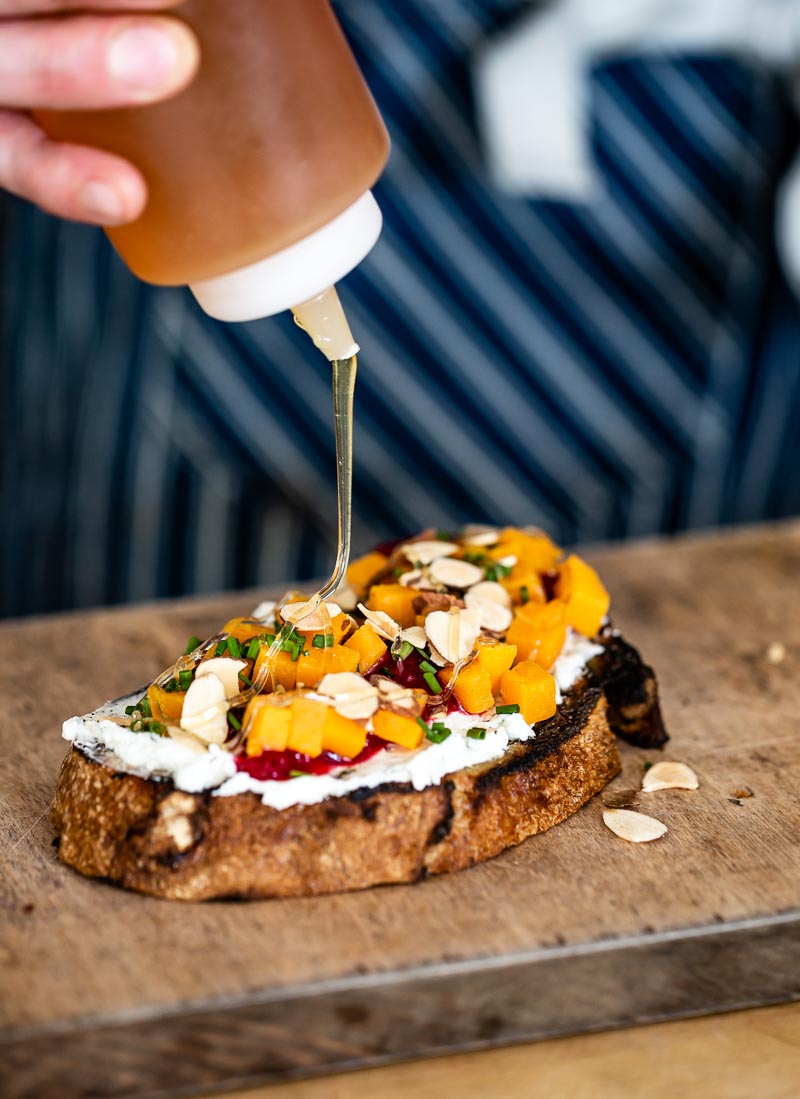 ---
Goat Cheese Breakfast and Brunch Ideas:
01
Add Goat Cheese To Omelets
---
This is a recipe without a recipe, but I can't imagine a better way to take a simple omelet to a whole other level.

Simply crumble goat cheese and mix it in your omelet with mushrooms and spinach. I usually use 1/2 cup of crumbled fresh goat cheese for an omelet made with 4 eggs (2 servings).
---
02
Goat Cheese and Mushroom Asparagus Tart with Puff Pastry
---
Spread a generous amount of creamy goat cheese over puff pastry, top it off with asparagus, and bake it in the oven for a delicious asparagus tart that you can serve as a breakfast or brunch dish.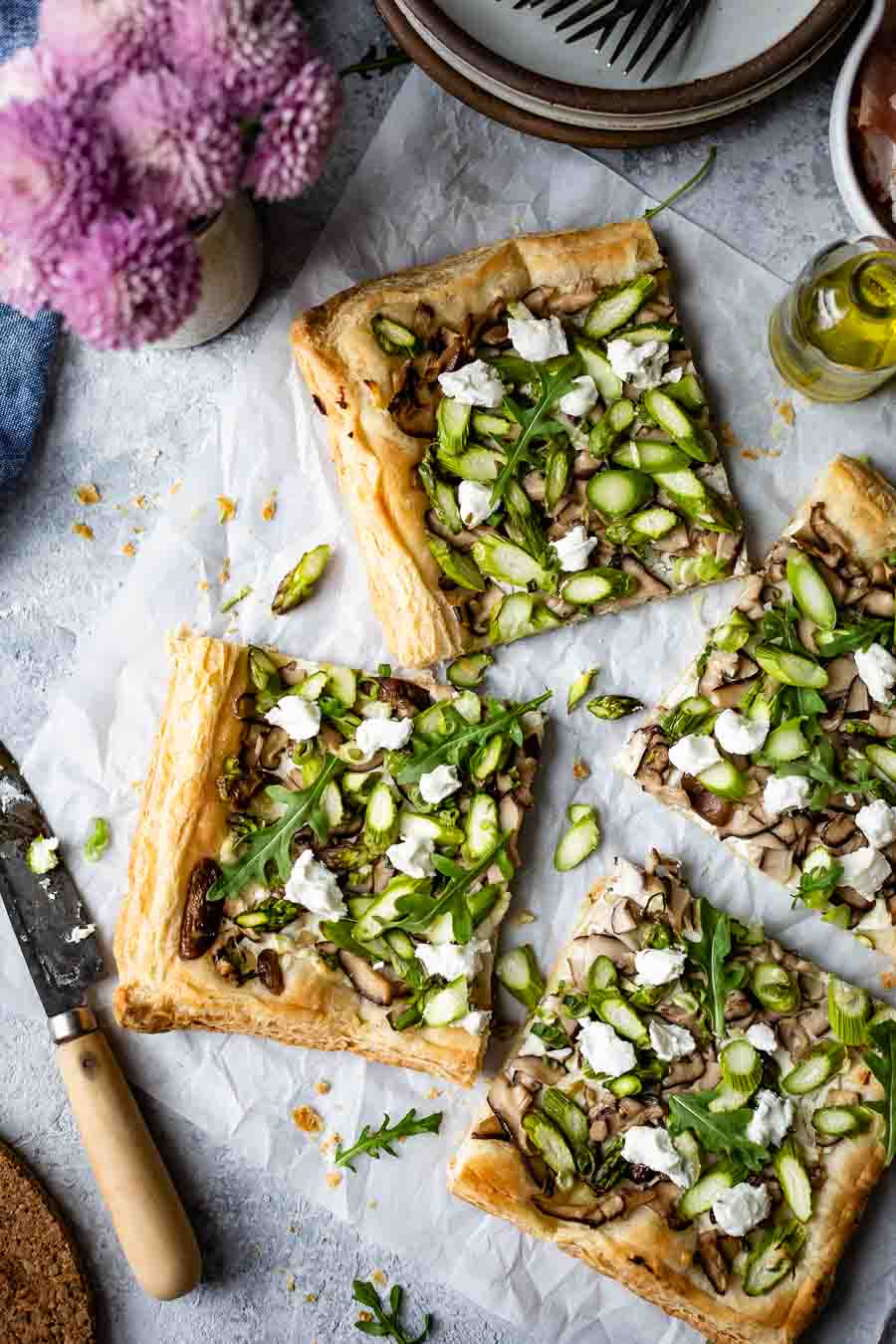 ---
03
Berry and Goat Cheese Bread Pudding
---
Stir in crumbled goat cheese in a buttery brioche pudding sweetened with maple syrup and sweet berries.
This is my go-to brunch dish come springtime when berries are at their peak. It is one of those luxurious goat cheese desserts / baked recipes that make people swoon.
---
04
Goat Cheese and Caramelized Onion Quiche
---
Fill a buttery pie crust with goat cheese, caramelized onions, and egg custard for a next-level quiche recipe that is guaranteed to impress.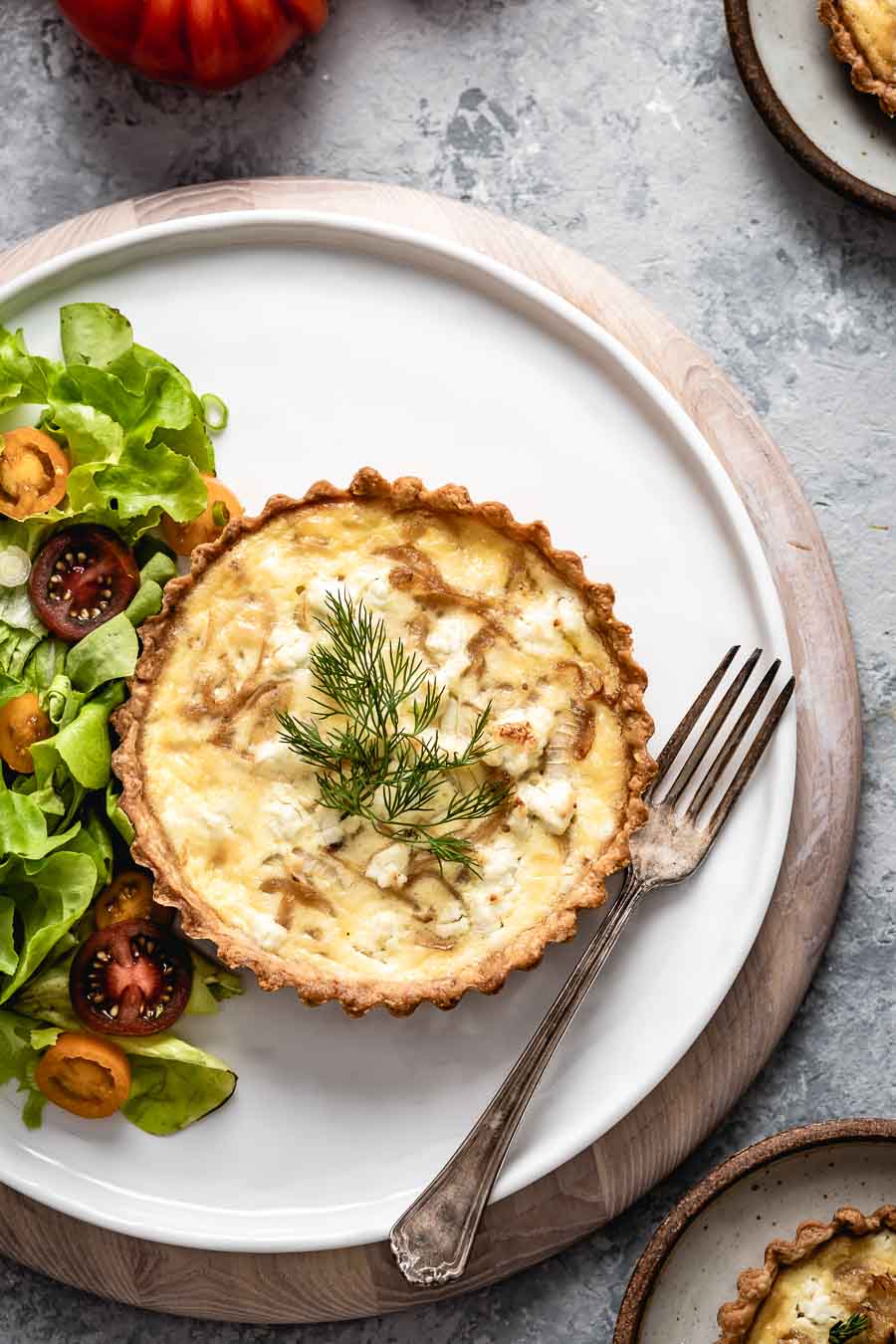 05
Tomato Galette with Goat Cheese
---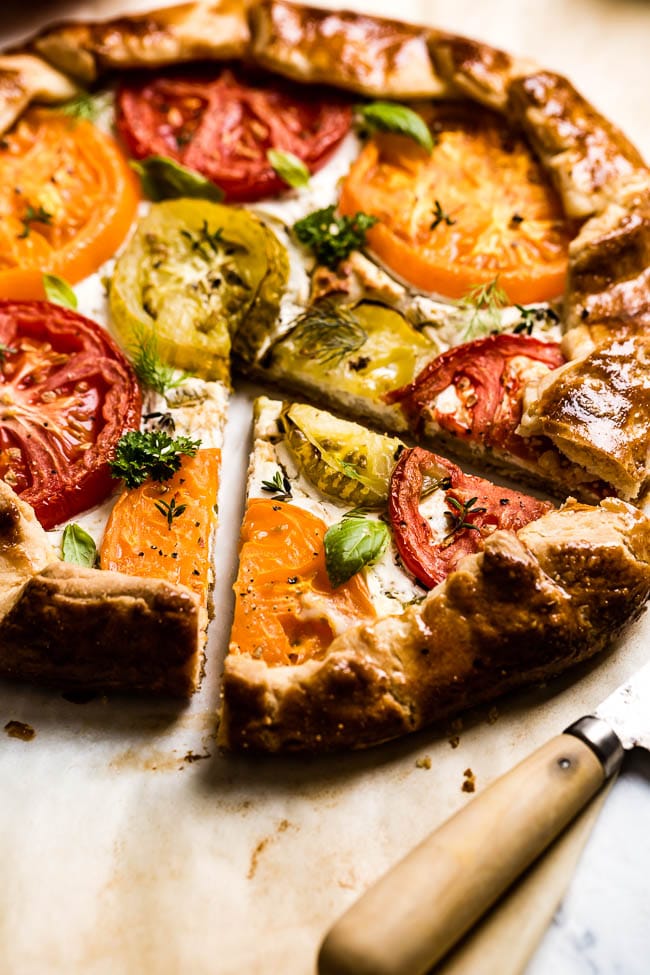 If you are a fan of sweet galette recipes, you should try this savory version as well. This tomato galette recipe is made by spreading galette dough with herbed goat cheese and spreading it with sliced heirloom tomatoes.
It is fairly easy to make and perfect for any breakfast or brunch gathering when you want to impress.
---
Goat Cheese Salad Recipes:
When in doubt, add some crumbled goat cheese to your salads. It is the easiest ingredient I know that provides creamy and tangy deliciousness to any green salad. I usually pair it with fresh fruits and nuts for the most delicious salads.
01
Roasted Beet and Goat Cheese Salad
---
This citrusy roasted beet and goat cheese salad have a little bit of everything, roasted beets, black-eyed peas, walnuts, and of course, goat cheese. I usually make it for our New Years' Eve dinner as my Southern husband loves it when I incorporate black-eyed peas into our menu.
Not so surprisingly, goat cheese adds in an additional layer of flavor even in such a salad with so much going on.
---
02
Shaved Brussels Sprouts with Goat Cheese and Apples
---
Shredded raw brussels sprouts flavored with sliced apples, roasted hazelnuts, dried cranberries, and creamy goat cheese. This make-ahead salad is my favorite fall/holiday salad that I make as soon as brussels sprouts are in abundance.
---
03
Baked Goat Cheese Salad
---
Remember those baked cheese balls that I shared earlier? This simple green baked goat cheese salad was one of the first recipes I shared on this blog (as you can probably tell from the photos.) However, it is still one that I make often. It is easy to make, and it never fails to impress.
04
Roasted Pear Salad
---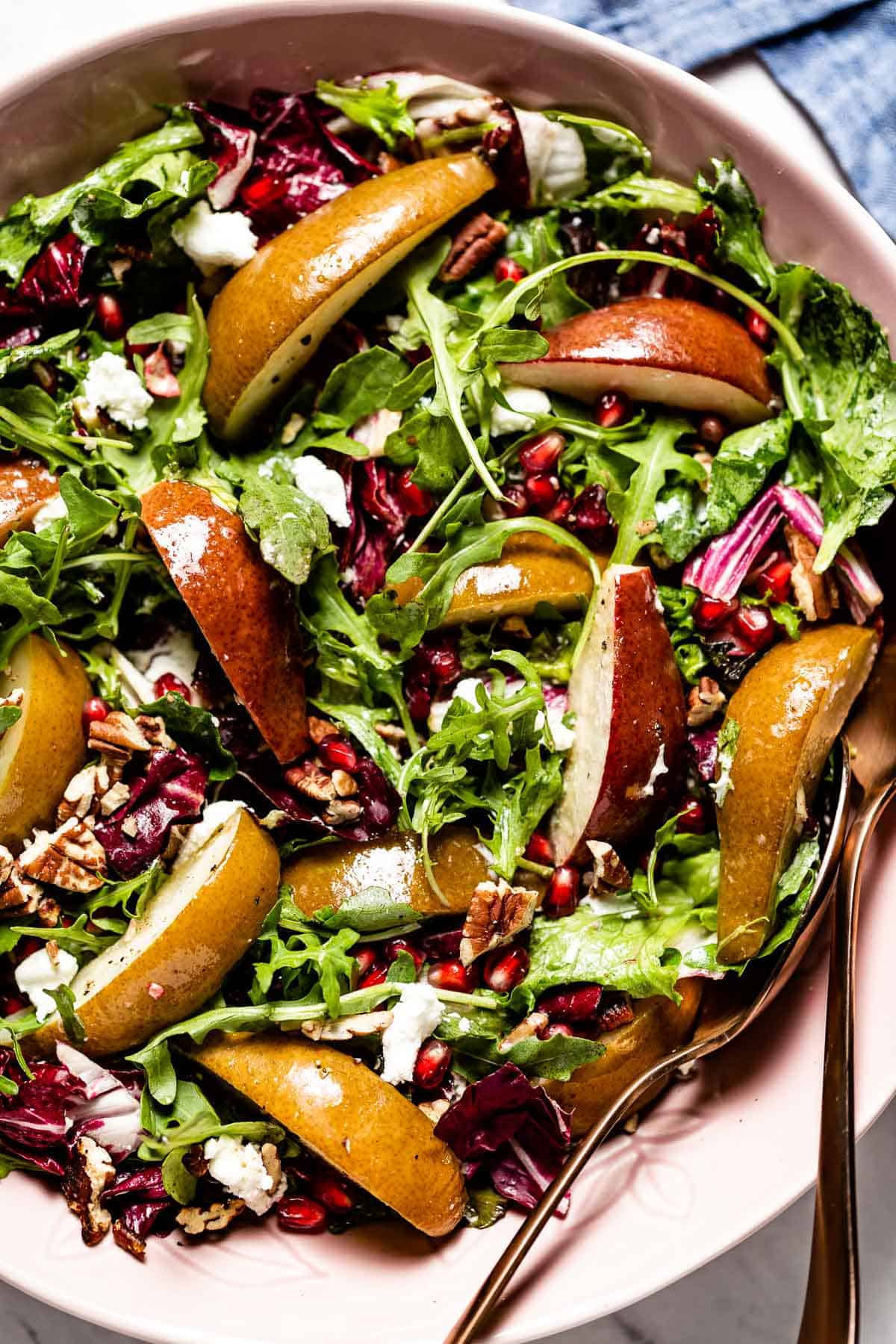 I think it is not right to make a list of things to make with goat cheese and not include a fruity savory salad recipe like this Roasted Pear Salad. Creamy goat cheese mixed with salad greens, lightly honey-roasted pear slices, and toasted walnuts delivers an incredibly delicious yet easy salad that you can make any time of the year.
---
Goat Cheese With Main Dishes:
From adding it to simple vegetarian pasta dishes to chicken or meat dishes, incorporating goat cheese into your main dishes is such an easy way to elevate a recipe.
01
Add A Cup Of Crumbled Goat Cheese Into Vegetable Pasta
---
This is another recipe without a recipe. I make it when I need to put dinner on the table quick.
Simply put, I cook some pasta. When that is cooking, I saute some veggies ( like asparagus, zucchini, mushrooms, etc.) in a little bit of oil in a large pan. Then add in the cooked pasta into the sauteed vegetables. Stir in some sun-dried tomatoes and a cup of crumbled goat cheese.
---
02
Goat Cheese Stuffed Chicken
---
If you are a lover of Barefoot Contessa, you probably watched her make this chicken with goat cheese and basil in her show before. This weeknight Goat Cheese Stuffed Chicken dish is a version of that recipe. Made by stuffing chicken breasts with goat cheese and sauteed spinach, it is a showstopper dinner great for entertaining.
FAQs
Can you freeze goat cheese?
Yes, you can. If it is in its original packaging, you can just put it in the freezer. It should be fresh for up to 3 months. If it is already opened, it should be wrapped up in stretch film and placed in an airtight container (or a freezer bag) to prevent freezer burn.
What to do with leftover goat cheese?
You can add leftover goat cheese to omelets and salads or use it as a spread on your morning toast.
How to soften goat cheese?
The best way to soften goat cheese is by removing it from the fridge 30 minutes before you are ready to use it.
Can you melt goat cheese?
Goat cheese will not melt like mozzarella cheese. Instead, when heated, it will get a creamy spreadable texture.
One of Our Favorite Baked Goat Cheese Recipes
Baked Goat Cheese Dip Recipe
This Baked Goat Cheese Dip recipe is a super easy and quick to make appetizer that you can serve throughout the year for all your entertaining needs.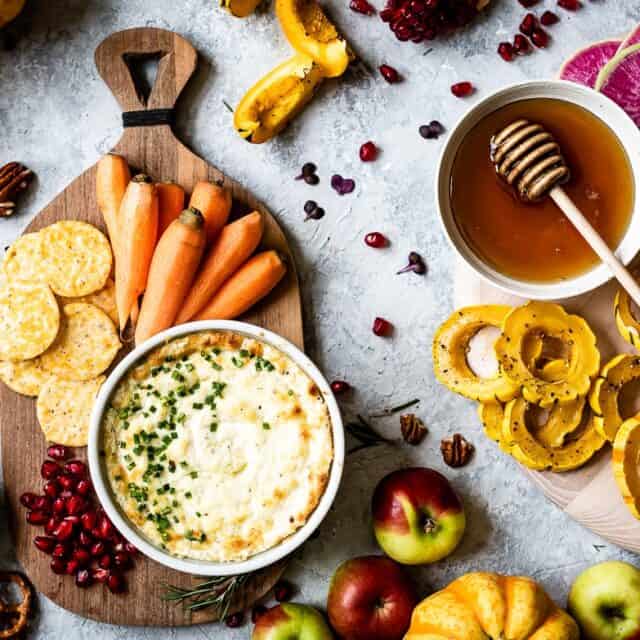 Print Recipe
Ingredients
8

ounces

Vermont Creamery Goat Cheese

4

ounces

cream cheese

¼

cup

grated parmesan cheese

¼

teaspoon

ground black pepper

2

tablespoons

olive oil

plus more for coating at the end

1

tablespoon

minced chives
Instructions
Pre-heat oven to 400 degrees. Place goat cheese, cream cheese, parmesan cheese, black pepper, and olive oil in the bowl of a food processor. Pulse a few times to break the goat cheese logs and then process until fully mixed, 30 seconds or so.

Transfer to an oven-proof bowl. Smooth out the top with the back of a spoon and brush it with a little bit of (no more than ½ teaspoon) olive oil.

Bake in the oven for 16-18 minutes or until it starts bubbling.

Serve immediately with crackers, veggies, and fruits.
Video
Notes
Can I use a different cheese than parmesan? Yes, as a matter of fact I recommend trying this with shredded cheddar (instead of Parmesan cheese) and turning it into a yummy hot cheddar goat cheese dip. If you decide to do so, you can use the same amount of cheddar.
Can I make it ahead? Yes, you can. Simple whip everything up in the food processor, place the mixture into the bowl you plan on baking, cover it with stretch film, and keep it in the fridge. Bake it right before you are ready to serve to make sure that it is nice and warm.
Can I freeze it? I wouldn't recommend freezing this dip.
What can I do with leftovers? I doubt that you'll have leftovers, but if you do you can use this dip to spread on a piece of toast and top it off with roasted vegetables, like I did in this Herbed Goat Cheese Bruschetta with Butternut Squash and Cranberry Jam recipe.
Nutrition
Calories:
224
kcal
|
Carbohydrates:
1
g
|
Protein:
10
g
|
Fat:
20
g
|
Saturated Fat:
11
g
|
Cholesterol:
42
mg
|
Sodium:
264
mg
|
Potassium:
36
mg
|
Sugar:
1
g
|
Vitamin A:
680
IU
|
Calcium:
118
mg
|
Iron:
1
mg
---
This list is nowhere near finished. I plan on updating as I share more goat cheese recipes in the weeks, months, and years to come. So be sure to bookmark this page and come back for updates.
This post was originally posted in November 2019. It was updated with new recipes in December 2022.
Like this recipe? Consider sharing: