You'd think that life on a tropical island in the Caribbean would always be one amazing beach day after another. But, believe it or not, in the midst of daily challenges it's sometimes possible to forget about the beauty that surrounds you. This is mostly true for my husband Dwight, who works at a resort on the island. He works long hours throughout the week and by the time he has a day off, all he wants to do is just relax at home.
A couple of weeks ago, we were stunned to realize that we had not been to the beach in almost 2 months. It was particularly alarming for me, as not taking advantage of this beauty means that we are taking it for granted which, in my book, is unacceptable.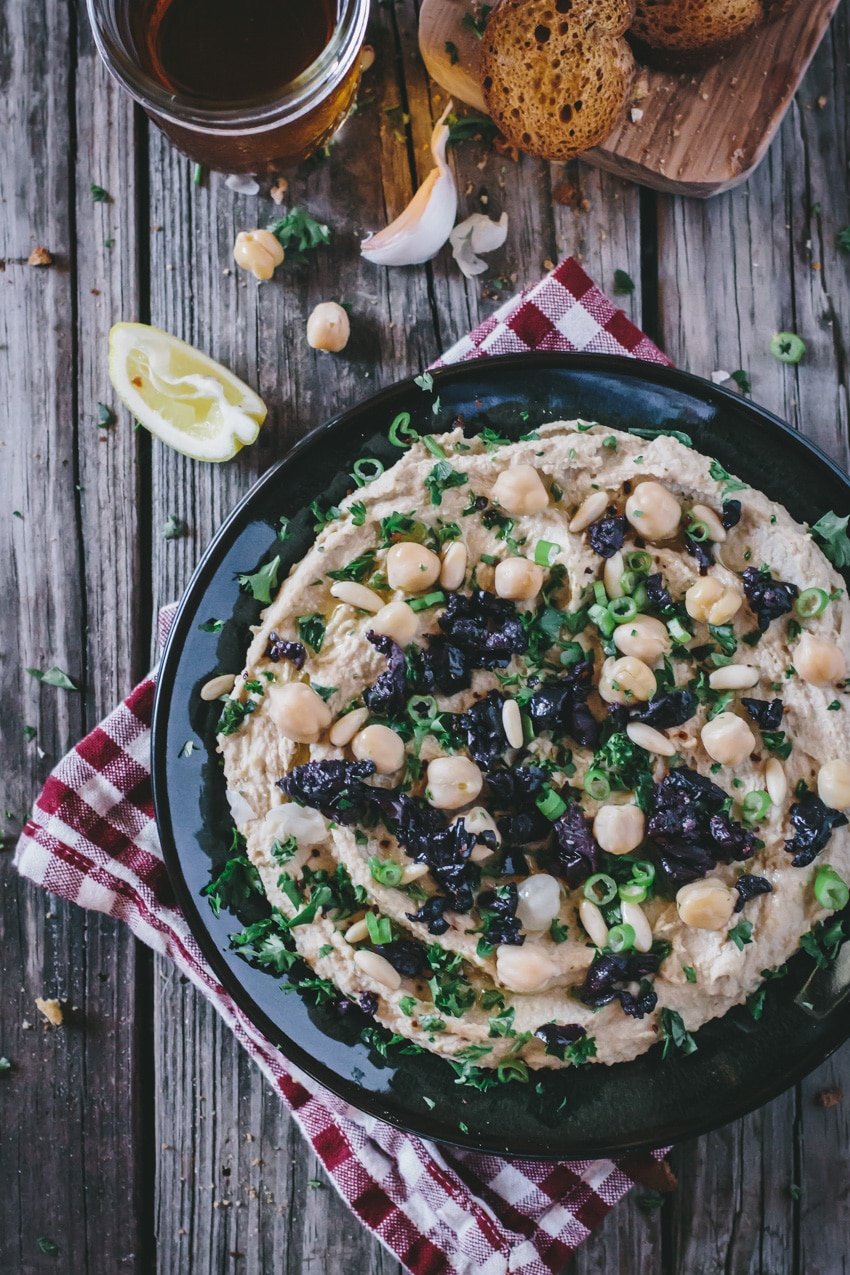 If you think about it, when you live on a small island like Virgin Gorda, you do not have access to movie theaters, cafes, galleries, and parks that most cities offer as entertainment to their residents. All you have are the beaches and the ocean.
It must have felt alarming to Dwight as well, because he was the one who came up with the idea of making it a weekly ritual to go to the beach. He also suggested that we make every effort to make it memorable and special.
I could not agree more.
For a foodie like me, "making something special" means there is good food on the table. Good food like homemade dips, sandwiches, freshly cut fruit, and cold beer or wine…
Seriously, who would say no to that?!
When it comes to fruit on the beach, my favorite is watermelon. Thick, sweet, juicy slices are perfect for enjoying after a long swim without the worry of staining your clothes.
In terms of appetizers, my number one go-to dish is hummus. When it comes to beach/picnic food in our household, it is a staple.
Although I occasionally enjoy hummus with roasted red peppers, basil, and edamame, more often than not, I prefer the classic, creamy Mediterranean hummus. In addition to making it for our beach picnic dates, I usually make some on Sundays and use it as a dip or spread for sandwiches throughout the week.
If I am making it as a dip to serve at a party, to enhance its visual appeal, I sprinkle it with some chopped parsley, black olives, toasted pine nuts, and plenty of black pepper. I find that these Mediterranean additions compliment the character of the classic hummus and give it an additional depth of flavor with every bite.
The best part of this recipe is that you can make it in less than 10 minutes. Though you can definitely cook your own chickpeas, I find it easier to just use canned ones, mainly because it does not require any advance planning.
The process of making the creamiest hummus is very easy. First, you start by mashing your chickpeas in a food processor. Second, you add garlic, spices, and lemon juice to it. Last, but not least, you slowly add the tahini and olive oil mixture through the tube while the food processor is running.
It is that easy.
It amazes me when people spend money on supermarket hummus when it is so simple (and much healthier and cheaper) to make it at home. If you are a fan of hummus with ingredients like roasted peppers, roasted garlic, basil pesto, etc. you can use this recipe as a base and add your preferred enhancements before you add the tahini mixture.
Other Dips You Might Also Like
---
Homemade Mediterranean Hummus
A restaurant style yet Homemade Mediterranean Hummus recipe. This recipe makes the creamiest and most delicious hummus that you can make in minutes. Top it off with pine nuts, chopped olives, and a drizzle of oil for extra deliciousness.
Print Recipe
Ingredients
1

14 oz. can of chickpeas, drained and rinsed

3

tablespoons

of lemon juice

freshly squeezed

1/4

cup

water

1/3

cup

tahini paste

2

tablespoons

extra virgin olive oil

1/4

teaspoon

cumin

Pinch

of cayenne pepper

Pinch

of black pepper

1/2

teaspoon

salt

2

small cloves of garlic

minced

2

tablespoons

flat leaf parsley

finely chopped

1-

tablespoon

pine nuts

toasted

2

tablespoon

black olive

pitted
Instructions
In a small bowl, combine the lemon juice and water.

In a seperate bowl (or a measuring cup), whisk together the tahini paste and olive oil until thoroughly incorporated.

Reserve 2 tablespoons of chickpeas as a garnish.

Place the rest of the chickpeas in a food processor and process them for 15 seconds. Add lemon juice/water mixture, cumin, garlic, cayenne pepper, black pepper, and salt. Process until mixed, scraping down the bowl as necessary, 50-60 seconds.

While the food processor is running, slowly (in a steady stream) pour the tahini paste and olive oil mixture from the tube, and process until smooth and creamy, 30-40 seconds.

Transfer the hummus on a plate and sprinkle it with chopped parsley, pine nuts, olives, and reserved chickpeas.

Serve it with pita chips or toasted bread.
Nutrition
Calories:
139
kcal
|
Carbohydrates:
4
g
|
Protein:
3
g
|
Fat:
13
g
|
Saturated Fat:
2
g
|
Sodium:
242
mg
|
Potassium:
86
mg
|
Fiber:
1
g
|
Sugar:
1
g
|
Vitamin A:
132
IU
|
Vitamin C:
6
mg
|
Calcium:
22
mg
|
Iron:
1
mg
---
Like this recipe? Consider sharing: