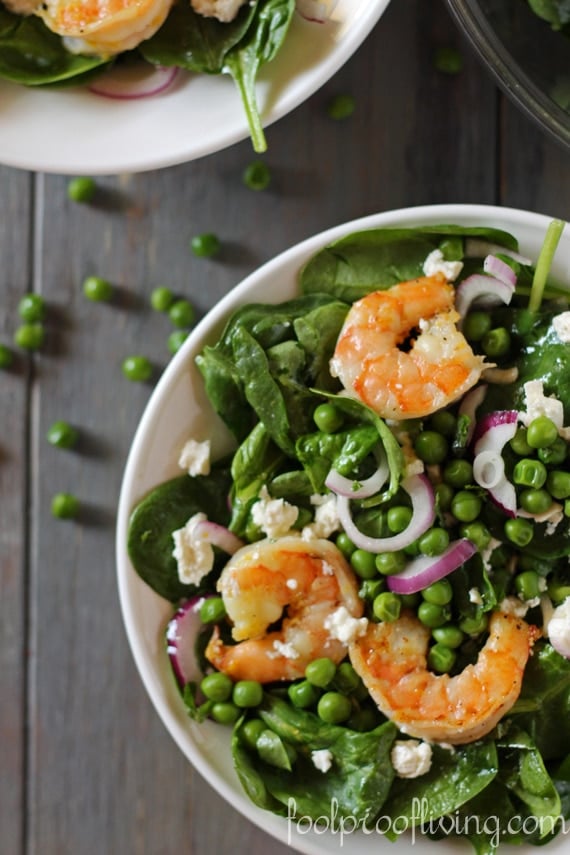 I love salads. I prefer salads for any meal on any day.
For me, a good salad has to have 3 things:
It should be dressed in right amount of salad dressing that is freshly made at home. The salad dressing should not overpower the taste of greens. Personally, I am not a big fan of salads that are drenched in store bought salad dressings. Making salad dressing at home is very easy and much healthier than processed, supermarket salad dressings. Not to mention, much cheaper…
It should have the right amount of greens and right amount of meat. With all the vitamins, minerals and fiber in salad greens (and other vegetables), I want to be able to taste the refreshing aromas of  vegetables in the salad. If I am using animal protein in a salad, I like to use it as a condiment.
It has to look good. After all, who wants to eat a salad that does not look appealing? I like salads that have all colors of the rainbow.
This salad does all that and more. It is a salad that offers great taste with all the health benefits. Above it all, it is super easy to put together.
A perfect alternative when you do not know what to cook or do not have a lot of ingredients at home.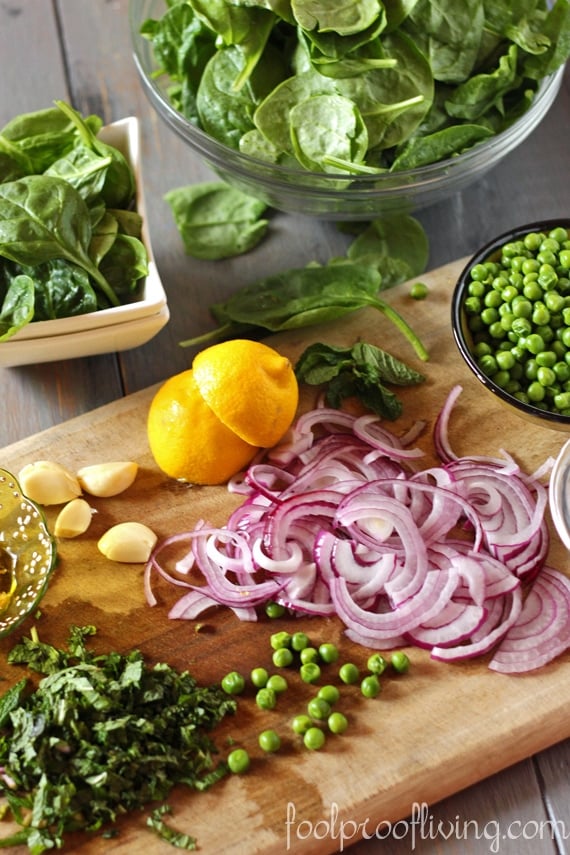 I do know you but I find shrimp to be the easiest meat to cook. I usually buy 2 pound 21-25 count frozen shrimp and keep it in the freezer. One hour prior to cooking I defrost it under cold running water and once it is defrosted, I marinate it for half an hour in a simple olive oil, salt and garlic marinate.
I strongly recommend buying the freshest baby spinach you can find, as it really is the star of this recipe. It really goes very well with green peas.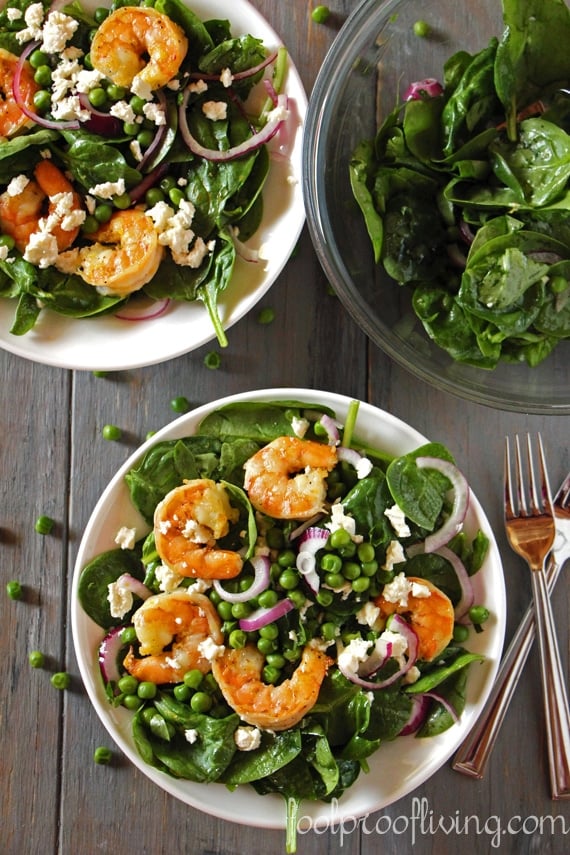 My husband, Dwight, loves it for lunch, especially when he is crunched on time.
So it is busy-husband proved!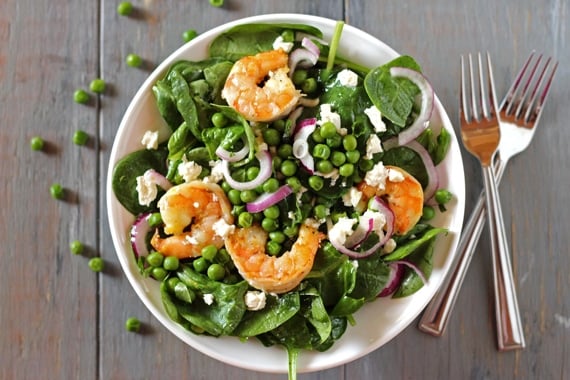 Print
Spinach, Pea and Shrimp Salad
Prep Time:

20 minutes

Cook Time:

5 minutes

Total Time:

25 minutes

Yield:

2
Ingredients
1 cup frozen green peas
1/2 cup water
2 tablespoons extra-virgin olive oil, divided
1 1/2 teaspoons lemon zest
1/4 teaspoon salt
1/2 teaspoon freshly ground black pepper, divided
10 21-25 count shrimp, defrosted, peeled and deveined
1 tablespoon red wine vinegar
1 tablespoon fresh lemon juice
1 small garlic clove, minced
1/2 cup red onion, thinly sliced
3 tablespoons fresh mint, finely chopped
1/2 bag (3-ounce) fresh baby spinach, washed, rinsed and dried
1/4 cup feta cheese, crumbled
Instructions
Place 1/2 cup water in a small pan and place frozen green peas in it. Let it come to boil and cook it until crisp and tender, about 5 minutes. Drain, rinse and set aside.
Combine 1 tablespoon lemon zest, 1 tablespoon olive oil, salt and 1/4 teaspoon black pepper in a large bowl. Add shrimp and toss to coat. Let them sit in room temperature and marinate for 10-15 minutes.
Heat a 10-inch skillet in medium heat. Cook shrimp until it is firm and in pink color. 1 to 1,5 minute on each side.
To make the vinaigrette: Whisk the remaining 1 tablespoon olive oil, remaining 1/2 teaspoon lemon zest, remaining 1/4 teaspoon black pepper, vinegar, lemon juice, and garlic in a bowl.
Combine baby spinach, onion, mint, and peas in a large salad bowl. Add the vinaigrette and gently mix it with salad thongs.
To serve: Equally divide the salad on plates. Place 5 pieces of shrimp on top and sprinkle it with crumbled feta cheese.
Slightly adapted from this recipe.