Rather than its delicious (but somewhat heavy) variation made with pasta, Shrimp Scampi without Alcohol, this easy and healthy shrimp scampi recipe is light and flavorful. Plus, it is the perfect recipe to use up all the beautiful zucchini you can find this time of year at the Farmer's Market.
Since I am of Meditteranean descent, this homemade shrimp scampi is packed with flavors that I grew up with. Garlic, olive oil, fresh dill, and feta are the perfect accompaniment to highlight shrimp and zucchini. The flavor combination is out of this world! Plus, it is such a joy to make!
Spiralizing fresh zucchini into that popular zoodle shape is such an easy task with my Spiralizer (this is the one I own and love – affiliate link). And one zucchini can get you 2-3 cups of zucchini noodles. I think we can all agree that it is a great (and healthy) way to fill your plate.
To keep it simple, this is also a shrimp scampi recipe without wine. Although a splash of wine provides a great burst of flavor, I find this light shrimp scampi doesn't need it because the abundance of fresh ingredients can speak for themselves.

Shrimp Scampi Zoodles is so simple, it is ready in 20 minutes from start to finish. I say that's the perfect dinner to serve to your family on a Tuesday night…or any night of the week!
How To Make Skinny Shrimp Scampi with Zucchini Noodles?
This Shrimp Scampi Zucchini Noodles recipe has 3 folds:
First, heat the butter and olive oil in a large skillet over medium heat and add the garlic until lightly browned about 30 seconds. Then add the lemon juice and zest, and cook until it comes to a boil. Add your shrimp, season, and cook for 2 minutes on each side, in batches if necessary, to ensure even cooking. Finish with the parsley and transfer to a plate.
Second, in the same skillet, heat the olive oil over medium heat and add the zucchini noodles, in batches if necessary. Cook, stirring often, until your desired consistency. I like mine cooked for 7-8 minutes (but more on that later). Turn off the heat. No need to wash the pan.

Finally, add in the cooked shrimp, fresh dill, feta, and give it a gentle toss. Taste for seasoning, transfer to a serving dish, and serve to your loved ones!
How To Prepare Zucchini Noodles
I find the best way to make zucchini noodles is with my spiralizer. I know, this is yet another product to have in your kitchen cabinets, but it really gets the job done, fast!
If you don't own a spiralizer, I recommend the following 2 methods:
Use a julienne peeler (this is the one I own and love – affiliate link), which does a great job of evenly julienning vegetables of any kind. Just be sure to be extra careful, as julienne peelers are very sharp.
Use a regular vegetable peeler(this is the one I use – affiliate link), which will actually make your zucchini more like ribbons. Cook them as a fettuccine pasta, as I did in this Zucchini Fettuccine with Kale, and your family will never know the difference!
How To Cook Zucchini Pasta
Zucchini is a vegetable with high water content. This means that when you cook it, no matter what shape, the zucchini will release a lot of water. To ensure you are cooking the best zoodles and shrimp, start with a hot skillet and do not overcrowd the skillet.
The longer you cook zucchini noodles, the softer and soggier they will become. When cooking zucchini noodles, I also recommend using tongs to toss them gently.
How Long Do you Cook Zucchini Noodles?
The length of time you cook zucchini noodles really depends on your preference. I cook my shrimp zoodles for 7-8 minutes. I find this to be the right amount of time to cook the zoodles to al dente, or to the point where they still have a bite. If you feel your zucchini noodles with shrimp need more or less cooking time, go for it. The best way to know when your zoodles are cooked to your desired texture is to taste as you go along.
Still unsure? Check out my post for a healthy zucchini pasta recipe under my 5 Ingredient Zucchini Spaghetti.
How To Make Shrimp Scampi Without Wine?
Shrimp scampi without wine is easy to accomplish with the use of lemon. Typically, wine is included to add acidity and sweetness to the final dish. Lemons provide just as much acidity (if not more!) and flavor without the alcohol content.
Plus, the lemon zest provides a natural sweetness from the lemon and you get all the benefits of the essential oils too!
What Goes Good With Shrimp Scampi?
I know, so we just discussed how to make shrimp and zucchini pasta without wine. But do you know what pairs perfectly with this quick weeknight dinner? A chilled glass of Sauvignon Blanc. Since you made the shrimp zoodles without wine, and you are replacing the pasta with healthy zucchini noodles, a glass of wine to pair with all your efforts is well deserved!
What Sides Go With Shrimp Scampi?
Shrimp scampi zoodles is perfect on its own, but it can be paired with a number of side dishes. You can pick your own from my collection of side dishes including vegetable side dishes, grains, or simple salads.
I also think that the best shrimp scampi sides to be a light green salad (I wrote a FREE ebook about easy salads, which you can grab here), fresh steamed vegetables, or a French baguette to sop up all the juices!
How Many Calories in Shrimp Scampi?
This light shrimp scampi is a great low calorie and low carb weeknight dinner because we are replacing the pasta with fresh zucchini. Rather than a heavy shrimp zucchini pasta recipe, this low-calorie shrimp scampi is only 297 calories per serving!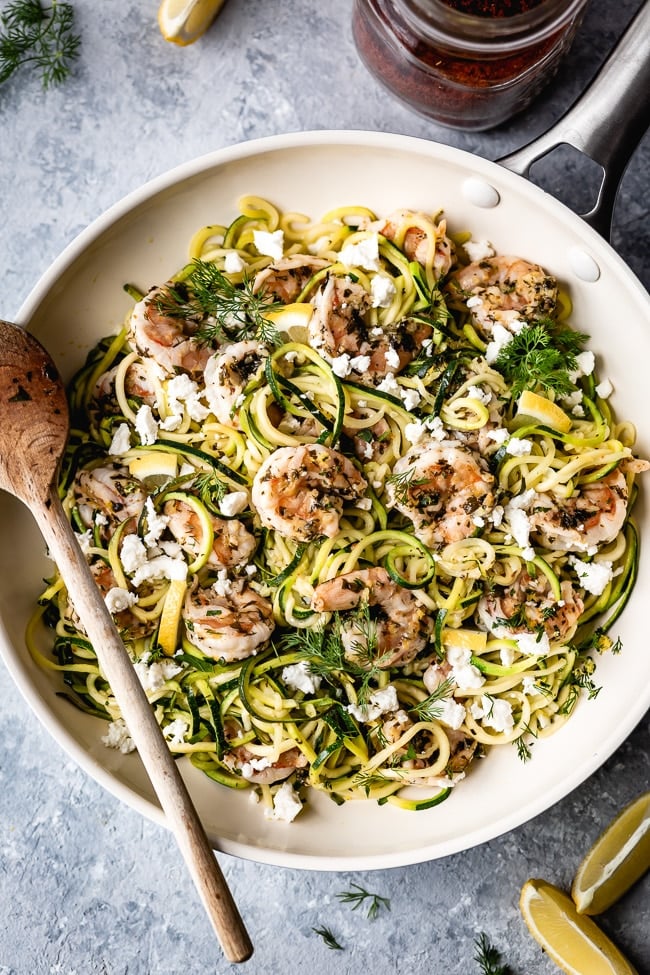 Is Shrimp Scampi Healthy?
Today it is! Compared to the traditional shrimp scampi made with butter, wine, and pasta, this zucchini pasta with shrimp is certainly a lighter and healthier version. And since we are finishing the dish with fresh dill and feta, you don't even miss all the extra shrimp scampi calories!
A Few Tips for Making The Best Shrimp Scampi:
Cook the garlic for only 30 seconds over medium heat. Garlic is such a delicate ingredient, it does not need a long time to bring out it's sweet, natural flavor. You know it's ready when you can smell the sweet scent of garlic throughout your kitchen.
Do not overcrowd the skillet when cooking shrimp. Shrimp cooks in just a matter of minutes. If you overcrowd the skillet, you risk the chance of overcooking your shrimp, making them tough and rubbery. If need be, cook your shrimp in batches, with space between each piece, to ensure evenly cooked shrimp every time.
Purchase deveined or frozen shrimp from your fishmonger to get dinner on the table fast! This takes away the prep of having to clean and devein shrimp when you get home from the market.
This shrimp with zucchini noodles recipe can be served warm or cold. This makes it a great recipe for leftovers the next day or meal prep throughout the week.
How to turn this into Whole30 Friendly Shrimp Scampi or Paleo Shrimp Scampi? Simply omit the butter and replace it with an equal amount of olive oil or ghee. And of course, skip the cheese topping.
Not into the idea of zucchini noodles? Substitute 8-10 cups of yellow squash or carrot noodles instead.
Don't like feta? Substitute an equal amount of Ricotta Salata cheese.
More Spiralized Vegetable Recipes You Might Like:
Other Seafood Dinners You Might Like:
Skinny Shrimp Scampi Recipe
Recipe for Skinny Shrimp Scampi with Zucchini Noodles. The easy and low carb version of the Italian classic shrimp linguine that is just as flavorful, easy to make, and delicious.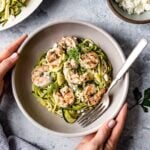 Print Recipe
Ingredients
For The Shrimp:
3

tablespoons

of butter

1

tablespoon

olive oil

3

cloves

of garlic

minced

1

lb.

453 grams extra large shrimp (26-30 per pound), deveined

½

teaspoon

kosher salt

¼

teaspoon

ground black pepper

4

tablespoons

lemon juice

freshly squeezed

1

teaspoon

lemon zest

¼

cup

fresh parsley

chopped
For Zucchini Noodles:
1

teaspoon

olive oil

4

medium-size zucchini

spiralized

½

teaspoon

Kosher salt

¼

teaspoon

ground black pepper

¼

cup

fresh dill

chopped

¼

cup

feta cheese

crumbled
Instructions
To cook the shrimp: Heat butter and vegetable oil in a large skillet over medium heat. Add in the garlic and cook, stirring often, until lightly browned, 30 seconds or so. Add in the lemon juice and zest and cook until it comes to a boil.

Add in the shrimp. Season with salt and pepper. Each shrimp should be in contact with the bottom of your skillet. If your pan is not large enough, cook them in smaller batches. Cook 2 minutes on each side.

At the last minute, sprinkle shrimp with chopped parsley. Transfer shrimp onto a plate. Do not turn the heat off and do not wash the pan (we will use the same skillet to cook the zoodles).

To cook the zucchini noodles: Heat oil in the same skillet over medium heat. Add in the spiralized zucchini and salt and pepper. Cook, stirring often, until zoodles are softened to your liking. I like mine cooked for 7-8 minutes.

Turn the heat off. Add in the cooked shrimp, fresh dill, and feta cheese in the pan. Give it a gentle toss.

Taste for seasoning and add in if necessary. Serve.
Nutrition
Calories:
297
kcal
|
Carbohydrates:
9
g
|
Protein:
27
g
|
Fat:
17
g
|
Saturated Fat:
8
g
|
Cholesterol:
317
mg
|
Sodium:
1589
mg
|
Potassium:
669
mg
|
Fiber:
2
g
|
Sugar:
6
g
|
Vitamin A:
1237
IU
|
Vitamin C:
54
mg
|
Calcium:
260
mg
|
Iron:
4
mg
Like this recipe? Consider sharing: