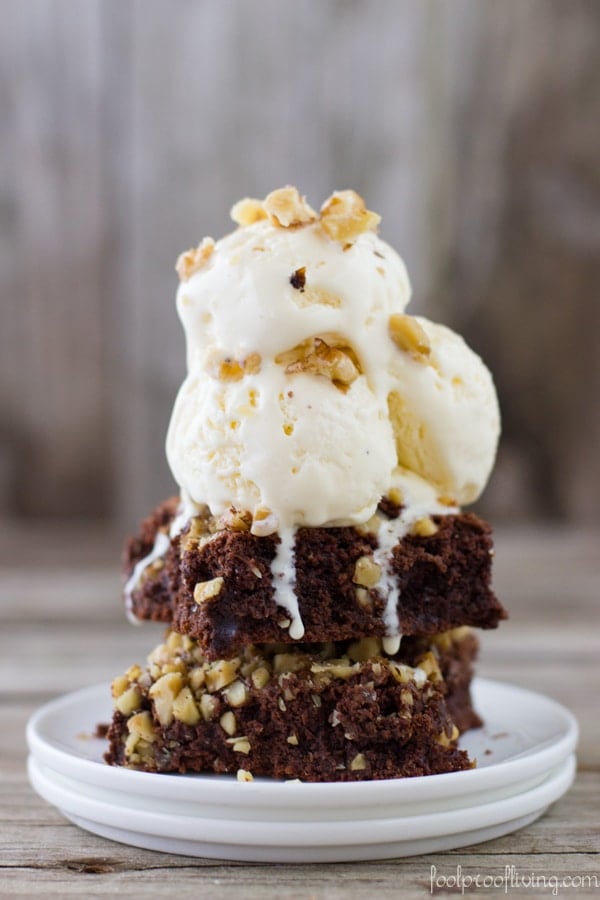 I believe in the healing power of a brownie.
I know, they say that sugary things are not good for you, but how can something that looks and tastes so good, possibly, be bad for you???
Seriously!
I also believe that a brownie recipe is like an LDB (Little Black Dress). Just like every woman should have an LDB in her wardrobe, every food blogger should have a brownie recipe in her/his blog.
Well, this one is my "Ultimate Brownie" recipe.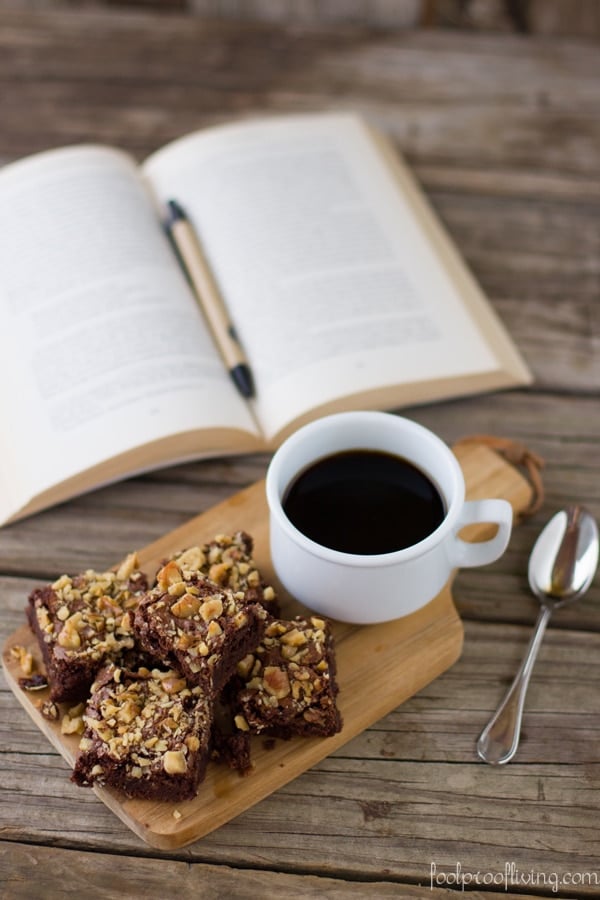 These brownies coupled with a cup of coffee and my favorite book (or a great movie) is how I spoil myself. Just like I did this past weekend with my husband…
I kid you not, after eating 2 squares of brownies topped with 2 BIG scoops of vanilla ice cream, my husband, Dwight said that even if it were to make him go blind for the next 3 days, he would still eat them.
Crazy husband! No?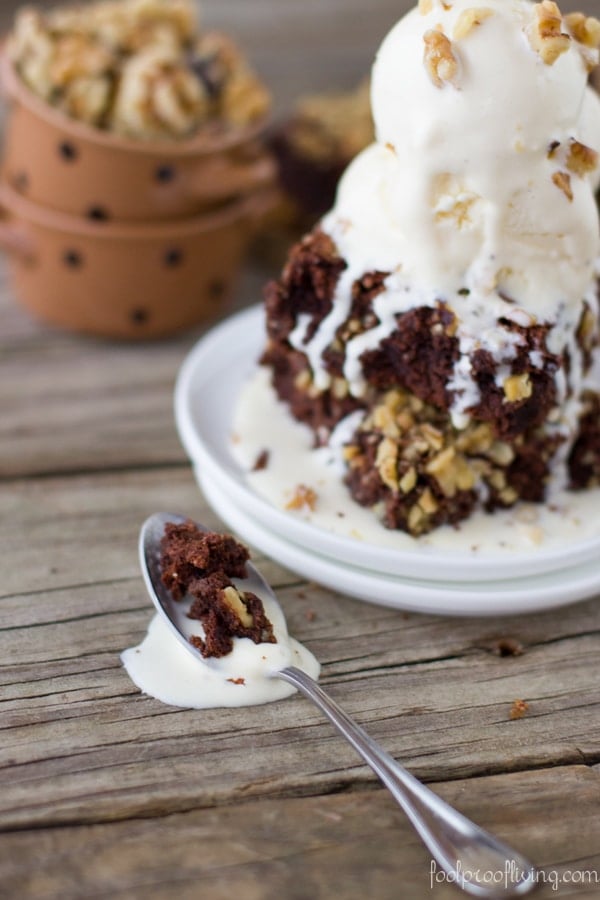 I have made this so many times and it never failed me. The best part about it is that you do not need a fancy mixer. All you need is your very own arm power.
It is chewy, gooey, fudgy and SERIOUSLY chocolatey.
There are three things you have got to do for this recipe to work:
Use cake flour: You cannot substitute cake flour with all-purpose flour for this recipe. You have got to use cake flour. If you do not have cake flour at home, you can make your own.
Here is the formula: To make 1-cup cake flour, you need ¾ cup plus 2 tablespoons of all-purpose flour and 2 tablespoons of corn starch. Mix them in a bowl and then, using a sifter set over a bowl, sift them at least four times to get them well incorporated.
Or… simply go to the supermarket and buy some cake flour. I tried, they, both, work very well…
You need to switch from whisking to folding: As you will see in the recipe, at first, you whisk the wet ingredients and then you fold the dry ingredients into the wet batter.
I think this is the most important part because if you continue whisking (instead of "folding"), the proteins in the flour toughen, which, as a result, produces a tougher cake.So, what is "folding"?I found the best answer for this question in the Bouchon Bakery Book co-writen by Sebastien Rouxel, the Pastry Chef of Bouchon Bakery.  In his book he says:

"Folding one ingredient to another – flour into beaten eggs for a cake, for instance – is so common an instruction that we scarcely think to define it. The method we teach our chefs for folding is to use a double action: spin the bowl gently counterclockwise with you left hand as you draw your spatula from the back of the bowl toward you, scraping the bottom of the bowl, lifting and folding the batter. (If you are left handed, do the reverse.) The idea here is to incorporate the dry and wet ingredients uniformly but as quickly as possible to avoid smashing the air bubbles out of your batter."
Last thing is very simple. Top it of with your favorite ice cream (mine is this ice cream) or have it for breakfast with a cup of cold milk.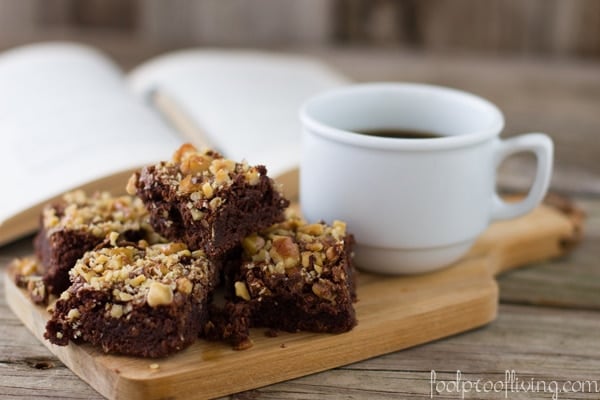 Print
The Ultimate Brownie
Author:
Prep Time:

20 min

Cook Time:

35 min

Total Time:

55 minutes

Yield:

1 13X9 cake

Category:

Cakes

Method:

Baking

Cuisine:

American
Ingredients
1 1/4 cups (5 oz.) Cake Flour
3/4 teaspoon baking powder
1/2 teaspoon table salt
6 oz. unsweetened chocolate, chopped fine
12 tablespoons (1 1/2 sticks) unsalted butter, cut into 6 pieces
2 1/4 cups (15 3/4 oz.) sugar
4 large eggs
1 tablespoon vanilla extract
1 cup (4 oz.) walnuts, chopped
Instructions
Place the oven rack in the middle position and heat the oven to 325 F degrees. Line a 13X9 inch baking pan with aluminum foil. Spray it with vegetable oil spray.
Mix the flour, baking powder and salt in a bowl and set aside.
Using the bain-marie double boiler method (place a heatproof bowl over barely simmering water), melt the chocolate and butter. Stir it occasionally, until it becomes smooth.
Off the heat, transfer the, now melted, chocolate to a large glass bowl. Whisk in the sugar into the chocolate-butter mixture in three batches. Add eggs one at a time, whisking after each addition, until they are thoroughly combined. Whisk in the vanilla extract.
Fold in the flour mixture in three additions, until it is completely smooth and thoroughly combined.
Pour the batter into the prepared baking pan. Using a spatula, spread it evenly and into the corners. Sprinkle it with walnuts.
Bake it for 33 to 35 minutes.
Cool on a wire rack for an hour before cutting it into small squares.
Serve it with vanilla ice cream or with a cup of cold milk.
Nutrition
Serving Size:

1

Calories:

451

Sugar:

1.9g

Sodium:

198.4mg

Fat:

36g

Carbohydrates:

23.5g

Fiber:

4.3g

Protein:

9.2g

Cholesterol:

123.8mg
Adapted from The America's Test Kitchen's Classic Brownie Recipe.