Have you ever been invited to someone's house for dinner and loved a dish so much that you had to hold yourself back in order not to eat it all by yourself? Well, I have. This upside-down pineapple cake was one of the many desserts that Eva and Carey made for us during the British Virgin Islands workshop back in January. Actually, it was the dessert for the first evening's dinner.
I loved it so much that if it weren't inappropriate I would have eaten it all by myself. Imagine, how would that go on the first night with a group of people that I have never met before?! It was such a surprise to me, because I wouldn't even call pineapple as one of my favorite fruits. But this cake paired with a light cake batter and brown sugar & butter topping blew my socks off. As soon as I made it back home I made it for myself. Since then, it has become our favorite cake.
Eva got the recipe from Smitten Kitchen who got it from the Gourmet Magazine that was published back in 2000. It was a success on the very first try. So the recipe is 100% foolproof.
However, after making a couple of times I learned some things that may help you get a perfect pineapple upside down cake in your first try.
Pineapple Upside Down Cake Recipe – Baker's Notes:
So here are the baker's notes:
Use fresh pineapple: I have made this using pineapple from a jar and it ended up being too sweet for our taste. Even during the winter months you can find fresh pineapple in most supermarkets. For best results, I recommend using fresh pineapple.
You can use a 10-inch cast iron skillet or a 9-inch cake pan: The cake you see in the photos was made in a 9-inch cake pan, but I have made it in a 10-inch cast iron skillet as well. Obviously, 10-inch cake was a little thinner, but still, it was great.
First make the batter and then the butter-sugar topping: On my first try, I made the topping first and then set it aside while making the batter. However, I think it is better to make the butter and brown sugar topping right before baking the cake. Plus, if you are short on time you can make the batter a day in advance, keep it sealed with plastic wrap in the fridge, and bake it the next day. When it is time to bake, simply make the topping, arrange the pineapples on top, and pour the batter.
Arranging the pineapple slices: Keep in mind that the way you arrange pineapple slices is important as they make the "face" of the cake. Feel free to arrange them as close to one another as possible and fill the empty spots with smaller slices.
Wait 5 minutes before removing the cake pan: Once the cake comes out of the oven, let it cool for 10 minutes. After then, invert it onto the cake platter. However, instead of removing the cake pan right away allow it sit for 5 minutes so that the brown sugar will have time to fully drizzle over the cake while the cake pan is still intact.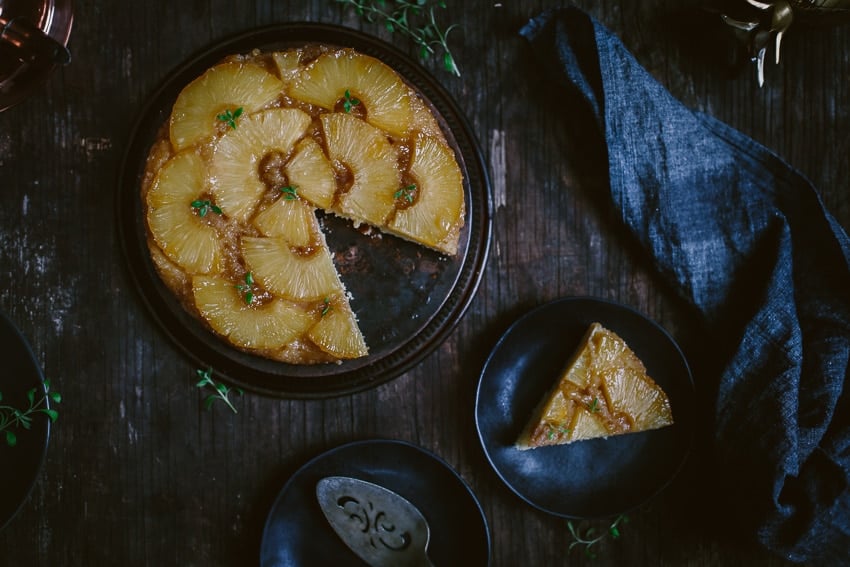 Serve it warm: Quite honestly, I am not a warm dessert person but this cake is an exception. Though it is still delicious at room temperature, it is exceptionally tasty when it is warm. Feel free to store it in the fridge in an airtight container. When ready to serve, let it come to room temperature, cut yourself a slice, and microwave it for 15-20 seconds before serving.
Can you make pineapple upside down cake the day before?
While I personally like this pineapple cake on the day it is made, you can make it the day before. Simply, bake it as directed, let it fully cool to room temperature, and store it in the fridge.
When ready to serve, slice it up, and warm up each slice for 15-20 seconds in the microwave.
Other Fruity Desserts You Might Also Like:
Upside-Down Pineapple Cake
Upside Down Pineapple Cake for a scrumptious treat perfect for the tea time. Adapted from Smitten Kitchen's recipe, this pineapple cake has the most delicious crumb to fruit ratio with an addictive brown sugar glaze. Easy to make with everyday ingredients you most likely have in your pantry.
Print Recipe
Ingredients
To make the batter:
1 1/2

cups

(7 1/2 ounces) all purpose flour

2

teaspoons

baking powder

1/4

teaspoon

salt

6

tablespoons

(3 ounces) unsalted butter, at room temperature

1

cup

(7 ounces )granulated sugar

2

large eggs

at room temperature

1

teaspoon

vanilla

1/2

cup

unsweetened pineapple juice

Lavender leaves

optional
To make the topping:
1/2

medium pineapple

peeled, cored, and sliced into small size (as seen in the photos)

6

tablespoons

(3 ounces) unsalted butter

3/4

cups

(5.25 ounces) light brown sugar
Instructions
Preheat the oven to 375 degrees. Lightly butter and flour a 9-inch cake pan. I used one with a removable bottom.
To make the batter:
Mix together the flour, baking powder, and salt together in a small bowl and set aside.

Place the butter and sugar in the bowl of a standing mixer (or a hand mixer would work as well) attached with the paddle attachement. Mix in medium speed until totally combined and creamy. While the mixer is running, add eggs one at a time beating well after each addition. Stir in the vanilla and mix for 15-20 seconds.

Turn the speed to low and add half of the flour mixture. Mix until barely combined. Beat in the pineapple juice and the rest of the flour mixture. Mix until just blended. Do not overmix. Do not be alarmed if it looks slightly curdled. Set aside.
To make the topping:
Melt the butter in a saucepan. Add in the brown sugar. Let it simmer, while stirring it frequently 3-4 minutes.
To assemble the cake:
Pour the butter-brown sugar mixture in the prepared pan. Arrange pineapple slices over the mixture in concentric circles, overlapping pieces slightly. Spoon the batter over. Using the back of a spoon spread it evenly throughout the cake pan. Place it on a sheet pan and bake for 40-45 minutes or until a toothpick inserted comes out clean.

Let it cool for 10 minutes. Place a serving plate upside down onto the pan and turn plate and pan over. Let it sit for 3-5 minutes so the brown sugar topping can drizzle over the cake. Remove pan. Cool 15 minutes. If preferred, garnish it with fresh lavender leaves.

Serve while it is still warm.

Store covered in the fridge. Bring it to room temperature and serve. If preferred, warm it up for 15-20 seconds in the microwave.
Nutrition
Calories:
483
kcal
|
Carbohydrates:
77
g
|
Protein:
4
g
|
Fat:
18
g
|
Saturated Fat:
11
g
|
Cholesterol:
86
mg
|
Sodium:
204
mg
|
Potassium:
149
mg
|
Fiber:
1
g
|
Sugar:
57
g
|
Vitamin A:
617
IU
|
Vitamin C:
29
mg
|
Calcium:
100
mg
|
Iron:
2
mg
Adapted from Smitten Kitchen's Pineapple Upside-Down Cake recipe.
---
Like this recipe? Consider sharing: