This post has been sponsored by Autumn Glory apples, but as always all opinions are my own.
This June will mark the 7th anniversary of Foolproof Living. Can you imagine? I have been creating, testing, and sharing recipes for seven years.
If you were to ask me what is the number one thing I learned about creating recipes, my answer would be that in order for your recipes to taste amazing, you need to balance four things: Salt, acid, fat, and sugar. This apple salad recipe is the epitome of this concept.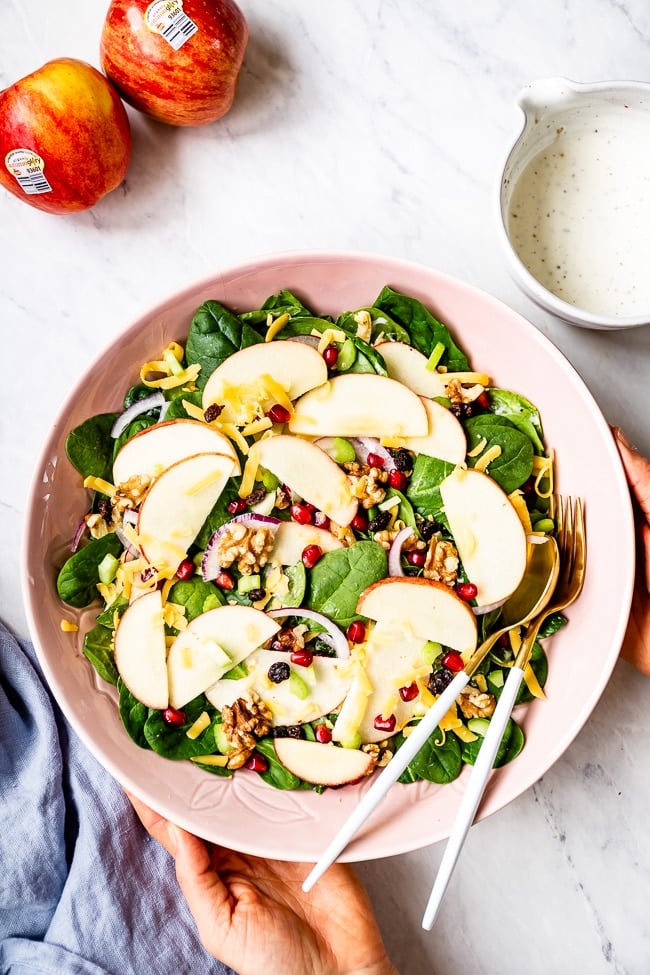 Think about it for a second. Almost every dish starts with (sweet) onions, sautéed in (fatty) oil, and then later enhanced with some sort of an acidic ingredient like tomatoes, vinegar, citrus, or cultured dairy like yogurt or sour cream. Then finally, seasoned with salt and pepper.
Now, obviously the proportions and ingredients change from dish to dish, but if you are familiar with how to categorize your ingredients, you are pretty much bound for a great end product.
And the best part is that if your recipe tastes bland, you can always add a little bit of what is missing to make it taste great.
That is why I would say that the second most important thing I learned is that the only way to create something delicious is to taste it as you go.
If you follow these two steps and work on getting to know your ingredients, then you can start creating your own recipes in a snap that actually tastes good.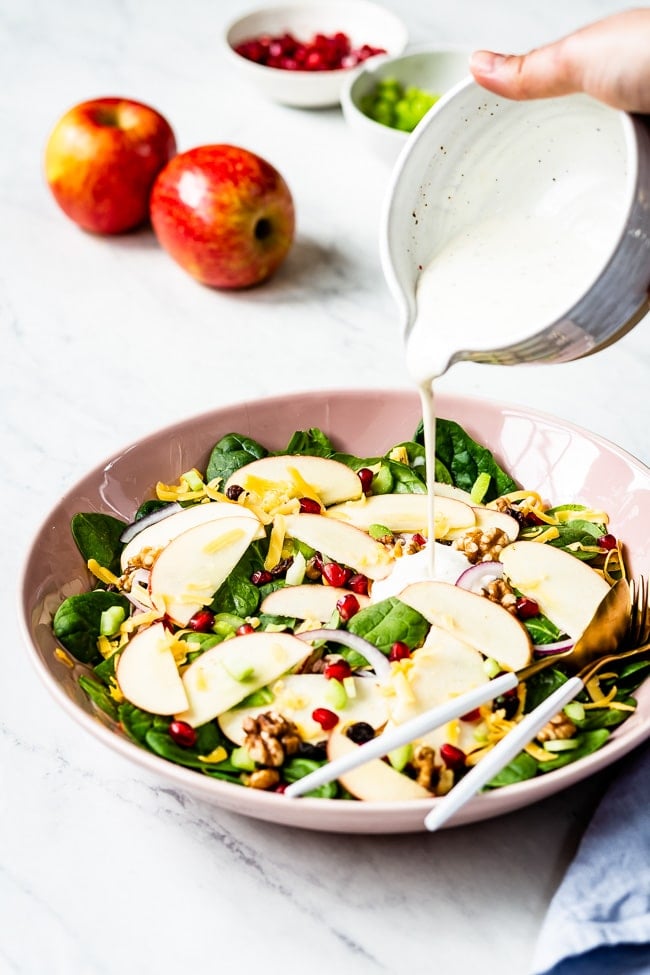 Today's recipe, Apple Salad, is a great example of how to built flavors on top of each other to end up with an out-of-this-world delicious yet stupid easy apple salad in less than 15 minutes.
So let's break it down.
Apple Salad Ingredients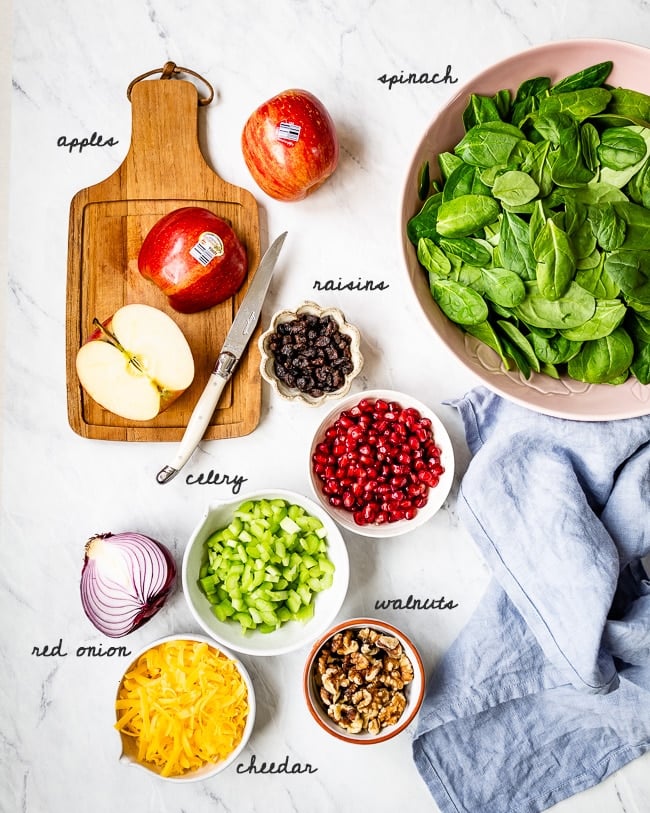 Apples & Raisins (Sweet)
As the name suggests, the main sweet component of the recipe is sliced apples. But they are not just any apples. They are Autumn Glory apples.
You might remember from last year, they invited me to their orchards in Yakima, WA and we watched the sunrise. Ahhh that sunrise.. I wrote all about it in this How To Make Apple Roses recipe post with some gorgeous photos.
If you have never tried Autumn Glory apples, they taste like apples flavored with cinnamon with undertones of caramel. I know it might be hard to imagine, but believe me they are that good.
Sliced thinly (with the skin on), you get the distinct taste of the sweet cinnamon-y flavors of Autumn Glory apples with every bite.
I promise you guys if you want to make apple salad with fresh apples Autumn Glory apples are the way to go.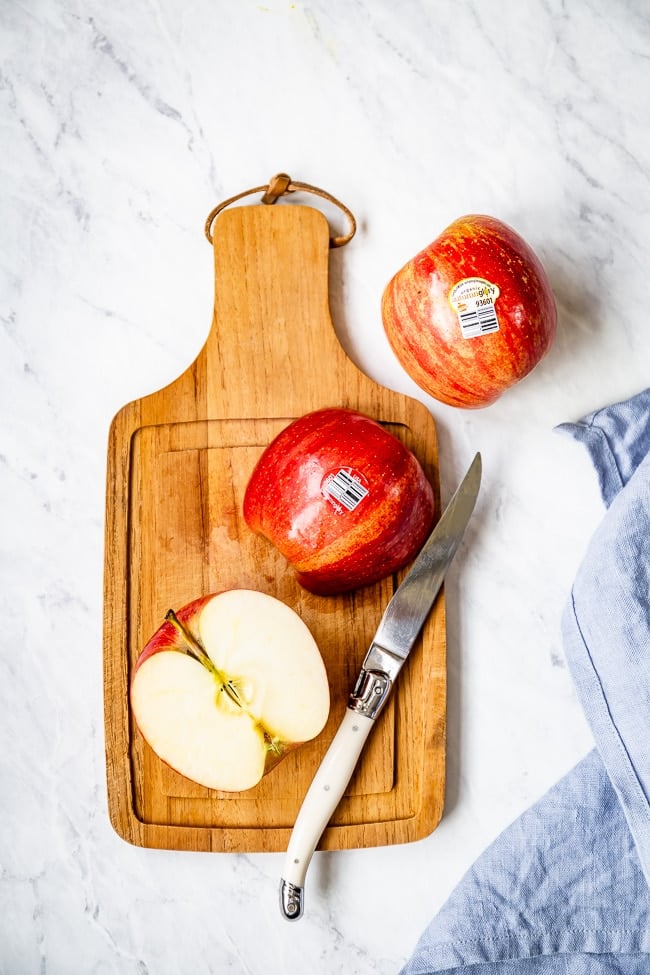 Second sweet component of the recipe is raisins. It is no secret that apples and raisins are a match made in heaven. But together in this recipe, they helped me round up the earthy flavors of the baby spinach and walnuts.
In the end, I also added a handful of pomegranate arils, but that is mostly because the photos needed a little bit of color and I wanted to add in another layer of fresh fruity flavor. If they are not in season, you'd be totally fine with just using raisins.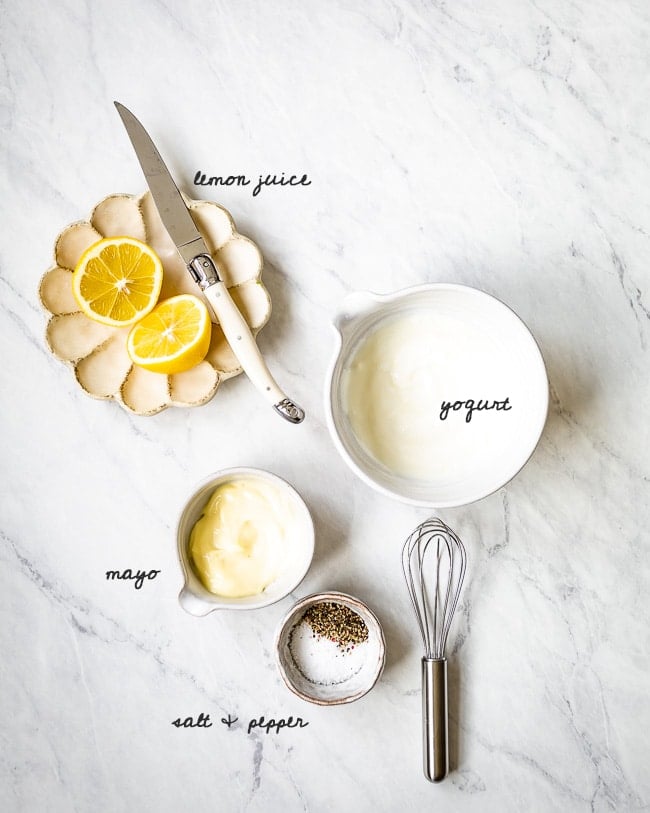 Apple Salad Dressing & Cheddar (Acid & Fat)
Now, I know that most people are accustomed to making apple salad with mayo. While I know how delicious that version tastes, I wanted to make it somewhat healthier so I swapped some of the mayo with yogurt.
The fat content that came from 2 tablespoons of mayonnaise mixed in with ½ cup of Greek yogurt eliminated the need to add in any oil into the recipe. And a generous squeeze of lemon seasoned with salt and pepper gave me the easiest yet the most delicious apple salad dressing.
Prefer an apple salad without mayo?
No problem. Simply follow the exact apple salad dressing recipe below, but swap mayo with 2 tablespoons of olive oil. Give it a taste. If it is not as flavorful as you want, you can add in a clove of minced garlic as well.
Whatever you do, do yourself a favor and ditch the store-bought salad dressings because as you can see below you could easily create a delicious yogurt-based vinaigrette recipe in no time.
Initially, I had no intention of adding any type of cheese into this apple salad recipe. However, even with the addition of yogurt (fat + acid), mayonnaise (fat), lemon juice (acid), and a generous amount of salt and pepper, once the sliced apples were mixed in with the rest of the ingredients (spinach, celery, red onion, apples, raisins, and walnuts), it was just not complete.
It needed more fat to round everything up. So I did what I always do and referred to my secret weapon for creating recipes, The Flavor Bible (Affiliate link). If you are not familiar with this book, it is a guide to help you find pairings for each ingredient organized from every angle: seasons, flavors, ethnic traditions, and ingredient affinities.
Come to find out, the combination of apples with greens (salad, spinach, etc.), nuts (pecans, walnuts, etc.) and cheese (blue, cheddar, feta, etc.) deliver good results. So I followed in the footsteps of the Flavor Bible and add in some shredded cheddar. Aaaand just like that. This otherwise bland apple raisin salad turned into something extraordinary.
Want to up your salad game? If so, check out our extensive library of over 75 easy salad recipes.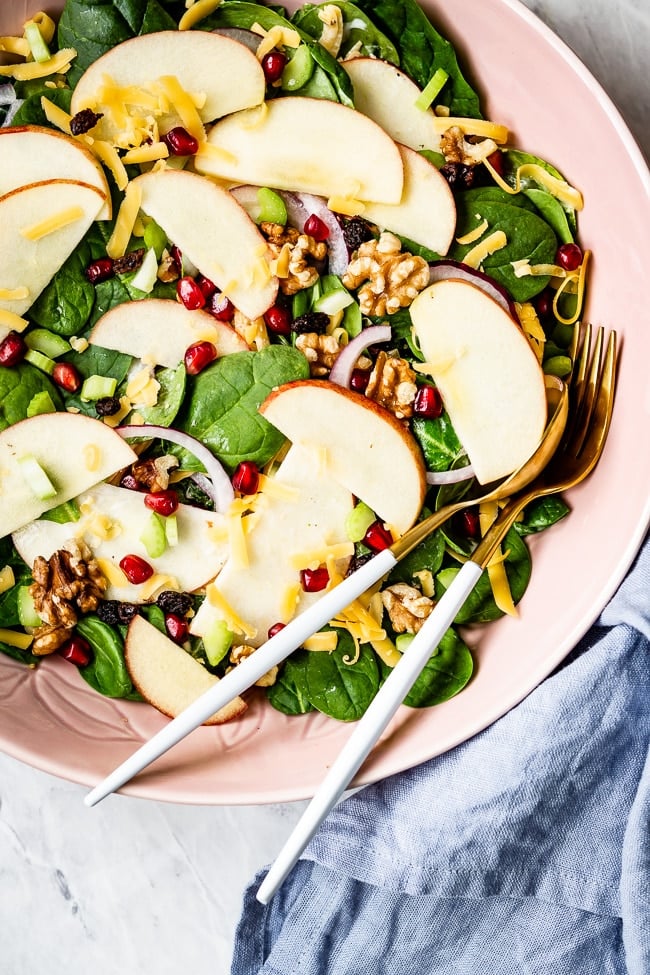 How To Make Apple Salad
Like I mentioned earlier, even with the chopping of ingredients you can create this easy apple salad with yogurt dressing in less than 15 minutes. The process of making it has three parts:
First, you make the apple dressing: Simply whisk yogurt, mayo, lemon juice, and salt and pepper in a bowl and set it aside.
Second, combine baby spinach, chopped celery, thinly sliced red onions raisins, and walnuts in a large bowl. Top it off with thinly sliced apples and shredded cheddar.
Finally, drizzle the salad with the yogurt-mayo dressing and give it a gentle toss. That is it. It is that simple.
Watch How To Make
A Few Tips For The Best Apple Salad Recipe
A Few Variations & Ideas To Switch It Up:
Greens and/or Kale Instead of Baby Spinach: I love a good Spinach Apple Salad, but you can always swap spinach with salad greens or even (thinly) chopped kale.
Add in Broccoli for Some Additional Crunch: Chop up some fresh broccoli to add in a super nutritious green vegetable and turn it into a truly healthy apple salad.
Try it with different nuts and dried fruits: If you are serving this apple salad during the holidays, you can swap raisins with cranberries and turn it into an Apple Cranberry Walnut Salad. Don't have walnuts on hand? Use pecans and make it an Apple Pecan Salad. Seriously, friends, the sky's the limit.
Want A Salad That is Dinner Worthy & Protein Packed? If you are looking for more of a meal-worthy dinner salad, you can top it off with grilled or roasted chicken and turn it into an Apple Walnut Chicken Salad.
Making It Ahead and What To Do with Leftovers
As it is most salads mixed with yogurt dressing, this salad doesn't keep well even if you store it in the fridge in an airtight container.
However, if you don't mind keeping the ingredients separate from the dressing and serve it on the side, you can totally make it a day ahead and store them in the fridge for one additional day.
Ditch the Waldorf Salad and give this healthy and simple apple salad recipe a try. I promise with just a few minutes of prep you will end up with a super flavorful salad that you'll want to put on the weekly rotation all throughout the year.
Other Apple Salad Recipes With Fresh Apples That You Might Like
Here are a few more apple salad ideas to inspire you:
Other Healthy Salads Recipes You Might Also Like:
Apple Salad Recipe
Whether you serve it as a side dish for your holiday dinner or treat yourself for a healthy lunch, this sweet and savory Apple Salad with yogurt dressing is such a treat! And it only takes 15 minutes to put together.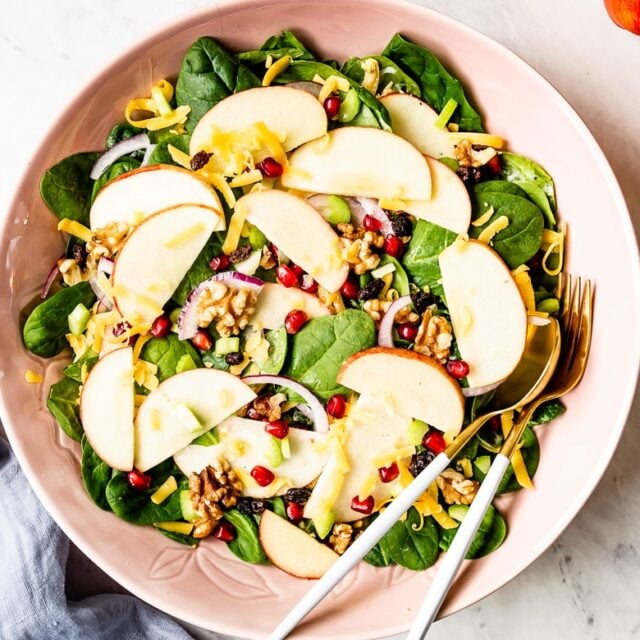 Print Recipe
Ingredients
For The Dressing:
½

cup

Greek yogurt

2

tablespoons

mayonnaise

3

tablespoons

lemon juice

freshly squeezed

¾

teaspoon

kosher salt

¼

teaspoon

black pepper
For The Salad:
4

cups

baby spinach

rinsed and spin dried

2

stalks celery

chopped

¼

cup

red onion

thinly sliced

¼

cup

raisins

½

cup

walnuts

or pecans, roughly chopped

1

apple

cored and thinly sliced

⅓

cup

cheddar

shredded
Instructions
To make the dressing:
Place yogurt, mayonnaise, lemon juice, and salt and pepper in a bowl. Give it a whisk. Set aside.
To make the salad:
Place spinach, celery, red onion, raisins, walnuts, and apple slices in a large salad bowl.

Drizzle it with the dressing and give it a gentle toss.

When ready to serve, top it off with shredded cheddar.
Video
Notes
Note: I added a handful of pomegranate seeds at the last minute mostly for a pop of color for pretty pictures. However, it is totally optional.
Making It Ahead and What To Do with Leftovers: As it is most salads mixed with yogurt dressing, this salad doesn't keep well even if you store it in the fridge in an airtight container. However, if you don't mind keeping the ingredients separate from the dressing and serve it on the side, you can totally make it a day ahead and store them in the fridge for one additional day.
Nutrition
Calories:
258
kcal
|
Carbohydrates:
20
g
|
Protein:
9
g
|
Fat:
18
g
|
Saturated Fat:
3
g
|
Cholesterol:
11
mg
|
Sodium:
573
mg
|
Potassium:
426
mg
|
Fiber:
4
g
|
Sugar:
7
g
|
Vitamin A:
2932
IU
|
Vitamin C:
16
mg
|
Calcium:
145
mg
|
Iron:
2
mg
Can't Get Enough of Apples? Here are a few more:
Like this recipe? Consider sharing: