Here at Foolproof Living, we love to roast colorful root veggies in the oven. Not only is this method quick and easy, but it's the tastiest way to get your daily dose of nutrients. If you're looking for more easy recipes for beautifully caramelized, tender roasted veggies, you have to make my Roasted Acorn Squash, this Maple Roasted Carrot dish, and my Baked Butternut Squash Cubes.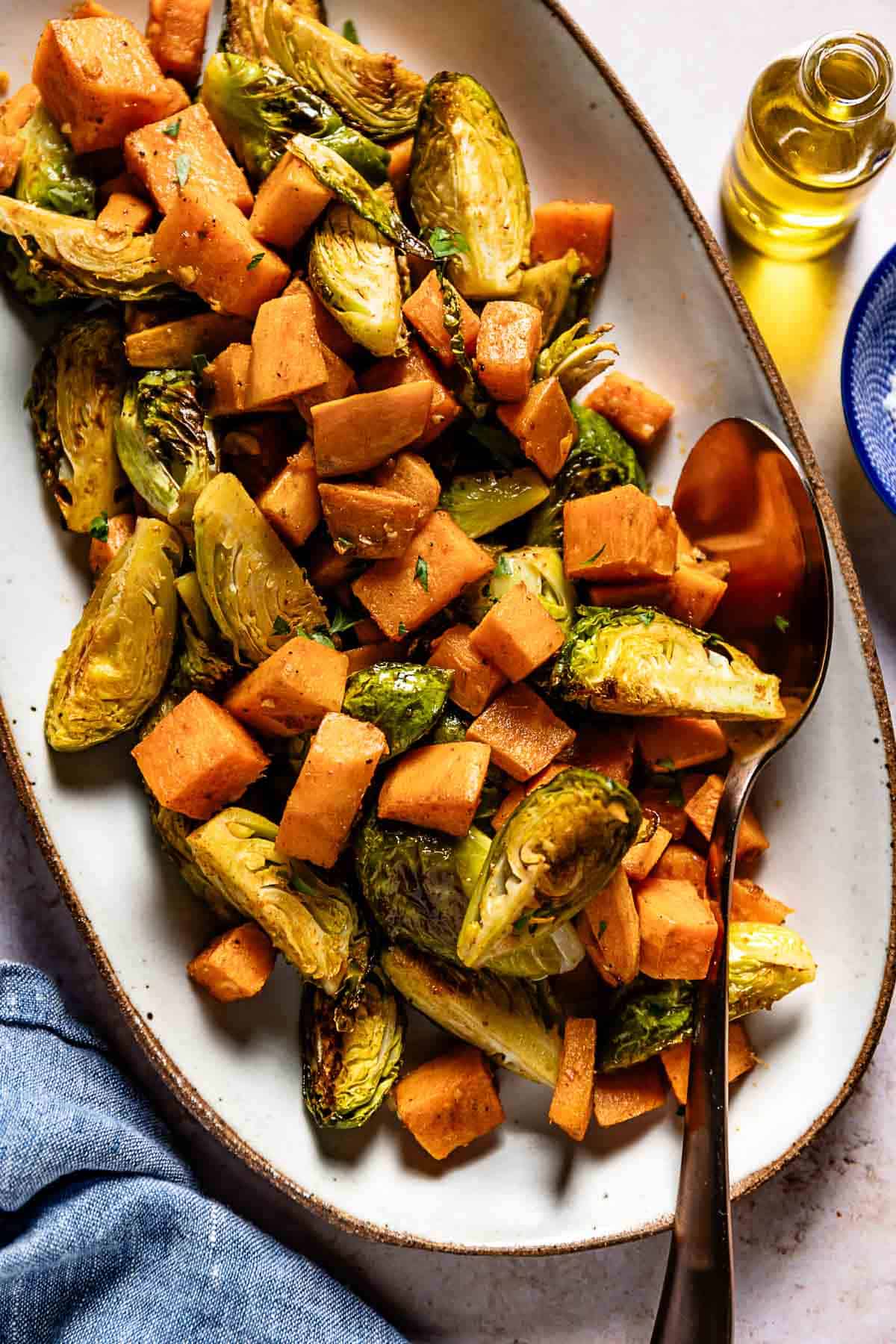 Ingredients
We're keeping the ingredient list short and simple for this roasted brussel sprout and sweet potato recipe. The veggies crisp up perfectly with just a little olive oil, and we're adding a few additional seasonings to enhance the flavor of this dish. Here's what you'll need: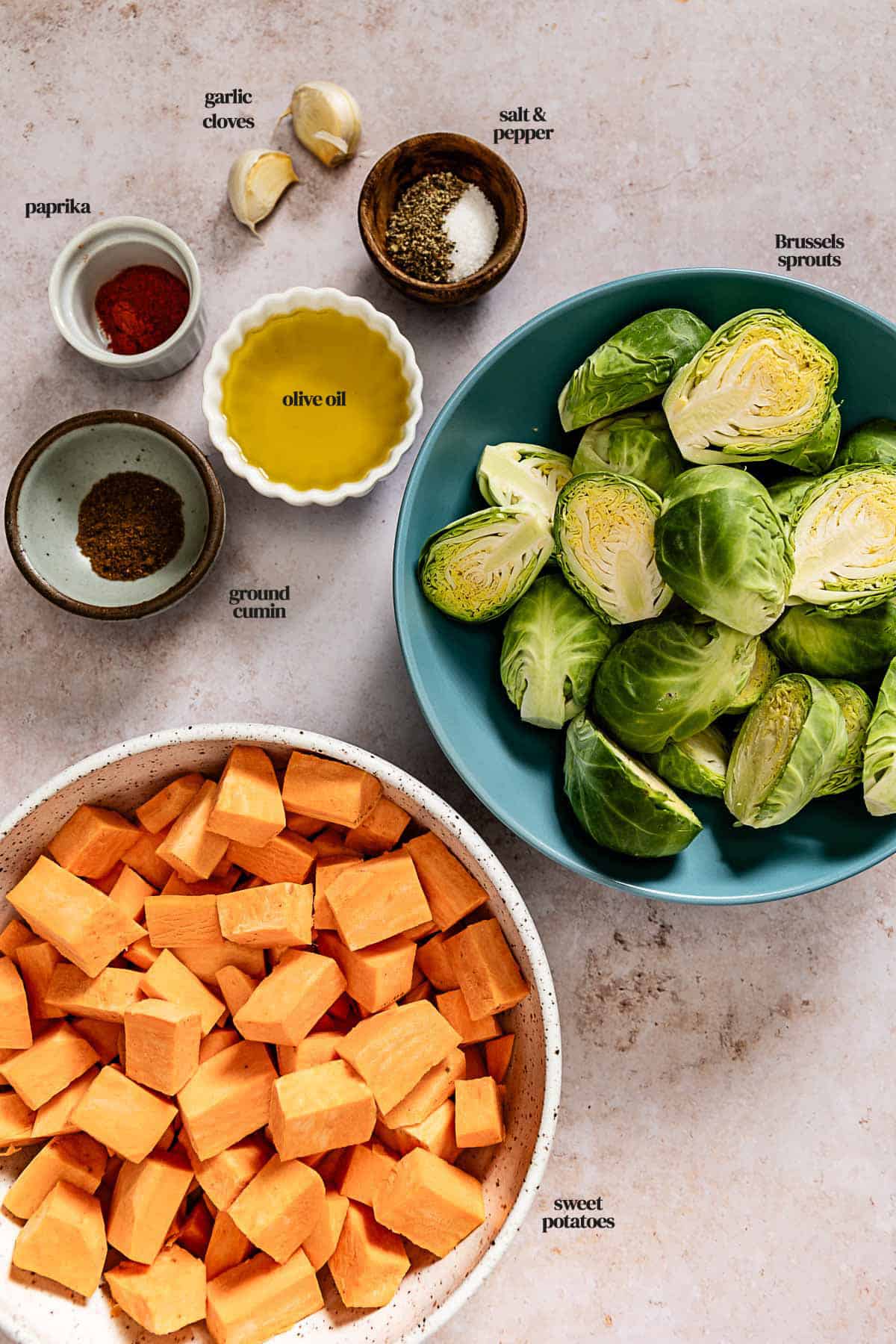 Fresh Brussels sprouts: Rinse them under cold water and slice them in half. If you have larger sprouts, cut them into quarters.
Sweet potatoes: You'll need 1 or 2 large sweet potatoes or 3-4 medium sweet potatoes. Be sure to peel them and cut them into 1-inch cubes.
Fresh garlic cloves: Peel garlic and mince finely. Don't have fresh garlic on hand? Use a teaspoon of garlic powder instead.
Extra-virgin olive oil
Seasonings: You'll need paprika (sweet or smoked), ground cumin, kosher or sea salt, and black pepper.
Fresh Herbs (optional): We used fresh parsley as a garnish, but when making this dish during the holiday season, we use other fresh herbs like fresh sage, fresh thyme, or fresh rosemary.
Substitutions
Root vegetables are ideal for roasting because the high heat allows the veggie's natural sugars to caramelize and release a sweet flavor. Feel free to swap the sweet potatoes for your favorite root vegetable or even switch up the flavor profiles of this dish. Here are some ideas:
Pioneer Woman's Brussel sprouts and sweet potatoes: The Pioneer Woman has a delicious variation of this Brussel sprouts and sweet potato recipe that uses butternut squash and onion. If you'd like to try out her version, swap the sweet potatoes for cubed butternut squash and add some diced onion (she uses yellow onion, but red onion would also work.) If you don't know how to cube butternut squash, check out my easy How to Cut Butternut Squash guide. If you're not a fan of butternut squash, try substituting chopped carrots. You can even make roasted yams and Brussels sprouts for another substitution.
Maple roasted Brussels sprouts and sweet potatoes: Sweet and savory is such a classic combo! Balance the savory spices in this recipe by adding a sweetener like sweet maple syrup, which will also help to bring out those beautiful caramelized flavors. I recommend drizzling your oven-roasted sweet potatoes and Brussels sprouts with maple syrup (about one tablespoon), just as I did in this Maple Roasted Carrots recipe. For another sweet option, try drizzling your roasted veggies with a dash of balsamic vinegar or balsamic glaze (affiliate link.)
How to Roast Sweet Potatoes and Brussel Sprouts?
In just 30 minutes, you can serve up this impressive, colorful vegetable dish that pairs with an endless number of main dishes. Plus, with only one bowl and a sheet pan, it makes for a super easy cleanup. Here's how to make brussel sprouts and sweet potatoes in oven:
Prep your equipment: Preheat your oven to 400 degrees F (204 degrees C). Line a large sheet pan with parchment paper or aluminum foil and set aside.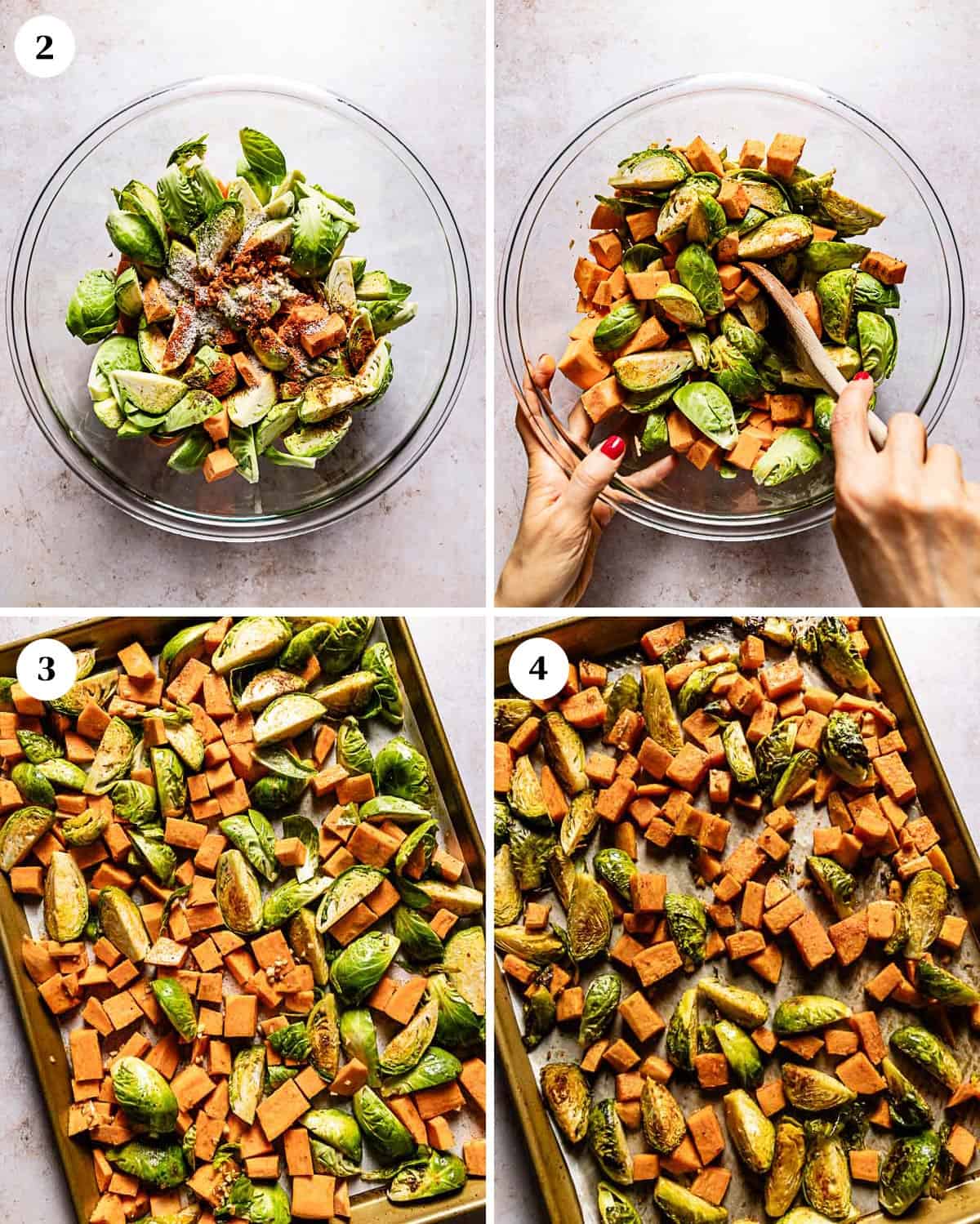 Combine the veggies and seasonings: Add the veggies, olive oil, garlic, cumin, paprika, salt, and pepper to a large or medium bowl. Toss Brussels sprouts and sweet potatoes with all the oil and seasonings until evenly coated.
Transfer to the baking sheet: Transfer the seasoned veggies to the prepared baking sheet and spread them into a single layer.
Roast vegetables: Place in the center rack of the oven for 20-25 min, making sure to flip halfway through.
Serve: Transfer the roasted sweet potato and brussel sprouts to a serving bowl or plate. Sprinkle with fresh parsley or other fresh herbs, if desired.
Variations with Optional Add-Ins
While roasted brussels sprouts and sweet potatoes are delicious as-is, they make an excellent base for salads, grain bowls, and more. Get creative by drizzling with dressings, adding lots of toppings, or adjusting the flavor profile to suit a special occasion. Here are a few suggestions:
Add quinoa: Turn this easy side dish into a roasted vegetable salad with cooked quinoa. For nutritious, simple, and filling lunch or dinner options, add your roasted brussels sprouts and sweet potato to this yummy Quinoa Sweet Potato Bowl or to my other delicious Quinoa Salad recipes. If you'd like to try these recipes but you are unfamiliar with cooking quinoa, I have you covered. Check out my easy guide for Cooking Quinoa on the Stove.
Mix with salad greens or massaged kale: Amp up the nutrients of this dish by tossing it with your favorite salad greens or kale. For a restaurant-worthy creation, finish off your sweet potato brussel sprout salad with a drizzle of Lemon and Balsamic Dressing and top it with lots of Crispy Bacon.
Nuts and dried fruits: While you can enjoy roasted sweet potatoes and Brussels sprouts year-round, they're especially fitting for the autumn season because of their warm, cozy flavors. If I'm making this dish for Thanksgiving, I love adding festive toppings like chopped pecans (or walnuts) and dried cranberries. Feel free to use your favorite nuts and dried fruit, such as dried figs or sliced almonds. Or, add a fun pop of color by tossing this sweet potato brussel sprout recipe with some fresh pomegranate seeds.
How to Make Ahead, Store, & Reheat?
While sheet pan Brussel sprouts and sweet potatoes are quick and easy to throw together for a last-minute side dish, they're also make-ahead-friendly for meal prep and storage-friendly for those yummy leftovers. Here are some make-ahead, storage, and reheating tips:
Make-ahead: You can make this sweet potato and brussel sprout recipe a day in advance so it's ready to go when you are. Simply chop up the veggies, mix them together with the seasonings, garlic, and extra virgin olive oil, and store them in a plastic bag, large bowl, or airtight container in the fridge. Follow the above instructions to cook them when you're ready to serve.
Store: Bring the baked brussel sprouts and sweet potatoes to room temperature before placing them in an airtight container. They'll stay fresh in the fridge for up to 4 days.
Reheat: You can reheat your leftovers for a few seconds in the microwave or in a 300-degree F oven for about 10 minutes or until warmed through.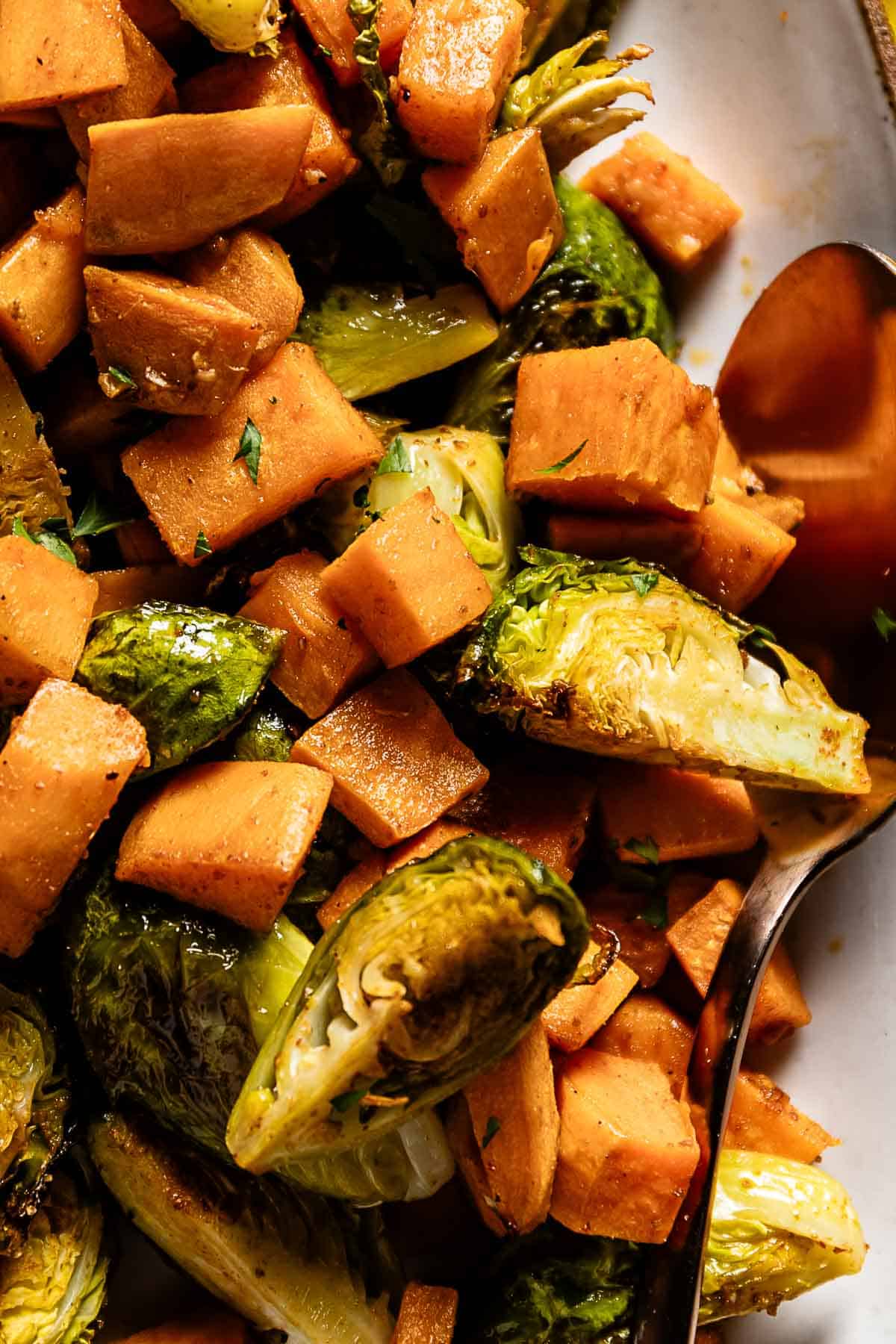 What to Serve It With?
Baked sweet potato and Brussels sprouts are a classic side that pairs with virtually any main dish. While it is one of my go-to dishes for holiday dinners, you can also enjoy this recipe as a snack, appetizer, or simple lunch! Here are a few of my serving recommendations:
Serve it with turkey: As part of the autumn harvest, roasted brussel sprouts with sweet potatoes are a must for your Thanksgiving menu or holiday table. Serve them as part of your Thanksgiving meal along with Turkey Breast Tenderloin, Roasted Turkey Legs, Maple Cranberry Sauce, Sweet Potato Souffle Recipe, and all your favorite Thanksgiving recipes. Or, for year-round enjoyment, serve this side dish with a roast chicken, such as my Air Fryer Cornish Hen.
Pair it with beef: For a restaurant-quality meal, serve your roasted sweet potato brussel sprouts with a succulent, tender beef dish. My favorites are Reverse Sear Tenderloin Roast and Barefoot Contessa's Pot Roast.
Expert Tips
When it comes to roasting Brussel sprouts and sweet potatoes, the goal is to make them tender, caramelized, and crisp rather than mushy and lifeless. Thankfully, this is easy to achieve with just a few tricks up your sleeve! Here's what you need to know:
Aim for equal-sized veggies: Cutting your veggies into fairly equally-sized pieces will help them cook evenly in the oven. I recommend chopping medium-sized sweet potatoes into 1-inch cubes and cutting the sprouts in half lengthwise. You may need to cut particularly large Brussels sprouts into quarters.
Leave the outer leaves: While you can remove any loose sprout leaves before roasting, I prefer to leave them since they crisp up really well in the oven and add a nice crunch to the dish.
Flip halfway through the roasting process: When roasting sweet potatoes and Brussels sprouts, flip them halfway through to ensure even cooking. They can turn from perfectly crisp and caramelized to mushy pretty quickly, so make sure to keep an eye on them after about 20 minutes (every oven is different). You'll know they're done when they're fork-tender.
FAQs
Can I roast brussel sprouts and sweet potatoes together?
Yes, you can. Roast sweet potatoes and brussel sprouts in the oven for a total time of about 20-25 minutes to achieve a fork-tender texture with crisp, caramelized edges. Plus, sweet potato brussels sprouts are a savory and sweet combination that makes for the perfect side dish.
What temp to roast brussel sprouts and sweet potatoes?
You can cook sheet pan sweet potatoes and brussel sprouts in a 400-degree F oven for 20-25 minutes or until fork-tender.
Can I roast brussels sprouts and sweet potatoes in the air fryer instead?
For a quick and easy cooking option, you can make air fryer brussel sprouts and sweet potatoes instead of roasting them in the oven. I recommend roasting them in the air fryer basket at 400 degrees F for 17-20 minutes or until you achieve tender potatoes and crispy brussel sprouts.
What pairs well with brussel sprouts?
Root veggies, such as sweet potatoes, carrots, and butternut squash, pair beautifully with sprouts. Roasted root vegetables and brussel sprouts require around the same cook time, resulting in a tender texture with crisp, golden brown, and caramelized edges. It's the perfect combination of savory and sweet.
Should I soak brussel sprouts before roasting?
There's no need to soak your sprouts before roasting them. However, I recommend giving them a good rinse under cold running water to remove any dirt, debris, or pesticides. You can lightly dry them with a paper towel before cooking to ensure they crisp up nicely.
Other Roasted Vegetable Recipes You Might Like:
Whether you need a delicious side dish to serve with your holiday dinner or you are just looking for a healthy veggie meal for a Tuesday night dinner, we have a good collection of vegetable side dishes for you to choose from. Below are a few hand-picked recipes that we make regularly:
If you try this Roasted Sweet Potato Brussel Sprouts Recipe, please take a minute to rate the recipe and leave a comment below. It helps others who are thinking of making the recipe. And if you took some pictures, be sure to share them on Instagram using #foolproofeats so I can share them on my stories.
Roasted Brussels Sprouts and Sweet Potatoes Recipe
Yields:
4
servings (as a side dish)
These Oven-Roasted Brussel Sprouts and Sweet Potatoes are an easy side dish that's vegan, gluten-free, and dairy-free. Tender, perfectly caramelized, and seasoned with cumin and paprika, these veggies are just as tasty as they are nutritious. Serve this recipe as a snack or appetizer, alongside your favorite weeknight meal, or even as an accompaniment to your holiday table.
Print Recipe
Ingredients
1

pound

Brussels sprouts

trimmed and halved lengthwise

1

pound

sweet potatoes

peeled and cut into 1-inch cubes

2

cloves

fresh garlic

minced or 1 teaspoon garlic powder

¼

cup

olive oil

1

teaspoon

ground cumin

½

teaspoon

paprika

sweet or smoked

1

teaspoon

kosher salt

½

teaspoon

black pepper

1

tablespoon

fresh parsley

optional or other fresh herbs like fresh sage, thyme or rosemary
Instructions
Preheat oven to 400 degrees F (or 204 degrees C). Line a large baking sheet with parchment paper (or aluminum foil) and set aside.

Into a large bowl, place halved Brussels sprouts, cubed sweet potatoes, minced garlic, olive oil, ground cumin, paprika, salt, and pepper.

Give it a good toss to ensure that the vegetables are coated with all the seasonings and oil.

Transfer onto the prepared baking sheet and make sure that they are spread on a single layer.

Roast vegetables in the oven for 20 to 25 minutes, flipping halfway through the cooking process.

Transfer the now-roasted sweet potatoes and Brussels sprouts to a serving platter. Serve it with a sprinkle of fresh parsley.
Notes
Yields:

This recipe yields about 4 to 5 cups of roasted vegetables, which is ideal for serving 4 people as a side dish. The nutritional values listed below are per serving.

Aim for equal-sized veggies:

Cutting your veggies into fairly equally-sized pieces will help them cook evenly in the oven. I recommend chopping sweet potatoes into 1-inch cubes and cutting the sprouts in half lengthwise. You may need to cut particularly large Brussels sprouts into quarters.

Make-ahead:

You can make this recipe a day in advance so it's ready to go when you are. Simply chop up the veggies, mix them together with the seasonings, garlic, and extra virgin olive oil, and store them in a plastic bag, large bowl, or airtight container in the fridge. Follow the above instructions to cook them when you're ready to serve.

Store:

Bring the roasted vegetables to room temperature before placing them in an airtight container. Keep them in the fridge for up to 4 days.

Turn it into a salad:

An earlier version of this recipe was tossed with ½ cup of cooked quinoa, 1 cup of arugula, a handful of pumpkin seeds, and pomegranate arils. It was drizzled with a homemade salad dressing. Below are the ingredients you will need to make the dressing:

¼ cup orange juice freshly squeezed

2 tablespoons olive oil

2 tablespoons balsamic vinegar

½ teaspoon kosher salt

¼ teaspoon black pepper
Nutrition
Calories:
271
kcal
|
Carbohydrates:
34
g
|
Protein:
6
g
|
Fat:
14
g
|
Saturated Fat:
2
g
|
Polyunsaturated Fat:
2
g
|
Monounsaturated Fat:
10
g
|
Sodium:
674
mg
|
Potassium:
853
mg
|
Fiber:
8
g
|
Sugar:
7
g
|
Vitamin A:
17158
IU
|
Vitamin C:
101
mg
|
Calcium:
93
mg
|
Iron:
3
mg
Like this recipe? Consider sharing: