I love brown rice because of its nutty flavor with more textural personality than white rice. However, during my several years of cooking brown rice, I have had more than my share of mushy, soggy, and even under or overcooked results when cooking brown rice.
So I decided that (1) I am going to learn the anatomy of brown rice (and how it is different from white rice) and (2) find a way to make it evenly cooked and still moist.
As I was surfing the internet and reading articles about rice in general, I found an article in "Hinduism Today" (there is no direct link as the page no longer exists) to be the must helpful. Without getting too technical, I will share what I learned with you. The illustrated pictures you see below are from the same article.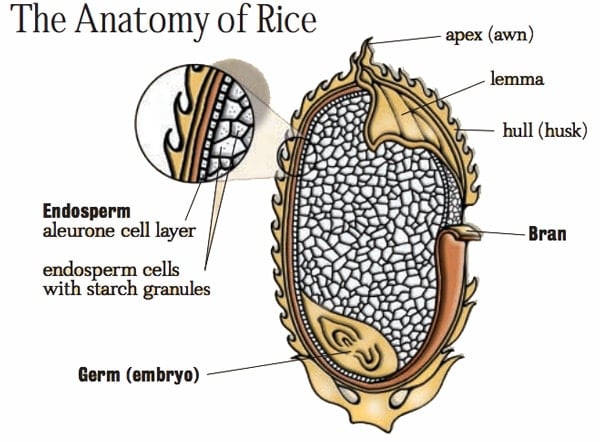 As you can see in the picture above a whole grain of rice has several layers; apex, hull, lemma, bran, germ, and embryo. With all these layers intact, it is called "patty rice". When it is processed to remove the hull (husk), it becomes "brown rice" and when hull, bran, germ, and embryo are all removed it becomes "white rice".
With the removal of the layers that are full of vitamins and minerals, it looses most of its nutritional value. That is why brown rice is healthier than white rice. One thing to note here is that due to the FDA regulations, most producers in the U.S. add powdered nutrients to white rice in order to compensate for the lost nutrients with the removal of those layers.
Because of having several of those layers intact brown rice (1) takes twice as long to cook than white rice (2) has a mild and nutty flavor and is chewier than rice.
So what is the best way of cooking brown rice? To find the answer, I referred to one of my favorite cookbooks, The Science of Good Cooking (Cook's Illustrated Cookbooks)
.

They suggested that it creates an evenly cooked brown rice when cooked in the oven, covered tightly with a lid or aluminum foil. This allows the heat to be distributed evenly and gently by preventing the risk of bottom layer burning like it would happen most of the time when I cooked it on the stovetop.
You literally put it in an 8X8 baking dish (or a pyrax with a lid), pour boiling stock over it, cover it tightly with aluminum foil, and cook it for an hour in the oven. The steam trapped in the baking dish with the evenly distributed heat of the oven is the reason for an evenly cooked brown rice. It still takes at least an hour for it to cook thoroughly but the result is superb even if you prefer to eat it just by itself. You can also flavor it with your favorite sautéed vegetables and meat.
I choose to flavor mine with leeks, mushrooms, and thyme for this recipe but you can use tomatoes, peas, broccoli, etc. paired up with different herbs and even cheeses (parmesan is my favorite). Sky is the limit.
I usually serve it with a piece of grilled chicken breast or just by itself next to a green salad.
It is filling, tasty, and most importantly, healthy.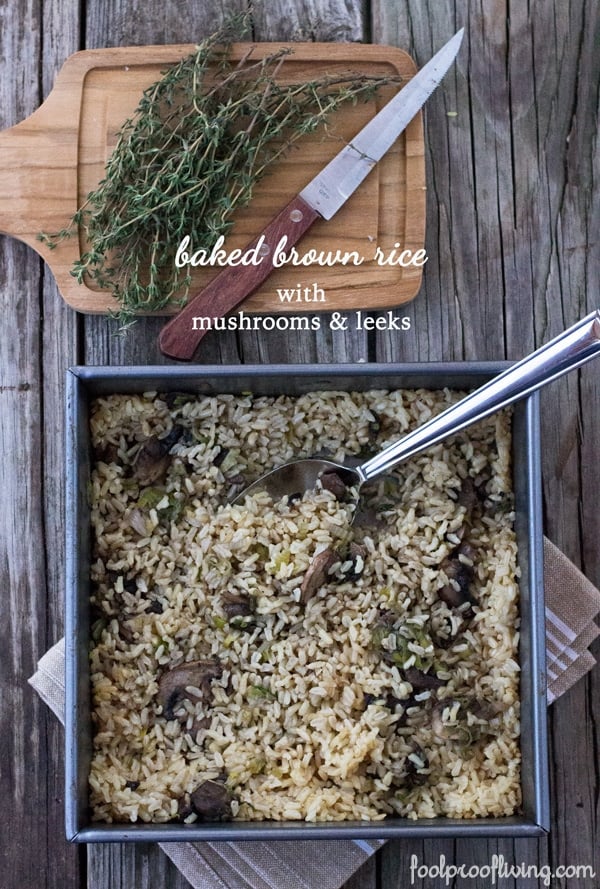 Print
Baked Brown Rice with Mushrooms and Leeks
Author:
Prep Time:

15 min

Cook Time:

70 min

Total Time:

1 hour 25 minutes

Yield:

4 servings

Category:

Side Dish

Cuisine:

American
Ingredients
1 1/2 cup brown rice, picked over
2 1/2 cups vegetable broth (you can use chicken broth as well)
2 tablespoon vegetable oil, divided
1/2 teaspoon salt – divided
1 leek – white parts only, washed and sliced
8 ounces (2 cups) Cremini (or button) mushrooms, wiped, trimmed and sliced
2 teaspoons fresh thyme, minced
1/4 teaspoon black pepper, freshly grounded
11/2 teaspoon sherry vinegar
Instructions
Preheat oven to 375 degrees.
Heat vegetable broth, 1-tablespoon vegetable oil, and 1/4 teaspoon salt in a medium saucepan until it boils.
Place the brown rice in 8X8 baking dish.
Pour the boiling broth mixture over brown rice and give it a gentle stir.
Cover the baking dish tightly with 2 layers of aluminum foil. Place it in the oven and bake for 60 to 70 minutes or until tender.
15 minutes prior to rice being ready, sauté leeks in a large skillet with 1-tablespoon oil until they are wilted, 2-3 minutes.
Add the mushrooms and cook, stirring occasionally, until most of the moisture has evaporated, 8-10 minutes.
Season it with 1/4 teaspoon salt, thyme, and black pepper.
When rice is ready, fluff it with a fork and cover it with kitchen towel. Let it stand for 5 minutes.
Stir in the sautéed mushroom and leek mixture in rice and drizzle it with the sherry vinegar.
Taste for seasoning. Add if necessary.
Serve immediately.
Adapted from Cook's Illustrated,  2004.