I don't know about you, but I am a big fan of playing with different types of grains, especially the ones that are as healthy as forbidden rice. Don't get me wrong, I do find comfort in serving a simple roasted chicken dish or a big bowl of steamed vegetables along with white rice or spaghetti.
However, I also like to venture out and try those not-so-common grains as I create new recipes. Because doing so gets me out of my comfort zone and allows me to try new flavors.
If you are in the same boat, let's dig in and go back to the basics of cooking forbidden rice. Below, you will find the answers to the questions that I had when I first started incorporating forbidden rice (aka black rice) into my daily cooking more than 2 years ago.
What Is Forbidden Rice and Why is Black Rice Called Forbidden Rice
When I was first introduced to forbidden rice, all I knew was that it looked like thew black version of white rice. I had no idea about the verbiage and why it was called forbidden rice.
Come to find out, it is actually called Black Rice. Like the name suggests, it looks very similar to white rice, but it is black. According to this article, it is originated from a single crop in China over 10,000 years ago.
Additionally, as it is stated in this Wikipidia article, the name "Forbidden Rice" is the trademarked name of the black rice sold by Lotus Foods (affiliate link). If you are not familiar, Lotus Foods, is a California-based company that focuses on importing handcrafted rice from small family farms to the United States.
While Lotus Foods is a major distributor of black rice in the US, nowadays you can also find it in most supermarkets (like Whole Foods, Fresh Market, Sprout, etc.) in their bulk grain section.
If you are like me, you may also ask, "why did they choose to call it "forbidden" rice?"
A quick Google search to the question revealed that it is also called the Emperor's Rice, because during the days of the Ching and Ming dynasties forbidden rice was reserved exclusively for the emperors to ensure their longevity and health. Eventually, it became available for everyone and came to this day as a grain that is synonymous with good health and long life.
How to Cook Black Rice?
Do I Need To Soak Black Rice Before Cooking?
Before I start talking about cooking black rice, I want to talk about soaking it. Because, as in most grains, soaking it before cooking has some benefits. The following explanation comes from one of my favorite cookbooks, My New Roots: Inspired Plant-Based Recipes for Every Season
(affiliate link):
"Although it is not necessary to soak grains before cooking them, soaking has its benefits, including removing some of the naturally occurring phytic acid, which inhibits mineral absorption, and breaking down some of the hard-to-digest proteins. Additionally, soaking grains cuts the cooking time down substantially."
That is why, I recommend soaking grains before cooking. I know it is an extra step, but thankfully it is not a difficult one. I usually use 3 cups of water to soak 1 cup of black rice and leave it on the counter overnight.
With that being said, you can cook black rice without soaking. The difference between soaked versus un-soaked black rice is going to be the time of cooking plus the benefits mentioned above.
In either scenarios, I recommend giving black rice a good rinse under running cold tab water prior to cooking.
Black Rice Cooking Instructions:
To cook black rice, you place it in a sauce-pan (with a lit) along with water in medium-high heat, put the lit on, and bring it to a boil. Once it comes to a boil, you turn down the heat to low and let it cook until softened and lightly opened.
The black rice water ratio is 1-2, meaning that to cook black rice you need to mix together:
1 cup black rice
2 cups water
A pinch of salt
Adding salt here is optional, but I think it enhances its flavor.
How Long To Cook Forbidden Rice:
As I mentioned earlier, the cooking time of black rice will depend on whether you soaked it or not. If you soak it, it takes somewhere between 20-25 minutes. If you prefer not to soak it, then you are looking at 50-60 minutes of cooking time.
A visual cue for doneness is when forbidden rice starts opening up and turning into purple looking cooked rice.
1 cup of black rice yields approximately 3 cups of cooked black rice.
What Does Black Rice Taste Like:
Black rice tastes similar to brown rice. It has a mild nutty flavor (almost like deep flavor tones of toasted nuts) that is great for flavoring in various ways.
Creative Forbidden Rice Recipes
I usually cook forbidden rice when I do my meal prep on Sundays, keep it in the fridge in an airtight container, and use it in salads, breakfast cereal bowls, and to serve along with roasted veggies or meat.
The four black rice recipes I outlined below are great examples of some of my favorite ways of using black rice in my daily cooking.
Forbidden Rice Morning Cereal Bowl with Berries: Though the name is long, this healthy breakfast dish comes together in minutes. In this breakfast bowl recipe, I used almond milk and fresh berries, but any milk and fruit would work. Also, I had some granola on hand so I sprinkled some on top, but you can easily substitute it with any of your favorite nuts. Needless to say, this makes an incredibly healthy and filling breakfast recipe that you can serve all your family.
Black Rice Bowl with Roasted Sweet Potatoes: Second recipe is one that I mostly serve for lunch. It is a bowl of black rice topped off with roasted sweet potatoes, chopped cucumber and mixed in with red cabbage. I mix everything in a bowl and drizzle it with a simple lemon juice and olive oil vinaigrette. Again, it makes a filling, healthy, and guilt-free lunch that is perfect when you are on the go.
Sesame Crusted Seared Tuna Salad Bowl: I love serving black rice with animal protein. In this recipe I served it along with seared tuna. Since cooked black rice is mildly flavored, it complimented my seared tuna really well.
Forbidden Rice Salad with Mango, Bok Choy, and Coconut Curried Dressing: This recipe comes from my friend, Traci of Vanilla and Bean. In this creative recipe, she mixed up mango and bok choy along with coconut curried dressing to make a very creative and delicious forbidden rice salad.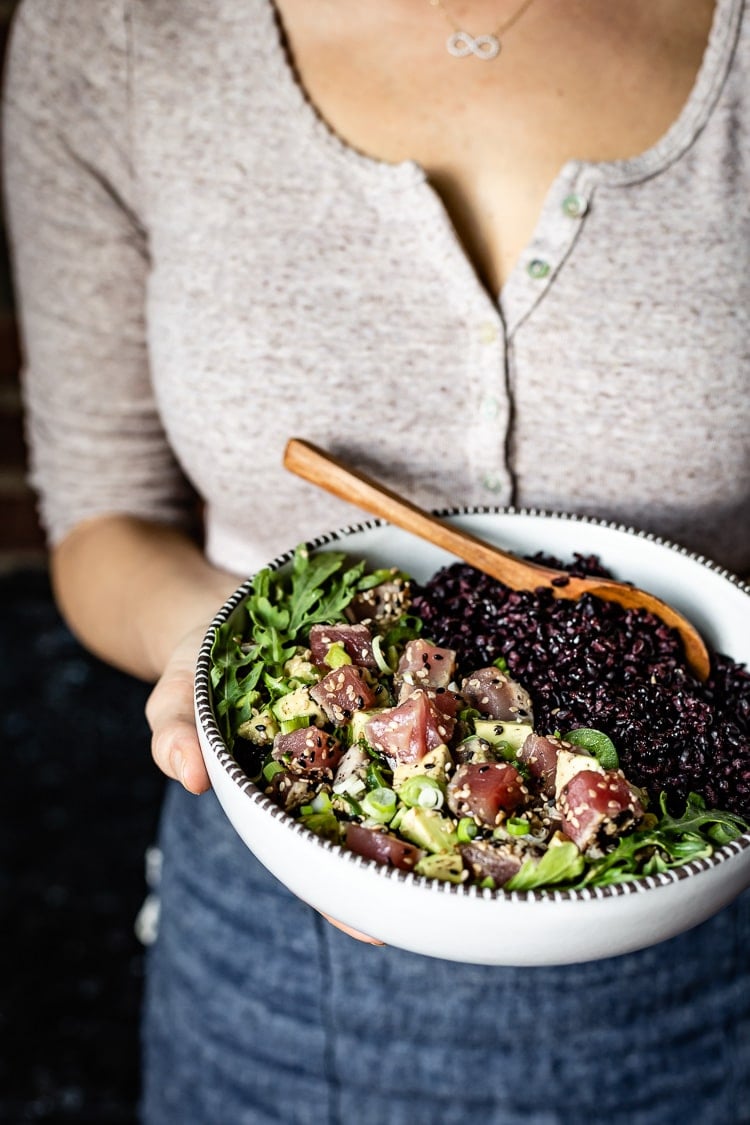 Health Benefits of Black Rice
Before I let you go, I also wanted to list out a few health benefits of black rice:
It is high in fiber and low in calories
Its purple color is associated with anthocyanin antioxidants, which are also found in blueberries and blackberries.
According to this website, the specific anthocyanins phytochemicals found in black rice help to maintain healthy cholesterol levels by reducing total cholesterol, LDL "bad" cholesterol, and total triacylglycerol concentrations. These are 3 factors commonly involved in cardiovascular disease.
Plus, since black rice is naturally gluten-free, it is a convenient alternative for those of you who are following a gluten-free diet.
Forbidden Rice Recipe (Black Rice Recipe_
Have you ever used Forbidden Rice in your cooking? If not, it is time to give it a try. Also called, Black Rice, consider this post as a comprehensive guide to everything you need to know to incorporate this healthy and naturally gluten-free grain into your daily cooking.
Ingredients
For the forbidden rice:
1

cup

forbidden

or black rice, rinsed thoroughly

2

cups

water

pinch

of salt
Instructions
To make forbidden rice: If you remember, place the rice in a bowl filled with water and soak it overnight. If you do so, place it in a pot with water and salt over medium heat. Let it come to a boil; turn the heat down to low, put the lid on, and let it simmer for 20-25 minutes.

If you do not soak, follow the same steps, but let it simmer between 50-60 minutes. Drain any excess water. Fluff it with a fork. It should be soft and chewy. Once cooled, store it in the fridge in an airtight container.
Notes
As I mentioned in the post, 1 cup of black rice yields approximately 3 cups of cooked black rice.
Nutrition
Calories:
228
kcal
|
Carbohydrates:
48
g
|
Protein:
5
g
|
Fat:
2
g
|
Saturated Fat:
1
g
|
Sodium:
12
mg
|
Potassium:
138
mg
|
Fiber:
2
g
|
Sugar:
1
g
|
Calcium:
19
mg
|
Iron:
1
mg
Did you make this recipe?
Tag @foolproofliving on Instagram and hashtag it #foolproofeats
The first time I published this Forbidden Rice Recipe was back in May of 2016. Since then it has been a favorite in our house. Today, June 2020, I am updating that old post with some new photos and information.
Like this recipe? Consider sharing: