It is no secret that we love Autumn Salads. And what is more fall than a big bowl of Shaved Brussel Sprout Salad (aka Shredded Brussel Sprout Salad) that is flavored with apples, hazelnuts, dried cranberries, and goat cheese?
As I was trying to figure out what to call this recipe, I learned that this type of raw Brussel sprout salad has a few different names. Some people call it shredded, while others call it shaved. I also read that some people refer to it as Brussel Sprout Slaw.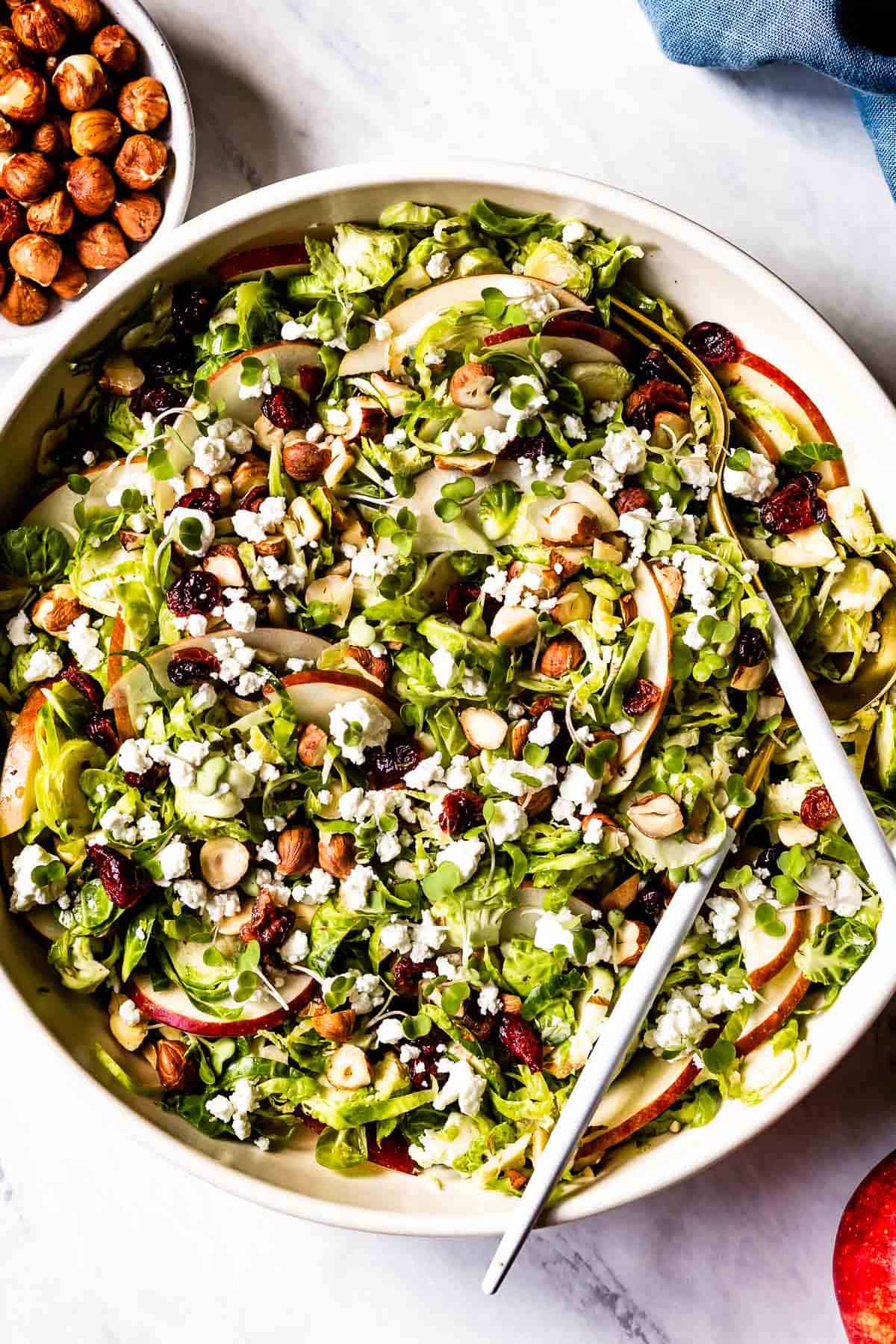 How To Make Shaved Brussel Sprout Salad Video
Regardless of what you prefer to name it, the principle is pretty much the same: Slice the sprouts as thin as you can, drizzle with lemony dressing / vinaigrette, and mix in with flavoring agents like fruits, nuts, and cheese.
Ingredients for the recipe
The ingredient list for this shaved brussels sprout salad recipe is made up of everyday ingredients with big flavors:
Salad dressing (a simple lemon vinaigrette): You will need white wine vinegar (or apple cider vinegar), lemon juice, a small shallot, extra virgin olive oil, salt and black pepper.
Other salad ingredients and flavorings: You will need sliced brussels sprouts, apples, hazelnuts, and Vermont Creamery goat cheese. And let me tell you, if you have never paired your Brussel Sprouts Salad with goat cheese, you are in for a treat.
Substitutions & Variations:
Cheese: The addition of creamy goat cheese with the help of crunchy and sweet apples and earthy hazelnuts takes this otherwise pretty tasteless salad to the next level. With that being said, if you are not a fan of goat cheese, you can use other cheese like Parmesan cheese, feta cheese and blue cheese, or totally omit using cheese.
Nuts: I am a big fan of hazelnuts for this winter salad but you can use other nuts and/or seeds like walnuts, pecans, almonds, pumpkin seeds and sunflower seeds would also work.
Fruit: I used a thinly sliced apple but other fruits like pomegranate seeds and pears would also work.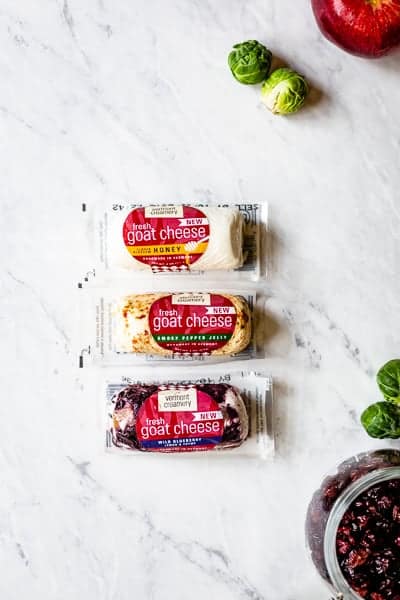 Though if this is your first time making shredded Brussel sprout salad there are a few things you need to know:
How to Shred Brussel Sprouts for Salad
When it comes to shaving Brussel sprouts you have 3 options:
First, you can use a sharp knife and slice them as thin as you can on a cutting board. It takes a good 10-15 minutes to slice 1 pound of Brussel sprouts.
Second, you can use a mandolin (affiliate link). I am embarrassed to admit this, but having cut my fingers so many times in the past, I am not much of a mandolin person. If you are, go for it. Shredding Brussel sprouts using a mandolin is not only quicker but also great for slicing them evenly.
Third, you can use the shredding blade of your food processor to shave them. This method is my favorite as it is (1) the quickest and (2) delivers evenly sliced pieces. Nowadays, most food processors come with several attachments, and a shredding blade is one of them.
To shred Brussels sprouts using a food processor, fit it with the shredding blade, put the lid on, feed whole sprouts through the tube, and use the feed tube pusher to push them down while the machine is running. The shredded sprouts will collect in the bowl of the processor.
I find that this is the easiest and fastest way of making this healthy salad. So, if you have a food processor, put it to good use because you'll be saving at least 10 minutes of slicing time.
Can You Eat Brussel Sprouts Raw in a salad?
Yes, you can. However, there are a few things you need to know when it comes to preparing chopped Brussel sprouts for turning them into a slaw that tastes flavorful, properly seasoned, and tasty.
First, you need to make sure that they are thinly and evenly sliced. I know we covered this above, but this is a very important step to ensure that the brussels sprouts will have enough "room" to soak in all the dressing.
Second, you need to let the sprouts rest for at least 30 minutes. Allowing the shaved brussel sprouts to sit in the dressing softens their raw crunch and seasons them deeply.
How To Make Ahead and Store Leftovers?
To Make Ahead: Here you might ask, can you prepare the Brussel sprouts a day before? The answer is yes, and I do recommend doing so. To me, being able to make it ahead is what makes this salad ideal for dinner parties (worthy of your holiday meal) or meal prep. It gets better as it sits. If you decide to do so, simply drizzle the sprouts with the vinaigrette, give them a toss, cover the bowl with stretch film, and keep them in the fridge until you are ready to assemble your salad. When ready to serve, add in the rest of the ingredients, taste for seasoning, and serve.
To store the leftovers: Cover the salad with stretch film and keep the leftovers in the fridge. They should be good for upto 2 days.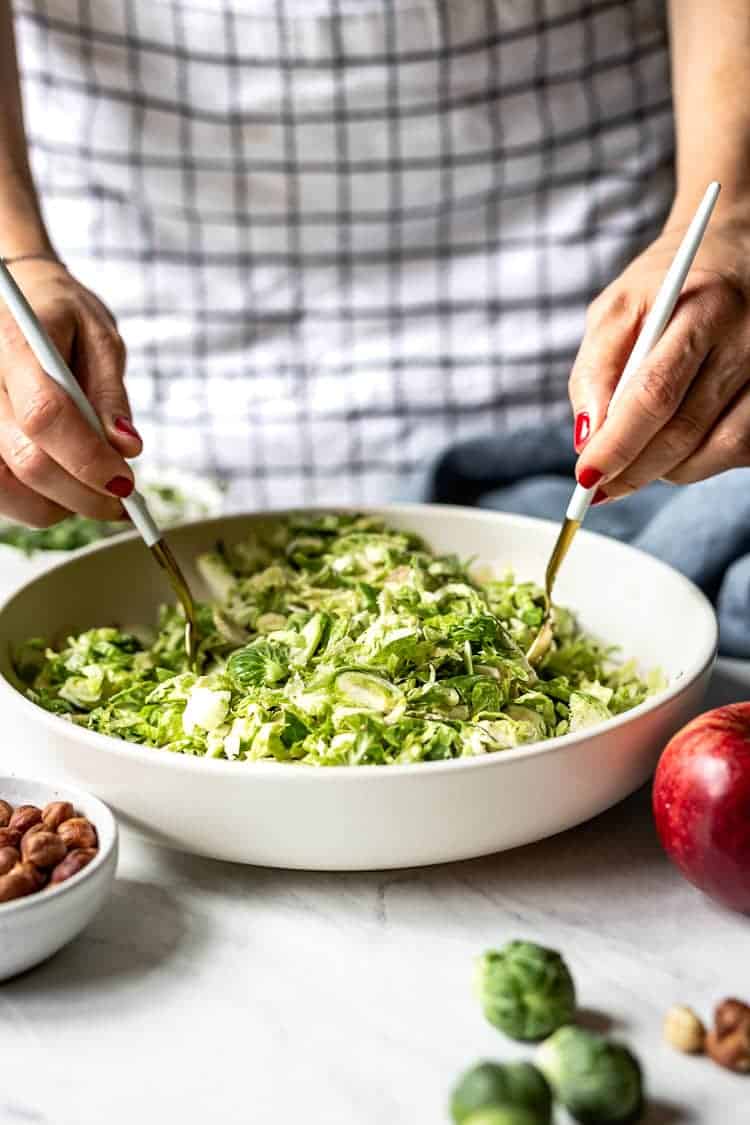 Best way to flavor this salad:
Add Bacon: If you were to do a quick Google search for "Brussel Sprout Salad", you will see that most recipes have bacon in it. I was very tempted to add some bacon in my version here, but at the last minute, I decided to make my version of shaved brussel sprout salad recipe vegetarian and stick to apples, hazelnuts, cranberries, and goat cheese. If you are a fan of bacon, you can make a batch of my Air Fryer Turkey Bacon or Baked Turkey Bacon and crumble it on top in the end.
Use different kinds of apples: When it comes to adding apples to salads, I prefer to use 2 different kinds so that I can add yet another flavor to the recipe. You don't have to do that, but if you have 2 kinds of apples in your fridge, why not give it a try?
Roast nuts for next-level deliciousness: In terms of nuts, I picked hazelnuts as I have been thinking about making this shaved Brussel salad recipe for all our holiday gatherings this year. However, you can swap hazelnuts with walnuts or sunflower seeds as well. Whichever nuts you use, if you have a few extra minutes, I recommend roasting them in a 350-degree oven for 3-5 minutes to bring out their flavors.
Change it up with different types of dried fruits: When it comes to holiday-table salads, cranberries are a classic, but other dried fruits like sour cherries and Turkish apricots would also work.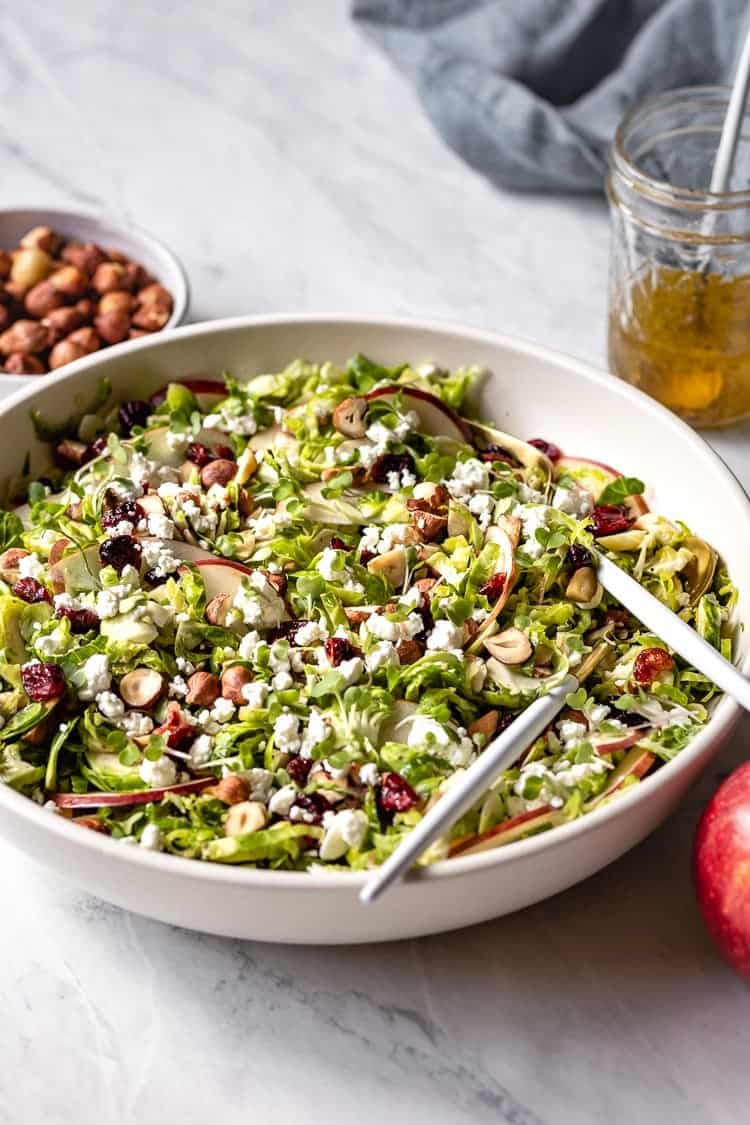 FAQs
Can you shred brussels sprouts ahead of time?
Yes, you can. However, I would do it only a day or two days before you are ready to serve. If you decide to do so, be sure to store them in an airtight container (or a Ziploc bag) in the fridge.
How many calories in Brussel Sprout Salad?
The calories in brussels sprouts salad depend on what goes in there. However, by themselves brussel sprouts are considered as a low-calorie food. 1 cup brussel sprouts is 38 calories. You can find the nutritional information for this Shaved Brussels Sprout Salad in the recipe card below.
How to cook shaved brussel sprouts – What if I don't like raw brussel sprouts?
I hear you. I know a lot of people who don't care about eating veggies when they are raw. But I want to encourage you to give this raw version a try because as the thin slices of brussels sprouts rest in the dressing, they soak up the dressing and soften. To me, doing so is what really takes the raw Brussels sprouts to another level making them as good as their cooked version. However, if you are not a fan, you can lightly sauté them in a large skillet with a tablespoon of olive oil until they are softened, 5-7 minutes.
If you liked this Shredded Brussels Sprout Salad Recipe, You Might Also Like:
Whether you are looking for some inspiration for your holiday, Thanksgiving, or Friendsgiving dinner menu or in need of ideas for your next weekly meal prep, this easy and healthy salad recipe makes the perfect side dish. And, if you can't get enough, here are a few more recipes you might like:
If you try this Shredded Brussels Sprout Salad recipe or any other recipe on Foolproof Living, please take a minute to rate the recipe and leave a comment below. It helps others who are thinking of making the recipe. And if you took some pictures, be sure to share them on Instagram using #foolproofeats so I can share them on my stories.
Shaved Brussel Sprout Salad Recipe
Raw and Shaved Brussel Sprouts flavored with apples, goat cheese, and hazelnuts. An easy to make Brussels Sprout salad recipe that is guaranteed to please.
Print Recipe
Ingredients
For the dressing:
2

tablespoons

white wine vinegar

3

tablespoons

lemon juice

freshly squeezed

1

small shallot

chopped

4

tablespoons

olive oil

1

teaspoon

salt

¼

teaspoon

black pepper
For The Salad:
1

pound

Brussels Sprouts

shredded*

1

apple

thinly sliced

½

cup

dried cranberries

½

cup

hazelnuts or walnuts

lightly roasted

⅔

cup

goat cheese

crumbled
Instructions
To make the dressing, whisk together all the dressing ingredients in bowl.

Place the shaved brussel sprouts in a large salad bowl and drizzle it with the dressing. Give it a toss. If you have the time, cover it with stretch film and let it sit for 30 minutes.

Add in the slices of apples, cranberries, and hazelnuts. Gently toss.

Top it off with crumbled goat cheese and serve.
Video
Notes
Shredding Brussel Sprouts fast: I find that the easiest (and quickest) way to shred Brussel sprouts is by doing it in the food processor. Watch the video to see how I do it.
Storing leftovers: Store leftovers in an airtight container in the fridge. They should be fresh for up to 2 days.
Make ahead instructions: If you want to make ahead, you can make the dressing and shred the Brussel sprouts a day in advance and assemble the salad (with the toppings) on the day you are planning to serve it.
Nutrition
Calories:
446
kcal
|
Carbohydrates:
33
g
|
Protein:
13
g
|
Fat:
32
g
|
Saturated Fat:
8
g
|
Cholesterol:
17
mg
|
Sodium:
752
mg
|
Potassium:
634
mg
|
Fiber:
8
g
|
Sugar:
19
g
|
Vitamin A:
1270
IU
|
Vitamin C:
104
mg
|
Calcium:
120
mg
|
Iron:
3
mg
Like this recipe? Consider sharing: