This post has been sponsored by Vermont Creamery, but as always, all opinions are my own.
One of my favorite perks of living in Vermont is the abundance of good quality cheese. Even in our small town, whether be in a farmer's market or a local venue, you get to taste some of the best cheeses in the world and meet with the people who produce them.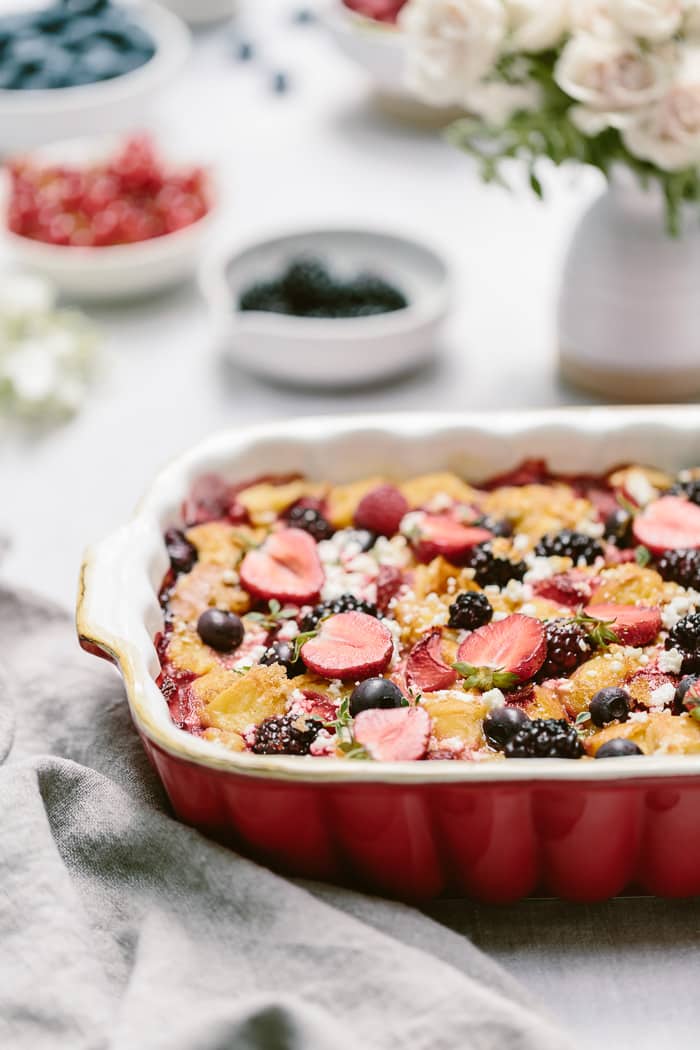 As you may remember, I got a taste of this last year when I was invited to Vermont Creamery's – Vermont Cheese Camp. It is funny because at the time I had no idea that I would be calling Vermont home in a relatively short period of time. I still remember thinking to myself, how awesome it would be to live in such a beautiful place with such great food. You know what they say, "Be careful what you wish for!" Now after almost a year, I am beyond grateful to be experiencing this on a daily basis.
Going back to cheese… A few weeks ago, I got a chance to reconnect with my Vermont Creamery friends in Burlington when they generously invited me to this year's Vermont Cheese Festival. Needless to say, it was awesome to see them again and enjoy a day of cheese tasting in one of the biggest cheese festivals in the country. I came back home with all kinds of cheeses and have been experimenting with various recipes since then.
Today's maple-sweetened mixed berry goat cheese bread pudding is one of the few cheezy recipes that are about to come your way.
How to Make the Best Bread Pudding:
They say that bread pudding is a dessert born out of desperation. It is supposed to be a good way to use some leftover bread. However, in my opinion, the end product is nothing short of perfection. With just a few ingredients, you end up with an amazing breakfast dessert that not only looks and smells great, but also feeds a crowd generously.
Nowadays, everyone has a favorite bread pudding recipe so much that you get overwhelmed with all the recipes available on the Internet. It is hard to choose which one to try. However, when you read the recipes and the comments underneath, one thing that is obvious is that the common denominator of "the favorite" is bread pudding that is moist inside and crusty outside. Oh and people hate soggy bread pudding.
My Tips For The Best Goat Cheese Bread Pudding Recipe
So when I set out to come up with my own version of "the best", I read through these recipes (along with the comments underneath) and even tried some of them. Below are some of the things I learned:
Pick a bread with high-fat content: French Brioche, Challah or even buttery croissant are great options. The buttery, the better.
Make sure that your bread is dry: You want the bread to be stale because bread that is dry will have more absorbing powers. All you have is freshly baked bread (good for you!)? No worries, because America's Test Kitchen suggests that if you toast your bread in a 350-degree oven for 8-10 minutes they would be dry enough for awesome absorbing powers.
Stay away from low-fat ingredients: Do not even think about using low fat milk or cream for this recipe. This is not a recipe to make if you are worried about your waistline. Consider it an indulgence.
Most recipes use a combination of heavy cream or half & half mixed in with whole milk to make the custard. In addition, in some of their bread pudding recipes, Cooks Illustrated magazine suggests adding a few extra egg yolks into the batter to increase its fat content. In their classic bread pudding recipe, they even go as far as not adding any of the egg whites into the custard.
Though I have tried that in the past, I personally liked the custard that was made using regular eggs with a few additional yolks added to the custard.
Find the best liquid-to-bread ratio: This one was tough, as I wanted to find a foolproof formula. However, after a few tries, I learned that if the bread absorbs all the liquid, you would end up with a bread pudding that is moist inside but crusty outside. So if you have leftover liquid, it is a good idea to add more bread until it is all soaked. And visa versa…
Experiment with maple syrup and honey: Now, I know that both brown and granulated sugars are usually the go-to sweeteners for bread puddings. While I have no objection to that I recommend giving maple syrup and honey a try. I found that both maple syrup and honey offer a similar taste with yet another layer of added flavor to the end product.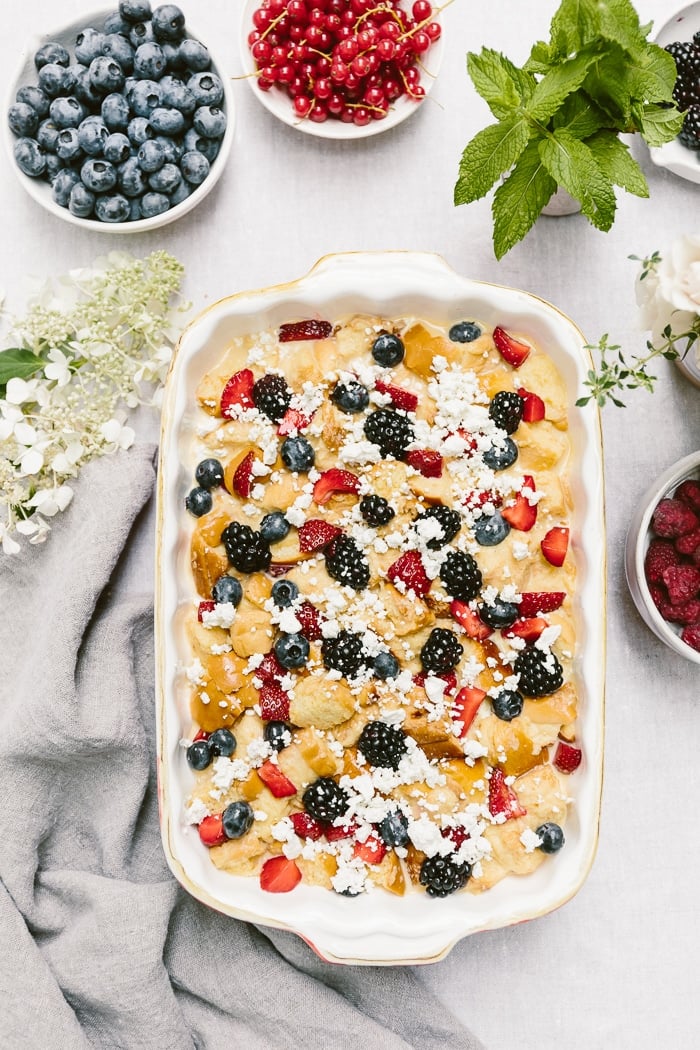 Feel free to experiment with adding spices, fresh herbs, nuts, seasonal fruits, and even cheeses: We finally came to my favorite part of making bread pudding. While there is nothing wrong with the classic recipe, custard mixed in with bread and baked for perfection, you can always add your own spin to it by layering it with seasonal ingredients.
About this Mixed Berry Goat Cheese Bread Pudding
In my version of the best bread pudding recipe, in addition to doing everything I mentioned above, I used maple syrup as the sweetener and freshly picked berries and Vermont Creamery's goat cheese as additional flavors.
The combination of sweet berries layered with earthy flavors of goat cheese ended up being an incredible breakfast dessert. In terms of goat cheese, I crumbled the goat cheese myself, but Vermont Creamery also sells already crumbled cheese if you prefer it that way.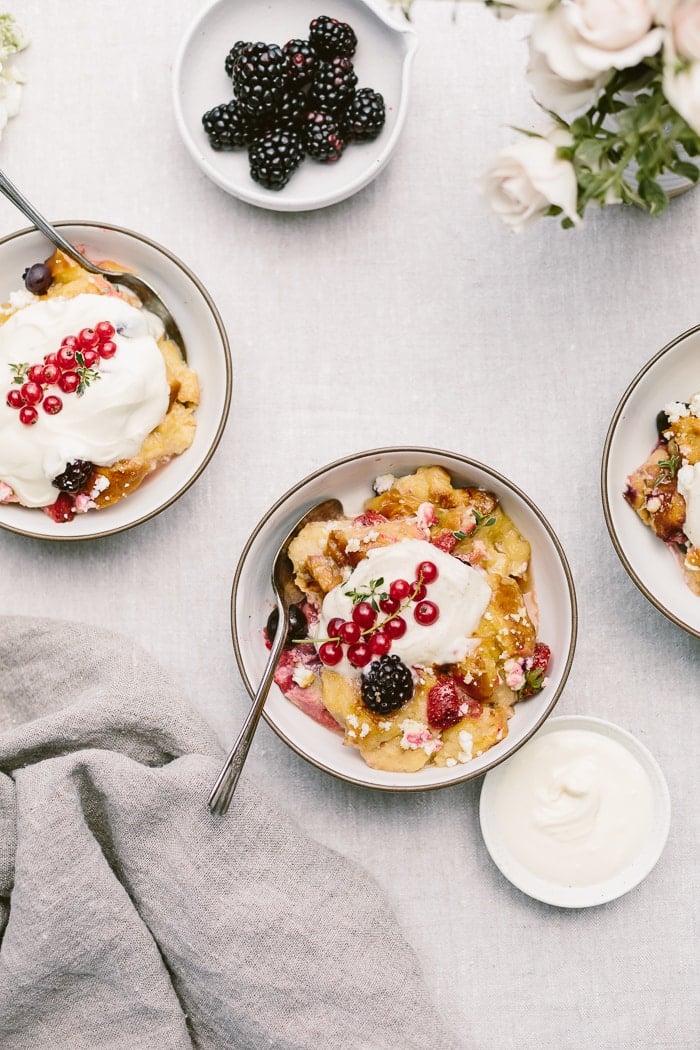 You can serve this bread pudding warm or cold, but whatever you do, make sure to top it off with a generous dollop of Vermont Creamery's crème Fraiche, because, you know, who wouldn't want more goodness on such a scrumptious dessert?
Other goat cheese recipes you might also like:
Mixed Berry Goat Cheese Bread Pudding Recipe
Buttery brioche bread layered with custard sweetened with maple syrup, seasonal berries, and goat cheese. A scrumptious breakfast bread pudding that will surely impress.
Print Recipe
Ingredients
For the custard:
1

loaf

Brioche

16.7 oz. of Brioche bread, cut into 1-inch cubes

6

large eggs

2

large egg yolks

2

cups

half and half

1

cup

whole milk

¾

cup

maple syrup*

2

teaspoons

vanilla extract

1/4

teaspoon

ground cinnamon

¼

teaspoon

salt
Instructions
Pre-heat the oven to 350 degrees.

Spread the cubed Brioche on a large baking sheet and bake for 8-10 minutes, making sure to flip the bread halfway through to make sure they are evenly toasted. Take it out and let it cool on the counter for 10 minutes. Turn the oven off.

Whisk together the eggs, egg yolks, half and half, milk, maple syrup, vanilla extract, cinnamon, and salt in a bowl until totally combined.

Transfer the now-cooled Brioche cubes into the bowl and press gently to make sure that the bread is completely submerged into the liquid. Let it sit for 30 minutes. 15 minutes into it, turn the oven back on to 350 degrees.
To make the bread pudding:
Grease the bottom of a casserole dish thoroughly with butter.

Add in half of the soaked Brioche and sprinkle it with half of the berries and half of the goat cheese.

Repeat the same process with the rest of the bread, berries, and goat cheese.

If preferred, sprinkle it with a tablespoon of cane sugar.

Bake 45-50 minutes or until the top of the bread pudding is golden brown. Let it cool for 45 minutes to an hour or until it is fully set.

When ready to serve, scoop some to a bowl and top it off with crème fraiche and seasonal berries (or any other fruit you like).
Notes
* In the recipe above, I used 3/4 cup of maple syrup, but in the past I made this with 1/2 cup as well and it was still very good. If you want to decrease the amount of sugar you use, especially if you are using summer berries when they are the sweetest, feel free to lessen the amount of maple syrup you use.
*As long as it is kept in an airtight container in the fridge, this berry goat cheese pudding keeps fresh up to 2 days. You can warm it up in your microwave or even serve cold.
Nutrition
Serving:
1
g
|
Calories:
466
kcal
|
Carbohydrates:
51
g
|
Protein:
13
g
|
Fat:
24
g
|
Saturated Fat:
13
g
|
Cholesterol:
274
mg
|
Sodium:
370
mg
|
Potassium:
258
mg
|
Fiber:
1
g
|
Sugar:
25
g
|
Vitamin A:
932
IU
|
Vitamin C:
2
mg
|
Calcium:
183
mg
|
Iron:
1
mg
Like this recipe? Consider sharing: