Last night, as I was watching a reporter in London talking about the British Parliament's stand on Syria war, I realized she was wearing a jacket and a light scarf.
My mind shifted to a totally different thing and it suddenly dawned on me.
This is my favorite time of the year.
CORRECTION.
This was my favorite time of the year, when I was living in the part of the world, where one can experience seasons. There are no seasons in the Caribbean, where we live. It is always summer.
I can hear you thinking; "this girl must be crazy!". Yes I am, at least now, as I am missing the cooler days of the fall, where, you, probably, are now.
I remember how much I enjoyed the change of the weather from boiling hot summer days to refreshing cool autumn days.
Pretty soon Starbucks will start selling pumpkin drinks and it will start smelling like "Pumpkin Spice Latte" everywhere.
Yes. We do not have Starbucks here. Not even a coffee shop. Not even in a bigger island close by.
None, NADA!
Tragic! Isn't it?
Now you get it, right?? Now, you understand why I miss it.
Well, at least, it is heavily raining around here today. When I say heavily, I mean it. You would think that the ocean turned upside down.
It is a little cooler than usual, which reminds me of how much I love a cup of warm soup when it is cold outside.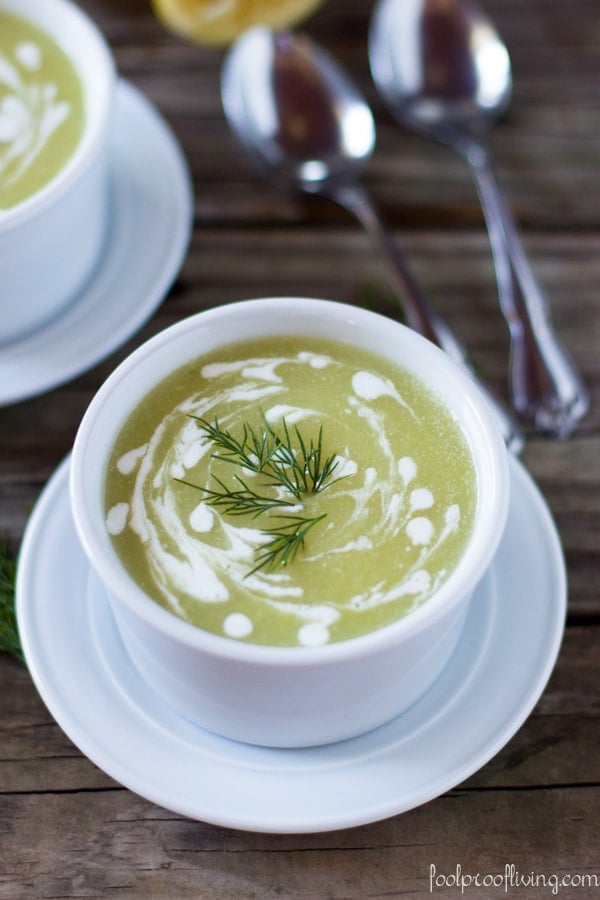 This is how I decided to make this Zucchini Soup. I learned this from my friend Melike, when I was in Turkey, last month. She is an amazing cook and was so nice to share this recipe with me.
What I like the most about this soup is that you can make it with the ingredients you have in your kitchen. Simply follow this formula and you have a delicious soup.
Here is the formula:
Vegetable + a small onion + a small potato + 2 cloves of garlic + vegetable (or chicken) stock + 1 tablespoon flour + fresh herb of your choice + salt and pepper
=
A healthy vegetable soup

For my vegetable soup, I used Zucchini as the vegetable but you can use broccoli, squash, cauliflower, green peas… etc. To make it creamy, instead of using heavy cream, I used yogurt. I put a tablespoon of cold water into the yogurt and mixed it with a minced clove of garlic and a pinch of salt.
It is simple, healthy, filling and delicious.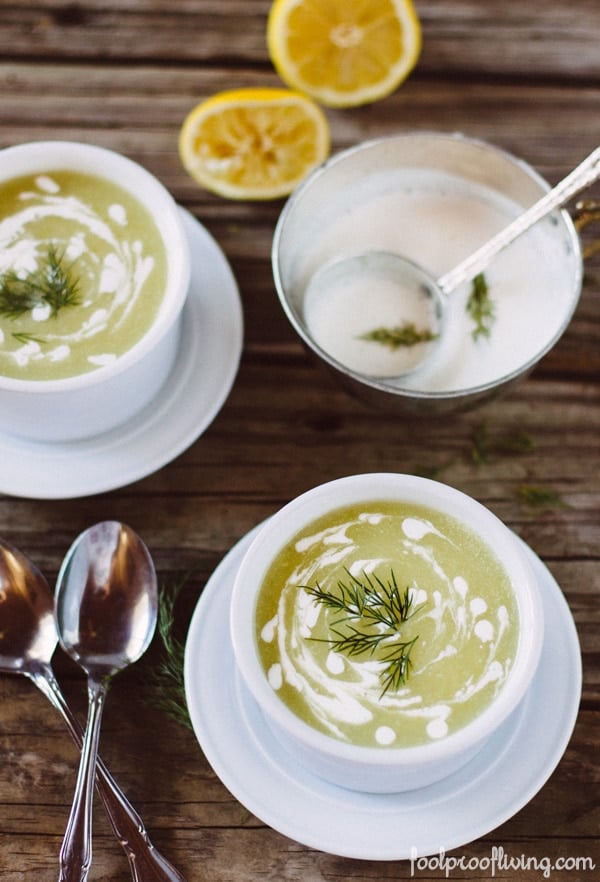 Print
Zucchini Soup
Ingredients
For the soup
2 medium size zucchini, peeled and cut in small cubes
1 small onion, peeled, quartered
1 small potato, peeled, cut in small cubes
2 cloves of garlic
2 cups vegetable stock
2 cups water
1 tablespoon flour
1 tablespoon dill, freshly chopped
Fresh cut lemon to taste
1/2 teaspoon salt
1/4 teaspoon black pepper
For the yogurt dressing
1 cup fat free yogurt
1 or 2 clove/s garlic, minced
1 tablespoon cold water
Instructions
Place the zucchini, onion, potato, garlic, stock, salt, pepper and water into a medium pot. Sprinkle it with the flour.
Cook it in medium heat, uncovered, until all the vegetables are cooked, 20 – 25 minutes.
Process it in a food processer (or a blender) in 3 batches, until it turns in to a thick soup.
Pour it back into the pot. Heat it in low heat for 5 minutes, stirring occasionally.
While the soup is heating, whisk the yogurt, water, garlic and pinch of salt.
To serve, ladle the soup into bowls. Garnish it with fresh dill, a couple of dashes of lemon juice and drops (or as much as you want) of the yogurt mixture.
---
You may also like…
---