I have to admit – I am not much of Valentine's Day kind of person. I believe that if you love someone you should show it every day of the year. With that being said, I do not mind a good excuse to bake a cake that looks and tastes yummy.
Though when it comes to baking a cake, I usually go for a chocolaty recipe, this year I wanted to try my hand at making a fruity one. And I am glad I did, because this Banana Cake with Caramel Frosting ended up being out-of-this-world delicious.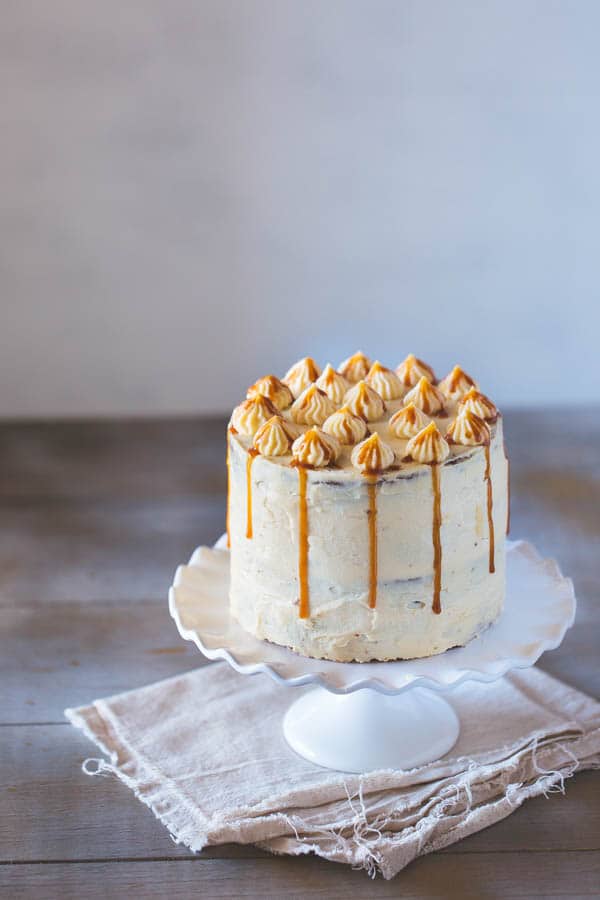 Recipe for this delicious cake comes from Linda Lomelino's cookbook Lomelino's Cakes. If you are not familiar with her, she is the author and photographer behind one of my favorite food and photography blogs, Call me Cupcake. I bought her book back in November right after it came out and have been baking from it ever since. If you are like me, a fan of small cakes (mostly 6-inch), this book is a great source that is full of creative and beautiful cake recipes that you can easily make in your own kitchen.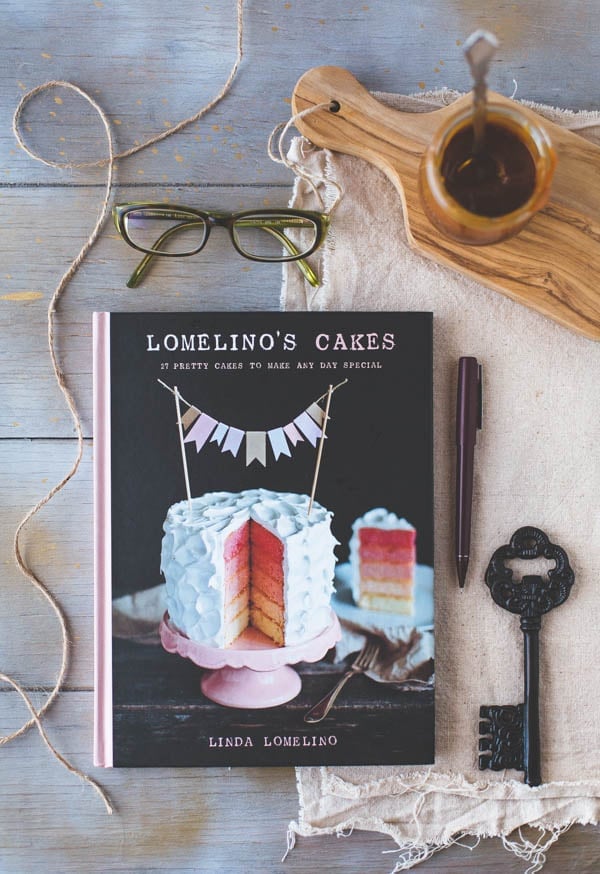 There are four stages to making this cake. And what I love about it is that you can save time by making the first two stages a day in advance. Then on the day you are planning to serve it, all you have to do is to make the frosting and assemble it all together.
First stage is making the caramel. I know many people, who find it scary to make caramel at home, because of the crazy bubbling that happens when you add the heavy cream and butter to scorchingly hot melted sugar. While I can totally relate to that, if you follow the instructions and never (EVER!) take your eyes off of the sugar after it turns brown, you will see that with this recipe it is not that difficult or scary.
Yes, it is hot, but as long as you are careful and start stirring at the right time, you'll have a jar of homemade caramel in no time. You can make it a couple of days in advance and keep it in the fridge until you are ready to use it.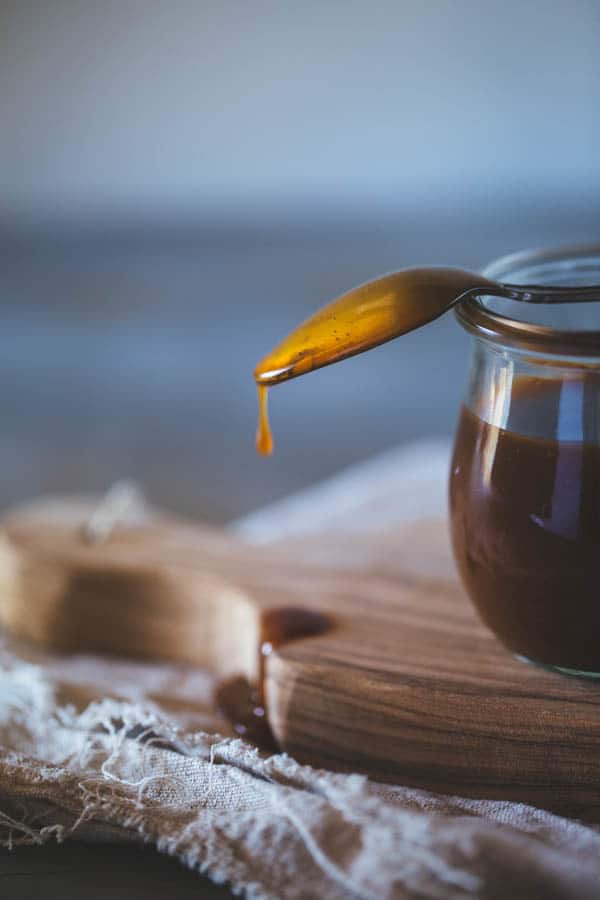 The second stage is making the batter for the cake. It is as simple as mixing butter, sugar, and eggs, and then fold the dry ingredients into the mixture. To save time, I made it a day in advance, covered it with plastic, and kept it in the fridge until I was ready to use it. In her book, Linda suggests that you can freeze the baked cakes after they come to room temperature for later use. As long as they are tightly covered with stretch film, you should be good to go.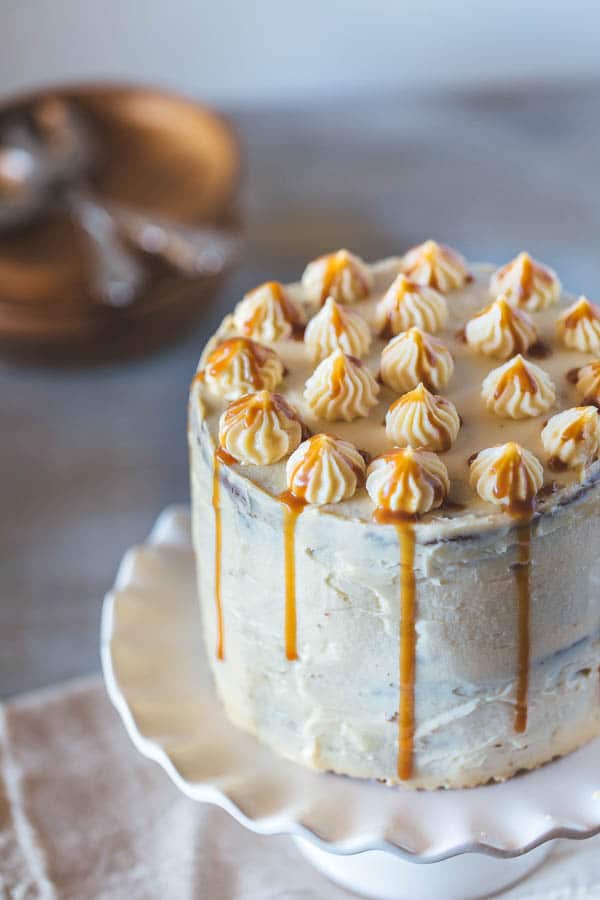 The third stage is making the frosting. The frosting is made by mixing butter, crème cheese, powdered sugar, and some of the caramel sauce you made earlier. I love the fact that it uses a combination of crème cheese and butter, because the end result is somewhat lighter and fluffier than just using butter.
To get the best results, I recommend having all the ingredients at room temperature. Also sifting the powder sugar is always a good idea when making frosting. I'd recommend making this on the day of serving so that it will be smooth and fresh.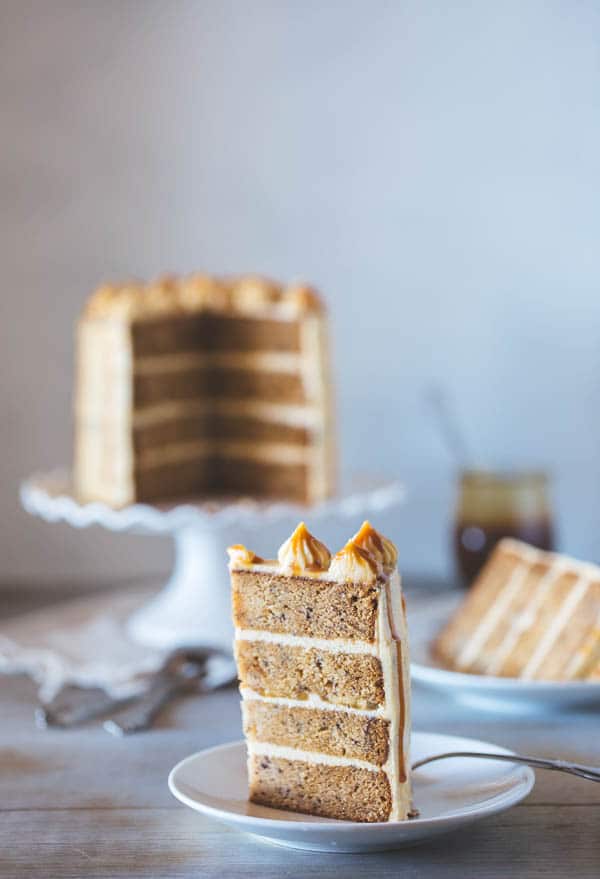 The last stage is assembling it. As I made everything (except frosting) a day earlier, I took them out of the fridge in the morning so that they can be at room temperature by the time I am ready to assemble it. The process of putting it all together was pretty simple. The only part that required a little bit of an experience was cutting the cake horizontally into two equal parts. And believe me, even as a regular baker I find this part somewhat intimidating.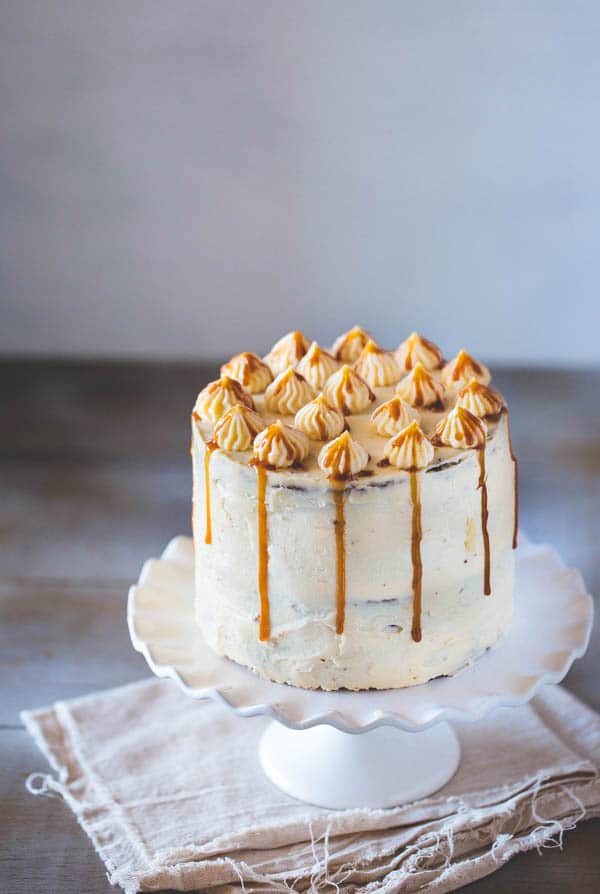 However, I learned that (1) it is not the end of the world if they are not equal, and (2) if you do it slowly and use a ruler along the way you are more likely to get two equal pieces. Once I had 4 layers, the rest was easy. I frosted each layer, and at the end the whole cake with the frosting. I used a star tip nozzle to decorate the top.
To give it a little bit of color, I drizzled each star with a drop of caramel. One thing I will do next time is to place thinly sliced bananas in between the layers to enhance the banana flavor.
Other Cake Recipes You Might Like:
Banana Cake with Caramel Frosting
Yields:
6
Two-layer 6 inch cake
A luxurious two-layered 6-inch banana cake frosted with homemade caramel frosting. Whether you serve it as a birthday cake or to treat your family, this 6-inch banana cake is guaranteed to impress.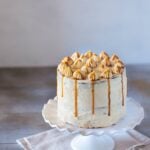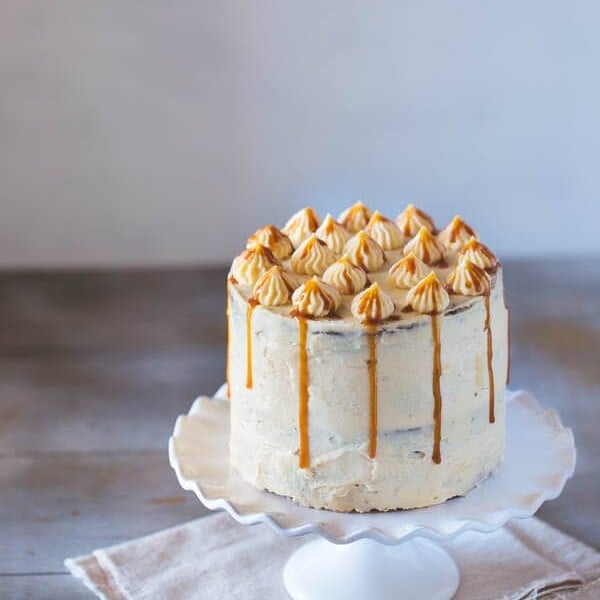 Print Recipe
Ingredients
For the Caramel Sauce:
1

cup

heavy cream

3/4

cup

5.25 ounces granulated sugar

1/4

teaspoon

Kosher salt

2

tablespoons

1 ounce unsalted butter
For The Banana Cake:
7

tablespoons

3.5 ounces unsalted butter, at room temperature

3/4

cup

5.25 ounces light brown sugar

3/4

cup

5.25 ounces granulated sugar

1/4

teaspoon

Kosher salt

2

large eggs

at room temperature

2 1/2

cups

10.5 ounces all-purpose flour

3/4

teaspoon

baking soda

2

large ripened bananas

mashed

1

cup

milk

at room temperature

1/4

cup

caramel sauce
For The Frosting:
15

tablespoons

7.5 ounces unsalted butter, at room temperature

10.5

ounces

cream cheese

at room temperature

2 1/4

cups

9 ounces powdered sugar

1/2

teaspoon

salt

1/2

cup

caramel sauce
Instructions
To make the caramel sauce:
Heat the heavy cream in a small saucepan. In a separate medium-size saucepan, heat the sugar in medium heat, until it starts melting and browning on the edges, 5-6 minutes. Do not stir until you see that it is browning on the edges. Also, do not leave sight of the sugar as once the melting starts everything happens pretty quickly.

Once the sugar turns golden brown, stirring constantly, add the warm heavy cream. It will be very hot and bubbly, so be careful as you are stirring it. Add in the salt and butter and stir until it completely melts. Take it off the heat and allow it to cool for 15-20 minutes, and then place it in a clean jar.
To make the cake:
Preheat the oven to 325 F degrees. Generously butter and flour two 6-inch pans and set aside.

In the bowl of a standing mixer attached with the paddle attachment, beat the butter, 1/4 teaspoon salt, and sugars until fluffy. Add the eggs one at a time making sure that they are thoroughly incorporated into the mixture.

Sift together the flour and baking soda in a small bowl. Set aside.

Blend in the mashed bananas into the milk.

While the mixer is running at low speed, add in the flour mixture, and mix until incorporated.

Pour in the milk and banana mixture into the batter, and mix at low speed until incorporated. The batter should be smooth.

Divide the batter equally in between the two prepared cake pans.*1 Smooth the surface of each batter with the back of a spoon.

Place them on a baking sheet and bake for 60-65 minutes or until a toothpick inserted in the middle comes out clean or with a few crumbs.

Allow it to cool for 10 minutes. Run a pairing knife around the sides of the pan. Invert the cakes onto a wire rack and let them cool to the room temperature.
To make the caramel frosting:
Beat the butter and cream cheese in the bowl of a standing mixer (or you can do this with a hand mixer) attached with the paddle attachment, for 2 minutes. Sift in the powdered sugar and salt. Beat until it is an even thick batter. Pour in the caramel sauce and stir until combined.

Place it in the fridge for it to cool for 15-20 minutes.
To assemble:
Using a serrated knife, remove any dome to level the cakes. Each cake should be 2-inches tall. Hold the knife level horizontally and cut each cake into two equal, 1-inch tall layers.

Reserve half a cup of the frosting for the star decoration on top.

Place the first layer onto a cake stand; spread an even layer of frosting over the layer. Repeat until you have covered three layers. Place the last layer on top – cut side down.

Spread the rest of the cake evenly with the rest of the frosting. Refrigerate it for 20 minutes so that the frosting can set.

Fit a pastry bag with a small star tip, and fill it with the reserved frosting. Pipe 16-18 rosettes around the top of the cake.

Drizzle each rosette with a drop of caramel.

Slice and serve.
Notes
Note:
This recipe makes one two-layered 6-inch cake.
If you have a kitchen scale, you can weigh them to make sure that they are equally distributed.
Nutrition
Calories:
1558
kcal
|
Carbohydrates:
204
g
|
Protein:
14
g
|
Fat:
80
g
|
Saturated Fat:
49
g
|
Cholesterol:
288
mg
|
Sodium:
852
mg
|
Potassium:
437
mg
|
Fiber:
3
g
|
Sugar:
138
g
|
Vitamin A:
2845
IU
|
Vitamin C:
4
mg
|
Calcium:
188
mg
|
Iron:
3
mg
Recipe adapted (with changes) from the cookbook Lomelino's Cakes.
Like this recipe? Consider sharing: