It's one of the most fun and festive times when a simple cookie can bring such joy. And let me tell you, this Almond Flour Cookies recipe is definitely simple. With only six ingredients (most of them probably already in your pantry) and one bowl, you can have these almond flour chocolate chip cookies whisked together in under 30 minutes!
And if you are a fan of the chocolatey almond flour desserts, be sure to try our Almond Flour Brownies recipe as well.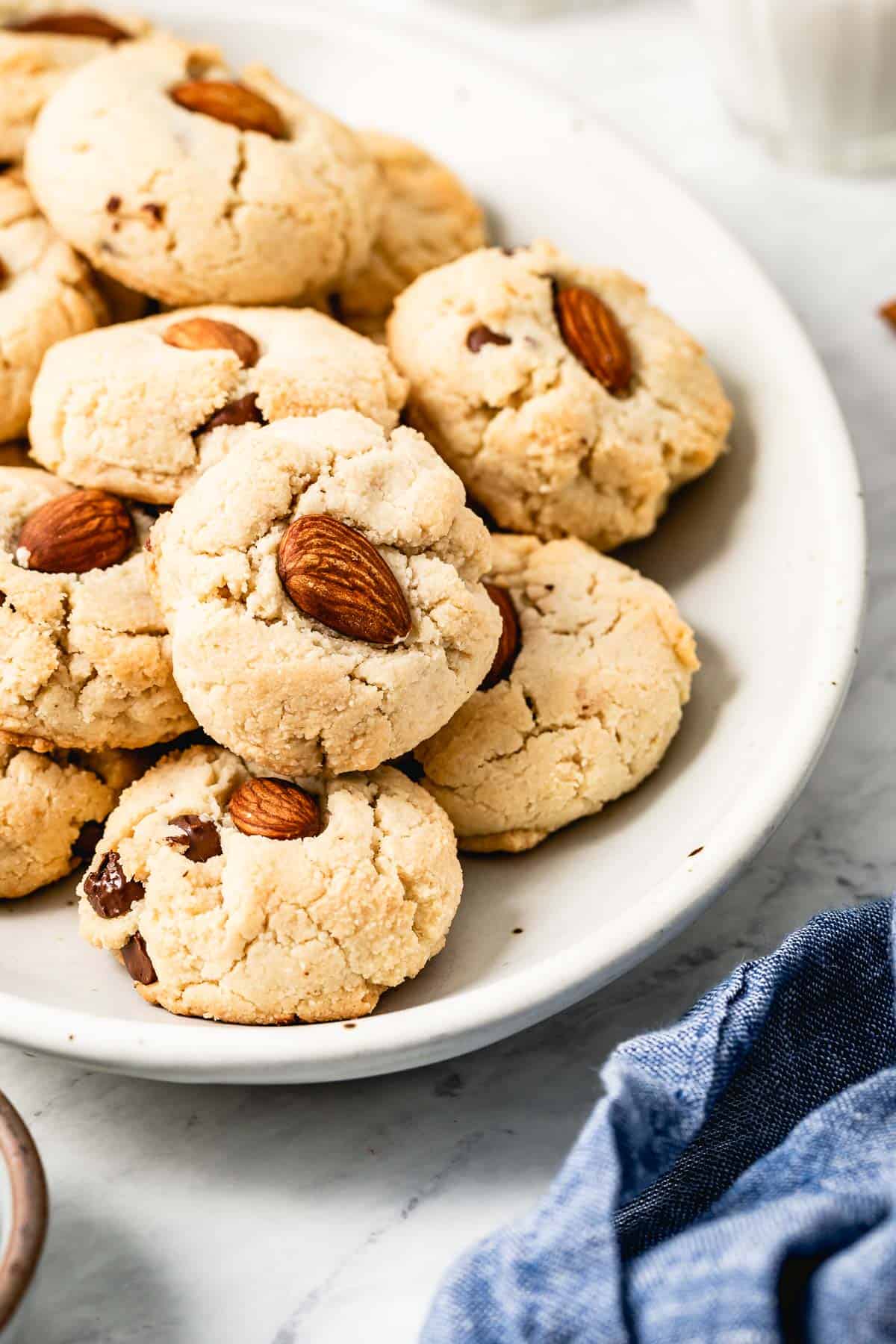 My husband and I just couldn't get enough! One bite and you'll know why!
Made with simple ingredients, it's also the perfect nut flour cookie to bring to your next holiday cookie exchange. Quick, easy, low carb, glutrn-free, refined sugar-free and delicious, it's one of the best cookie recipes for the holiday season or any time of the year!
Recipe Ingredients
Almond Flour – Also known as almond meal, fine almond flour, ground almonds, or almond powder, it is a protein-rich flour made from ground almonds. I like to use DIY Almond Flour, but store-bought (affiliate link) will work just as well. Nowadays, most grocery stores carry almond flour in their specialty or gluten free section. There are two varieties, made blanched almonds, meaning the skins have been removed, and made with unblanched, which still have the skins intact. I like the aesthetic look of blanched almond flour since it produces a golden brown cookie, but feel free to use either variety.
Kosher Salt – Diamond Crystal (affiliate link) is my favorite kosher salt since the salt granules are just the right size to dissolve into the almond flour cookie dough. If you use fine sea salt, reduce the salt to ¼ teaspoon.
Baking Soda – A small bit of baking soda helps give these crispy almond flour cookies a golden brown color, special crunch and just a bit of lift.
Coconut Oil – The subtle, sweet flavor of coconut oil blends perfectly with the nutty almond flour. Make sure to melt the coconut oil and cool completely before adding to the batter. I have also tested these nut flour cookies with grapeseed oil and it worked just as well.
Maple Syrup – A bit of sweet, smoky goodness is what makes these cookies shine. Since it is late in the maple season here in Vermont, I like to use Dark Amber, Grade A, which has a more robust maple flavor. But feel free to use a light amber maple syrup for a more delicate flavor.
Semi-Sweet Chocolate Chips – I used vegan semi-sweet chocolate chips (affiliate link), but you can also use any chocolate chips you have on hand. We will touch more on chocolate in a bit!
How to make these cookies?
This recipe for almond powder cookies comes together in 3 folds.
First, preheat the oven to 350 degrees. Line a baking sheet with parchment paper.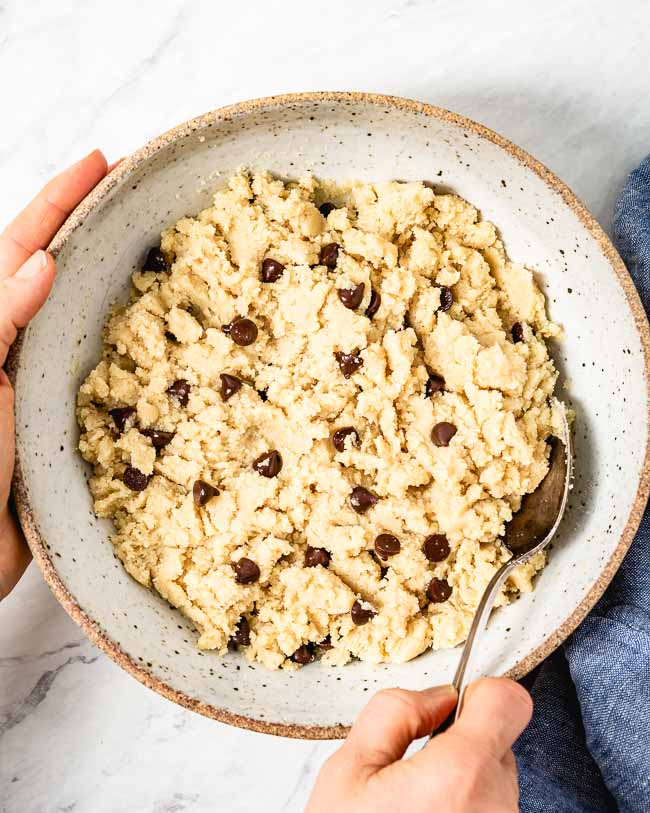 Second, in a large mixing bowl, whisk together the almond flour, salt, and baking soda. Pour in the melted coconut oil and maple syrup and mix until just combined.
As you mix the batter you might feel like the amount of liquid is not enough, but believe me, it will come together as you continue to mix it.
Fold the chocolate chips into the batter and mix until they are equally distributed.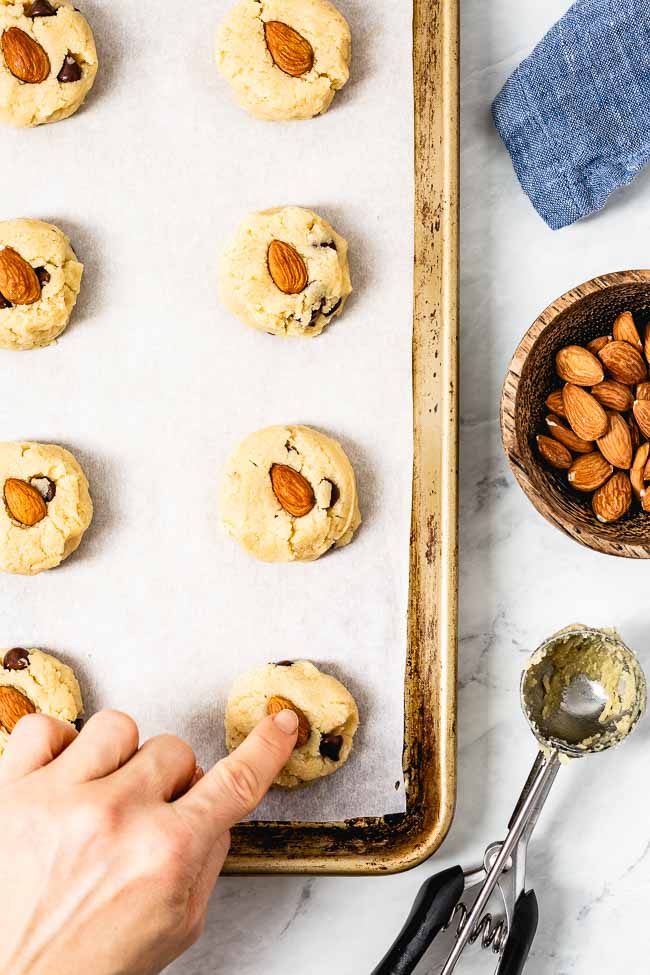 Lastly, scoop onto the prepared baking sheet using a tablespoon cookie scoop (affiliate link) and flatten gently with your hands. I got 15 cookies, but you should get a range between 12-15. Bake for 12-14 minutes, or until lightly brown.
Let them cool on a wire rack for 10-15 minutes and serve.
Step By Step Video Instructions
PRO TIP: Whether you call it almond flour, almond meal or almond powder, the choice is up to you. But one tip I highly recommend is to make your own almond flour at home. Yes, it is a bit of an additional task to make a simple cookie, but I think it is good to know that you can easily make your own in your food processor or blender.
Almond flour and almond butter cookies
Please note, this recipe is based on almond flour, not almond butter. Almond butter (any nut butter in general) tends to be a bit too expensive and you can get so much more use out of almond flour, so I thought it best to create a super simple recipe that helps this nut flour shine.
However, if you want a version of this cookie made with almond butter (and grain free flours and other gluten free ingredients), be sure to check out my almond butter cookies recipe. And if you are more of a fan of peanut butter, you might also like my almond peanut butter cookie recipe.
The best chocolate for no flour shortbread cookies
These almond cookies with almond flour are plant-based, low carb, and refined sugar-free. I used this vegan and paleo certified semi-sweet chocolate chips (affiliate link) but you can use whatever you have on hand. If you are more of a dark chocolate lover, you can totally swap them with bitter-sweet chocolate chips as well. Either way, this is a simple and healthy almond flour cookie recipe that you can make for any occasion.
If you buy a pack and end up with leftover chocolate chips, be sure to try and use them in my Almond Flour Banana Bread recipe.
How To Store & Freeze?
What I love most about these vegan almond flour cookies is that they store well so you can make a batch, bake some right away and store the rest for later.
Storage: Leftover cookies can be store in an airtight container on the kitchen counter after they come to room temperature. They should be fresh for up to 3 days.
Freezing: Unbaked cookies can be stored in an airtight container in the freezer. Simply place them on a baking sheet lined with parchement paper. Place in the freezer for at least four hours. When it is hardened, cover it tightly with plastic wrap or place them in an airtight container on a single layer.
Thawing & Baking: You do not need to thaw these almond flour cookies in advance as ground almonds do not freeze (thanks to their high fat content). Instead, take them out of the freezer, place on a sheet pan or cookie sheet (as directed in the recipe), and bake as directed in the recipe. It might take a few extra (no more 2 or 3) minutes for them to bake. You will know that they are fully baked when they turn (lightly) golden brown.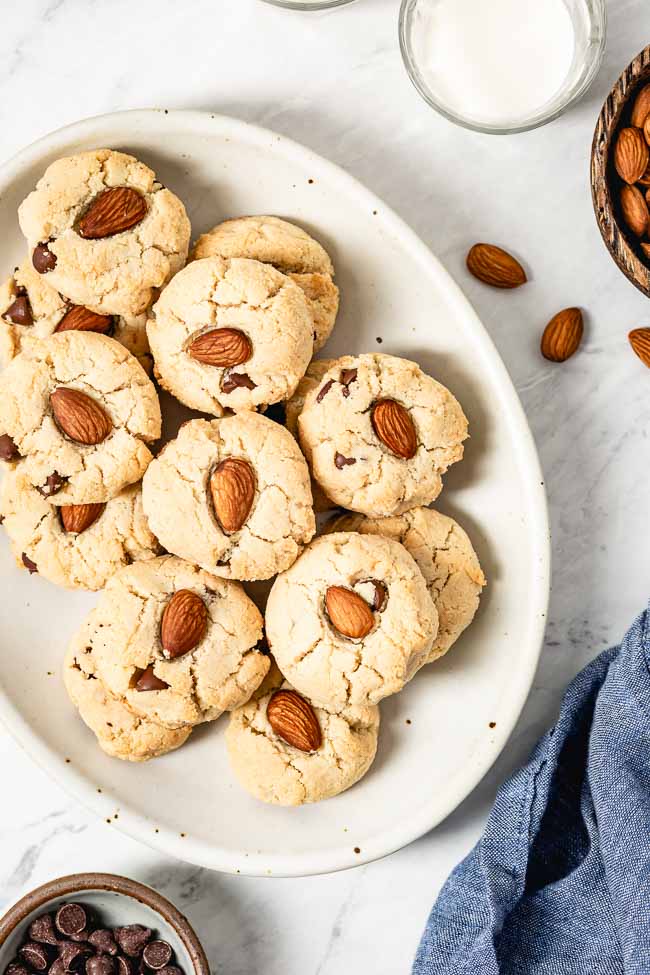 Tips for the best almond meal cookies
Can I swap maple syrup with coconut sugar? This recipe actually requires maple syrup as the sweetener because you need that extra bit of liquid to get the right consistency. However, if you are in need of a coconut sugar-sweetened almond flour cookie recipe, feel free to check out my almond flour coconut sugar cookies flavored with warm winter spices. They are paleo-friendly and sweetened with coconut sugar. Oh and perfect for the holiday season!
For an extra special touch, place a whole almond in the center of each cookie before baking. This way people will easily know that this is an almond cookie.
Can't get enough of the almond flavors? Mix in ¼ teaspoon of almond extract to the batter when you add the wet ingredients for even more almond flavor.
How long do these no flour shortbread cookies good for? As long as they are kept in an airtight container, these cookies will last for 3-4 days.
Got some vanilla extract? If so, add in 1/2 teaspoon vanilla extract for a subtle vanilla flavor.
It is traditional to serve cookies with milk. While a cup of cow's milk work perfectly, if you are following a plant-based diet, I would recommend serving it with homemade almond milk.
If you liked this healthy cookie recipe you might also like:
Here are a few other cookie recipes to help you with your sweet tooth.
Other almond flour desserts you might like:
[/su_note]
Almond Flour Cookies Recipe
Recipe for the best Almond Flour Cookies with Chocolate Chips. This gluten-free, refined-sugar free, paleo and vegan cookie recipe is the easiest one you could ever make. All you need is 6 ingredients, one bowl and 30 minutes (from start to finish.)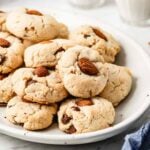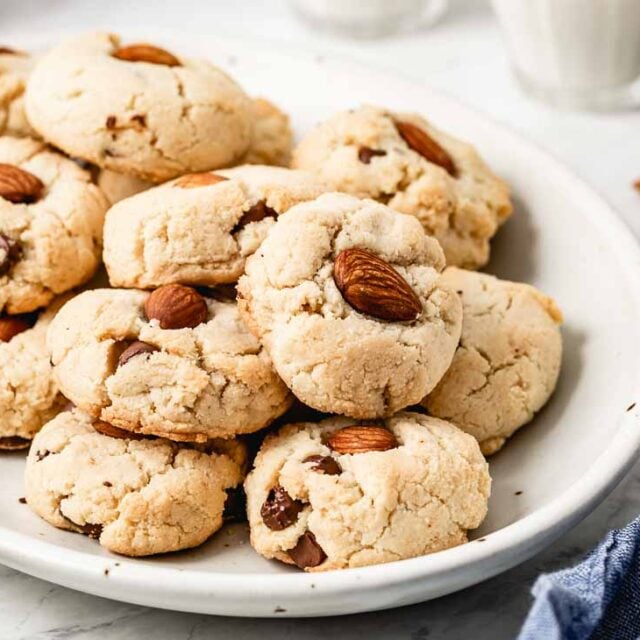 Print Recipe
Ingredients
2

cups

almond flour

(240gr)

½

teaspoon

kosher salt

¼

teaspoon

baking soda

¼

cup

coconut oil

melted and cooled

¼

cup

maple syrup

½

cup

vegan/paleo semi-sweet chocolate chips

12-14

whole almonds

as garnish (optional)
Instructions
Pre-heat oven to 350 F degrees. Line a baking sheet with parchment paper. Set it aside.

Mix together almond flour, salt, and baking soda in a bowl.

Stir in the oil and maple syrup into the batter.

Fold in the chocolate chips.

Using a tablespoon-size measuring spoon, scoop the dough onto the prepared sheet pan. Gently press down to flatten. If preffered, place an almond in the center of each cookie.

Bake for 12-14 minutes until it is lightly browned on top. Serve.
Video
Nutrition
Calories:
212
kcal
|
Carbohydrates:
13
g
|
Protein:
5
g
|
Fat:
17
g
|
Saturated Fat:
6
g
|
Cholesterol:
1
mg
|
Sodium:
121
mg
|
Potassium:
65
mg
|
Fiber:
3
g
|
Sugar:
7
g
|
Calcium:
54
mg
|
Iron:
1
mg
Like this recipe? Consider sharing: