UPDATE on May 23rd, 2014:
I posted this Chunky Homemade Granola recipe almost a year ago. Since then, I received a lot of comments and recommendations from my readers. With this update, I wanted to compile those notes that my readers shared with me with the hope that it will help you come up with the perfect homemade granola.
In addition, to help you visualize, I made a very quick video of how I made it. The video is at below the notes. The recipe is at the very end of this blog post.
NOTES:
Coconut oil is a great substitute for vegetable oil: Coconut oil gives a very exotic smell and taste to the granola. Not to mention it is healthier.
The time of baking varies: I received notes saying that it was done after 20 minutes. I made this over and over again in my kitchen and found that it takes between 30-35 minutes for it to turn light brown. However, I would highly recommend keeping a close eye on it after the 20-minute mark.
Substitutions for nuts and dried fruits are totally okay: Though it is wonderful to have granola at home all the time, it may get boring easily. Feel free to substitute walnuts and almonds with macadamia nuts and cashews or other nuts you like. Same thing also works with dried fruits. You can be as creative as you want.
Also, if you are a sesame seed lover, I would recommend adding toasted sesame seeds at the very end. I just did a batch with sesame seeds and it ended up being amazing.
Other sweeteners: A couple of people suggested that they used agave, honey, and corn syrup instead of maple syrup. I tried agave and honey. They did turn out okay but I do not think they were as good as the granola made with maple syrup.
If you are concerned with your sugar intake, you could add more dried fruits (perhaps one additional cup) and eliminate the brown sugar. However, keep in mind that it won't be as sweet. I do that for my own granola and it goes perfect with fruity yogurt in the morning.Please continue to share your experiences with me so that I can update this list in the months/years to come.
Thank you so much for reading and cooking with me. 

♥
PS: This recipe yields 9-10 cups of granola. These Granola Top Banana and Coconut Muffins are a wonderful way to use 2 cups of your delicious homemade granola. 🙂
The original blog post:
Okay. First things first.
Disclaimer:
I love, love, love blogging and chopping nuts, regardless of what it says below.  It may sound like I am complaining but I am not. It just sounds like that.
Blogging is fun but not an easy task. Especially if you are blogging about food…
You are the photographer, editor, web designer, author, cook, and the best part, DISHWASHER!
There is nothing like having to take pictures every 2 seconds to capture every detail about the food. If it normally takes 20 minutes to make a salad, for a new food blogger (like me) it takes 40 minutes. At the end, when you are finished with all the cooking and photo shooting, you really feel like there is no one on earth who deserves that food more than you do.
Oh also!
Let me tell you about this new thing that keeps me up at night; Foolproof Livings Facebook and Pinterest Page. Come to find out, when you open a Facebook account for a blog, it gives you statistical data like how many people clicked or viewed your posts. I cannot help but check my numbers, like every other minute. It is addictive.
It is crazy.
But good crazy.
I just want people to like my posts.
Can you please like my posts?
Please?
There is one exception to this and that is when you have a friend to cook, photograph and eat your food with. It is a huge bonus to have someone help you with all the craziness that comes with cooking for your blog.
That brings me to my dear friend Crsytal, my "partner in crime" in making this granola recipe.
Please meet Crystal.
Crystal moved to Virgin Gorda around the same time we did. For a short while we were neighbors. I used to give her some of this granola every time I made it. She liked it so much that one day she asked me if we could make it together so that she can learn how to make it. Aaand we did. It was fun.
When I decided to make this granola for my blog, there was no better person than Crystal to make it with.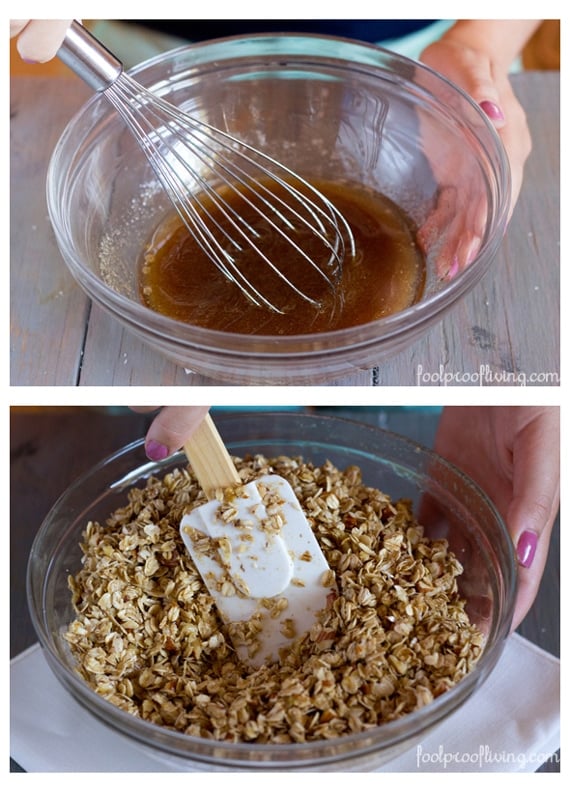 It is wonderful to have someone help you with making this granola because there is so much "chopping" involved and if you do it by yourself, it may feel like forever.
Don't get me wrong! It is totally worth it. Mainly because this recipe makes about 9 cups of granola and as long as you keep it in an airtight container, you can enjoy it for up to 2 weeks.
In our household, between my husband and I, we finish it in 5 days.
Booooooooo…I know.  I know.
We just love granola.
I prefer to chop the nuts by hand because it gives you a superior texture and crunch. I promise, I tried it with my food processor and the results were not the same.
When it comes to the size of  nuts (or how much to chop), it totally is a personal preference. I like mine pretty coarse but if you like yours bigger, just go for it. Same goes for dried fruit.
One important thing that I want to bring to your attention is to make sure that you compress the oat mixture until it is very compact. To do that, we spread the oat mixture evenly onto a sheet pan and use the back of a ramekin to press it.
This step ensures that every single piece in the mixture sticks to one another, which in turn creates that "crunch" we all love.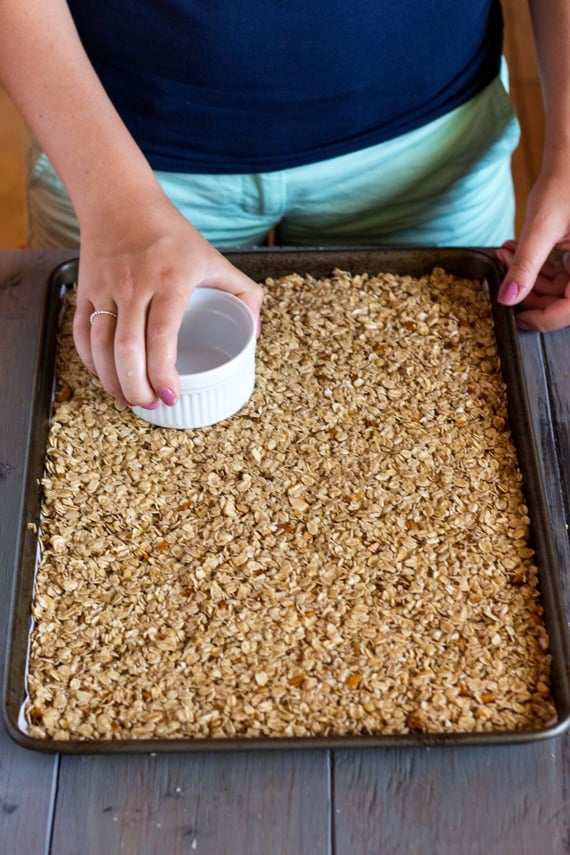 To store it I use small bags that I bought from Michaels. If I want to give it to someone as a gift (or as a part of a gift basket) I make a bow using cute ribbons to make it look pretty. Believe me, I have never met anyone who does not like a package with a bow.
Especially if it tastes this good…
Print
Chunky Homemade Granola
Prep Time:

30 minutes

Cook Time:

30 minutes

Total Time:

1 hour

Yield:

9
Ingredients
1/3 cup maple syrup
1/3 cup packed brown sugar
4 teaspoon vanilla extract
1/2 teaspoon table salt
1/2 cup vegetable oil
5 cups old-fashioned rolled oats
1 cup walnuts, chopped
1 cup raw almonds, chopped
1/2 cup raisons, chopped
1/2 cup cranberries, chopped
1/2 cup goji berries, chopped
1/2 cup dates, chopped
1/2 cup unsweetened coconut flakes
Instructions
Adjust the oven rack to upper middle position. Heat oven to 325 °F.
Line your sheet pan with parchment paper. (it helps tremendously when it is time to clean.)
Whisk maple syrup, brown sugar, vanilla, salt and oil in a BIG bowl.
Add the oats, almonds and walnuts in to the liquid mixture and fold until thoroughly mixed.
Transfer the oat mixture onto baking sheet and spread it to make an even layer.
Using the back of a ramekin or a spatula, compress oat mixture until it is very compact.
Bake for 30-35 minutes rotating pan once halfway through baking.
Once baked, remove it from the oven and let it cool, at least for 1 hour.
Break cooled granola into pieces of your desired size.
Mix in the chopped dried fruit and shredded coconut.
Recipe adapted from America's Test Kitchen
---
You might also like… ---