Update on April 18, 2017: Hello friends! Since I published this recipe back in January of 2014 it has become one of the most popular recipes on Foolproof Living. Below you will see a quick how to video and some updated photos to give you a visual and help you as you make this healthy, vegan and gluten-free oatmeal with almond milk and chia seeds at home.
I have also added calorie information to the recipe just in case if that was something you were looking for. As always, if you have any questions and/or I can help in any way, let me know.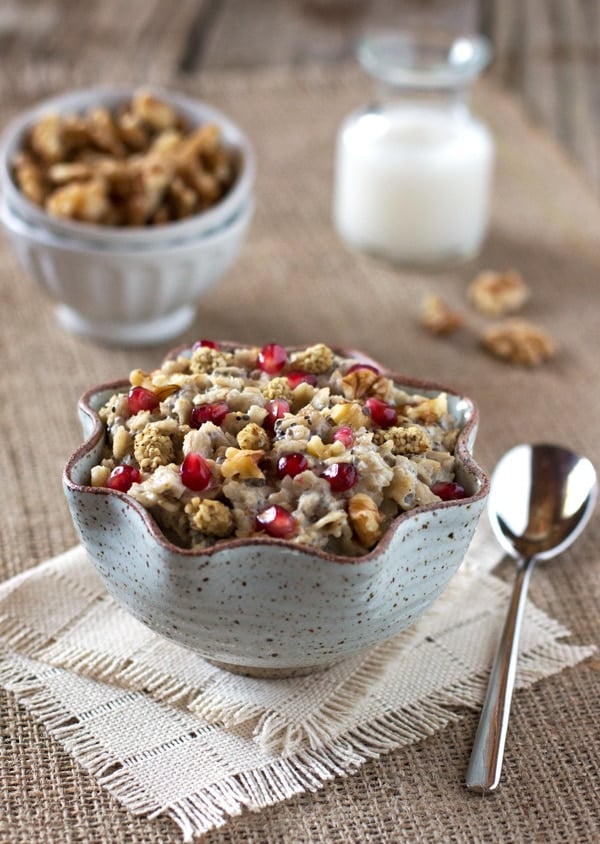 As most of the North Hemisphere is dealing with extreme colds, we are enjoying a nice breeze with warm temperatures here on our small island, Virgin Gorda. This morning, I poured myself a cup of coffee, went out to the balcony, and drank it with my favorite breakfast in the world, Oatmeal with Almond Milk and Chia Seeds. Lately, I am having my breakfast out in the balcony. In a way, I want to make sure that I can soak it all in. Because I know that one day, when our assignment on this island is completed, I will not be able to have breakfast in my balcony in the middle of January.
Enjoying and appreciating it as much as I can…
I eat this oatmeal every single morning. This is my breakfast. It is what gets me out of bed every morning. It goes perfectly with a cup of coffee as I am reading the paper or surfing the net. Or watching the ocean out in the balcony in January on a Caribbean Island…
I simply cannot get enough of it.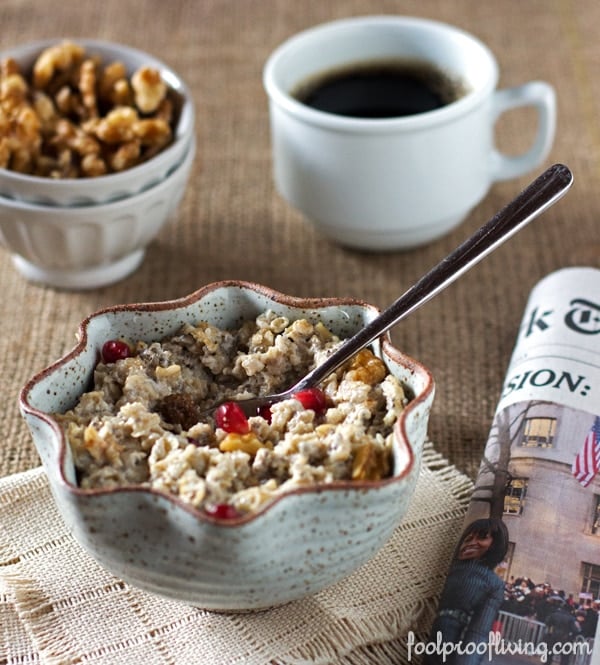 HERE IS WHY:
It is so versatile. You can easily change it up:
Once you cook the oats in almond milk, you can add any nuts and dried (or fresh) fruit you like, which allows you to be as creative as you want. If you feel like you are bored from walnuts, you can add almonds. One day you can add slices of banana and the next day you can add dried figs.
You get the point, right?
In addition, almond milk has more calcium than milk. Compared to milk, it is lower in calories. It contains Omega-3 fatty acids, which is good for your heart. It is rich in vitamins and minerals.
When it comes to almond milk, there are a lot of options in supermarkets. Almond milk with vanilla, chocolate, sweetened, unsweetened, etc.
I, personally, like the unsweetened, plain almond milk because (1) it is low in calories (1 cup = 30 calories) (2) it allows me to have control over the sweetness of the end product.
It is quick to make:
It takes less than 10 minutes to make it. If you are in rush to go to work, you can always put it in a to-go-cup and eat it at work or on you way to work.
It fills me up:
Especially because I put Chia seeds in it. Chia seeds plump up when combined with liquid, which in turn, makes you feel full. Also, chia seeds are rich in fiber, essential fatty acids (Omega 3 and Omega 6), calcium (1 tablespoon of chia seeds have more calcium than a glass of milk), vitamins, and antioxidants (more than blueberries).
And you know what? Chia seeds are only the beginning. You can add flax seeds, maca powder, lucuma powder, etc. to boost up its nutritious value.
It is healthy:
Oats, due to their soluble fiber content, is good for you. It is a much better breakfast option than say, pancakes or donuts.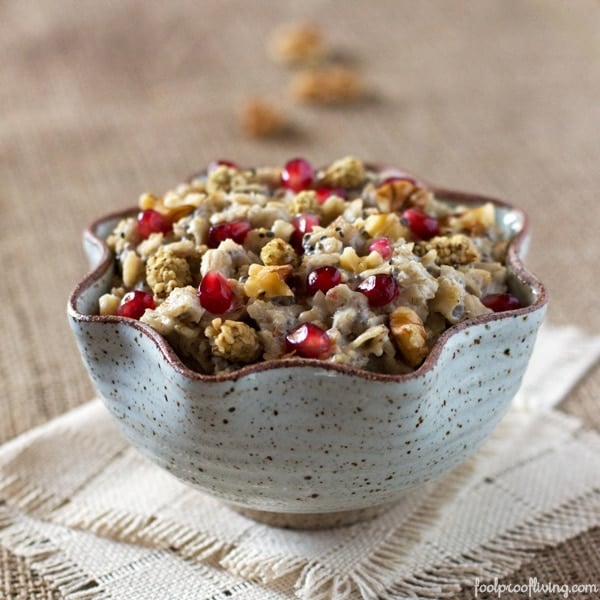 I personally find the sweetness of the dried (or fresh) fruit enough but if you want it sweeter, I would recommend adding natural sweeteners like honey or agave. Of course, in moderate amounts.
As we all are working on our new years resolution of eating healthy, I hope this super healthy oatmeal recipe will get you closer to your goal.
Keep warm.♥
Print
Oatmeal with Almond Milk and Chia Seeds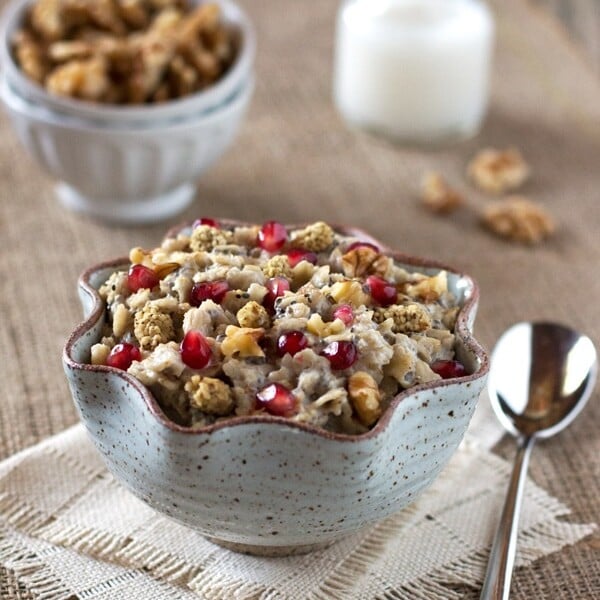 A gluten-free and vegan oatmeal breakfast made with almond milk, old-fashion oats, chia seeds, nuts and fruit.
Author:
Prep Time:

5 min

Cook Time:

10 min

Total Time:

15 minutes

Yield:

1 serving

Category:

Breakfast

Method:

Cooking

Cuisine:

American
Ingredients
1 cup Unsweetened Almond Milk
1/2 cup Old Fashioned Oats (I use Quaker Oats)
1 tablespoon Chia seeds, more as garnish
1-2 tablespoons unsalted nuts like walnut, almonds, macadamia nuts, etc.
2 tablespoons dried or fresh fruit (For the one you see in the picture I used mulberries and pomegranate)
Instructions
Place almond milk, oats, chia seeds, and nuts in a small saucepan and let it come to a boil.
Stir in the oats. Cook about 5 minutes over medium heat, stirring occasionally.
Place it in a bowl and garnish it with more nuts, dried fruits and chia seeds, if prefered.