This easy recipe for corn broth is my favorite way to reuse leftover corn cobs during the fresh corn season. After serving up delectable corn dishes— like my creamy and bold Mexican Street Corn or 15-minute Air Fried Corn on the Cob —save your bare ears of corn. Then, in five effortless steps, you'll have a sumptuous broth ready to make dozens of gourmet meals.
Ingredients You'll Need
This delicious corn cob stock recipe uses only six simple ingredients to produce an all-purpose stock perfect for countless kinds of dishes.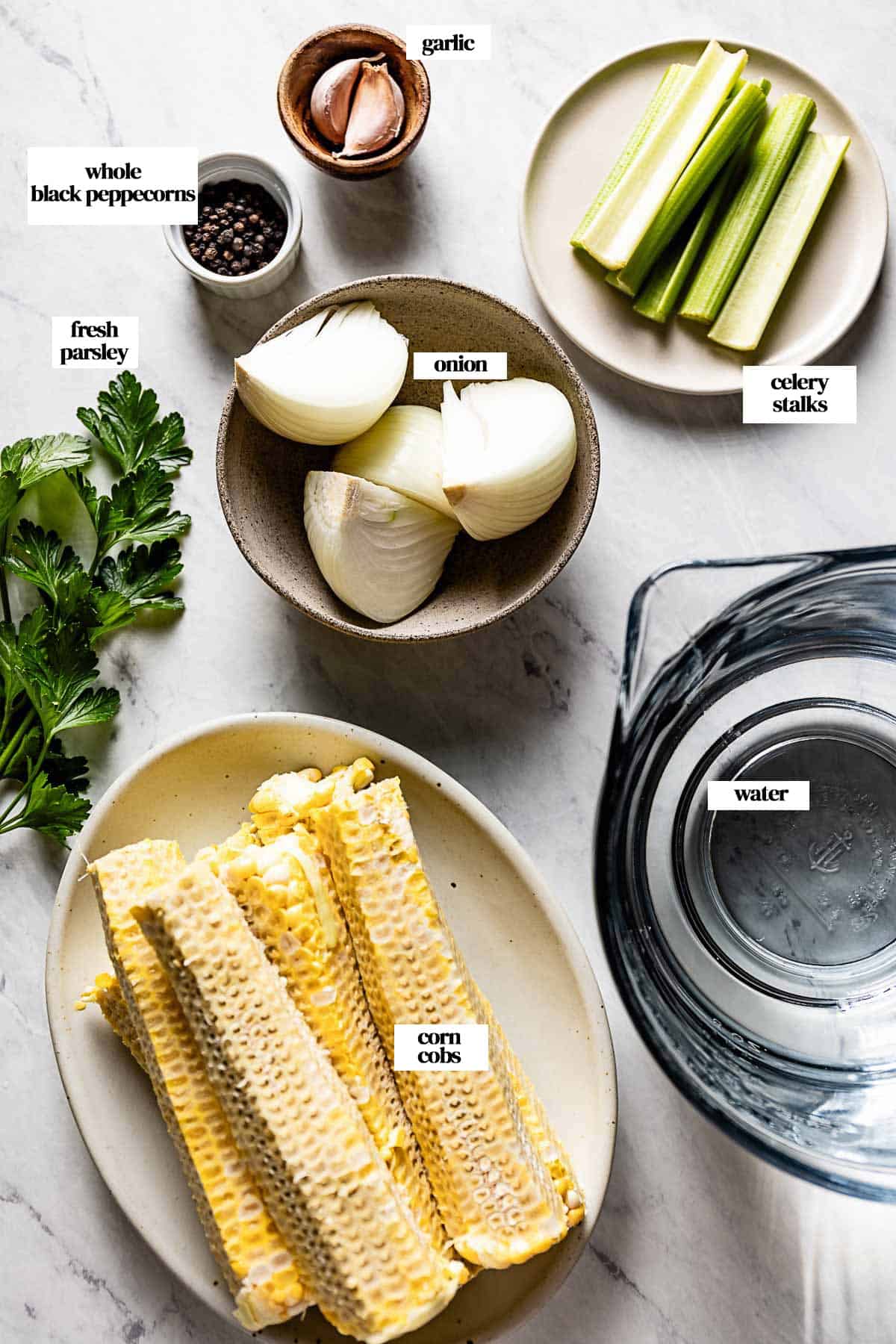 Corn cobs: The best way to get deliciously sweet, nutritious, and robust corn stock is to use fresh corn on the cob with no blemishes. Needless to say, corn husks, silks, and kernels should be removed. If you can get your hands on it, I recommend buying Non-GMO corn.
Celery stalks
Yellow onion: I love using yellow onion in this recipe because of its mild, balanced taste. However, you may also use white onions if you'd like your stock to have a slightly more potent, intense flavor.
Fresh garlic cloves
Fresh parsley leaves
Whole black peppercorns
Optional Add-Ins and Substitutions
Because of this recipe's incredible versatility, the sky is the limit when making your unique corn broth. Feel free to adjust the below optional add-ins to match the recipe you're preparing, and keep in mind that practically any veggie will work in your stock—as long as they don't overpower the delicate sweetness of corn's natural flavor.
Carrot: You only need one small carrot stalk to add sweet, earthy notes to your corn broth. Be careful not to add too many carrots, though, as this ingredient may take over your recipe's more nuanced, delicate flavors.
Fresh herbs: To give your stock recipe a hint of bright, herbaceous flavor, I recommend adding a few sprigs of fresh thyme, rosemary, or a bay leaf.
Spices: A few extra spices are all this corn broth recipe needs to lend its sweet overtones a touch of bold, fresh taste. Cumin seeds will add rich, warm tones to your stock, while coriander seeds are perfect for giving your mix a spicy, slightly citrusy edge. You may add a few bay leaves, too, for a somewhat more herby flavor.
Salt: I didn't add salt to my corn broth to ensure I had more control over my prepared recipes' seasoning balance. However, you may add salt to your mixture according to personal preference.
Parmesan rind: This nutty, bold ingredient is a perfect addition to homemade corn stock, especially if you are using your stock to make creamy risotto or corn chowder.
How to Make Corn Stock?
Learning how to make corn broth is an easy way to give your favorite recipes tantalizingly sweet, fresh undertones. These hassle-free instructions will have your stock ready to use in just five steps.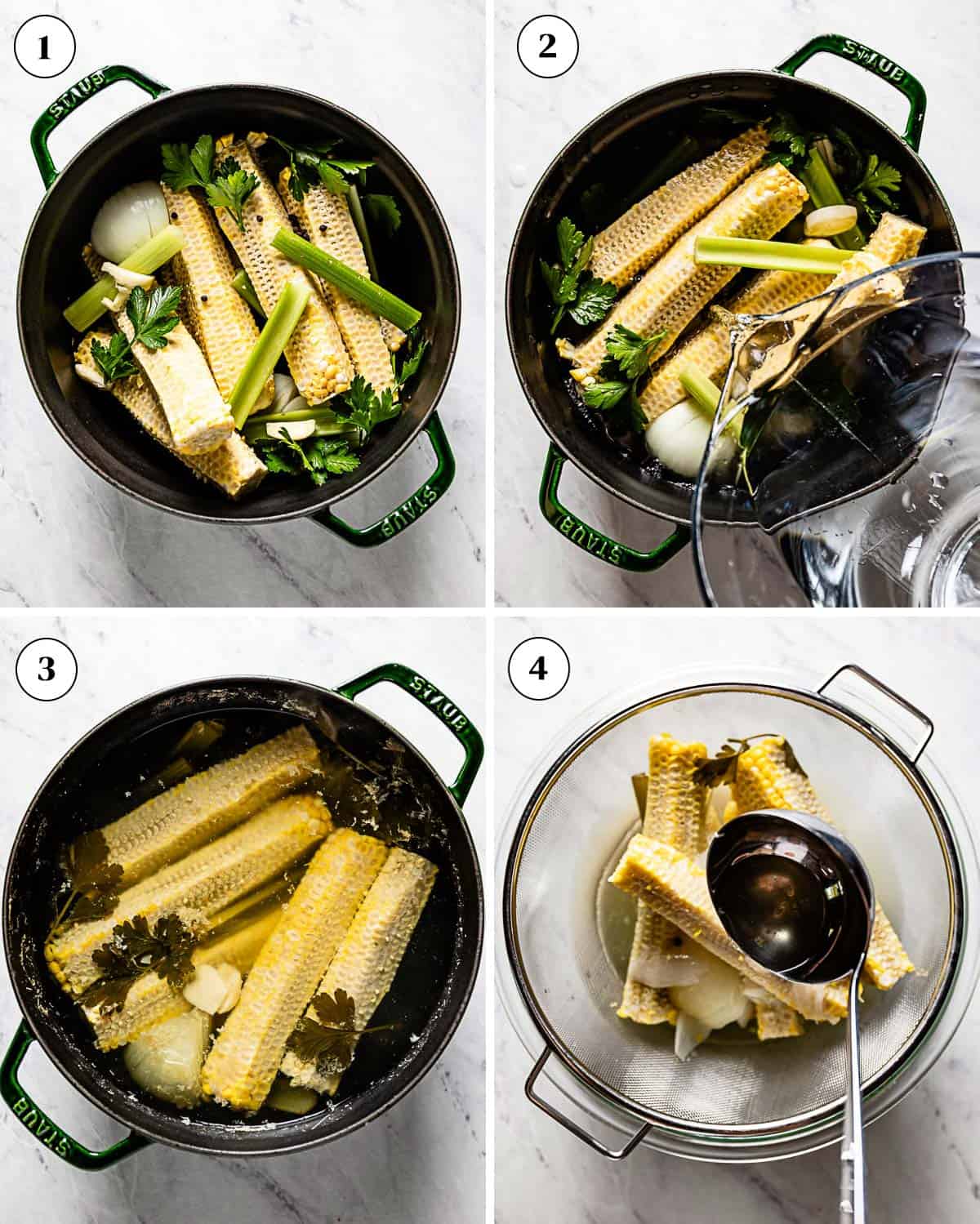 Add the ingredients: Take out a large pot or a large Dutch oven, and add the bare corn cobs, celery, onion, garlic, parsley, and peppercorns.
Add the water: Pour water into the pot, and bring it to a boil over high heat. Once the pot of water comes to a boil, reduce the heat to a simmer.
Simmer: Let the mixture simmer for at least one hour or a maximum of two hours.
Strain the stock: When cool enough to handle, place a fine-mesh strainer in a large bowl, and strain the corn stock into the bowl. Be sure to press down on the vegetables as they catch in the sieve to extract any trapped liquid.
Cool: Pour the corn cob broth into individual jars and let them cool, for about 30 minutes. Discard solids.
Store: Once cool, cover each jar with an airtight lid before labeling and dating them. Then, transfer the jars to the refrigerator or freezer for later use.
How to Store and Freeze Corn Cob Stock?
Homemade corn broth is one of the most storage-friendly recipes in my recipe book. Store your stock in airtight containers, such as Mason jars or weck jars, to ensure it remains as fresh and flavorful as possible.
To store: Let the corn stock cool for an hour or so and then divide it amongst airtight containers or jars and store it in the fridge for up to 5 days.
To freeze: For even longer storage, you may freeze your corn stock by letting it cool in airtight jars (such as Weck jars (affiliate link), closing the containers, and placing it in the freezer for up to three months.
How to Use Corn Stock in Recipes?
Versatile and oh-so-easy to make, this corn stock recipe comes in handy for dozens of mouthwatering dishes. Below, you'll find just a few of my go-to stock-based recipes.
Soups, stews, and chili bases: Infuse your soup recipes with next-level flavors by transforming them into corn cob soup. I love adding the sweet notes of corn stock to my creamy and piquant Mexican Corn Soup—my favorite alternative to corn chowder. Or, for a heartier meal, use corn broth as a base for protein-packed chili recipes, like my Quinoa Chili or White Chicken Chili.
For cooking whole grains: You'll never have to worry about bland grains again when you prepare them in this corn broth recipe. If you're a quinoa fanatic like I am, you'll love using corn stock in place of water to make basic cooked quinoa or to liven it up with a Mexican Quinoa version. You can also make show-stopping sides out of simple ingredients with dishes like Bulgur Wheat, Wild Rice, and Corn Risotto.
Cornbread and corn cakes: What's cornbread without golden-sweet corn flavor in each bite? This corn broth makes an excellent addition to classic side dishes like Cornbread Muffins and Corn Cakes.
Polenta and grits: Mild, creamy, and endlessly customizable, polenta and grits taste out of this world when prepared with corn stock. If you want a vegetarian recipe that will stun your dinner guests with a five-star taste, this Creamy Polenta combines roasted mushrooms, toasted walnuts, and creamy blue cheese for an out-of-this-world flavor.
Poaching liquid: Corn stock makes an incomparably flavorful poaching liquid when preparing meats such as fish (especially salmon!) or chicken.
Sip on it: Drinking pure corn stock is a delicious and easy way to pack nutrients into every sip.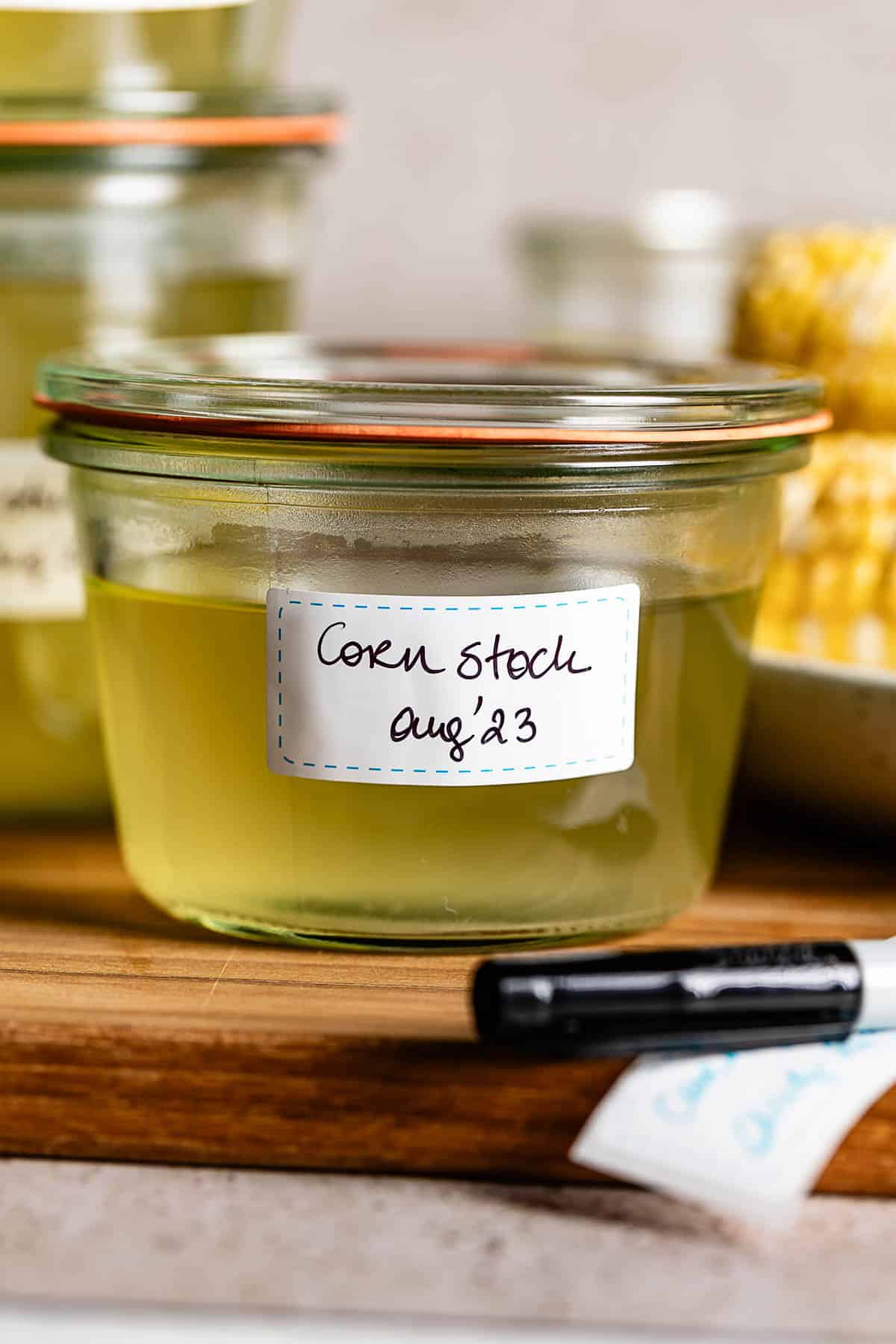 Expert Tips
There's no reason to stress over this beginner-friendly stock recipe. With this pro guide, you'll never have to worry about making irresistibly fresh corn stock again.
More corn, no problem: The recipe below only requires six empty corn cobs. However, if you have more ears of corn, feel free to add them to your mixture with enough water to cover them by an inch.
Let it simmer: After coming to a boil, let your corn cob soup stock simmer for at least an hour (and no longer than two hours!). This time allows the veggies to release their natural flavors into the liquid without boiling away any nutrients or diminishing their taste.
Strain: Because of all the vegetable juices released into corn stock, this recipe might produce a cloudy liquid. If you prefer a clear stock, layer a cheesecloth at the bottom of your fine-mesh strainer before draining your broth.
Label and date: The key to ensuring that your corn cob stock remains as bright and flavorful as possible is using it while it's fresh. I recommend labeling and dating your stored broth so that you know when to use it. Remember, broth stored in the fridge should be used within five days, while frozen corn broth should be used within three months.
FAQs
What is corn stock?
Corn stock is a liquid made from slow-cooking bare corn cobs and other veggies in water. The resultant broth has a mildly sweet, complex flavor that you can use to cook many dishes, from grains to cornbread.
Can you use corn cobs in vegetable stock?
Most definitely! Corn cobs add delightfully sweet undertones to vegetable stock and help eliminate waste in the kitchen.
Other Corn Recipes You Might Also Like
Few recipes match a stock of corn's subtle sweetness and complex flavor. If you're craving more soft, buttery corn recipes, these dishes will fill your table for days.
If you try this Corn Stock recipe, please take a minute to rate the recipe and leave a comment below. It is a great help to others who are thinking of making the recipe. And if you took some pictures, be sure to share them on Instagram using #foolproofeats so I can share them on my stories.
Corn Stock Recipe
Making corn stock is a great way to use up leftover corn cobs and getting a second life out of them. Make a batch and use it to infuse the sweet flavors of corn to your soup, risotto, chowder, and polenta recipes.
Print Recipe
Ingredients
6

corn cobs

husked and kernels removed

2

celery stalks

cut in quarters

1

medium onion

peeled and quartered

2

cloves

garlic

peeled and crushed

4

sprigs

fresh parsley

¼

teaspoon

whole black peppercorns

about 10 peppercorns

10

cups

water
Instructions
Place the corn cobs, celery, onion, garlic, parsley and peppercorns in a stock pot or large Dutch oven.

Pour the water into the pot. Bring it to a boil over high heat. As soon as it comes to a boil, reduce the heat to a simmer. Let it simmer for at least one hour or for up to 2 hours. Off the heat, let it cool for an hour or so.

Meanwhile, place a fine mesh strainer in a large bowl. When cool enough to handle, carefully strain corn stock and gently press down on the vegetables to extract any remaining liquid.

Pour into jars and let it cool (uncovered) on the kitchen counter for 30 minutes. Discard solids.

When cooled, cover tightly with the lid, label and date before placing the jars in the refrigerator or freezing them for later use.
Notes
Yields: This recipe makes ~ 9 1/2 cups to 10 cups of corn stock. The nutritional information below is per cup.
Adding salt:

We intentionally didn't use salt in this recipe so that you can adjust it according to the recipe you plan to use it in. However, you can season it with salt if you prefer.

To store

: Let the corn stock cool for an hour or so and then divide it amongst airtight containers or jars and store it in the fridge for up to 5 days.

To freeze

: For even longer storage, you may freeze your corn stock in airtight freezer-safe containers for up to 3 months.
Nutrition
Calories:
6
kcal
|
Carbohydrates:
1
g
|
Protein:
0.2
g
|
Fat:
0.02
g
|
Saturated Fat:
0.01
g
|
Polyunsaturated Fat:
0.01
g
|
Monounsaturated Fat:
0.003
g
|
Sodium:
13
mg
|
Potassium:
24
mg
|
Fiber:
0.3
g
|
Sugar:
0.5
g
|
Vitamin A:
38
IU
|
Vitamin C:
2
mg
|
Calcium:
12
mg
|
Iron:
0.1
mg
Like this recipe? Consider sharing: