We know that it might sound like an extra step, but trust us when we say that once you learn how to make vegetable broth and use it in any of your favorite soup recipes, you will agree that there is no better alternative. It is such an easy (and cheaper) way to add rich and robust flavors to any dish.
It is also a great alternative to chicken broth to make a recipe vegan or vegetarian. Not to mention, just like my Corn Cob Stock, making veggie stock takes much less time than meat stocks so you have no excuse not to try!
Vegetable Stock Ingredients
The ingredients for vegetable broth are simple, healthy, and all-natural with a ton of add-in options.
For broth vegetables, I recommend using neutral vegetables with savory flavors, such as onions (with the onion skin!), carrots, celery stalks, and fresh garlic cloves.
To give your soup stock recipe extra rich flavor, you'll also need fresh herbs, like fresh parsley and thyme; salt (both kosher salt and sea salt will work); whole peppercorns, and water.
Optional Add-Ins
When considering what to put in vegetable broth, the options are limitless. You can select dozens of mouthwatering combinations to make your veggie broth recipe as savory, fresh, and delectable as possible. Below is a long list of ingredients you can use:
Other Vegetables You Can Use:
Alliums: Alliums—such as shallots, green onions (AKA scallions), leeks, and leek tops—can give this vegan stock a robust, mildly sweet flavor.
Mushrooms: Umami-rich mushrooms (and mushroom stems) will give your veg broth recipe an earthy, complex taste.
Fresh or dried bay leaves: This simple addition adds bright, herbal notes to any DIY stock.
Parsnips: Sweet and mildly spicy, parsnips add a nice sweet kick to the broth.
Fennel and fennel tops: If you like mild, anise-like flavors, then fennel is a great addition.
Corn cobs: The sweet buttery taste of corn cobs is a welcome addition during the summer months when corn is in season.
Tomatoes: If you want to give your DIY broth a touch of sweetness, I recommend adding chopped tomatoes. However, remember to remove the seeds first, as they can give your stock a bitter taste.
Apple or pear: Apples and pears are the perfect ingredients to add sweetness and help eliminate bitterness.
Add-Ins With Reservations
These are some of the ingredients to use in small doses when making homemade broth:
Carrot tops: When added in small amounts, carrot tops will it earthy, sweet undertones. Too many carrot tops, however, will result in a bitter-tasting broth.
Peppers: Are you a fan of heat? Then I recommend adding bell peppers, jalapeńos, or other hot peppers to your broth. However, don't add too many (especially when using green bell peppers!) to avoid an acidic, bitter liquid.
Celery leaves: Use celery leaves for a bright peppery taste, but limit it to just a few ones to avoid making your stock bitter.
Soy sauce or tamari: You only need a small amount of soy sauce or tamari to give your homemade veg broth a complex umami taste.
Flavor and Nutrition Boosters
Dried kombu: Adding a bit of dried kombu to your simmering broth is an excellent way to give it briny, mushroom-like overtones.
Nutritional yeast: I recommend adding a pinch of nutritional yeast to your simmering pot for extra rich flavor.
Tomato paste: Give your stock sweet, mild tomato flavors by adding one tablespoon of tomato paste. To help your paste mix into the broth, I recommend removing a half-cup of simmering stock, whisking in the tomato paste, then re-adding it to the pot.
Roasted garlic: If you have made some for another dish (such as Baked Garlic Butter), use roasted garlic to incorporate caramelized flavors into your homemade stock.
Fresh ginger and turmeric (or even Golden Paste): If you're making an Asian-themed dinner, ginger, and turmeric make brilliant additions to your stock vegetables. Not only do these ingredients add a spicy, bright flavor, but they also help develop a light, appetizing color in your stock.
Dried mushrooms: If you are a fan of the rich umami flavors, dried mushrooms is a good addition. However, be sure to soak them for an hour (or so) in hot water before adding to the stock.
Parmesan rind: If you don't mind a non-vegan addition, parmesan cheese rind is a simple flavor booster that complements any Italian dish.
How to Make Vegetable Broth
Wondering how to make your own vegetable broth? These simple, beginner-friendly instructions will give you exquisitely flavored, perfectly simmered broth every time.
Place ingredients in the pot: Add the onion, carrots, celery, garlic, fresh parsley, fresh thyme sprigs, salt, pepper, and other optional add-ins into a large stock pot (affiliate link) or Dutch oven (affiliate link.)
Add water: Pour the water into the pot.
Boil & simmer: Place the lid atop the pot and bring the mixture to a boil over medium-high heat. Once the stock comes to a boil, reduce the heat to medium. Let the mixture simmer for 60-90 minutes, stirring once or twice during this time.
Cool & strain: Let the veggie stock cool for 10-15 minutes. Then, carefully strain the liquid with a fine mesh strainer (affiliate link) placed over a large, heat-proof bowl. Using the back of a spoon, gently press the vegetables for the stock into the strainer to release their juices. Discard the veggies once finished.
Store: Transfer the vegan vegetable stock into airtight jars. Let them cool to room temperature and label them before storing them in the fridge or freezer.
How Long to Cook Vegetable Stock?
Once your vegan stock comes to a boil, I recommend letting it simmer for 1 to 1½ hours. Any longer, and the vegetables' flavors begin to break down.
How to Store, Freeze, and Thaw?
The best part of this homemade vegetable stock recipe is how easy it is to store for effortless meal prep. Store it to make a soup the next day, or freeze it for a handy ingredient to use months later.
Storage: Pour your veg stock into airtight mason jars (or any airtight container of your choice.) A large heat-proof measuring cup with a sprout (affiliate link) will help streamline this step. Once your jars reach room temperature, transfer them to the fridge for up to 5 days.
Freezing instructions: Transfer your cooled soup stock to freezer-safe, airtight containers—such as these Weck Jars (affiliate link) —being sure to leave a few inches open at the top. Then, store your stock in the freezer for up to 6 months. Adding removable freezer labels (affiliate link) helps me keep track of expiration dates.
Thawing instructions: To thaw your homemade veggie stock, place it in the fridge overnight.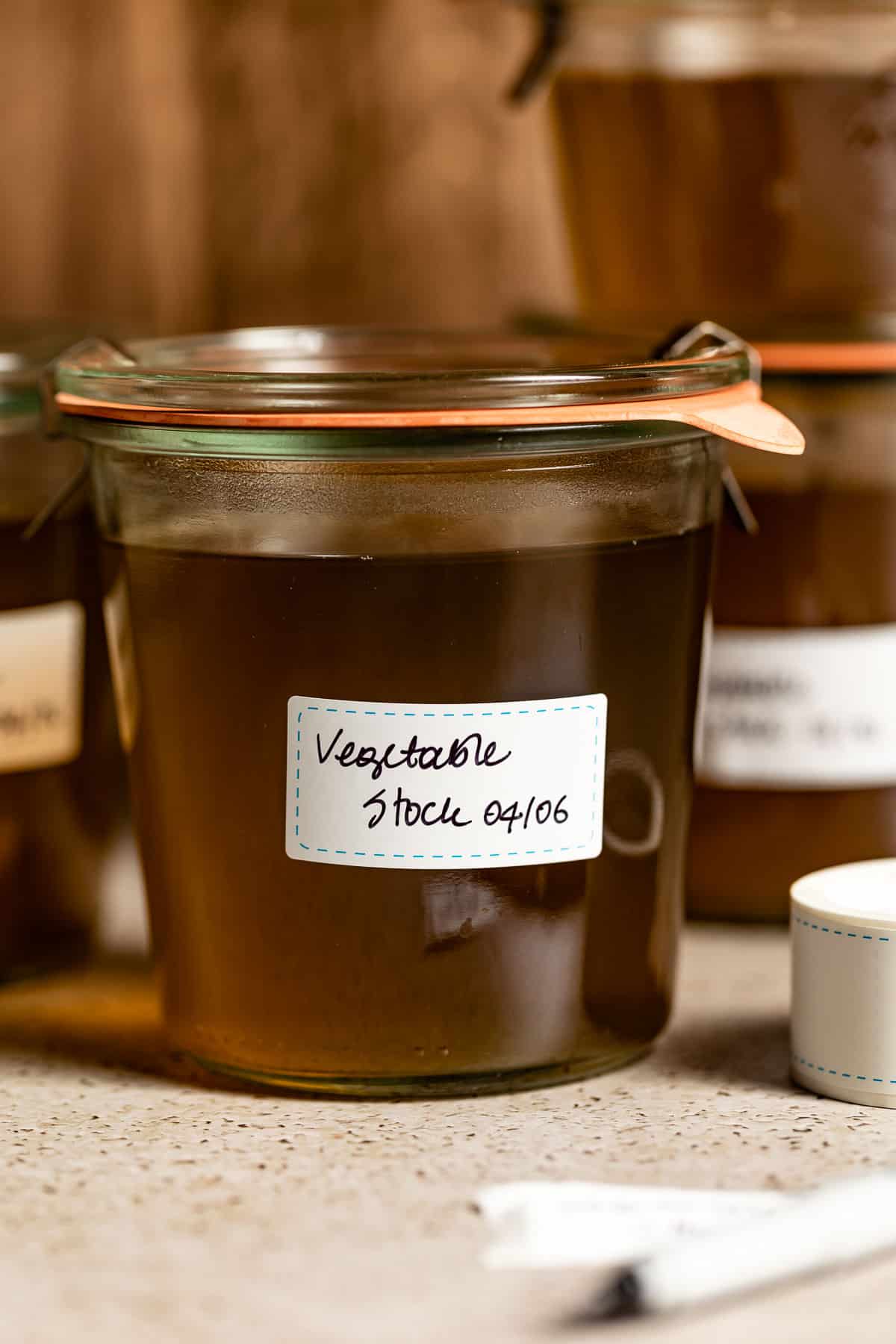 Vegetables to Avoid Adding to Broth
Though there are countless vegetables to use in vegetable broth, there are a few veggies to avoid. Eliminating the following ingredients will ensure your vegan broth recipe is as smooth and tasty as possible.
Starchy vegetables: I recommend avoiding starch-based vegetables, like potatoes (including sweet potatoes, baby potatoes, yellow potatoes, and potato peels) and turnips. These ingredients will make your stock clumpy and cloudy.
Zucchini and green beans: Vegetables like zucchini and green beans become bitter when simmered too long and may harsh the savory flavors of your broth.
Brassica family veggies: Vegetables from the Brassica family—including cruciferous vegetables, like kale, broccoli, cauliflower, cabbage, mustard greens, and bok choy—will likely turn your veggie broth bitter. However, I often use kale stems (check out this handy guide to properly remove stems from kale) and chard stems as an addition.
Beets and beet skins: These reddish-purple veggies will likely transfer their color into your stock, resulting in off-colored dishes when cooking.
Expert Tips
You don't have to be a master chef to make the best-tasting vegetable broth. Here are a few pro tips to help you as you make your own vegetable stock.
Rinse and chop veggies well: Be sure to remove all harmful debris from your veggies. When rinsing your ingredients, I recommend scrubbing them lightly under cold tap water with a soft vegetable brush. Then, chop your veggies into small pieces to ensure they release maximum flavor into your stock.
Choose fresh ingredients: Using fresh vegetables is the best way to give your vegetarian broth the best flavor. Avoid wilted or overripe produce, as these ingredients will give your vegetable soup stock a bitter taste. Organic vegetables are always preferable, but non-organic ones would also work.
Mix and match vegetables: To us, the secret to a good vegetable broth is to use a variety of vegetables in your mix. And when doing so, it is important to avoid using a lot of one kind.
Roast or sauté your veggies: Roasting or sautéing your vegetables before adding them to your stock will help release their garden-fresh flavors, resulting in extra complexity and depth. These pre-cooked veggies will give you a brown vegetable stock with a more robust flavor than white stocks. To sauté your vegetables, cook them in a skillet with one tablespoon of olive oil for 15 minutes. To roast them, cook them in a 300-degree F. oven for 30-35 minutes.
Begin with cold water: I recommend beginning with cold water when cooking your veg stock. This more significant temperature differential will gradually extract the vegetables' flavors, resulting in greater depth and a richer taste.
Simmer gently: After boiling your vegetable broth, reduce the mixture to a gentle simmer. This lower temperature will ensure that your stock comes out savory—not bitter—and clear.
Strain the veggie stock: Once the cooking time is completed, pour the mixture through a fine-mesh strainer to remove the remaining vegetable pieces. Some people also line it with a cheesecloth, but it is optional. Press the veggies against the strainer to extract their juices, then discard the remaining solids. This process will give your stock the most flavor while ensuring a smooth, clear texture.
Cool completely before storing: Before storing your DIY vegetable broth, let it reach room temperature. This cooling will ensure your storage containers don't crack in the cold, reduce unwanted condensation, and prevent bacterial growth.
Adding salt: To avoid oversalting it, I prefer to begin with a small amount of salt —only one teaspoon—and add more as the flavors develop. However, if you prefer a saltier taste, you can add more.
Vegetable Stock with Scraps: It is no secret that making homemade stock from vegetable leftovers is another popular method. Many people save their cooking trimmings and peels (such as carrot peels and onion skins) and store them in a freezer bag for future stock making. We are also fans of that method so we have dedicated a separate article to it, titled "How to make vegetable Stock from Scraps (and frozen scraps)", where we covered the process in depth.
How to Use Veggie Stock
You can create hundreds of dishes using vegetable stock as a foundation point. Put it to good use with some of the suggestions below:
Vegetarian soup recipes: Veggie stock is a must when making these delectable soup dishes. Get your fall fix with a creamy, 30-minute dish like Pumpkin Ginger Soup or Wild Rice Chicken Soup. Or, use your stock for a soup recipe like my Spiced Chickpea Stew or Green Lentil Soup for a dish as delicious as it is filling.
Cooking grains or legumes: It doesn't matter whether you prefer to cook quinoa on the stove, in an Instant Pot, in a rice cooker, or in the microwave. Prepare your quinoa with veggie broth, and you'll be astounded by your grains' savory flavor. You can even use vegetable stock for cooking wild rice or in popular wild rice recipes like my Wild Rice Pilaf or Wild Rice Stuffing. Looking for a hearty Mediterranean option? Cooking bulgur with this stock is an easy way to elevate your cooking or make dishes like Bulgur Pilaf. This vegetable broth recipe even makes an excellent base for cooking risotto!
Mashed potatoes: Looking for a healthy alternative to buttery mashed potatoes without sacrificing flavor? Instead of using milk or cream, try using veg stock instead! With this easy recipe, your mashed potatoes will come out rich and flavorful in no time.
Braising and sautéing vegetables: Add sophisticated depth to your favorite vegetable sides—like my Pan-Seard Mushrooms and Asparagus—by lightly braising them with vegetable stock.
Sauces and gravies: This quick vegetable broth provides an ideal base for dozens of savory sauces, like any of your pasta sauces or gravy.
Steaming vegetables: When you make your own vegetable broth, you have the perfect ingredient to give steamed vegetables an incomparably rich taste. Use your veg stock instead of water in Steamed Asparagus or any other steamed vegetable for an easy flavor upgrade.
Vegetable curries: Nothing beats the earthy, spicy taste of warm curry. Using my veggie stock recipe, you can add succulent flavor to dishes like Cauliflower Curry, Butternut Squash Red Curry Soup, and Curried Brown Rice.
FAQs
It's a cinch to make vegetable broth from scratch. Here are the answers to some of the frequently asked questions:
What is the difference between vegetable broth and stock?
Vegetable stock generally has less seasoning and is often used as a base for other dishes. By contrast, vegetable broth tends to have more seasoning and can serve as either a recipe ingredient or a "finished dish," ready to drink straight from a cup.
What not to put in vegetable stock?
I recommend eliminating starchy vegetables (i.e., potatoes), zucchini, green beans, cruciferous vegetables (i.e. kale, cabbage, Brussels sprouts), beets, and beet skins from your ingredient list.
What is the most common vegetable mixture used in making stock?
The most common ingredient combination for veg broth is referred to as "mirepoix," meaning the combination of onions, celery, and carrots.
Can you freeze homemade vegetable stock?
Yes! To freeze your homemade veggie broth, let it first reach room temperature. Transfer the liquid to airtight, freezer-safe containers, leaving 1-2 inches at the top of each container. It should be good for up to 6 months in the freezer.
How long does homemade vegetable stock last in the fridge?
When stored properly in airtight containers, this veg stock will last up to 5 days in the refrigerator.
What to do with the leftover vegetables from making veggie stock?
A great way to eliminate food waste and eliminate your vegetable scraps is to compost them.
What is the difference between white vegetable stock and brown vegetable stock?
White vegetable stock is made by simmering whole vegetables in water whereas the brown version is made by first roasting vegetables in water and then simmering them in water.
If you try this recipe or any other recipe on Foolproof Living, please take a minute to rate the recipe and leave a comment below. It is a great help to others who are thinking of making the recipe. And if you took some pictures, be sure to share them on Instagram using #foolproofeats so I can share them on my stories.
How to Make Vegetable Stock
Learn how to make vegetable stock at home cheaper than store bought vegetable broth. Homemade veggie stock is such as easy way to elevate any of your soups, stews, sauces and casseroles.
Print Recipe
Ingredients
2

large onions

roughly chopped

4

medium size carrots

chopped in 2-inch pieces

2

celery stalks

chopped

1

whole head of garlic

cut in half widthwise

5

sprigs fresh parsley

3

sprigs fresh thyme

2

teaspoons

kosher salt

1

teaspoon

black peppercorns

about 8-10 whole peppercorns

10

cups

water
Optional Add-ins
1

cup

Mushroom or mushroom stems

1-2

bay leaves

1

leek with the top
Instructions
Place onion, carrots, celery, garlic, fresh parsley and fresh thyme sprigs, salt and pepper and any of the optional add ins into a large stockpot or a Dutch oven.

Pour the water in.

Put the lid on and bring to a boil on medium-high heat.

Once it comes to a boil, turn the heat down to medium and let it simmer, stirring once or twice, for about an hour to hour and a half.

Let it cool for 10 – 15 minutes and carefully strain using a fine mesh strainer placed over a large heat proof bowl, pressing the juices out of the vegetables with the back of a spoon. Discard the veggies.

Transfer the vegetable broth into jars. Cool them to room temperature before storing in the fridge or freezing for later use.
Notes
Rinse your vegetables well:

It is best to give your vegetables a quick rinse to get any debris before using them in your stock. You can also use a soft brush to gently rub them (such as carrots). This way, there is no need to peel them. Needless to say, avoid using moldy or rotten vegetables.

Vegetables to avoid:

You can use this basic recipe and add more veggies based on what you have on hand. However, we recommend avoiding cruciferous vegetables such as kale, cabbage, and Brussels sprouts as they can make your broth bitter. Also, starch veggies like potatoes would make your stock cloudy so it is best not to use them.

Storage & freezing instructions:

You can store your stock in an airtight container (such as a mason jar) in the fridge for up to 5 days. You can also freeze it for up to 6 months. Thaw it in the fridge overnight.

Vegetable stock with scraps:

You can make vegetable broth using kitchen scraps or even frozen scrap. The method is similar but there are a few other things to pay attention to. If you want to try that method, check out our detailed post on

how to make veggie broth from scraps to learn more.
Nutrition
Calories:
107
kcal
|
Carbohydrates:
25
g
|
Protein:
3
g
|
Fat:
0.4
g
|
Saturated Fat:
0.2
g
|
Polyunsaturated Fat:
0.1
g
|
Monounsaturated Fat:
0.1
g
|
Sodium:
4780
mg
|
Potassium:
411
mg
|
Fiber:
5
g
|
Sugar:
9
g
|
Vitamin A:
177
IU
|
Vitamin C:
22
mg
|
Calcium:
162
mg
|
Iron:
2
mg
Like this recipe? Consider sharing: