Making homemade vegetable stock from scraps is an easy way to save money, eliminate food waste, and prepare hundreds of delectable dishes. Cheaper than store-bought broths, this simple recipe makes for easy storage and freezing, so you can effortlessly incorporate it into your weekly meal prep. Not to mention, it is a great alternative to chicken stock to use in vegetarian recipes.
Add it to sauces for a rich, savory flavor, or use it as a delicious base for your favorite soups and stews. No matter how you use it, vegetable scrap broth will make your kitchen taste like a five-star restaurant.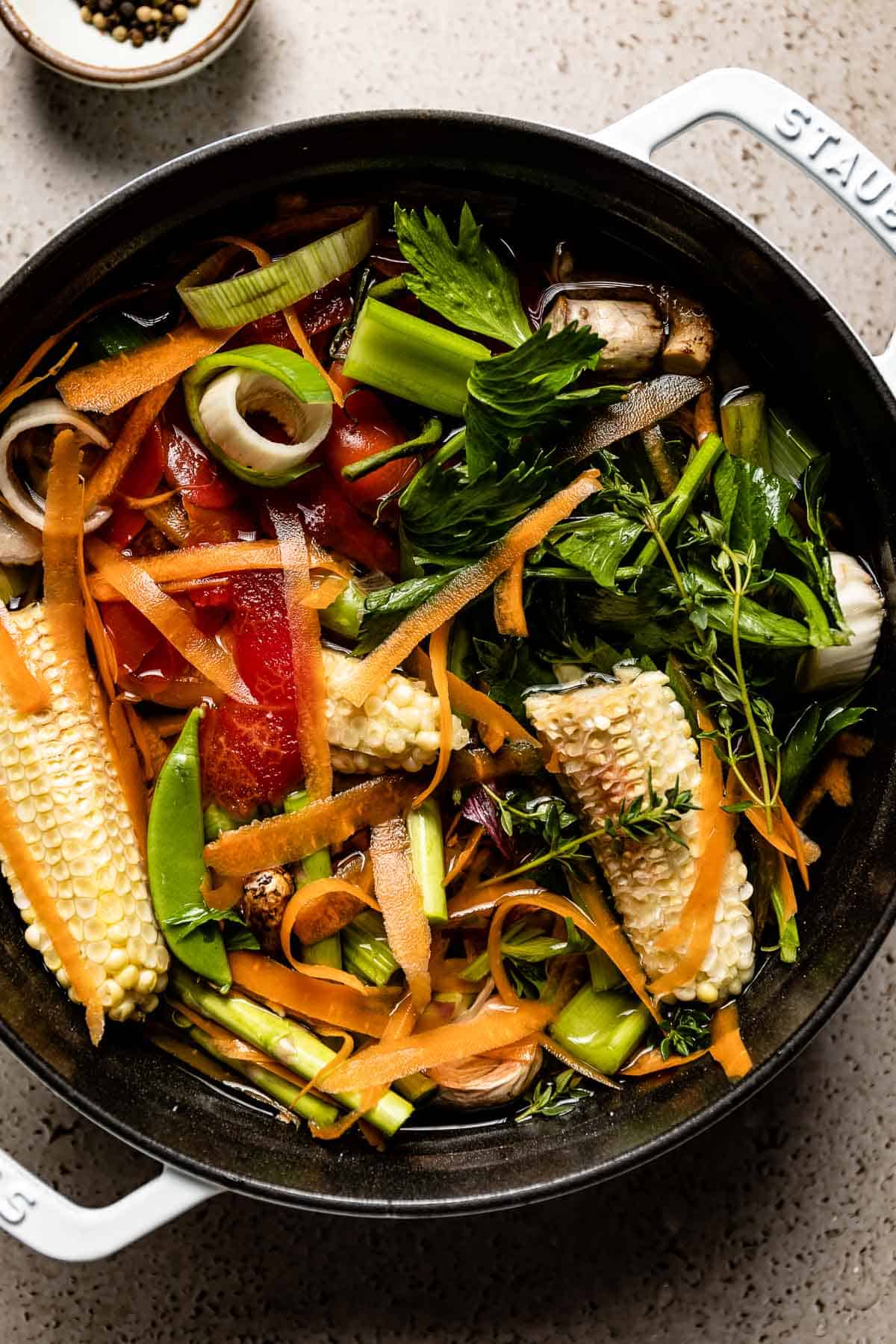 What Veggie Scraps to Use for Stock?
Don't know what ingredients to add to your veggie scrap stock? Using this master list, you'll find dozens of ideas, from hearty vegetable trims to savory veggie peels.
The outer layer and skin of alliums: One of the most flavorful additions that you can add to a veggie broth from kitchen scraps is the outer layer of vegetables like onions, shallots, and garlic. In particular, onion skins and onion peels give scrap stock a hearty, robust taste.
Green parts of scallions and leeks: The green ends of green onions and leek tops can add mild, grassy undertones to your vegetable broth with scraps.
Fennel tops: Full of sweet, licorice flavor, fennel tops make a great addition.
Carrots and carrot tops: These carrot bits unlock sumptuous, sweet flavors in your stock. As a bonus, they also add great color!
Corn cobs: If you are like us a huge fan of the popular Mexican dishes, Mexican Corn Salad or Mexican Street Corn Soup and make them during the summer months, with this recipe, you can use the leftover corn cobs to lend your own vegetable broth a sweet, buttery taste. And if you have so many corn cobs then you can also make our Corn Broth recipe.
Mushroom stems: Don't throw away your mushroom scraps the next time you make Roasted Portobello Mushrooms or Shiitake Mushroom Soups. Mushroom stems are the perfect ingredient to give your homemade stock an earthy, full-bodied flavor.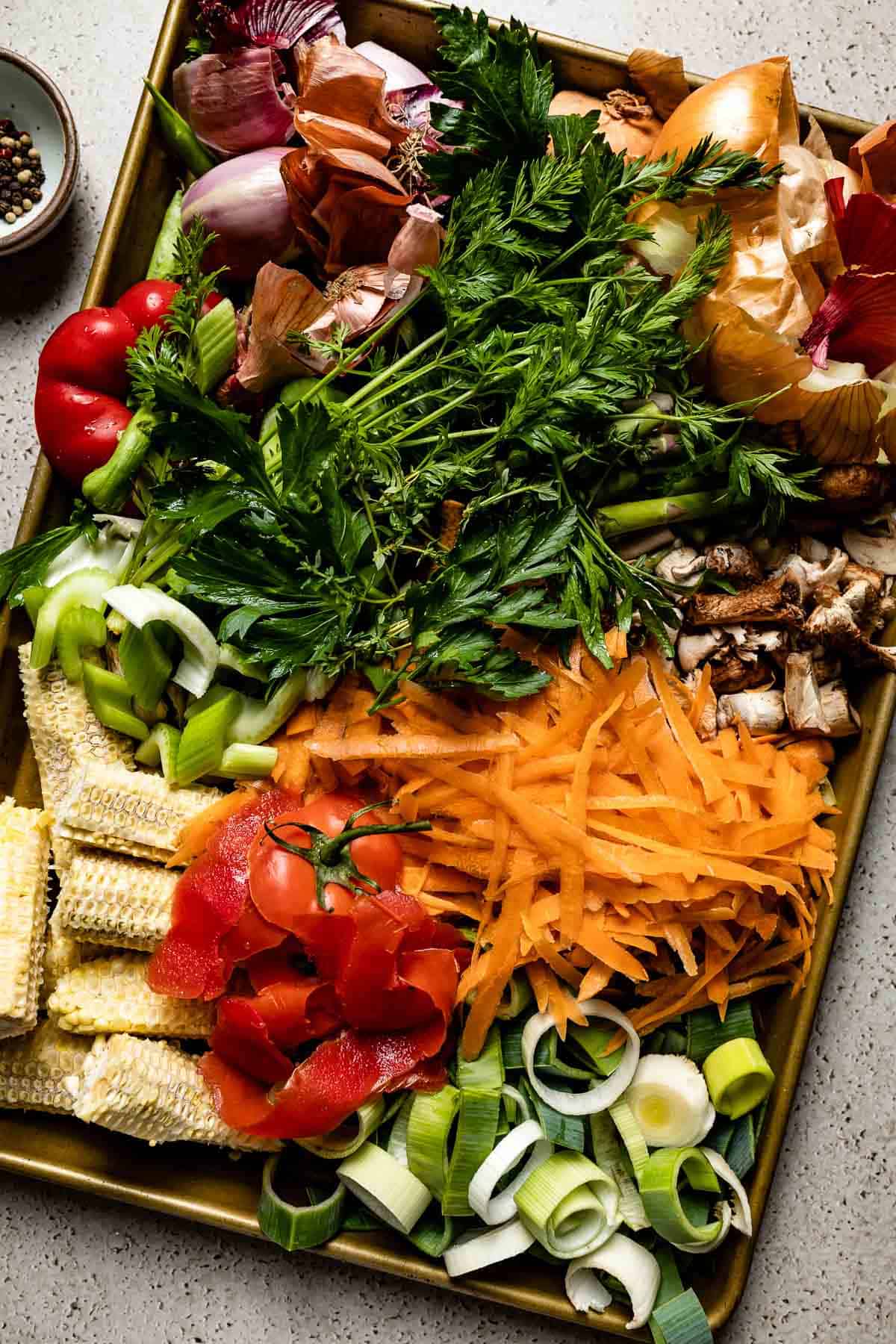 Tomatoes and tomato skins: Some of my favorite leftover vegetable scraps to add are tomatoes and tomato skins. These pantry-classic ingredients add a bright and sweet flavor to any homemade broth.
Vegetable peels: Nearly any vegetable peel will work in this flavorful stock recipe, from carrot peels to squash peels. Even pea pods add delicious notes to this flavorful vegetable stock.
Herbs and herb stems: After using fresh herbs in a dish be sure to add your leftover stems to your vegetable stock! Fresh parsley and thyme are some of the best things to brighten up the taste of your vegetable scrap stock.
Peppers: There's no need to let the tops of your bell peppers go to waste. Add them in for a light, earthy flavor. However, I recommend using bell peppers in small amounts, as they can give them a bitter taste if used too much.
Asparagus ends: Put your leftover asparagus bits (including the woody ends) to good use and add to the saved scraps pile.
Optional Add-Ins
Want to add even more flavor to your veggie stock from scraps? Here are a few additional ingredients to elevate veggie scrap broth:
Onion, carrot, celery: These three ingredients—a mix called "mirepoix"—form a hearty vegetable stock base. They are also the backbone of a good vegetable broth. While scraps are usually enough, (optionally) you can also add an equal amount of each of these vegetables to ensure that your broth from veggie scraps has a rich, well-balanced flavor profile.
Garlic: If you prefer a bold, rich flavor, garlic cloves are a great way to add complexity to the stock. You don't need to peel them, either; simply smash the cloves and add them directly to your vegetable scraps.
Bay leaf: I love to add bay leaves as they give the liquid irresistible herby undertones. Even better, you only need one bay leaf per batch of broth.
Salt: Salt can be a secret weapon when making veggie stock from scraps. Add a small amount of kosher salt (or sea salt) to bring out the nuanced flavors of your broth veggies.
Black peppercorns: Whole peppercorns are a classic ingredient in any stock recipe and this one is no exception.
Fresh ginger and turmeric: Ginger and turmeric are my go-to's when making Asian-inspired dishes. Use a small amount of these ingredients to complement your dish. Keep in mind, however, that turmeric will likely change the color of your broth.
What Vegetable Scraps Are Not Good for Stock?
There are no strict rules regarding which veggie scraps should be avoided in making vegetable stock. With that being said, in an ideal scenario, it would be preferable to exclude certain vegetables or at least use them sparingly. Below are a few of those:
Cruciferous vegetables: Avoid adding many vegetables from the Brassica family—such as kale, cabbage, cauliflower, broccoli, chard, and Brussels sprouts, as these veggie scraps may give your broth a bitter flavor.
Starchy vegetable trimmings: I don't recommend adding the skins and trimmings of starchy vegetables, like potatoes or potato skins, to your broth recipe, as they tend to make the stock cloudy.
Beets: I avoid beets in my kitchen scraps pile because they carry an intense color and overpoweringly earthy flavor.
Eggplant: I recommend avoiding eggplant trimmings in your food scraps to eliminate an unwanted slimy texture and unnecessarily strong flavor.
Spicy peppers: It isn't easy to cook with veggie stock that's too spicy. That's why I avoid spicy peppers—such as jalapeños, serranos, and habaneros—when preparing my vegetable scrap stock.
Artichokes: Artichoke pieces tend to have a powerful taste that will overwhelm the other, more nuanced flavors of vegetable scrap broth.
Rotten or moldy vegetables: The most important rule of thumb is to use vegetables that aren't rotten or moldy, as these ingredients will give your stock a bitter flavor and even pose a health risk.
How to Save Vegetable Scraps for Stock
Wash the vegetables well before use to keep the scraps as fresh, clean, and tasty as possible. A soft kitchen brush works well to eliminate any unwanted soil and debris. This way, your peels, ends, leaves, stems, and trimmings are ready to use directly after cutting.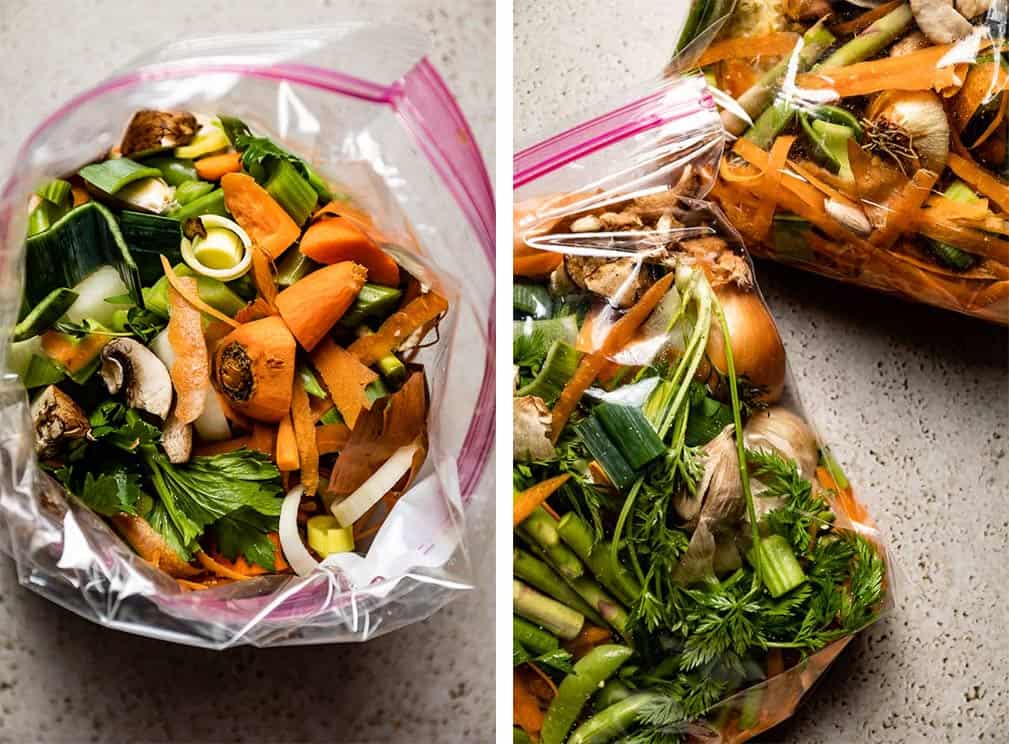 In the fridge: You may store your vegetable scraps in an airtight Ziploc bag in the refrigerator and add them to your veggie scrap stock once you collect 4-6 cups. Labeling your bags will help ensure your ingredients don't go bad before you use them.
In the freezer: Another way to collect vegetable scraps is by putting them in an airtight container or a freezer bag in the freezer. Once you reach 4-6 cups, you can save them for later or make veggie stock immediately.
How to Make Vegetable Broth from Scraps
Making vegetable stock from scraps is the best way to use up vegetable leftovers without hassle. Follow these effortless instructions for savory, rich broth every time.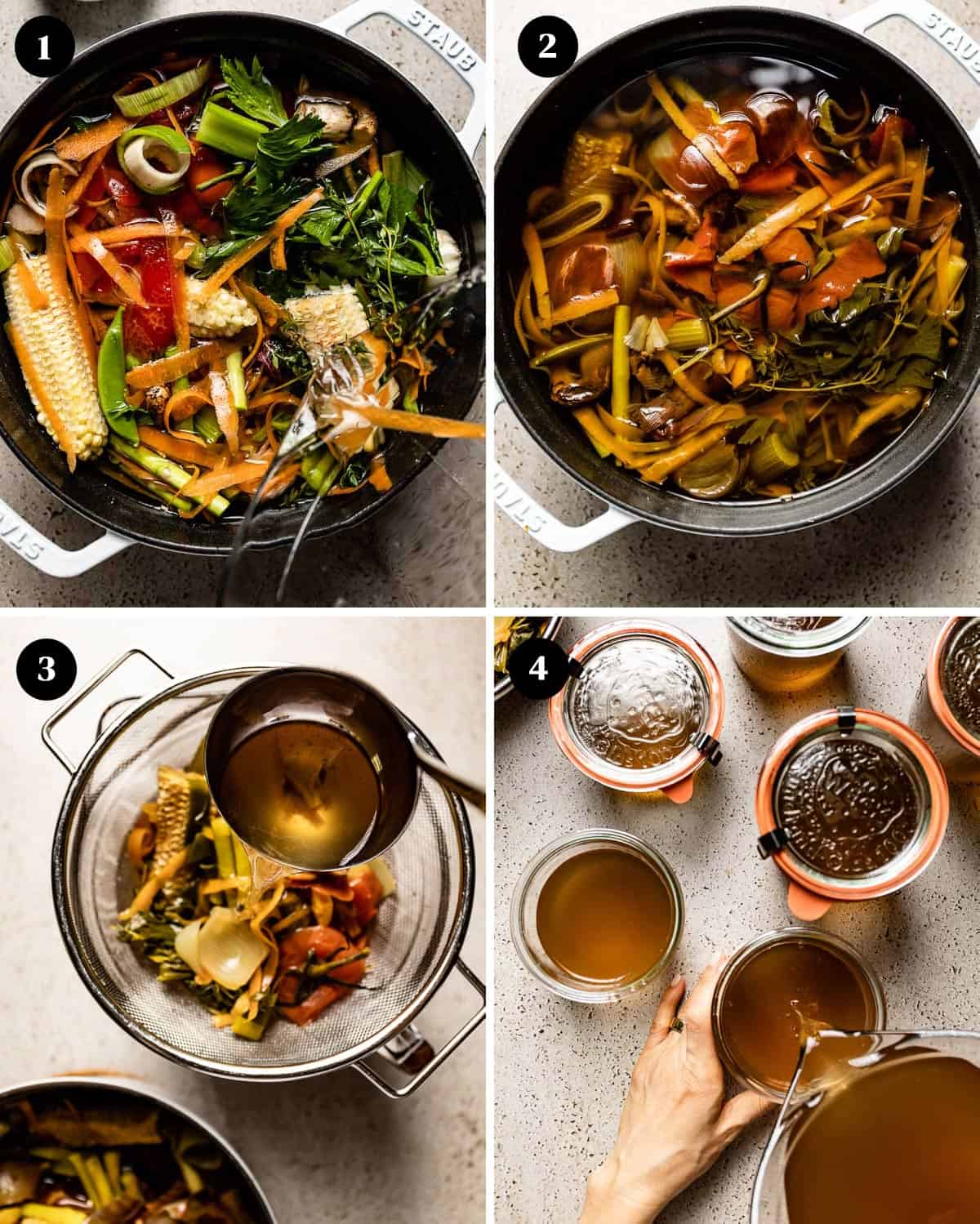 Add the ingredients: Place all the veggie scraps, salt, and peppercorns into a large stock pot or Dutch oven. If you're making vegetable stock from frozen scraps, you don't need to thaw them first. Just keep in mind that the total time of cooking will be longer. Pour the water over the veggie scraps, put the lid on the pot, and bring the contents to a boil over the stovetop.
Let it simmer: After it boils, leave the lid ajar, and let it simmer for 1-1½ hours.
Strain: Strain the veggie stock broth by placing a fine-mesh strainer over a large bowl. Discard or compost the leftover vegetables.
Cool the stock: If you are using it right away, use it in your dish. Otherwise, pour the stock into mason jars or airtight plastic containers, and let the liquid cool to room temperature.
Store: Once the liquid has cooled, store it in the fridge, or freeze it for later use.
How to Store, Freeze, and Thaw
Store: Place broth in airtight plastic containers or mason jars. Once they are fully cooled, place them in the fridge and use them within 5 days.
Freeze: To freeze, let the liquid come to room temperature in freezer-safe airtight containers (such as Weck jars). Leave 1-2 inches at the top of each container. Then, store the stock in the freezer for up to 6 months.
Thaw: Thaw the frozen broth in the fridge overnight.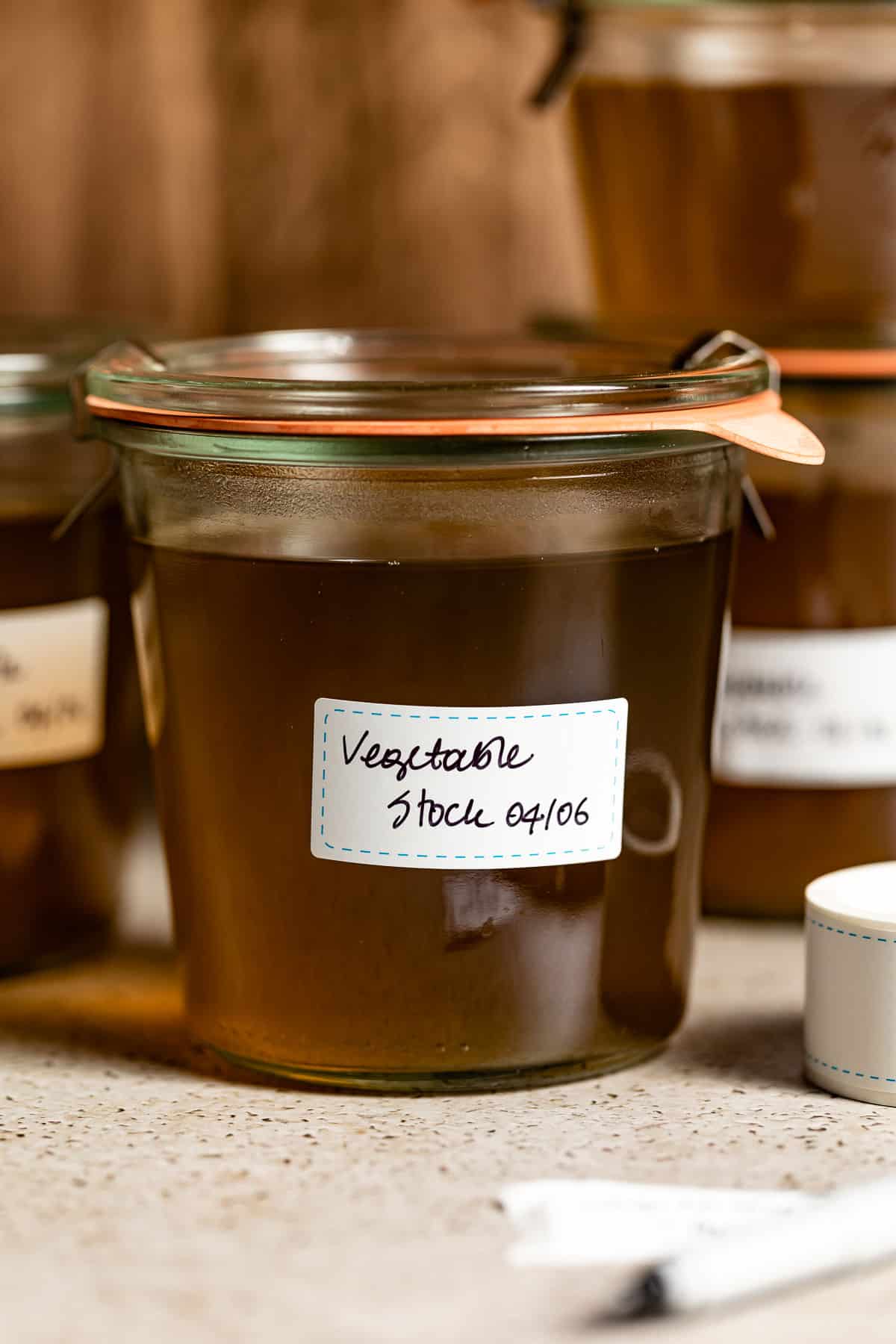 How to Use It In Your Cooking?
There are countless ways to use this flavorful homemade veggie stock from scraps. From creamy risotto to hearty soup recipes, the possibilities are endless when you make your own vegetable stock.
Soups and stews: Veggie scrap stock makes a rich, flavorful base for countless delicious soup and stew recipes. Whether you whip up an umami-packed, one-pot Shiitake Mushroom Soup or a hearty, vegan French Lentil Soup, your kitchen scraps can create mouthwatering flavors in under an hour.
Poached vegetables with meat and fish: Who can resist buttery, tender veggies alongside a protein-packed main? Use your vegetable broth from scraps to make these crowd-pleasing menus, and your dinner guests won't resist a second plate.
Risotto: Rich, creamy, and utterly delicious, risotto is one of my favorite Italian dishes. Now you can add incomparable savoriness to every bite by whipping up this classic recipe using this simple recipe as the cooking liquid.
Cooking grains: There's no reason why your grains have to be bland. You can give anything from Jasmine Brown Rice, Black Rice Pilaf to white rice, and even Stovetop Quinoa gourmet taste using vegetable scrap stock.
Expert Tips
Here are a few helpful tips for the best results as you make your own veggie broth from scraps:
Don't use old or moldy vegetables: Even though we're using scraps, you don't want to use moldy or rotten vegetables. These unpalatable veggies will give your broth a sour, bitter taste and may introduce unwanted bacteria to your recipe. Be sure, too, to give your veggies a good rinse before adding them to your mix.
Mix and match veggies: Don't be afraid to experiment with new blends of vegetables. Various combinations will result in different flavors, which may better suit a specific recipe or taste preference.
Don't overuse any vegetables: One of the best parts about making broth from veggie scraps is that the flavor improves with a balanced mix of vegetables. Try not to use too much of any one kind of vegetable, as this will give your broth's favor a monotone, often unsavory taste.
Try to compliment your favorite recipes: Nothing tastes better than using a perfectly paired veggie stock to make a recipe. I recommend tailoring which veggie scraps you use to bring out your menu's natural flavors. For example, when cooking Asian-inspired dishes—like my fan-favorite Ramen Bowl—I love adding ginger to my veggie scrap mix.
Roast or sauté the scraps: Though this extra step takes more prep time, roasting or sautéing veggie scraps before adding them to your broth mix will give your stock a rich, caramelized flavor. To roast your veggies, bake them in the oven at low heat (300 degrees F.) for 20-25 minutes, and toss them halfway through the cooking process. To sauté them, cook them in a pan for 5-7 minutes with a bit of olive oil.
Cook it at a gentle simmer: To avoid giving your veggie scrap stock a bitter flavor, bring your mix to a gentle simmer after it reaches a boil. Don't cook it for more than 1½ hours, and be sure to taste it before adding it to other recipes.
Store it in small portions: Store your stock in 1-2 cup portions, which makes it easy to use in future meals (including your weekly meal prep.)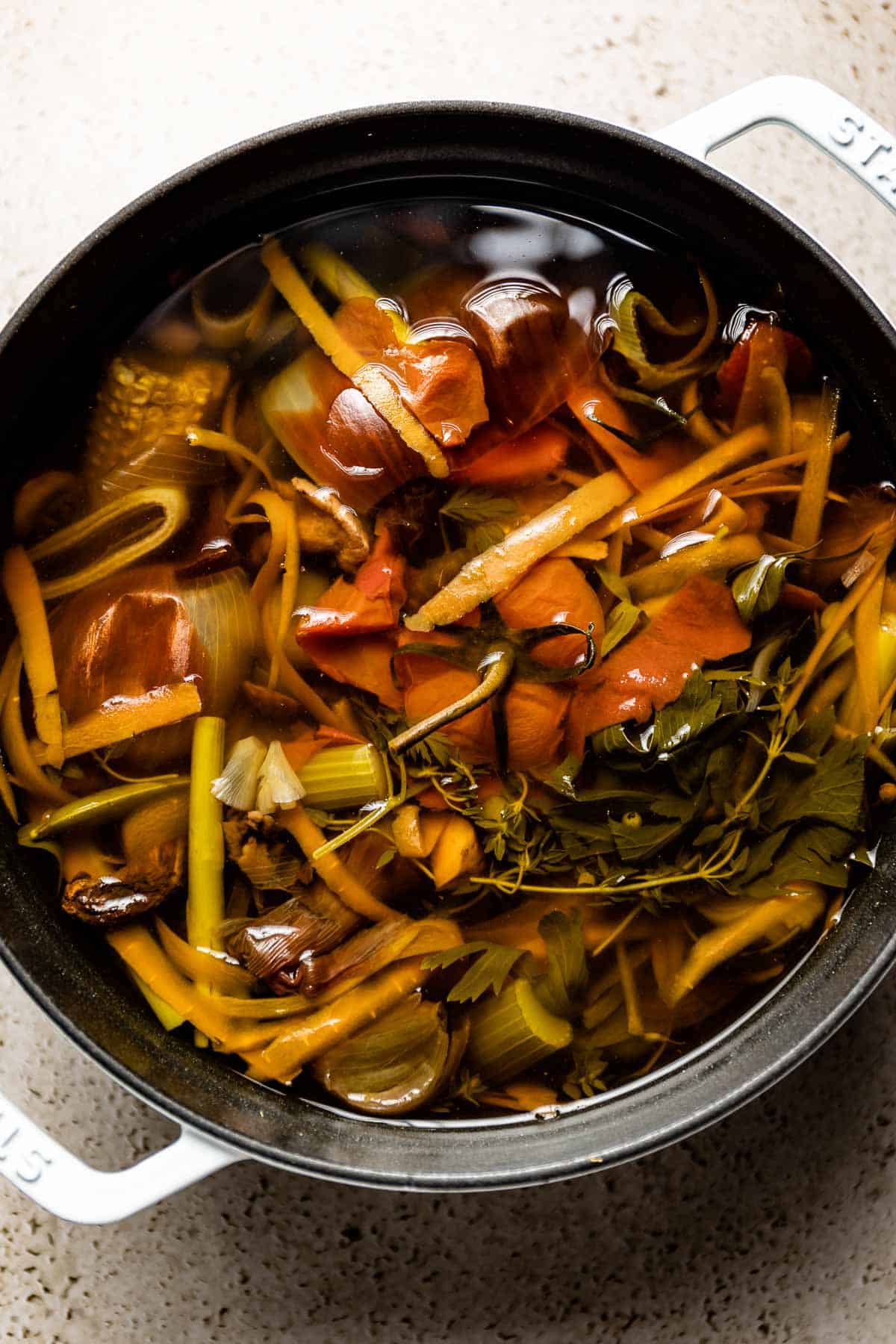 FAQs:
Have more questions about this homemade vegetable broth with scraps? This simple guide covers everything from making vegetable broth from frozen scraps to alternate cooking methods.
Can I reuse/recycle the veggie scraps after making veggie broth?
I don't recommend reusing veggie scraps after making homemade broth because you've likely already extracted all their flavor and nutrition. Instead, you can discard or put the scraps in a compost bin.
How to make vegetable stock from frozen scraps?
You don't have to thaw your vegetable pieces when you make veggie stock from frozen scraps. Simply follow the recipe as usual, considering the cook time will be longer.
How to make vegetable stock from scraps in an Instant Pot?
To make veggie scrap broth in a pressure cooker, use the same amount of ingredients written in the recipe and set your Instant Pot to high pressure for 30 minutes. Though, keep in mind that it will take about 20 minutes for your mix to reach high pressure before beginning the cooking process.
How many cups of vegetable scraps should I use for stock?
Depending on the size of your pot, I recommend using 4-6 cups of veggie scraps and 8-10 cups of water, to make a whole batch of homemade vegetable scrap broth.
If you try this recipe or any other recipe on Foolproof Living, please take a minute to rate the recipe and leave a comment below. It is a great help to others who are thinking of making the recipe. And if you took some pictures, be sure to share them on Instagram using #foolproofeats so I can share them on my stories.
Vegetable Stock from Scraps Recipe
The foolproof method for making vegetable stock from kitchen scraps. This method is not only delicious but also much cheaper than the vegetable stock you buy at the grocery store. Use it in soups, stews, casserole, sauces, and more!
Print Recipe
Ingredients
4-6

cups

of veggie scraps

ie peels, trimmings, tops, and bottoms

1

teaspoon

salt

8-10

black peppercorns

8-10

cups

of water
Optional Add ins:
2-3

cloves

of garlic

smashed

3-4

parsley stems
Instructions
Place veggie scraps, salt, and peppercorns into a stock pot or a Dutch oven. If using, add garlic and parsley stems.

Pour water over the veggie scraps.

Bring it to a boil and let it simmer for 1 to 1 ½ hours (partially cover it with the lid.)

When done, turn the heat off and let it cool for 20-30 minutes.

Place a fine mesh strainer over a large bowl and strain vegetables. Discard or compost vegetables.

Pour the veggie scrap stock into jars (or plastic containers), bring to room temperature, and store it in the fridge or freeze for later.
Notes
Ratio of kitchen scraps to water:

Depending on the size of your pot, I recommend using 4-6 cups of veggie scraps and 8-10 cups of water, to make a whole batch of homemade vegetable scrap broth.

Vegetables that are good for scraps:

Trimmings and peels of alliums (onions, leeks, shallots), carrot, celery, garlic, tomatoes, and corn cobs are a few to name.

Vegetables to avoid:

Peels and trimmings of

cruciferous vegetables (i.e. kale, cabbage, Brussels sprouts), beets, spicy peppers, and artichokes are a few to name. We also recommend avoiding any moldy or rotten vegetables or scraps.

Frozen scraps:

You can use this exact recipe with frozen scraps. There is no need to thaw. The only difference would be the time of cooking.

Storage & freezing:

You can store your stock in an airtight container (such as a Weck jar or a mason jar) in the fridge for up to 5 days. You can freeze it for up to 6 months. We recommend thawing it in the fridge overnight.

Vegetable stock using whole veggies: If you prefer making stock using whole vegetables (instead of kitchen scraps), be sure to check out our detailed post on Homemade Vegetable Broth.
Nutrition
Calories:
7
kcal
|
Carbohydrates:
2
g
|
Protein:
0.1
g
|
Fat:
0.01
g
|
Saturated Fat:
0.003
g
|
Polyunsaturated Fat:
0.003
g
|
Monounsaturated Fat:
0.003
g
|
Sodium:
773
mg
|
Potassium:
6
mg
|
Fiber:
0.1
g
|
Sugar:
1
g
|
Vitamin A:
282
IU
|
Vitamin C:
1
mg
|
Calcium:
10
mg
|
Iron:
0.05
mg
Like this recipe? Consider sharing: