It is no secret that September is my favorite month, especially since we started living in Vermont. With the foliage in full force, it is truly breathtaking in our small town right now. I have done a lot of traveling this month, but I made sure to take long walks throughout the month in every opportunity that I was able to get.
This post includes affiliate links. Each link is marked with an asterisk.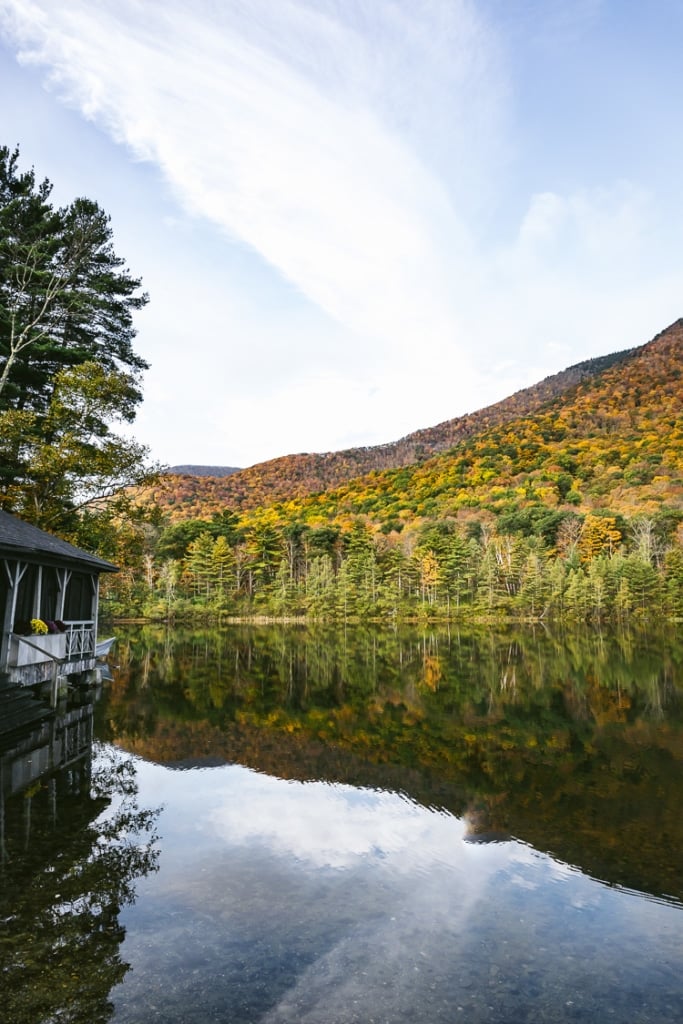 Have you ever been to Vermont during foliage season? If you have not and need a little bit convincing to make plans, check out the article I wrote last year about what to do in Vermont in the fall.
If you have been following me on social media, you probably know that I was in Turkey during the whole month of August. I am still in the process of organizing the 500+ photos that I took and plan on sharing them on the blog. I am super late as I have had a lot going on in September.
SOME HIGHLIGHTS OF THE MONTH
A Quick Getaway to NYC:
On my way back from Istanbul, Dwight and I spent a few days in New York City. One of the best things about living in Vermont is that it is so close to the city. A 3-hour road trip will get you to the best restaurant scene in the world (IMHO). Here are a few great restaurants we ate at:
Sadelle's for Brunch: Sadelle's is a great brunch spot known for its lox and bagel. Their house-cured smoked salmon was to die for. We went on a weekday, so it wasn't too terribly busy. However, if you decide to go there over the weekend, you might need to make a reservation.
Momofuku Noodle Bar: Momofuku Noodle Bar is one of my favorite restaurants in NYC. They change their menu quite often, but if you get lucky and they have the brisket on the menu, be sure to order that. I promise it will not disappoint.
Sushi Yasuda: I saw this place in a documentary a while back and have been wanting to check it out since then. It was spectacular. If you like sushi and Japanese food in general, you have to go there. They offer everything in small portions, but everything you eat is so delicious that it makes you want more. We paid a hefty bill, but every penny was worth it.
Trip to Austin, Texas:
The next day after I came back from NYC, I went to Austin for an SEO retreat. This was my first time in Austin, and I have to say I was not ready for the 90+ F. degree weather. Luckily, I didn't spend too much time outdoors because the retreat was indoors. Sadly, I was not able to try much of the foodie scene, but I am glad that it was a productive trip with a lot of learning and a long to-do list to make my website better.
Spoke at Blog Brulee in Jeffersonville, VT
I spent 3 days in Smuggler's Notch Resort in Northern Vermont for a conference called Blog Brulle. I was a speaker at the conference and talked about food photography and how to photograph food for a blog. It was my first time speaking at a conference, and I have to say I was nervous at the beginning, but as soon as I started talking, it all went away. In the end, I actually enjoyed it quite a bit.
GOOD BOOKS I READ IN SEPTEMBER:
I was able to read 3 books this month. Thanks to all the traveling I did, I had a lot of free time to relax and read. Here is a list of the books I read and recommend:
Talking To Strangers by Malcolm Gladwell *: I think we can all agree that Malcolm Gladwell has a unique point of view when it comes to writing about the topic he chooses. Talking to Strangers was no different than his other books, where he carefully curated his stories to present his point of view.

Each person/event in the book was explained from a different angle with his final thoughts in the end. Most of the stories were from recent history with others from earlier times. In the end, he made sure to show us the patterns of how people behave, think, and act when talking to strangers.

I saw a review on Amazon recommending to listen to the book, and I decided to read it in Audible. I am glad I did that because it was recorded in a podcast form where portions of the book were told by the actual characters (from previous recordings) in Malcolm's stories. Overall it was a great read with a lot of a-ha moments. Though if this is your first time reading Gladwell, I would recommend reading Blink * and Tipping Point * before this one.

Keep Going by Austin Kleon *: If you have never read Austin Kleon's book before, stop what you are doing. I mean, really stop and head to your favorite book store and start with Steal Like an Artist *. It is my favorite book written about creativity. Finish that one and read this.
Similar to his other books, Austin is a pro at showing you how to do something with actionable steps.

In Keep Going, he talks about how to continue to create when things get hard, and you feel like you can go on anymore. I wouldn't say I learned anything new, but it was full of reminders that I needed to hear.
How To Fail at Almost Everything and Still Win Big by Scott Adams *: Scott Adam's is the person behind the cartoon character Dilbert. Though that is not just who he is. He also is a serial entrepreneur who failed many times in his personal and professional life.

His book is full of life lessons that he bases on his experiences. It is written in a humorous tone that makes you want to turn pages faster. If you need an easy read that will cheer you up and provide you with a lot of life lessons, this book is a great read.
COOKBOOKS I PURCHASED IN SEPTEMBER:
You guys probably know by now that I am a cookbook lover and can't stop buying them. This month was no different. I bought a bunch of cookbooks, but the below two are my current favorites:
Cannelle et Vanille: Nourishing, Gluten-Free Recipes for Every Meal and Mood *: I have been waiting for this book for some time now. Even though I do not have celiac disease or follow a gluten-free diet, I have always admired Aran Goyoaga's Instagram account and followed her throughout her cookbook writing journey. I even tested a few of her recipes.

So you would probably understand the shock I felt when I saw my name on the Acknowledgements page. She thanked everyone who helped her with thanking her recipes. What a pleasant surprise this was. My name on one of my favorite photographers/stylists' books…

If you are someone who wants to learn from the extensive knowledge of a home cook (who is also a professional Pastry chef) and try new recipes, this book is a great one to cook from. In addition to creative yet doable recipes, her photos are breathtaking, making this book my current favorite coffee table book.

Whole Food Cooking Every Day *: This is Amy Chaplin's second cookbook. She, too, is a chef who has extensive knowledge of cooking and baking. This cookbook is like nothing I have ever seen before. It is divided into several sections, where she gives you a basic recipe and then creates variations of it with helpful tips. In the end, you not only get to master a simple recipe but also make it with different flavor profiles.

Even though technically there are a handful of "basic" recipes in the book, the way she recreates them with different ingredients and flavors is admirable. There are a few ingredients that I have never heard before, but I have already ordered them as I want to learn as much as I can from a pro like Amy.
TV SHOWS AND MOVIES:
My husband and I try not to watch a lot of shows as we do not want to get addicted to one and find ourselves glued to the TV. This happened so many times in the past that we decided not to put ourselves in that situation again. However, we love watching movies and documentaries.
Here are a few we watched this month:
Inside Bill's Brain – Decoding Bill's Brain on Netflix: I didn't need a documentary to know that Bill Gates is a genius, but watching this show gave some insight into who he is, how he built his company, and what he stands for.
Watching the three-series show, I realized even the richest of the rich lives a similar life with personal and professional goals with all kinds of ups and downs. It is hard not to admire his talents and money, and more importantly, how he uses them to solve the incredibly important (oftentimes heartbreaking) problems of the world.
Long Shot: If I am being honest, I expected more from such huge Hollywood names like Charlize Theron and Seth Rogen. While we had a few moments where we laughed out loud, I wouldn't put this movie in my top 10 films in the comedy category.
A FEW OTHER LINKS:
I am no beauty blogger, but I am currently obsessed with the combination of wearing this * and this * for a "no makeup" makeup look. If you are like me, go for a clean every day look without being over the top, you should check it out.
I recently met the gal behind this blog in person (in the Austin SEO retreat) and fell in love with her personality. Her blog has a ton of great Asian recipes.
In September, I made a few of my recipes on Instagram stories. They are all easy and healthy recipes like Roasted Whole Carrots (with the volume turned up), Apple Walnut Cake, and Chicken and Wild Rice Soup.
Can't hear? Be sure to adjust the volume on your mobile device.
Love this round up of healthy recipe for October from my friend Alexandra.
And finally, my husband and I celebrated our 8th wedding anniversary this month. I am beyond grateful to have such a sweet, kind, and honest partner in my life. I feel so lucky to have him as my forever partner and recipe tester.
Until next month friends…

Like this recipe? Consider sharing: