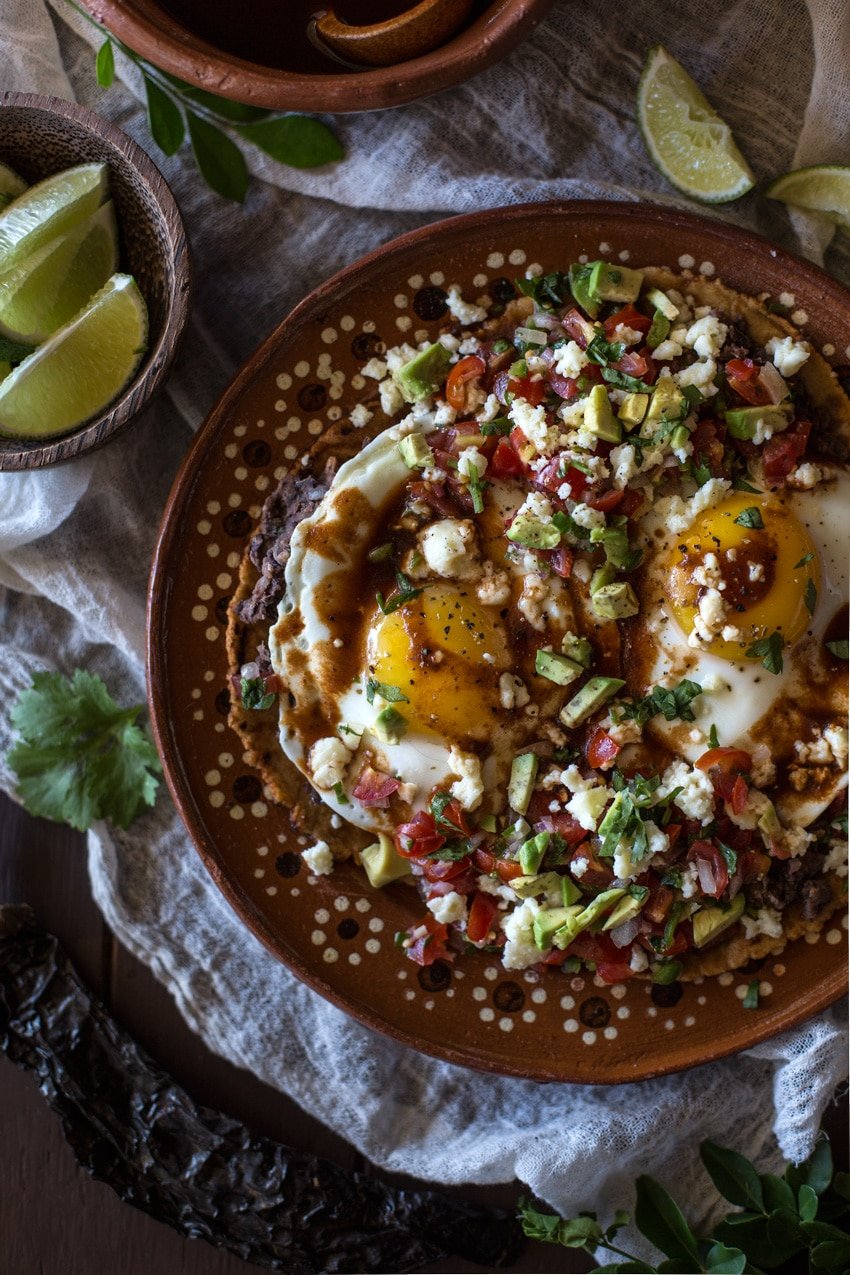 It is no secret that our trip to San Miguel de Allende was one that we will never forget. And it is not just because we fell in love with this historical city, but also because we got a chance to eat some of the best Mexican food that we have ever had in our lives.
Prior to my trip, I had one thing in mind, and that was finding the best huevos rancheros recipe and recreate it at home.
See, the thing is there is no such thing as a "recipe" for huevos rancheros – the Mexican ranch style eggs. Or maybe I should say, if there was a recipe for it, it would be nothing more than corn tortillas topped with refried beans, eggs, and salsa.
It is that simple, right?
Well… The answer, I found out after ordering huevos rancheros every morning while in San Miguel, is yes and no.
Yes, because the anatomy of a traditional huevos rancheros dish is super simple. It is made with every day ingredients that are available and inexpensive throughout Mexico. However, after our trip I learned that there are a lot of ways to make it flavorful, complex, and therefore, delicious.
Like I mentioned earlier, I had huevos rancheros every morning for breakfast during our San Miguel trip. We literally went to a different restaurant to try their version of this simple dish. And mostly, they were all fantastic, but a small B&B spot in the heart of downtown San Miguel called Posada Corazon took it to another level. What made it so special was the chili sauce that they drizzled over the eggs. I knew after the very first bite that this is the best huevos rancheros I have had in my life.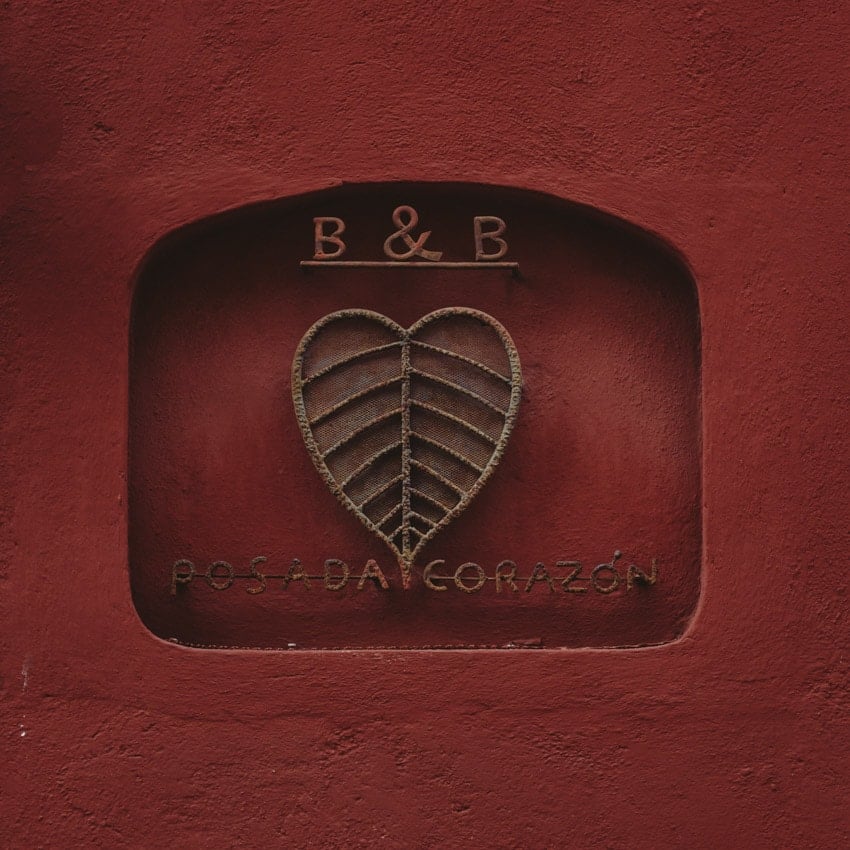 Posada Corazon is one of those places where most people dream about owning after they retire. A small, 6-room bed and breakfast hotel that serves homemade dishes to their guests. To get in, we had to ring a bell, walk down a path to a beautiful house. When we got in, an older Mexican lady, who later we found out is also the cook, welcomed us. She seated us at a table in a living room with a large library and a seating area. It almost felt like we were at a friend's house and she was cooking for us.
After I ate her version of huevos rancheros and loved it so much, I asked her for the recipe of the chili sauce. Unfortunately, due to my lack of Spanish speaking skills, I couldn't understand what she was saying. Luckily, the concierge at our hotel made a phone call to the restaurant to get the recipe.
Come to find out, the sauce is nothing more than dried pasilla chilies boiled in water with some chopped onions, garlic, tomatoes with salt and pepper.
When we came back to the island, I started working on my version of the best huevos rancheros using all the techniques that I learned from the restaurants of San Miguel de Allende. And after several tries, I feel like I nailed it. Here I have to say, I am very much aware that this is by no means a quick dish, but I promise you that if you do a little planing in advance, you will have the best huevos rancheros of your life.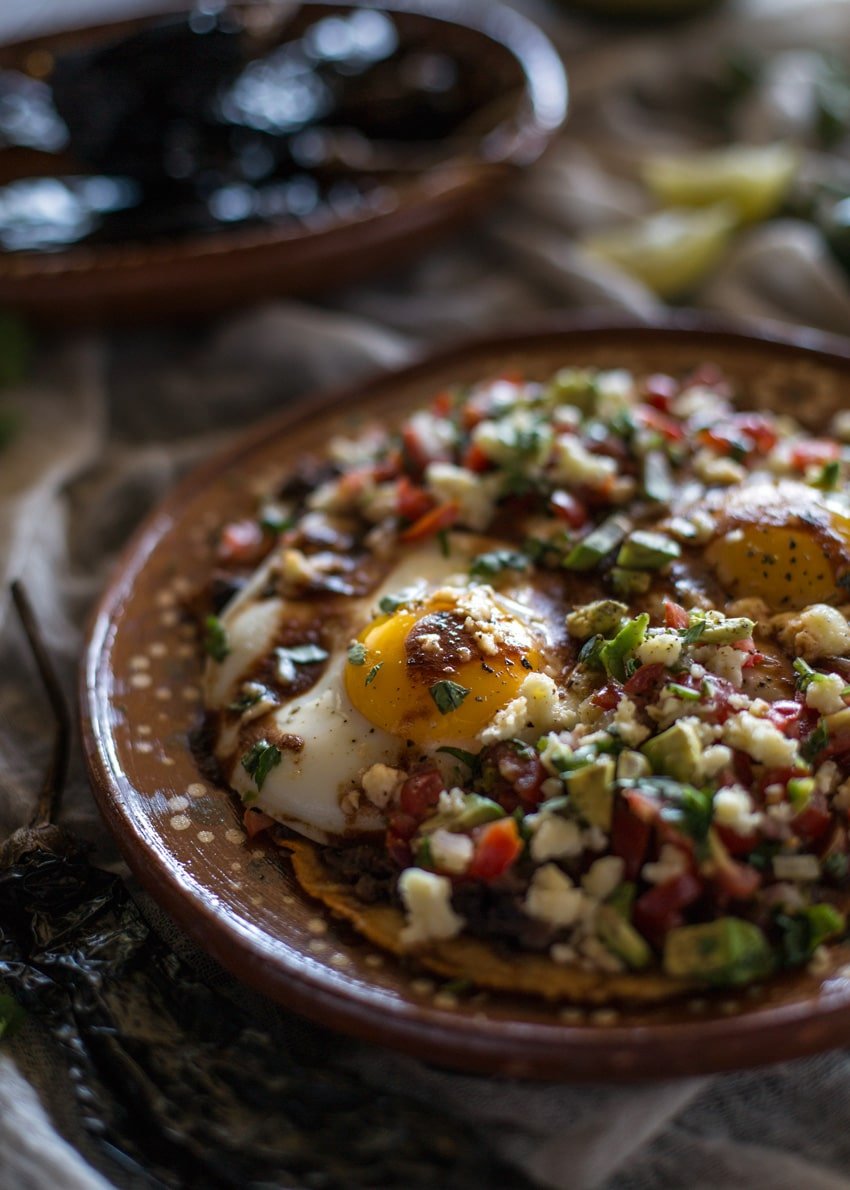 So, here are the steps to make the best huevos rancheros ever:
* One day in advance:
Make the refried beans and salsa: Getting the two condiments ready in advance that gives it the "ranch" character helps a lot. Especially when it comes to the salsa, because the time in the fridge allows all the flavors to marinate ensuring a delicious end product.
Make your own corn tortillas: I used to think that making corn tortillas is hard, but after a couple of tries, I don't think I will ever go back to buying them from the supermarket. And for this particular recipe, they are an important component for an authentic huevos rancheros dish. To save time, I would recommend making them a day in advance. This blog post explains how to make them at home, in detail.
Make the sauce: Making the sauce is super easy. All you have to do is to boil 6 cups of water with 4 dried pasilla chiles, 4 tomatoes, 1/2 cup of chopped onions, and 2 cloves of  garlic with salt and pepper to taste. Once it is boiled, process it in a food processor, and the run it through a medium-mesh strainer. To finish it up, pour it back to the pot, let it come to a boil, turn the heat down to low, and let it simmer for 15 minutes.
You can store the sauce in a large mason jar and cover it tightly with a lid. This keeps it fresh for at least a week. When you are ready to serve, just warm it up in a small pot.
You can find dried pasilla negro chiles in authentic Mexican grocery stores and online.
* To assemble:
1. Cook two eggs to your liking. I like mine over-easy and think that the juices of eggs blended in the sauce, salsa, and pasilla chili sauce tastes incredible. However, if that is not what you like, feel free to cook them based on your preference.
2.  In the mean time, dip 2 corn tortillas in the warm pasilla sauce for 5 seconds. Using thongs, fish them out of the pot and place on a large plate, making sure they cover the whole plate.
3. Generously spread 3-4 tablespoons of refried beans over the tortillas.
4. Place the eggs on tortillas. Drizzle 3 (or more) tablespoons of the pasilla chile sauce over the eggs.
5. Top them off with 3 tablespoons of salsa, avocado, and some crumbled Mexican cheese – queso fresco.
6. To finish it up, sprinkle it with some freshly cut cilantro, salt and black pepper, and serve it with wedges of fresh lime.