The second leg of our vacation (after Santa Fe, New Mexico) of this past September, was San Miguel de Allende in Mexico. We enjoyed and liked Santa Fe a lot. However, we fell in love with San Miguel. It was a place full of color, music, beautiful and happy people, delicious food, and so much to see. I think it is safe to say, I came back to the island, but a part of me remained in San Miguel de Allende.
Here are some notes and pictures about our 5-day San Miguel de Allende trip:
How to Get to San Miguel de Allende:
To get to San Miguel, first we flew to Guanajuato International Airport in Leon from Dallas Forth-Worth Airport. The trip took about two and a half hours. From there, we got picked up by a transportation company arranged by our hotel. The drive from Leon to San Miguel took about an hour and a half. Though we didn't choose to take a shuttle, we were told that it is available.
Where to Stay:
We stayed in Rosewood San Miguel de Allende. Fairly a brand new hotel (opened in 2011), Rosewood San Miguel is one of the most beautiful hotels I have ever stayed in in my life. It is located within walking distance to most of the attractions that San Miguel offers.
The minute we entered the building we felt as though we were in a special place. The decor and feel of the hotel was the Colonial-Style. To me, it was a continuation of the historic town. The walls were covered with some of the most beautiful paintings I have ever seen. As we walked around the property, we couldn't help but realize that they spared no expense while they were building and decorating this hotel.
The service was equally amazing. The staff was well trained, genuinely caring, and courteous. There was a wonderful concierge team that was equipped with brochures, maps, and information about the city.
They sent us an e-mail prior to our trip asking if we wanted them to make arrangements for some sightseeing and activities. Abigail- the Chef Concierge had some brochures and maps waiting for us in the room when we arrived. I did some research prior to going there, but the concierge desk staff was my source of information for making sure that we had seen everything we needed to see.
Our room was large and luxurious with a large closet, a separate living room, an outside terrace, and an area with a desk. It was beautifully decorated, comfortable, clean, and elegant.
The hotel offers 3 restaurants, two of which I'll be talking about later in this blog post. There also is an amazing full-service spa that I cannot recommend enough.
Here, I should add that even though I highly recommend staying in Rosewood San Miguel, there were many other hotels in this historical town. As we walked around, we saw many small and cute bed and breakfast-type hotels where you can stay.
El Tianguis on Artesanal – Saturday Local Farmer's Market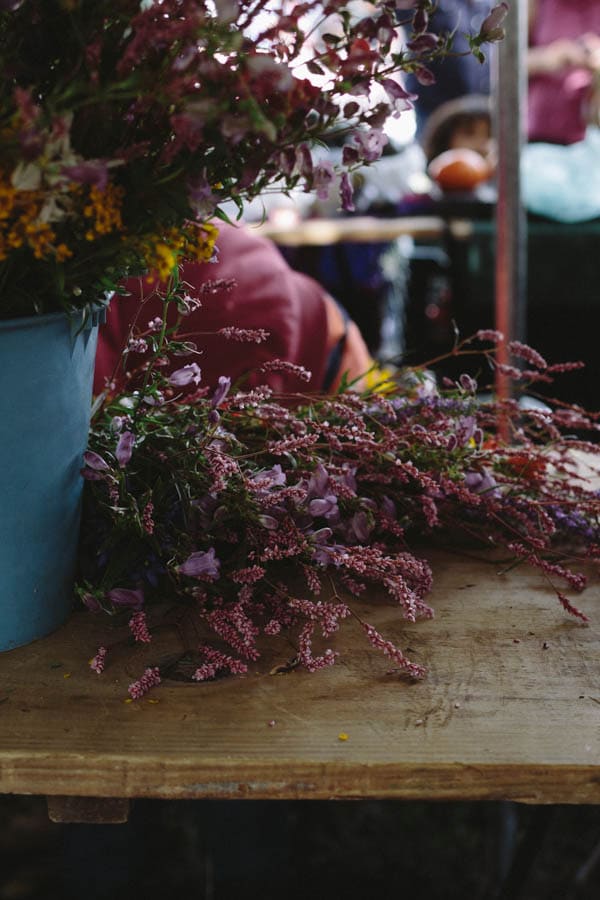 El Tianguis on Artesanal is their version of a local farmers market. We were told that it is only open on Saturdays. After spending a couple of hours and eating more food than we should have, we agreed that this is the place to visit to see what the local farmers, soap makers, home cooks & bakers, and musicians are up to.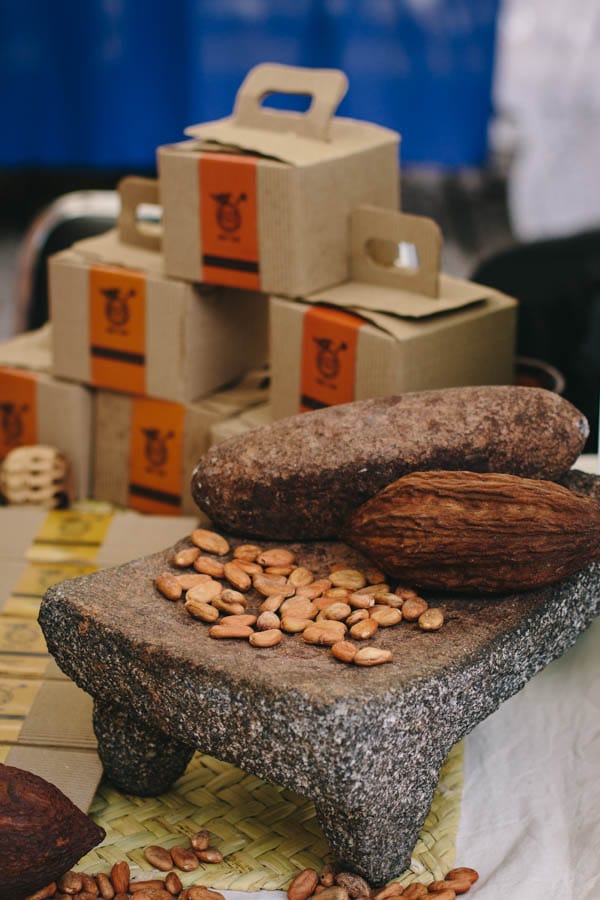 Though most of the vendors didn't speak English, as we walked around we heard a lot of English-speaking people. As I was taking pictures, a very sweet lady behind the quiche counter offered us a slice of tart tatin. Although I am not a big fan of the famous French tart, I accepted it, and after the first bite, I couldn't believe how delicious this one was. When she realized that we loved it, she allowed us to taste every one of her quiches and tarts.
Later, we learned that she was originally from Paris, but left her country many years ago, and moved to Costa Rica. After many years of living there, 5 years ago, she moved to San Miguel de Allende and she loved living there.
Most of the vendors did not speak English well, but they were eager to understand and help as much as they could. I saw some fresh produce that I had never seen before, and with my broken (almost non-existent) Spanish and their same-level English, we were able to communicate.
Parroquia de San Miguel Arcangel – Parish Church of San Miguel
Parish Church of San Miguel is somewhat of an emblem of the town. It is located in front of a large garden/park called Jardin Principal – Main Garden.
The church is 15-minutes walking distance from the hotel. Since we were there on a Saturday, we got a chance to see several wedding parties and traditional ceremonies being performed in and outside the church.
Later, the concierge at the hotel told us that September and October are the most popular months to get married in San Miguel. People from all over Mexico love to celebrate their wedding day here, because of this beautiful church.
Those big puppets you see behind the bride and groom are called Mojigangas. We saw several of them walking (and dancing) around the main garden celebrating the day with locals and tourists.
In addition to the main church, there are several other historical buildings/churches in the area. It started raining later in the day, but we kept walking around.
After walking for more than 4 hours, right when I was thinking about a cup of coffee, we saw this Starbucks and went in for a cup of coffee.
Walking around the town – Beautiful Streets:
We spent quite a bit of time walking around the city in between the small cobble-stone streets while admiring the old and colorful buildings. There is really not much that I can say about how beautiful they were. I will leave it to the pictures to tell it all.
Tour Bicentenario all Terrain – The ATV Tour
The ATV tour was an incredible experience. With the help of a tour guide, we drove around the town for a little more than 3 hours.
While cruising through the countryside roads, we saw many different ruins and historic monuments as well as a 360-degree view of the city and its suburbs.
Houses and Doors:
San Miguel de Allende is home to some of the most beautiful houses I have ever seen in my life, most of which have an entry covered with seasonal flowers and beautiful doors.
Mercado de Artisanias – Artisan Market

Artisan Market is the spot, where you go to do some shopping. As you walk in the covered alleys, you can find antique art, jewelry, local pottery, and many more local souvenir items. The very end section of the market is where you can purchase fresh produce and food from booths attended by locals.
Places to Eat:
Luna Rooftop Tapas Bar is located in Rosewood San Miguel. The terrace has a 360 degree view of the town. We literally went there every single night of our stay in San Miguel.
Their tapas and margaritas are the best compliment to the view. I would recommend going there before it gets dark to see both the daytime and nighttime view, both of which are equally breathtaking.
1826 Restaurant is located in our hotel as well. They serve traditional and contemporary Mexican food. Everything we ordered was delicious. There is also a tequila bar that serves sushi right across the restaurant. I had no intentions of eating sushi in Mexico, but we heard that their sushi is top notch.
Sunday Brunch at 1826:
Rosewood San Miguel has an extensive brunch buffet on Sundays. On that day, it was served right outside the restaurant, in between the fruit trees. The selection of food and the presentation was a celebration of the culture of the city.
On that Sunday morning, I ate way too many freshly made corn tortilla quesadillas made with cheeses from a local dairy farmer. They tasted so yummy smothered in the delicious Mexican sauces that they served on the buffet.
Posada Corazon is a small 6 room-hotel known for its delicious breakfast. A 10-minute walk from our hotel, it was more like visiting a friend's house, where we had to ring the bell for him to let us in. To get to the small building, we walked through a beautiful garden and found ourselves in a small restaurant with 4 tables scattered inside a large living room with walls covered with books.
La Posada Corazon
I ordered the huevos rancheros on the menu and thought that the chile sauce that they drizzled over the eggs was delicious. I loved it so much so that I asked the hotel's concierge to give a call to the lovely Mexican chef of the restaurant and ask for the recipe. I was so happy when she generously shared her recipe.
Later, the sweet lady at the concierge desk took me to the market to get the exact kind of dried chiles she used to make her sauce so that I could make it at home for ourselves.
Pueblo de Viejo:
Pueblo Viejo is a restaurant that serves traditional Mexican food. In addition to a full bar, they also have a terrace overlooking to the main garden. I ate the best tortilla soup I have ever had in my life in Pueblo Viejo.
Moxi:
Located in a boutique hotel called Matilda, Moxi was one of the two places everyone raved about. We were told that it is considered as one of the best restaurants in San Miguel. We went there for dinner and thought that it was a very good experience. Their menu was a celebration of local ingredients and tastes with a contemporary twist to it.
The Restaurant:
This was the second restaurant we heard from everyone in the city. Their menu was made up of dishes made with local ingredients. They call they type of food they serve, "Global Comfort Food".
Everything we ate was delicious and beautifully presented. We had dinner there, but we were told that the Thai carnitas salad on their lunch menu is incredible.
La Ventana de Chiapas:
A cute small coffee shop walking distance from the main garden. I loved their organic coffees from Chiapas. If you are a coffee person, you should stop by.
Dwight and I usually do not prefer to go to the same place twice, but San Miguel is a place where we will definitely make a return trip. Like I said at the very beginning, I may be back on the island, but a part of my heart is still in San Miguel de Allende. If you haven't made plans for your next travel spot, I would highly recommend looking into San Miguel for a fun, relaxing, and delicious vacation.
Disclaimer: I was not compensated in any shape or form by any of the places mentioned above to write this blog post. All photographs and comments are my own.
Like this recipe? Consider sharing: