This post is sponsored by Maille, but as always all opinions are my own.
Summer has finally made its way to Vermont. It is hard to believe, but in the course of just a few weeks nature woke up from its winter hibernation. Needless to say, after such a brutal winter, this awakening is such a nice change. Naturally, we find ourselves gravitating towards outdoors and outdoor activities. Our usual "dinners by the fireplace" is now "dinners by the grill out on the deck."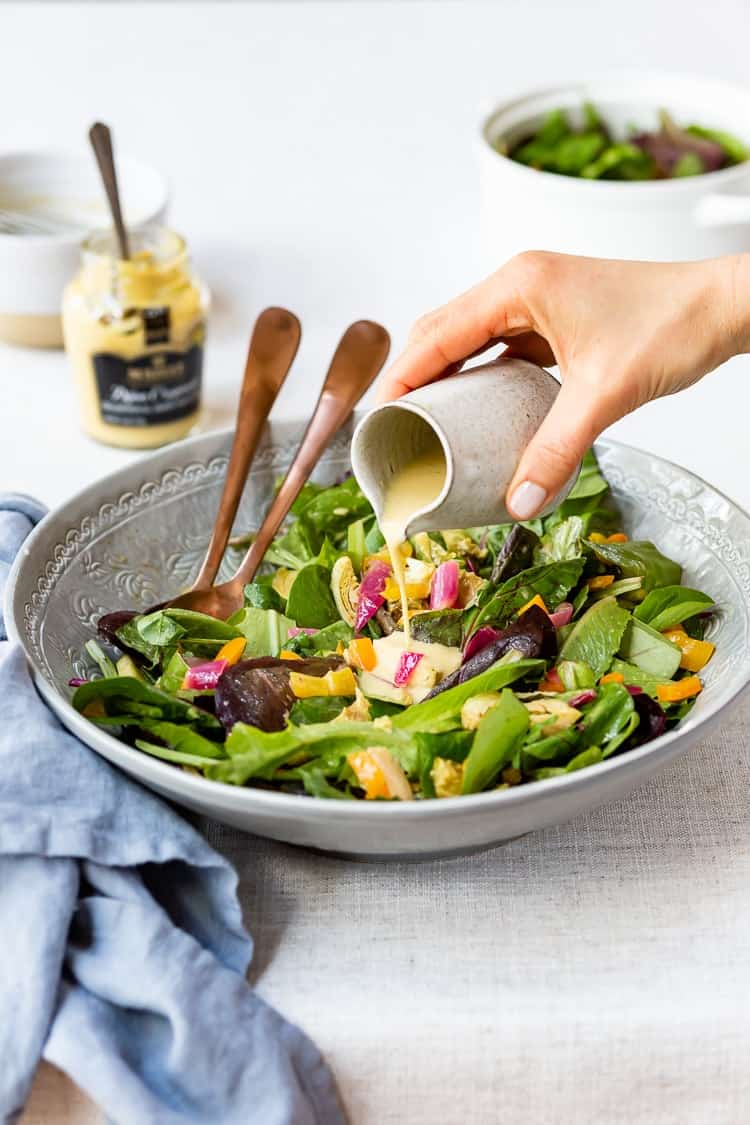 Today's recipe, Lemon Dijon Vinaigrette, is inspired by our early evening grilling sessions. It is a stupid-easy to make salad dressing/marinade that can be prepared in less than 3 minutes and with just a few ingredients. Made with Maille's Dijon Originale Mustard, I can confidently say that it is the creamiest and the most delicious dijon mustard salad dressing you can make.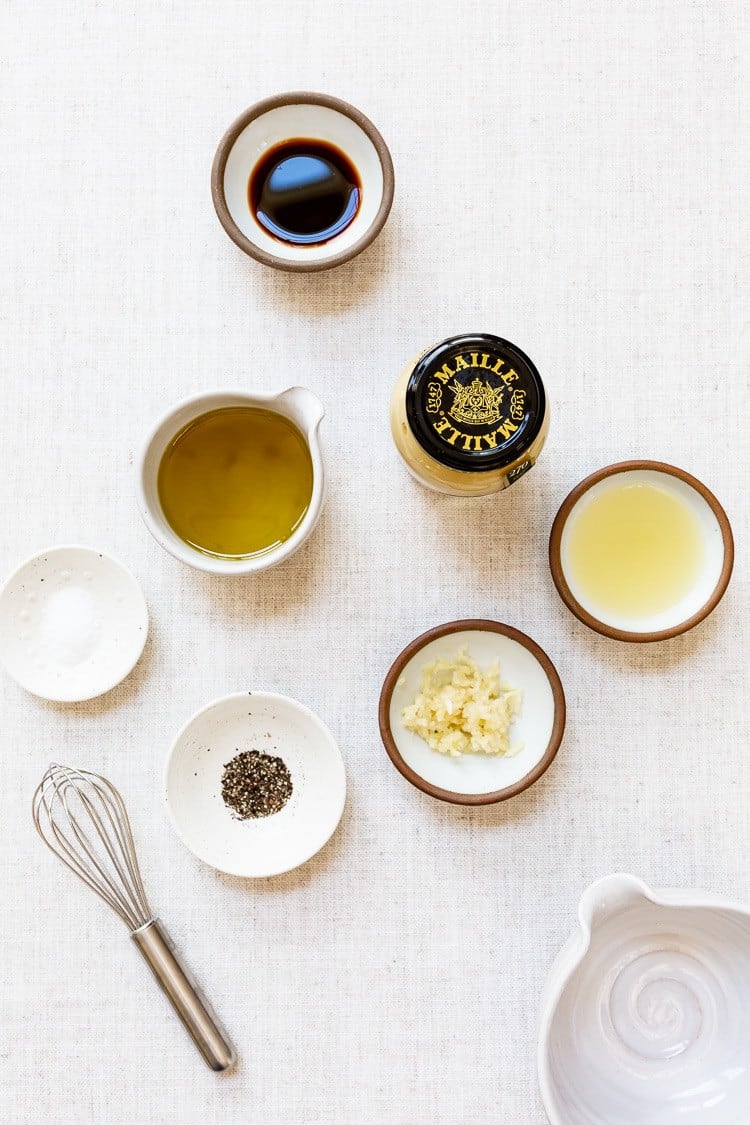 How to Make Lemon Dijon Vinaigrette
I don't know about you, but I am a big fan of making salad dressing at home. I agree that buying it at a supermarket can be convenient and time- saving, but I personally think that the few minutes spent on making my own dressing is so worth it. Plus, when you make your own you know what goes in there. In my case, I always use wholesome ingredients and find comfort in knowing that I am feeding my family with food made without the use of preservatives or difficult-to-pronounce chemicals.
This lemon dijon vinaigrette is no different. It is made with freshly squeezed lemon juice, garlic, balsamic vinegar, olive oil, dijon mustard, and salt and pepper.
The process is also super simple: Place everything in a bowl and whisk until fully combined. You can also place it in a jar and shake it or whisk it in a blender.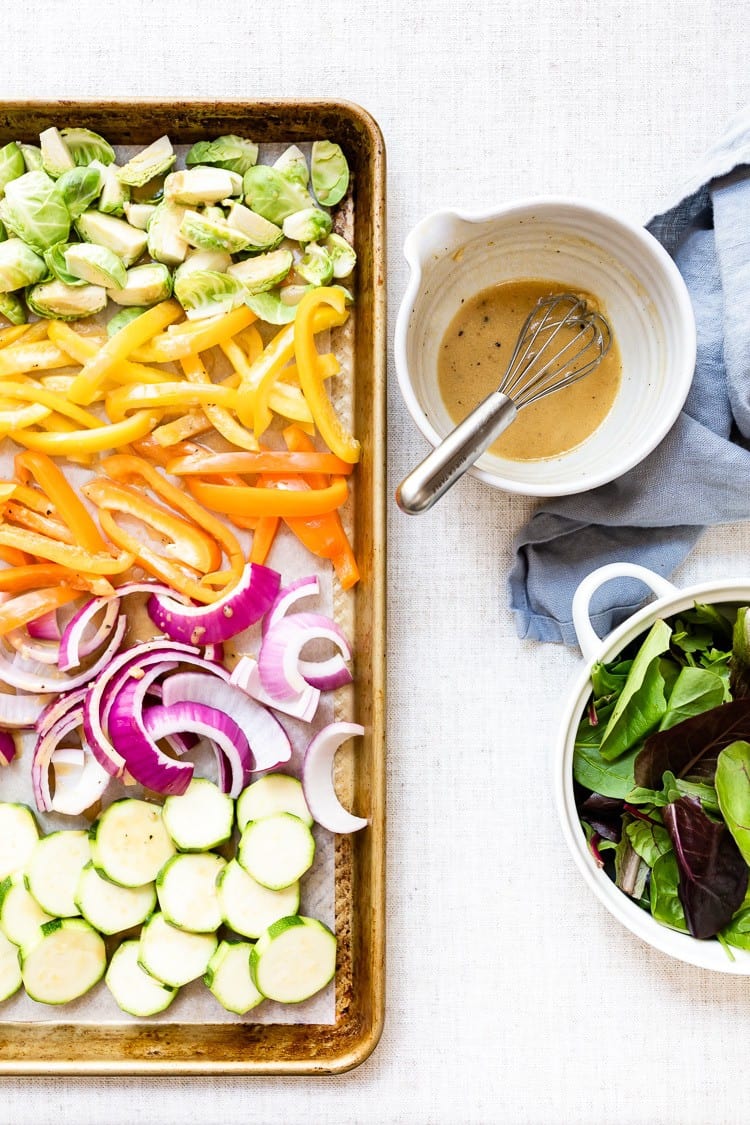 A Few Tips on Making the Best Dijon Mustard Salad Dressing
Use Good Quality Ingredients: As in all recipes made with just a few ingredients, the key to the most delicious lemon vinaigrette dressing is using the best quality ingredients you can get your hands on. And this doesn't mean that they have to be expensive.
Simple things like using freshly squeezed lemon juice versus bottled lemon juice can make a huge difference in the end product.
Similarly, I recommend using a mustard brand that you enjoy. I am a big fan of Maille mustards and have been a consumer for years. Even though in this recipe I kept things simple with their traditional dijon mustard, I also love experimenting with their flavored and grainy mustards depending on what I am cooking.
With so many options to choose from, you can easily elevate an otherwise ordinary dish with a tablespoon of Maille added into the sauce or dressing.
Whisk it by Hand or in a Blender: As I was creating this recipe I wanted to make sure that it is a quick and easy one so I whisked all the ingredients in a small bowl. However, if you want to make it in larger amounts, you can also prepare it in a blender.
As long as it is kept in an airtight container (like Mason jars) in the fridge, this dressing will keep fresh upto 2 weeks. Be sure to give it a good shake before using.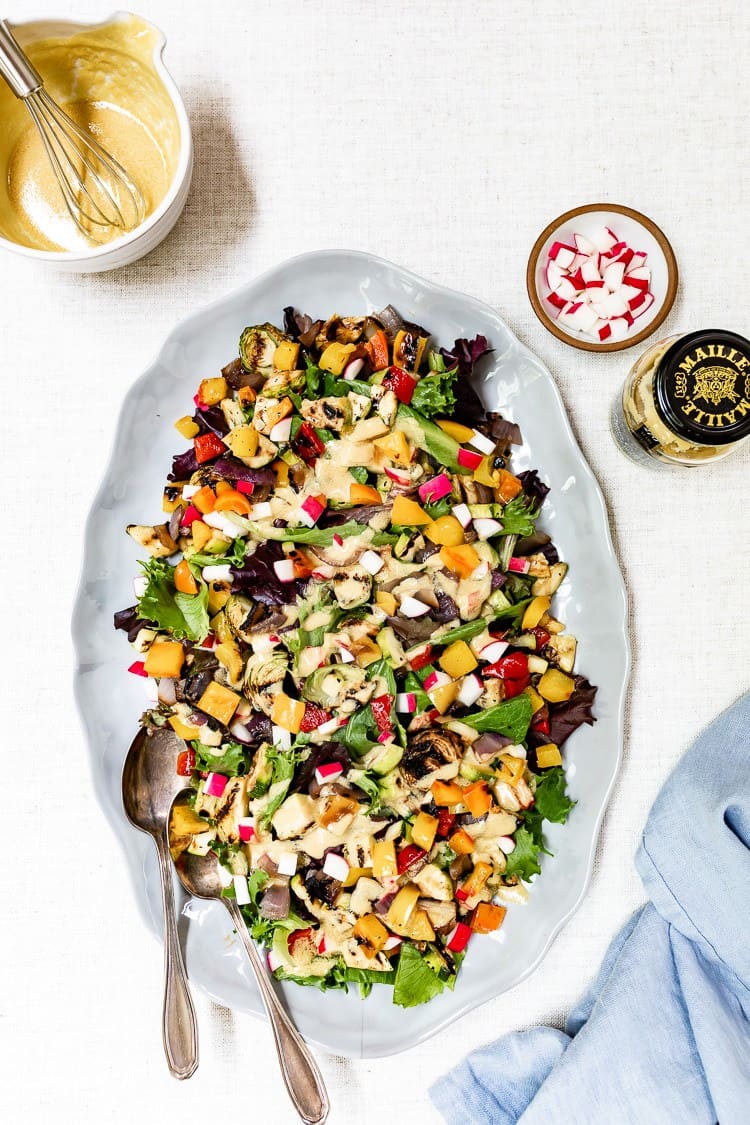 Uses of this Lemon Dijon Vinaigrette Recipe
As you can see in the pictures, I used this lemon dijon dressing to first flavor vegetables for grilling and then as dressing after I mixed them with salad greens. It ended up being such an easy grilled vegetable salad that is perfect for warm summer evenings to serve along with grilled meat, chicken, or seafood.
In terms of veggies, I picked Brussels sprouts, bell peppers, red onion, and zucchini. However, you can use whatever you have on hand.
Additionally, during the winter months, you can use this vinaigrette to roast vegetables (or meat) in the oven.
Alternatively, you can use this lemon dijon dressing to marinate chicken. For best results, I recommend mixing chicken and the vinaigrette in an airtight container and letting it sit for at least 4 hours or even overnight in the fridge.
Other healthy salad dressing recipes you might like
Lemon Dijon Vinaigrette Recipe
Yields:
4
servings (1 cup)
This creamy lemon dijon vinaigrette is an easy-to-make salad dressing and marinade recipe that is guaranteed to elevate any dish that it is added in. Made with wholesome ingredients like garlic, lemon juice, Dijon mustard, and balsamic vinegar, it is a simple and effortless way to brighten any dish. Plus, it is whole30 friendly, ready in 3 minutes, and keeps fresh up-to 2 weeks in the fridge.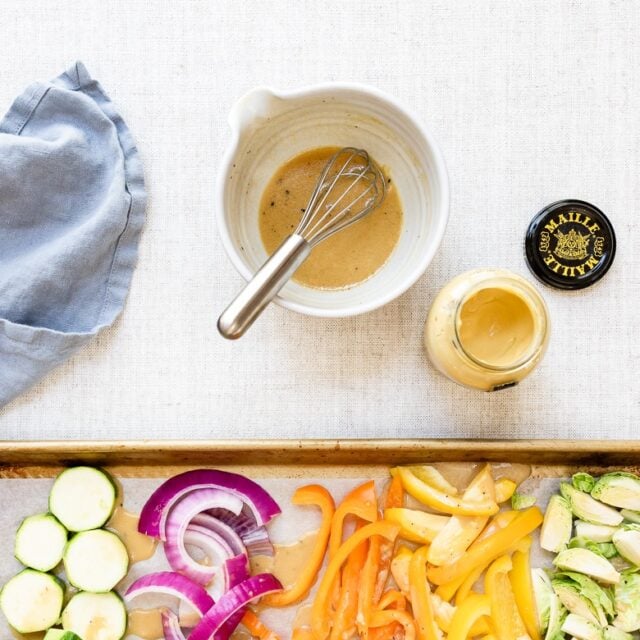 Print Recipe
Ingredients
¼

cup

extra virgin olive oil

2

tablespoons

Maille Dijon Originale Mustard

4

tablespoons

lemon juice

1

tablespoon

balsamic vinegar

2

cloves

of garlic

½

teaspoon

kosher salt

¼

teaspoon

black pepper
Instructions
Place all ingredients in a small bowl and whisk until thoroughly combined.
Video
Notes
This dressing can be made ahead. As long as it is kept in a jar with a tight lid in the fridge, it will keep fresh up to two weeks. If you decide to make it in advance, give the jar a good shake before using it.
Nutrition
Calories:
134
kcal
|
Carbohydrates:
3
g
|
Protein:
1
g
|
Fat:
14
g
|
Saturated Fat:
2
g
|
Sodium:
377
mg
|
Potassium:
26
mg
|
Fiber:
1
g
|
Sugar:
1
g
|
Vitamin C:
6
mg
|
Calcium:
7
mg
|
Iron:
1
mg
Like this recipe? Consider sharing: