I have never baked a gluten-free bread before. Neither my husband nor I do have celiac disease. And truth be told, I don't know much about baking gluten free. But when Amy Chaplin, who is one of my favorite vegan/vegetarian chefs, posted this recipe on her blog I was intrigued.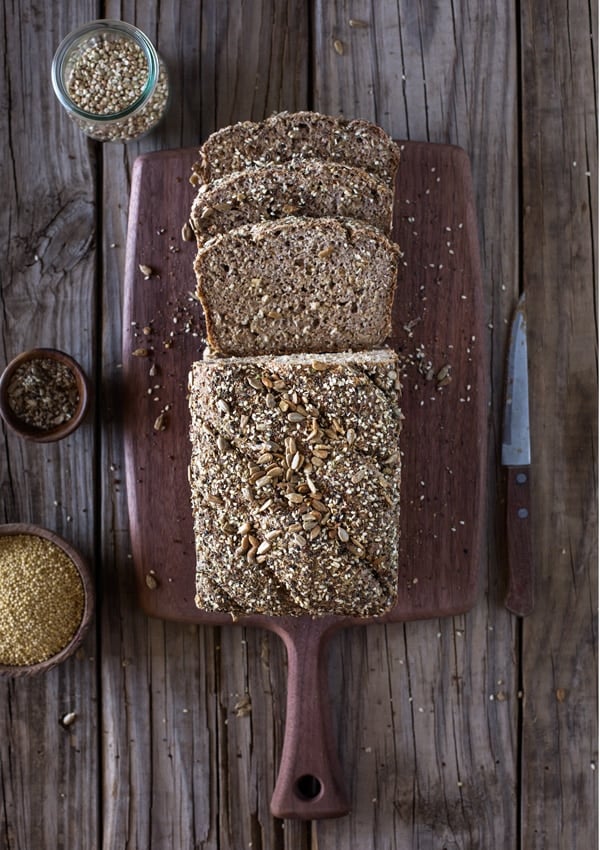 To be honest, I wanted to read more about it not because it was gluten-free, but because it was made with using millet and buckwheat (both of which are super healthy grains) instead of all-purpose flour. Even though there are many similar bread recipes out there on the Internet, I usually have a hard time figuring out where to start when it comes to baking bread using ancient grains.
But when she posted this recipe, I knew that it would be a good one to start with. Luckily as suspected, it didn't disappoint. This bread is so easy to make, even for someone like me, who is learning her way around the world of vegan/gluten-free baking. It also is foolproof.
To make it, in addition to millet and buckwheat Amy uses an ingredient called psyllium seed husk (or also called psyllium husk). The first time I read about psyllium husk was a year ago, when David and Luise of Green Kitchen Stories posted a recipe called Cashew Rawgurt. It was basically yogurt made with cashews instead of milk.
They used psyllium husk to give it a creamy consistency that was similar to the consistency of yogurt. But then, more and more I read about gluten-free and healthy baking ingredients, I realized that it is a much more of a common ingredient than I thought.
After some research and surfing through the Internet, I found out that psyllium husk (the photo above is what it looks like after it was mixed with water):
Is a natural source of soluble fiber that doesn't include wheat, and therefore it is gluten-free.
Has multiple health benefits, because when mixed with liquids it turns into gel, which acts like a sponge and absorbs toxins in the digestive tract. Because of this reason, people with constipation and irregularity issues are advised to incorporate it into their diets.
Is used in gluten-free baking, because due to its gel-like structure (when mixed with water/liquida), it acts like gluten giving body to baked goods. It is mostly used when baking gluten-free bread, pizza dough, rolls, pasta, etc.
Is sold in the gluten-free baking section of the supermarkets as either in capsules or in powder form. (This recipe uses the powder form. In particularly, this brand.)
With all that being said, there are many resources on the Internet cautioning people as some allergic reactions to pysllium husk have been recorded. Therefore, if this is your first time consuming it, I recommend trying in a small dose before using it to bake bread.
You could also do what I did; simply add a tablespoon of it in a smoothie (another popular way of incorporating it into your diet) to see if you react to it in a negative way. Luckily, both my husband and I were totally fine after we drank our smoothies.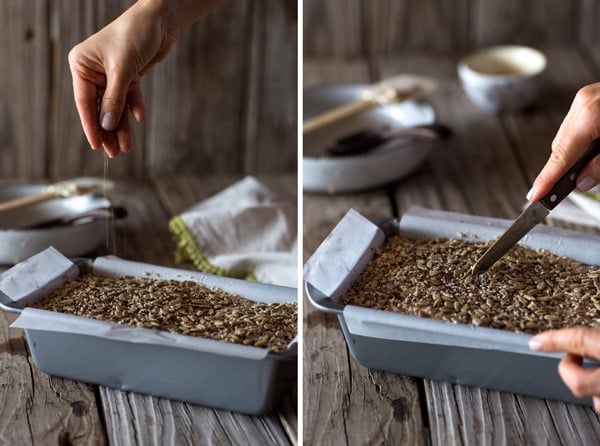 About This Millet Buckwheat Recipe
In her blog post, Amy posted a halved version of this recipe. However, she suggested that it would be fine to double it, which is what I did. To make the dough, you use a food processor. If you have a regular 9-cup food processor like mine, you may find that when all the ingredients are placed in it, it may look like it is too much. For this reason, on my first try I made two separate batches, mixed them in a bowl, and then baked them together.
But on my second try (which is the bread in the photos), I placed everything in the food processor at the same time. It was quite full, but I stopped every 8-10 seconds to scrape the bowl during the process to make sure that everything is mixing evenly. Either way, they both turned out nicely. So it is totally up to you and your preference. Also if you want, you can half the recipe for a smaller loaf.
On a final note, it is imperative to score the bread twice- once before it goes into the oven and an additional time after it has been baking for 40 minutes. Doing so lets some air into the dough for it to cook properly. Since it is better to score it in the same place, I suggest sprinkling it with the seeds prior to scoring it for the first time. That way when it is time for you to score it again you can easily see the marks.
Other Gluten-Free Recipes You Might Be Interested In
---
Millet and Buckwheat Bread
Yields:
8
slices (One 9X5 loaf of bread)
A vegan and gluten free Millet and Buckwheat Bread recipe made with buckwheat groats, millet, psyllium whole husk, rolled oats, chia seeds, and other superfood ingredients. The post and comments (from readers, who made this recipe) below includes several tips and tricks to make this healthy bread.
Print Recipe
Ingredients
1

cup

buckwheat groats

1

cup

millet

3

cups

filtered water

1/2

cup

psyllium whole husks (I used Yerba Prima brand)

1.5 oz.

1 1/2

+ 1 cups

(9 oz.) rolled oats, divided (Gluten-free type)

2

tablespoons

baking powder

2

teaspoons

sea salt

4

tablespoons

walnut

coconut or olive oil would work too oil

2

teaspoons

ground flax seeds

2

teaspoons

chia seeds

2

teaspoons

toasted sesame seeds

2

teaspoons

sunflower seeds
Instructions
Place buckwheat groats and millet in a large bowl. Pour enough water to cover at least 2 inches from the top. Allow it to soak for 10 hours or overnight.

Pre-heat the oven to 350 degrees. Line a 9X5 loaf pan with parchment paper. Set aside.

Drain the buckwheat and millet combination in a strainer. Rinse well and set aside. (Buckwheat will be slimy so it is important to wash it well.)

Place psyllium whole husks in a bowl and add the 3 cups of water. Mix and set aside. 5-10 minutes should be enough.

Place rinsed buckwheat groats, millet, and 1 1/2 cups oats in the bowl of a food processor. Process until completely combined and grains are almost completely broken down, 45-50 seconds. You may have to scrape the bowl 1 or 2 times.

Add in the soaked pysllium husks, rest of the oats, baking powder, sea salt, and oil in the bowl of a food processor. Process until everything is combined, 30-45 seconds. Make sure to stop and scrape the bowl a couple of times.

Transfer the dough into the prepared loaf pan. Spread it out using the back of a spatula.

Combine flax, chia, sesame, and sunflower seeds in a bowl.

Sprinkle half of the seeds on top of the bread. Using a sharp knife, score the top of the loaf in several places. (For a visual, see the photo above)

Sprinkle the rest of the seeds and place it in the pre-heated oven.

Bake for 40 minutes. Remove and re-cut the places you scored earlier to let some of the air in for the inside of the bread to fully bake. Return it to the oven and bake for 55-60 minutes or until a knife inserted in the middle comes out slightly sticky.

Let it cool for 15 minutes on the kitchen counter and remove it from the pan.

Before slicing it, allow it to come to the room temperature.

You can store it in an airtight container for up to 4 days at room temperature or up to a week in the fridge.
Nutrition
Calories:
276
kcal
|
Carbohydrates:
49
g
|
Protein:
7
g
|
Fat:
6
g
|
Saturated Fat:
1
g
|
Sodium:
906
mg
|
Potassium:
177
mg
|
Fiber:
16
g
|
Sugar:
1
g
|
Calcium:
246
mg
|
Iron:
2
mg
This recipe is adapted from Amy Chaplin's Gluten-Free Millet and Buckwheat recipe.
---
Like this recipe? Consider sharing: