The first time I published this recipe was back in January of 2015. It was around the time that I had discovered the addictive flavor of buckwheat and was trying to find interesting ways of using it. This recipe came about when I decided to swap oatmeal with buckwheat and see what would happen.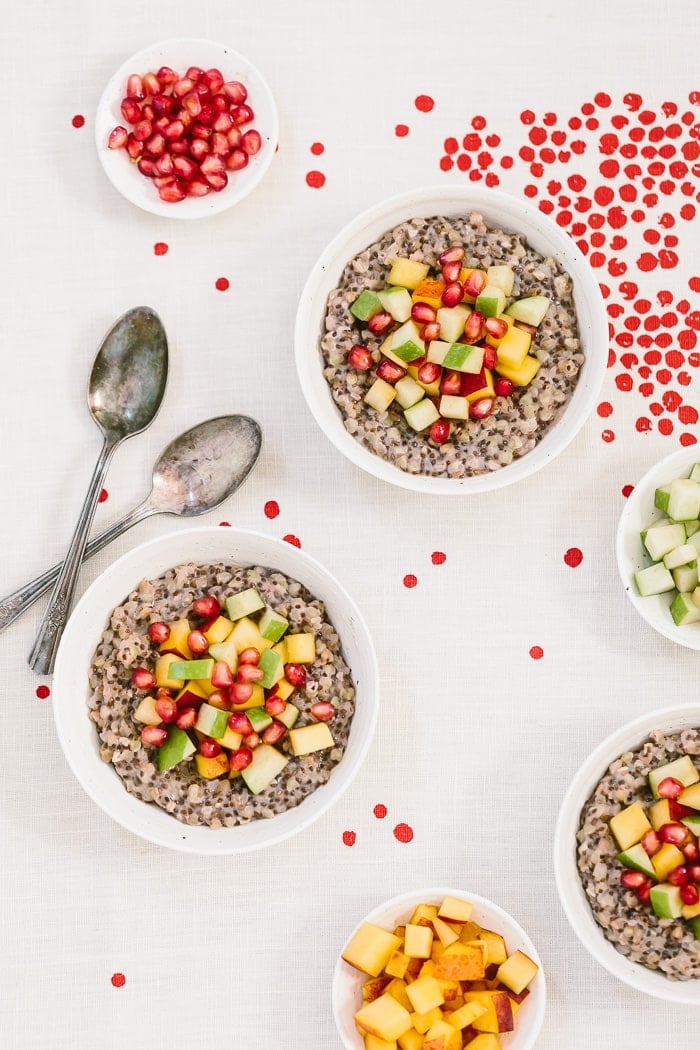 At first, similar to my oatmeal with almond milk and chia seeds recipe, I cooked it in almond milk by itself. However, it took much longer than I would like, especially because I wanted it to be cooked fast so that I can make it on a weekday morning. Then I tried letting it sit in milk overnight, and just like that, IT WORKED!
The time spent in the fridge softened the hard seed, and as a result, shortened the time of cooking. After a few tries, I decided to use coconut milk instead to change it up a little bit. And the high-fat content of coconut milk made it so creamy.
Since the first day it was published, this recipe has been a reader favorite. It has been pinned and shared more times than I could have ever imagined. So today here I am with a quick how-to video (that you can watch in the recipe card below) and a few new photos.
Can't get enough of buckwheat breakfast recipes? Try my buckwheat pancakes for an easy to make gluten-free breakfast recipe. And if you didn't know my buckwheat and millet bread makes a great gluten-free recipe you can also try.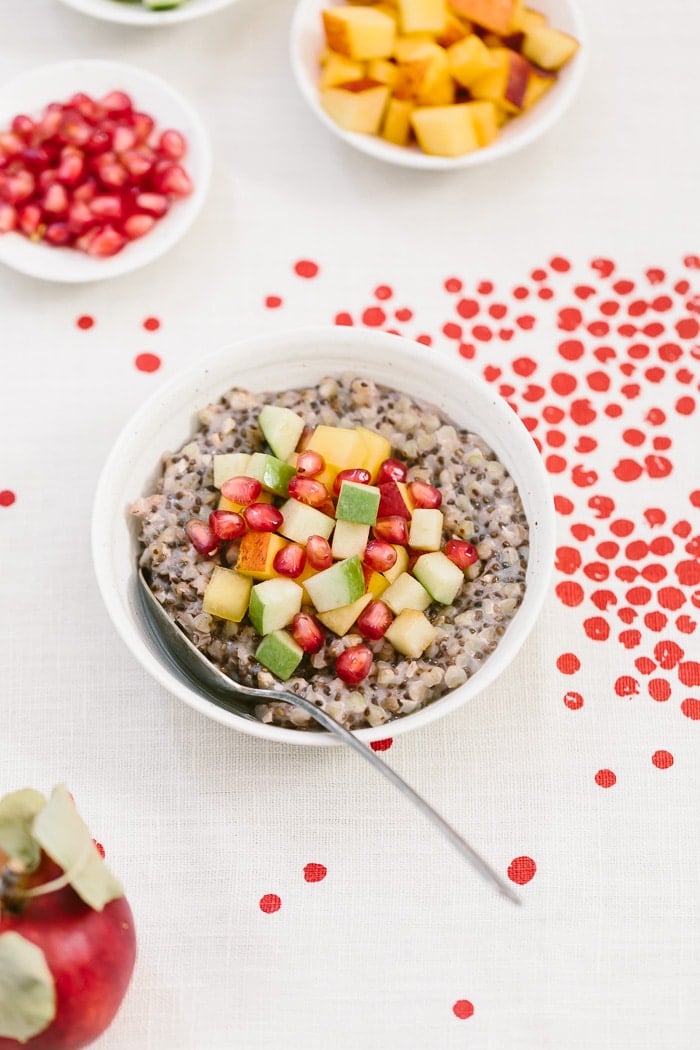 A Few Helpful tips for this overnight buckwheat porridge recipe
As I mentioned earlier, I used coconut milk in the recipe, but any other nut milk like almond milk would also work.
I did not add any sweetener to the recipe as I used fresh fruit. However, if you like to make it sweeter, feel free to drizzle it with a little bit of local honey or maple syrup.
The thickness of the porridge depends on the time you let it simmer after it starts boiling. The longer you let it simmer the thicker it will get.
You can serve this hot right after it is cooked or the next day right out of the fridge. I personally prefer the cold version, but both versions are really good. As long as it is kept in an airtight container, it keeps fresh up to 3 days in the fridge.
Similar Porridge Recipes You Might Also Like:
Overnight Coconut Buckwheat Porridge
This overnight coconut buckwheat porridge is a filling, healthy, and vegan breakfast porridge recipe made with buckwheat, coconut milk, and chia seeds and sweetened with fresh fruit.
Print Recipe
Ingredients
For the porridge:
1

cup

buckwheat groats

not kasha

1/4

cup

chia seeds

3

cups

unsweetened coconut milk

or any other nut milk like almond, rice, soy, etc.I used Silk Brand – not the canned kind

1

cup

water

2

teaspoons

vanilla extract

1/4

teaspoon

cinnamon

Pinch

of salt
For the Toppings: (all optional)
1/2

cup

walnuts

or any other unsalted nuts of your choice

1 1/2

cup

berries

pomegranate seeds, etc. (any fresh fruit you have at home)

1/2

cup

unsweetened shredded coconut

optional
Instructions
Mix buckwheat groats, chia seeds, coconut milk, water, vanilla extract, cinnamon, and salt in a bowl. Cover it with stretch film and let it sit overnight in the fridge.

In the morning, place it in a pot, and cook, stirring occasionally, for10-12 minutes or until it reaches to your desired thickness.

Garnish it with fruit, coconut, and nuts. Serve.
Video
Notes
Note: To keep it healthy, I didn't add extra sugars to this recipe. But if you like it sweeter, you can add one or two tablespoons of natural sweeteners like honey, agave nectar, or maple syrup.
Nutrition
Calories:
406
kcal
|
Carbohydrates:
47
g
|
Protein:
11
g
|
Fat:
22
g
|
Saturated Fat:
8
g
|
Sodium:
10
mg
|
Potassium:
398
mg
|
Fiber:
12
g
|
Sugar:
6
g
|
Vitamin A:
27
IU
|
Vitamin C:
1
mg
|
Calcium:
97
mg
|
Iron:
3
mg
Below is the original post that was published back in January of 2015. If you scroll down to the bottom of the post, you can read some very helpful notes from readers who made the recipe.
What is your weekday breakfast routine?
In our house, when it comes to our weekday breakfast choices, Dwight and I are quite the opposite. I usually prefer almond milk oatmeal topped with nuts and berries, whereas Dwight likes his two eggs on toast accompanied with a PB&J sandwich. I prefer coffee and he loves his green tea. Over the last couple of years, I tried to convert him to oatmeal, but regardless of the way I prepared it he always thought of it being too boring.

Even though I don't think that oatmeal can ever be boring, even I sometimes feel as though I can switch things up a little bit. About a month ago, while I was looking for an alternative, I saw a recipe made with buckwheat and decided to give it a try. Since then, I have been experimenting with it and find that it is such a great alternative to oatmeal. Here, I must admit – I had never cooked with buckwheat before and had no idea what it was going to be like. To my surprise, it wasn't much more different than making oatmeal.
That being said, the technique of preparing buckwheat is just a little different. For one thing, it takes longer to cook buckwheat than to cook oatmeal. Though it is only 20 to 25 minutes, I didn't want to wait that long for it to cook it on a weekday morning. Instead, I opted for letting it sit in coconut milk overnight. The time spent in the fridge gave it a softer, almost cereal-like texture with nutty flavors. All I had to do was to put everything together at night, cover it with stretch film, and quickly warm it up in the morning for a super nutritious breakfast in the morning.
For this version, I added chia seeds to thicken it up which also increased its notoriousness. As it sat in the fridge overnight, the chia seeds plumped up creating a soup like consistency. The recipe below serves for two, and as long as you keep it in the fridge tightly covered, it keeps its freshness for an extra day.
For the first morning's breakfast, I warmed up one serving of it in a pot and topped it off with nuts and fresh fruits. And for the second morning, I added the rest of it into my smoothie that I made with spinach, fresh fruits, half a cup of coconut milk, and a tablespoon of peanut butter. It ended up being a refreshing and nutritious alternative to a warm porridge-like breakfast dish.
I chose to use coconut milk, but any other nut milk of your choice would work for this recipe. I didn't use any sugar to keep it healthier, but if you want you can sweeten it up with natural sugars like maple syrup, honey, or agave nectar.
Like this recipe? Consider sharing: