Lately, I have been experimenting a lot with making different kinds porridge with different grains, hoping to find new breakfast options for us as an alternative to our usual almond milk oatmeal and overnight steel cut oats. I am a big fan of them not only because they are healthy, but also because they are like blank canvases.
You can flavor them with anything you want or with whatever you have in your fridge. I also love the fact that you can serve them warm or cold. Simply make a batch on the weekend and enjoy it throughout the week.

This Almond-Kasha Porridge is no different. I made it with kasha, which is made by slowly roasting buckwheat groats. Despite the name, it is not related to wheat and often used a gluten-free alternative to wheat. It is a great source of protein and rich in iron, magnesium, copper, and zink. Additionally, since it is rich in fiber content it keeps the digestive system healthy while slowing down the rate of glucose absorption making it a great option for those with diabetes.
You can certainly cook kasha with water, but since I wanted a creamy porridge I used a combination of water and unsweetened almond milk. To flavor it, I used some fresh ginger and chopped pineapples (a little bit of kiwi for color) that are currently in abundance in our island supermarkets. I also sprinkled it with chia seeds and sliced almonds. But to be honest, you can use whatever fruit and seeds you have in your fridge.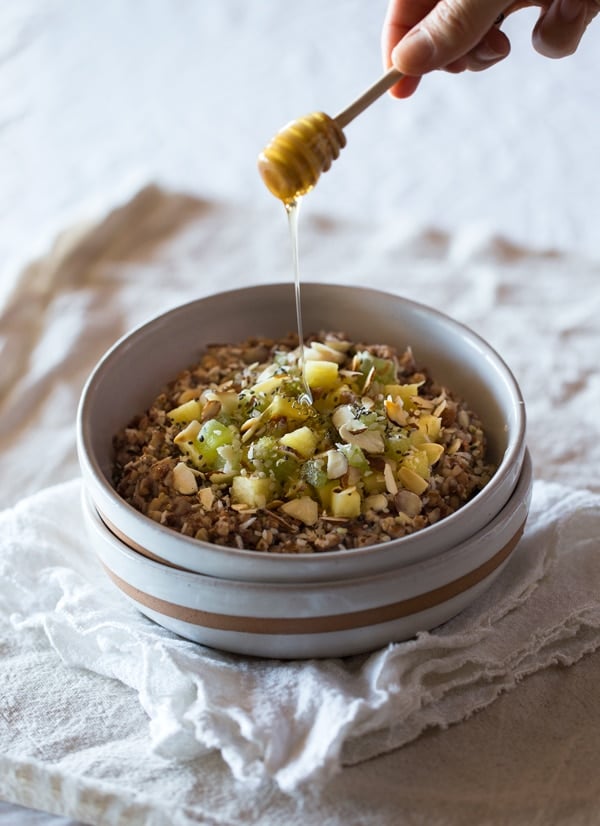 This recipe serves four people. Since we are just two people in our household, my husband and I enjoyed it for a couple of mornings as it was just as good when served cold. In terms of sugar, I only drizzled it with just a little bit of honey. Though I have to say, despite the fact that it is not as healthy, a tablespoon of brown sugar mixed with ginger and pineapple takes this porridge to another level.
This Almond Buckwheat recipe is a great breakfast to try especially if you are a fan of other grab-and-go breakfast recipes like Basic Chia Seed Pudding or Yogurt Parfait.
Almond Kasha Porridge with Ginger and Pineapple
Kasha Porridge Breakfast Recipe: Learn how to cook buckwheat for a healthy and wholesome breakfast porridge. Flavored with ginger, pineapple and almonds, this easy to make yet delicious breakfast bowl is guaranteed to be your next favorite breakfast recipe.
Print Recipe
Ingredients
1 1/4

cup

7 oz. Kasha (Toasted Buckwheat Groats), rinsed

1

cup

filtered water

1 1/2

cup

unsweetened almond milk

pinch

of salt

1 1/2

+ 1/2 cups pineapple

divided chopped into small cubes

1 1/2

tablespoon

ginger

2

tablespoons

unsweetened shredded coconut

1

kiwi

chopped into small cubes (optional)

2

tablespoons

sliced almonds

lightly toasted

2

tablespoons

hemp seeds

optional

1

teaspoon

chia seeds

optional

2

tablespoons

or more honey (optional)*
Instructions
Place kasha, water, almond milk, and salt into a saucepan. Bring it to a boil, and then lower the heat. Let it simmer for 15 minutes, stirring occasionally. At the end kasha should be soft, but not mushy.

Allow it to cool for 5 minutes. Gently stir in the 1 1/2 cup pineapple, ginger, and coconut.

Divide it in 4 breakfast bowls. Top each bowl off with the rest of the cubed pineapples, kiwi (for color –if using), hemp seeds, chia seeds, and sliced almonds.

Give it a taste, and if you think it needs to be sweetened drizzle some honey on top.

Serve.
Notes
You may not need to use honey if your pineapple is already sweet.
This porridge is just as good when served cold, which also makes it a great breakfast porridge that you can make ahead. As long as it is kept in an airtight container in the fridge, it keeps its freshness for 3 days.
I added chia seeds, hemp seeds, and almonds in the recipe to increase its nutritional value. If you don't have them it would still taste just as good without them.
Nutrition
Calories:
529
kcal
|
Carbohydrates:
99
g
|
Protein:
14
g
|
Fat:
13
g
|
Saturated Fat:
3
g
|
Sodium:
132
mg
|
Potassium:
769
mg
|
Fiber:
13
g
|
Sugar:
45
g
|
Vitamin A:
255
IU
|
Vitamin C:
183
mg
|
Calcium:
210
mg
|
Iron:
4
mg
Like this recipe? Consider sharing: