My mother, who was a graduate of a French high school in Istanbul, was a lover of anything French. Since she could read, write, and speak French very well, it was second nature to her to do things the French way.
For instance, one of her favorite things to do while cooking was to play old French songs and sing along with them. As her apprentice in the kitchen, though I found most of the French words and their pronunciation very difficult, I still did my best to sing along with her.
I took some French classes in college, though I regret that I didn't make more of an effort to really learn the language. I so wish I had…
After her passing, I found my mother's cookbook in the kitchen. It was a notebook full of recipes that she collected and made over and over throughout her life. As I looked through the pages, I wasn't surprised to see several recipes written in French. Some of which are photocopied from old French cookbooks and food magazines.
This clafoutis recipe is from that cookbook. I must have eaten this French classic maybe a hundred times while I was growing up.
My mom's original recipe was made with pears. However, for my version, I wanted to add my own twist to it and decided to make it with bananas instead.
On my first try, I felt like it was missing something. It needed something chocolaty. That is when I decided to add chunks of Nutella to it.
My second try – this time with bananas and Nutella – wasn't a success either, mainly because the chunks of Nutella sank to the bottom of the pie pan. It was very hard to slice and plate it without it falling apart. I had to find a way to keep the Nutella in the middle of the batter and prevent it from sinking during the baking process.
Luckily, the third time was the charm. Arranging banana slices at the bottom, pouring half of the batter over it, and piping the Nutella in a thin layer all over the batter worked. To finish it, I poured the rest of the batter over the Nutella and sprinkled it generously with roasted hazelnuts. I thought hazelnuts would enhance the flavor of the tablespoon of Frangelico (hazelnut liquor) that I decided to add to the batter at the last minute.
It ended up being incredibly delicious.
What I love most about this recipe is that I can easily make the batter in less than 10 minutes before going to bed, place it in the fridge, and quickly bake it in the morning. It is a lifesaver for impromptu entertaining.
Perfect for breakfast, brunch, teatime, or simply no reason at all…
Nutella and Banana Clafoutis with Roasted Hazelnuts
This Nutella and Banana Clafoutis is an easy to make, make-ahead French dessert that is perfect for brunch. Simply, make the batter at night, assemble it in the morning, and serve it while it is still warm.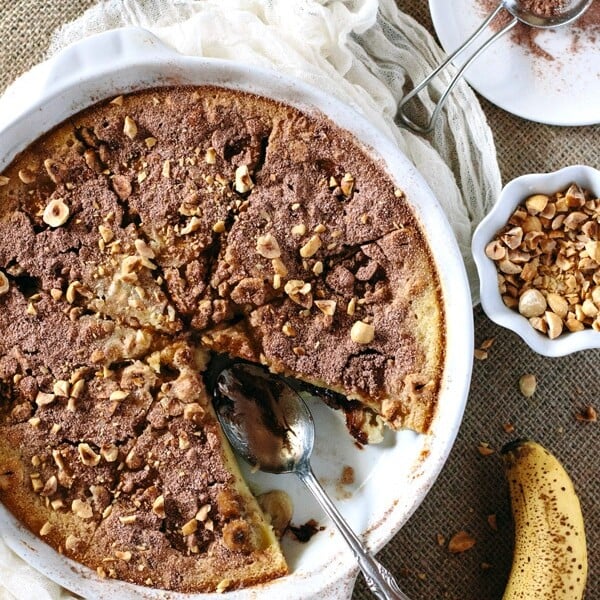 Print Recipe
Ingredients
1/2

cup

hazelnuts

chopped

3

eggs

1

cup

heavy cream

8

tablespoons

(4 oz.) butter, melted and cooled

1

teaspoon

vanilla extract

1

tablespoon

Frangelico

1/2

cup

(3.5 oz.) granulated sugar

2/3

cup

3.4 oz. all-purpose flour

1/4

teaspoon

baking powder

1/2

teaspoon

kosher salt

3

ripe bananas

sliced

3/4

cup

Nutella

1

tablespoon

powdered sugar

optional

1

tablespoon

cocoa powder

Butter & Flour Spray
Instructions
Preheat the oven to 350 F Degrees.

Place hazelnuts onto a small baking sheet and roast them for 8-10 minutes. Set aside and allow to cool.

Increase the temperature of the oven to 375 F Degrees.

Put eggs, heavy cream, butter, Frangelico, vanilla extract, and sugar into a medium-mixing bowl. Whisk until smooth. (I did by hand, but if you want you can use a mixer.)

In a separate bowl, combine flour, baking powder, and salt.

Gently, whisk the dry ingredients in to the wet ingredients, until combined and there are no lumps remaining.

Fill a piping bag with Nutella. Set aside.

Spray a 10-inch pie pan with butter and flour spray.

Arrange half of the sliced bananas, in a single layer, in to the pie pan. Pour half of the batter over the bananas.

Pipe the Nutella all over the batter (for more, see the video).

Pour the rest of the batter over the Nutella, making sure that it is all covered.

Arrange rest of the bananas on top, and sprinkle it generously with roasted hazelnuts.

Using a rubber spatula, smooth the surface of the batter.

Bake it for 30-35 minutes, until the top is golden brown and the custard is firm.

Allow it to cool in room temperature, for at least 30 minutes.

When cooled, if you'd like, dust it with cocoa powder and powdered sugar.

Serve immediately.
Nutrition
Calories:
567
kcal
|
Carbohydrates:
54
g
|
Protein:
7
g
|
Fat:
37
g
|
Saturated Fat:
23
g
|
Cholesterol:
132
mg
|
Sodium:
306
mg
|
Potassium:
390
mg
|
Fiber:
4
g
|
Sugar:
37
g
|
Vitamin A:
905
IU
|
Vitamin C:
5
mg
|
Calcium:
82
mg
|
Iron:
3
mg
Like this recipe? Consider sharing: