Who is in for some pumpkin goodness on this Monday morning? If so, you are in for a treat because we are making Almond Flour Pumpkin Muffins that are paleo friendly.
Today, we are celebrating the 4th annual #VirtualPumpkinParty put together by Sara of Cake Over Steak, where over 60 awesome food bloggers come together and share a recipe made with pumpkin. So if you are need of some pumpkin inspiration you are at the right place.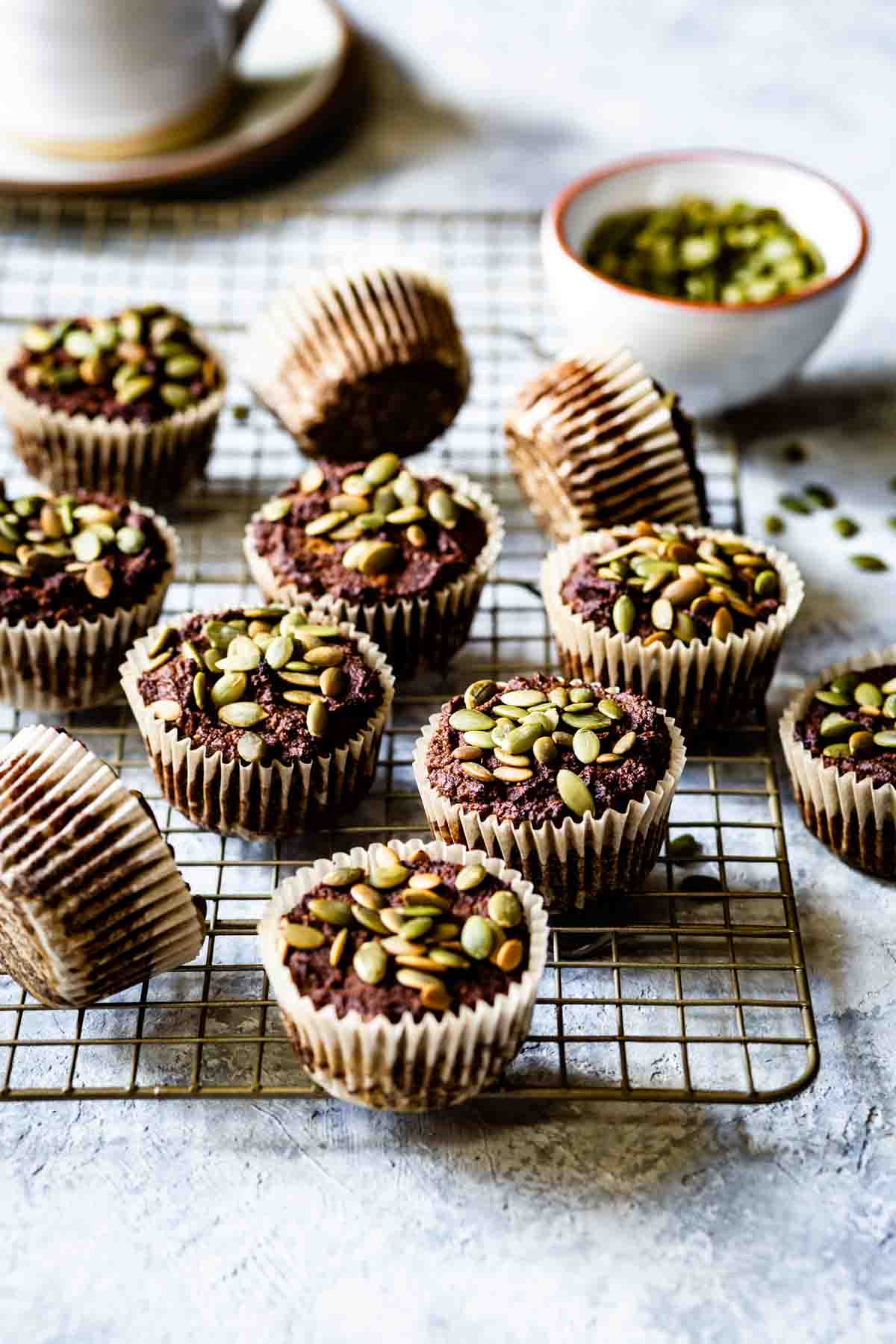 Last year, I contributed to the party with this Pumpkin Turkey Chili recipe. This year, I am joining the crowd with this Paleo Pumpkin Muffins recipe. If you are like me, feel like you deserve a delicious baked treat with your morning coffee just because it is cold outside and doesn't want to feel guilty of eating it, this healthy pumpkin muffin recipe is exactly what you need.
Made with almond flour, coconut sugar, and canned puree, it comes together in less than 10 minutes and bakes in less than an hour. It is freezer-friendly, gluten, dairy, and refined sugar-free.
Intrigued? Read on.
How To Make Paleo Pumpkin Muffins
Similar to most muffin recipes, this gluten-free pumpkin recipe has 3 folds.
First, you mix the dry ingredients: Almond flour (or almond meal would also work), baking soda, cinnamon, pumpkin spice and salt, in a large bowl.
Second, you mix the wet ingredients: Eggs, coconut sugar, canned pumpkin puree, and vanilla extract in another bowl.
Third, you combine the wet ingredients with the dry ones and scoop them out to a 12-cup muffin tin lined with parchment muffin paper (this is my favorite brand affiliate link).
After 45-50 minutes, you will end up with the most delicious, healthier, and moist pumpkin muffins you can imagine.
Here I have to mention, I know it will be hard, but for the best almond flour pumpkin muffins, it is imperative to wait for them to completely cool down. Since they are super moist, if you serve them before they are cooled, your guests might think that they are not fully baked.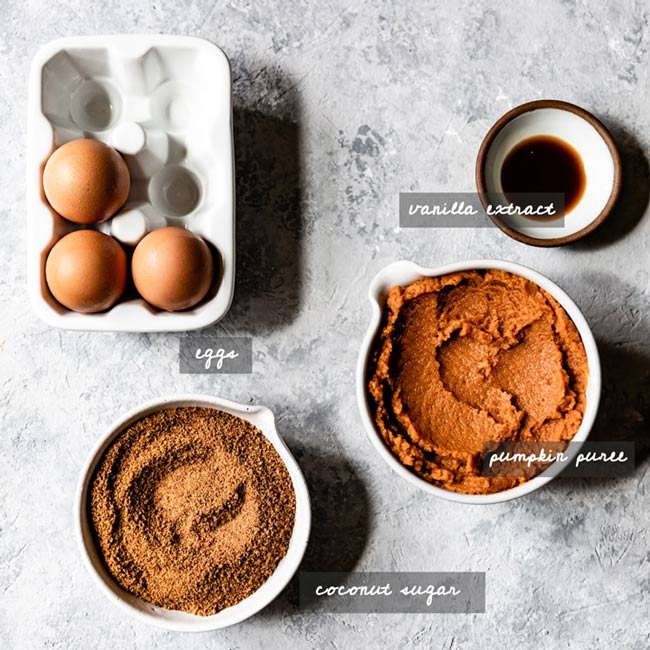 A Word on Baking with Almond Flour
If you have been following my blog for a while you know that I am a big fan of using this gluten-free, low-carb, and full of good fats flour in my baking.
Another reason why I love it is because of its high-fat content. Most pumpkin muffin recipes you find online uses coconut oil, but in this recipe, since we are using almond flour there is no need for that. Similar to one of the most popular recipes on Foolproof Living, Almond Flour Chocolate Cake, this Almond Flour Pumpkin Muffins recipe has no added fat in it.
Yup, you heard it right. No additional butter, vegetable, or coconut oil. You don't need it, because the fat content in almond flour and eggs are enough to provide you with all the fat these grain-free pumpkin muffins need.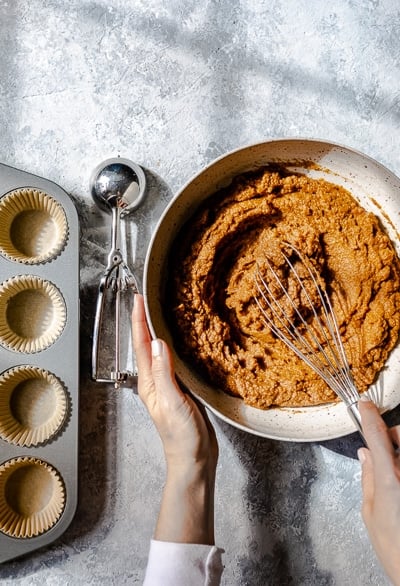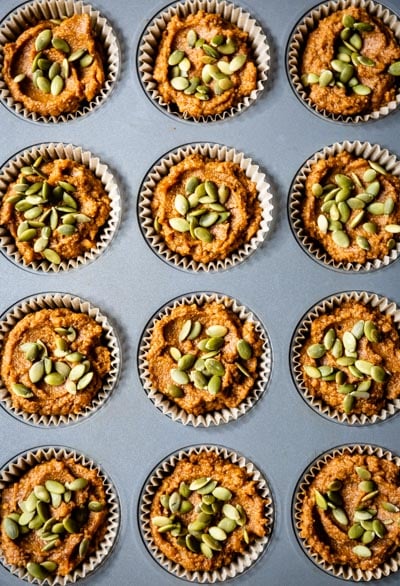 A Few Tips for the Best Flourless Pumpkin Muffins
No-Sugar Pumpkin Muffins: Or I should say, no refined sugar…
I usually use maple syrup for most of my muffin recipes, but this time I opted for coconut sugar as I love that it is a natural (unrefined) sugar that has a lower glycemic index. In other words, it doesn't spike up your blood sugar as fast as refined sugars do.
As you will see in the recipe below, with only ¾ cup of coconut sugar these paleo pumpkin muffins are not overly sweet. If you are health conscious and want to minimize your sugar intake while still treating yourself with a delicious muffin in the morning, you might also be able to get away with using only ½ cup coconut sugar. Feel free to experiment.
What to do with leftovers and how to store them – If you are familiar with baking with almond flour, you know that muffins made with this gluten-free flour will deliver a very moist muffin. For that reason, it is important to keep the leftovers of this pumpkin breakfast muffins in an airtight container (or a plastic bag) in the fridge because otherwise, they will spoil easily. When you are ready to serve, you can warm them in the microwave for 15-20 seconds or in a 300-degree preheated oven 5-10 minutes.
Can I freeze these almond flour pumpkin muffins? – Yes, you can. Again, I recommend storing them in an airtight container after they come to room temperature. You do not need to thaw them before serving. You can simply warm them up in a 300 degree pre-heated oven 10-12 minutes.
Want to add some chocolate chips? Go for it! – If you are a lover of chocolate-pumpkin combination and want to turn this recipe into paleo pumpkin chocolate chip muffins, feel free to fold in a cup of your favorite chocolate chips into the mix at the very end.
The Best Topping for this Pumpkin Bread Muffins – I opted for pumpkin seeds as a topping, but any other nuts would work. You would also be totally fine without topping it off with anything.
There you have it, friends. A simple pumpkin muffin recipe that you can make in no time and serve to everyone in your family. If you need a visual, be sure to scroll down and watch the quick how-to video that I made in the recipe card below.
Before I let you go, below are a few of my favorite recipes from this year's Virtual Pumpkin Party. Check out Sara's blog to see all of them and treat yourself with all the pumpkin inspiration you need to tackle the upcoming holiday entertaining coming your way:
Other Pumpkin Recipes You May Also Like:
Paleo Pumpkin Muffins Recipe
Recipe for Paleo Pumpkin Muffins. A healthy gluten free muffins recipe ready in less than an hour! Freezer friendly, grain-free and made without refined sugar.
Print Recipe
Ingredients
For the dry ingredients:
2

cups

almond flour

or almond meal

1

teaspoon

baking soda

1

teaspoon

pumpkin spice

1

teaspoon

cinnamon

Pinch

of salt
For the wet ingredients:
3

large eggs

at room temperature

¾

cup

of coconut sugar

1

can

15 oz. pumpkin puree *

1

teaspoon

vanilla extract
Instructions
Preheat oven to 350 degrees. Line a 12-cup muffin tip with parchment liners. Set aside.

Mix together all the dry ingredients in a large bowl.

In a separate bowl, whisk together all the wet ingredients.

Fold in the wet ingredients to dry ones and mix until they are fully combined.

Divide the batter into the prepared muffin tin. Garnish each muffin cup with a few pumpkin seeds.

Bake for 45-50 minutes making sure to rotate the pan halfway through the baking process for even baking.

Let it come to room temperature before serving.
Video
Notes
The only ingredient in the pumpkin puree brand you choose should be pumpkin.
Nutrition
Calories:
205
kcal
|
Carbohydrates:
22
g
|
Protein:
7
g
|
Fat:
11
g
|
Saturated Fat:
1
g
|
Cholesterol:
41
mg
|
Sodium:
241
mg
|
Potassium:
70
mg
|
Fiber:
4
g
|
Sugar:
10
g
|
Vitamin A:
65
IU
|
Calcium:
61
mg
|
Iron:
1
mg
This recipe has been updated with additional helpful information and a video in October 2020. No changes have been made to the original recipe.
Like this recipe? Consider sharing: