Before roasting shiitake mushrooms it is important to clean them properly. If you are new to it, be sure to check out my beginner-friendly post for more information on How To Clean Shiitake Mushrooms.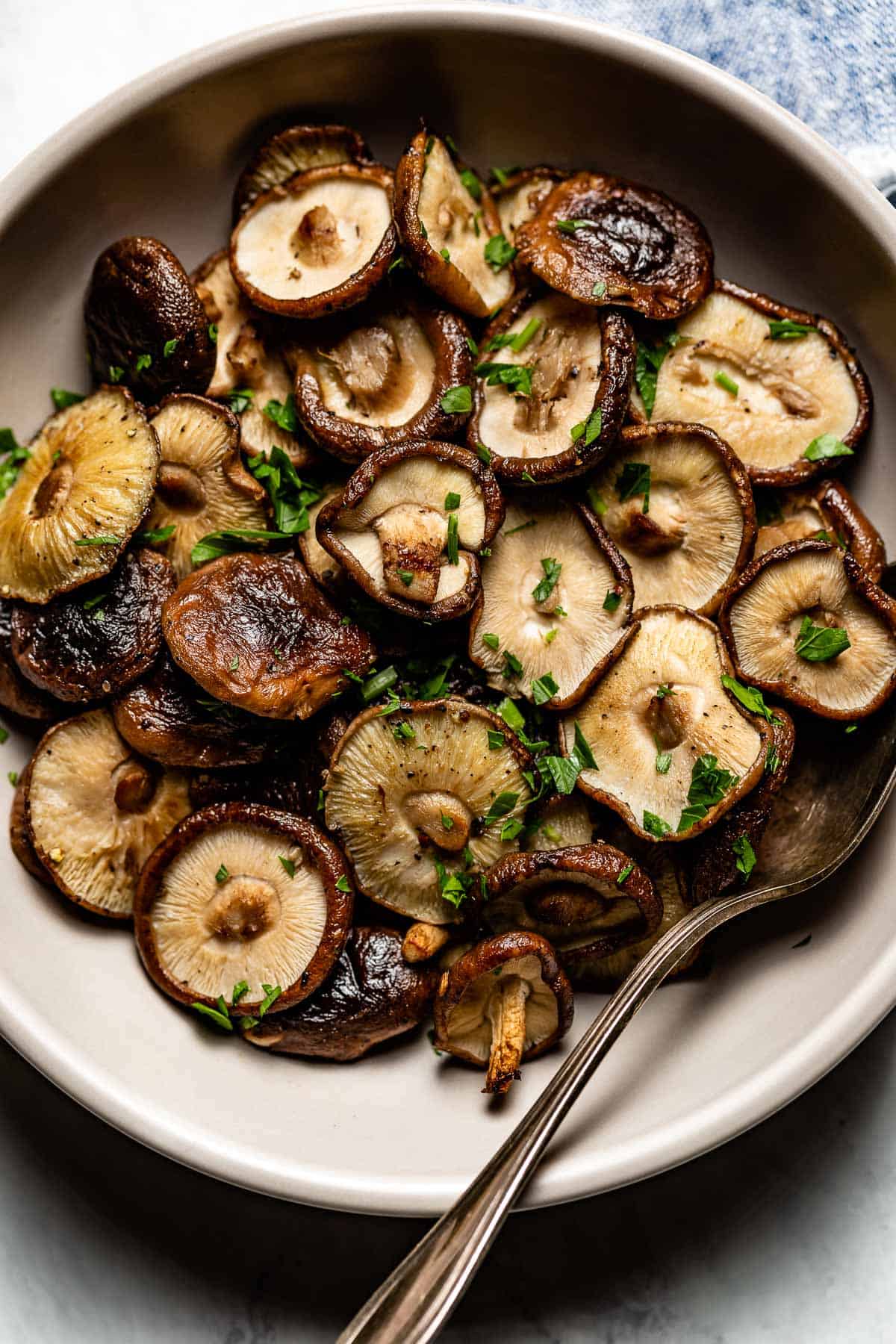 Ingredients
To make this baked shiitake mushrooms recipe, you will need fresh shiitake mushrooms, olive oil, kosher salt, and freshly ground black pepper.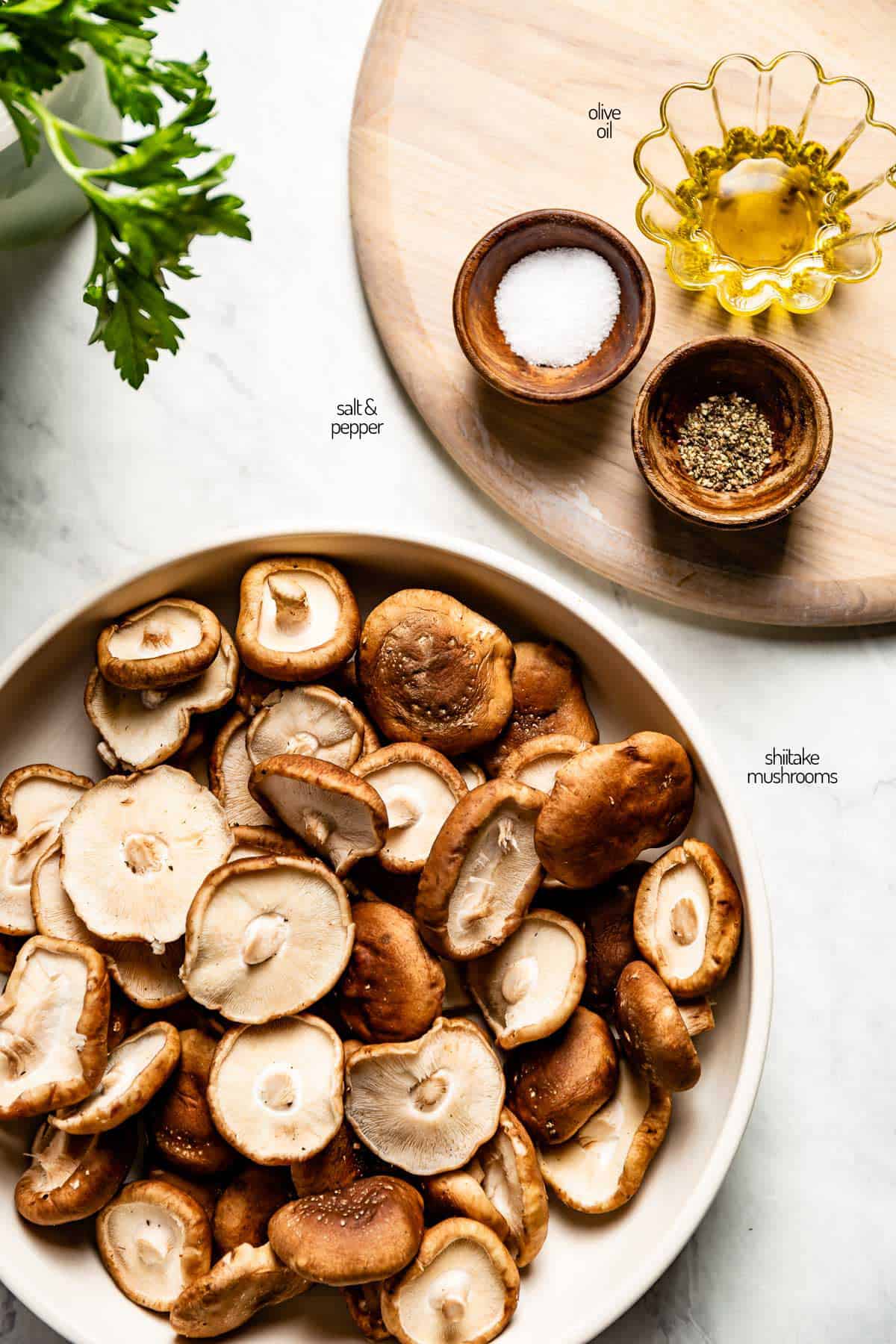 Variations and Substitutions
Oil: You can use any vegetable oil you like. I usually prefer the neutral flavor of extra virgin olive oil. Still, avocado oil, sesame oil, coconut oil, and even melted butter would also work.
Flavor with garlic: Mince a clove of fresh garlic, and voila: The perfect seasoning for a garlicky roasted shiitake mushrooms dish that's as flavorful as it is effortless.
Additional seasonings and spices: This shiitake mushrooms recipe may be basic, but you can easily jazz it up with numerous spices and seasonings. My favorite way to add flavor to my roast mushrooms is to sprinkle them with garlic powder, ground cumin, red pepper flakes, and/or Italian seasoning.
White wine vinegar: Some people also drizzle their shiitakes with a tablespoon of white wine vinegar before roasting them to brighten up their earthy flavor.
Garnishes: Finish off your baked masterpiece with chopped fresh herbs like parsley, thyme, rosemary, or lemon zest to give your mushrooms a fresh twist.
A squeeze of lemon juice: If I'm planning to use these baked shiitake mushrooms in a salad, I love drizzling them with some freshly squeezed lemon or lime juice. These coated mushrooms pair well with salad greens such as spring mix and butter lettuce.
Instructions on How to Make
The steps to roasting shiitake mushrooms could not be easier. Simply:
Heat oven & prepare a sheet pan: Preheat the oven to 400 degrees F. Line a roasting pan with parchment paper or aluminum foil and set it aside.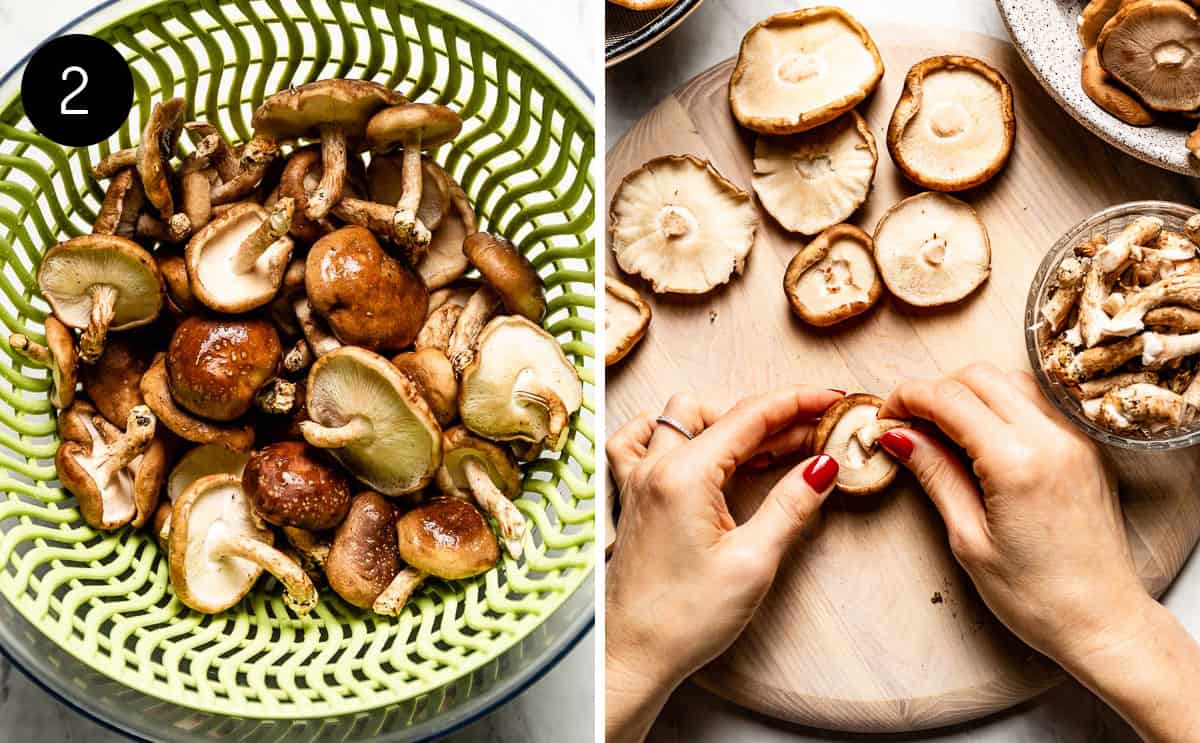 Start by cleaning shiitake mushrooms: Place mushrooms in a colander and rinse under cold water. Transfer onto a clean kitchen towel and pat dry with paper towels to dry them as much as you can. Alternatively, you can use a damp cloth to clean mushrooms one by one.
Remove the stems and save them to use in mushroom stock for later.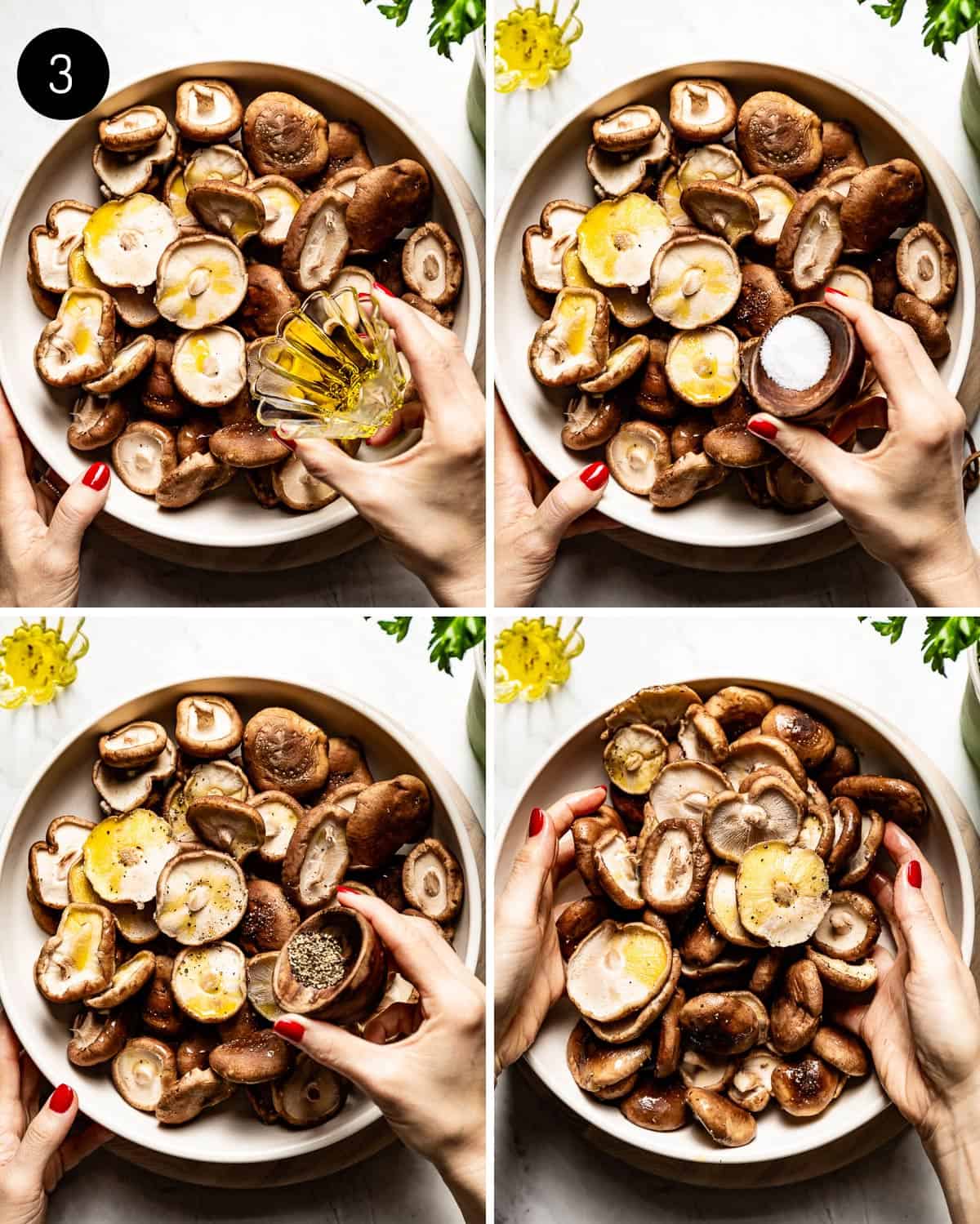 Add the flavorings: Place the now-cleaned shiitake mushroom caps in a large bowl. Drizzle them with olive oil and season with salt and pepper. Toss mushrooms using clean hands, ensuring that you evenly coat each mushroom with the flavorings.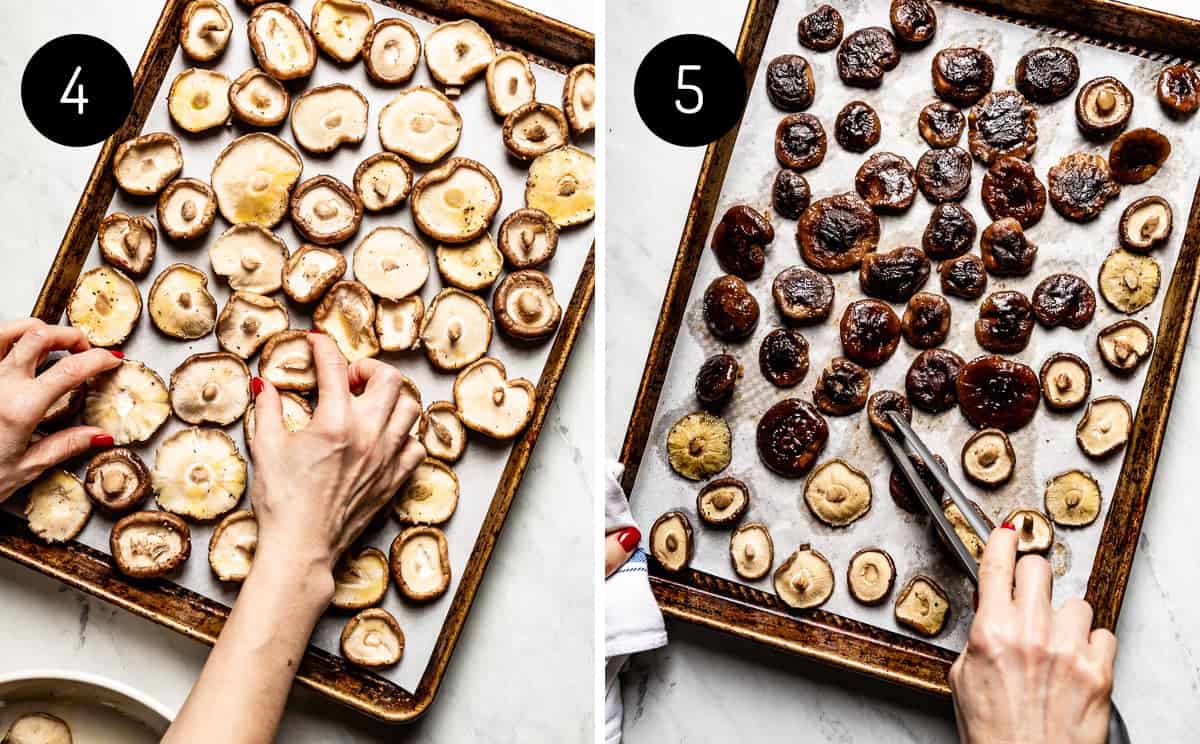 Arrange on the sheet pan: Place mushroom caps onto the prepared rimmed baking sheet and arrange them on in a single layer with the caps facing down (or gill side up).
Bake & turn: Roast shiitake mushrooms in the oven for 10 minutes, remove them from the oven, and turn them over one by one using a pair of tongs. Bake for another 8-10 minutes until they turn golden brown. The larger mushrooms should be crisp on the edges, while the smaller ones should be crispy throughout.
Serve: Transfer onto a serving platter. If preferred, sprinkle with fresh herbs and more freshly ground black pepper. You can serve seasoned shiitake mushrooms warm, at room temperature, or even cold.
What To Do With Shiitake Mushrooms
Deliciously crispy and lightly caramelized, shiitake mushrooms make an addictive snack. However, you can use them in countless other ways. Below are just a few recipes with shiitake mushrooms: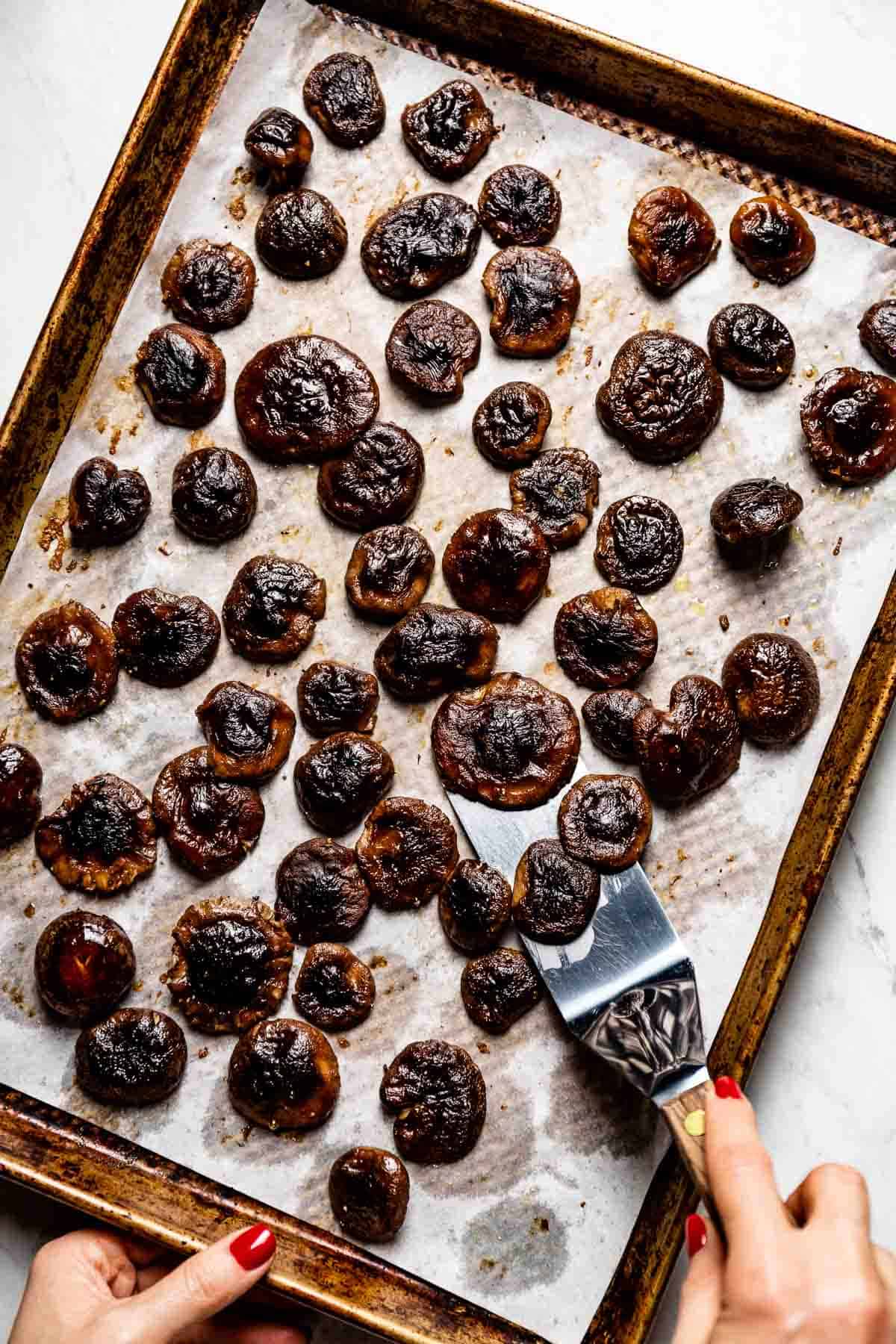 How To Store
Leftover roasted shiitake mushrooms can be stored in an airtight container for up to 3 days in the refrigerator. They'll lose their crispness as they sit but still be delicious.
Expert Tips
Dry them thoroughly: The secret to crispy/crunchy shiitake mushrooms is to dry them thoroughly. Even though it's a bit of extra work, take the time to dry them off.
Hand-pick them at the store: If you can, hand-pick your mushrooms one by one at the grocery store. When buying shiitakes, look for firm mushrooms with large caps without bruises. Avoid those that are wilted, wet, or slimy.
Finish it off with sea salt: If you're a fan of salt like I am, finish off your roasted shiitakes with coarse sea salt for a bit more flavor.
FAQs
How to make crispy mushrooms?
The secret to making crispy shiitake mushrooms is two-fold. First, be sure to dry them thoroughly after rinsing them. Second, turn mushrooms halfway through the roasting process to make sure they bake evenly. Keep a close eye on them as they roast, too, since the smaller shiitakes crisp quicker than the larger ones. You may have to remove them before the larger ones are crisp throughout and done roasting.
Love Mushrooms? Here are a few recipes you might like:
If you try this Roasted Shiitake Mushroom recipe or any other one of our mushroom recipes on Foolproof Living, please take a minute to rate the recipe and leave a comment below. It helps others who are thinking of making the recipe. And if you took some pictures, be sure to share them on Instagram using #foolproofeats so I can share them on my stories.
Roasted Shiitake Mushrooms Recipe
Roasted Shiitake Mushrooms are delicious when served by themselves as a snack. They can also be served as a side dish or an appetizer. Ready in less than 20 minutes, this easy recipe is healthy and quick to make.
Print Recipe
Ingredients
1

lb

shiitake mushrooms

3

tablespoons

olive oil

or avocado oil

½

teaspoon

kosher salt

¼

teaspoon

black pepper

1

tablespoon

Italian parsley

chopped – optional
Instructions
Preheat oven to 400 degrees Fahrenheit. Line a rimmed baking sheet with parchment paper and set it aside.

Place shiitakes in a colander* and rinse under cold running water for 30-45 seconds while moving them around to help get rid of any dirt or debris. Transfer the mushroom caps onto a clean kitchen towel and pat dry with paper towels to dry them as much as you can.

Transfer the shiitakes onto the prepared pan. Drizzle with olive oil and sprinkle with salt and pepper. Using your clean hands, toss to make sure that they are evenly coated with oil and seasoning. Arrange them on a single layer with the mushroom caps facing down.

Roast in the preheated oven for 10 minutes, remove from the oven, turn them around, and bake for another 8-10 minutes or until the larger mushrooms are crisp on the edges and the smaller ones are crispy throughout.

Taste for seasoning and add in if necessary. Transfer onto a serving plate and, if preferred, garnish with fresh herbs.
Notes
Leftover roasted shiitake mushrooms can be stored in an airtight container for up to 3 days in the refrigerator. They'll lose their crispness as they sit but still be delicious.

If you have a salad spinner, it makes the cleaning process quicker. I included the instructions on how to use it in this How To Clean Shiitake Mushrooms post.
Nutrition
Calories:
132
kcal
|
Carbohydrates:
8
g
|
Protein:
3
g
|
Fat:
11
g
|
Saturated Fat:
1
g
|
Polyunsaturated Fat:
1
g
|
Monounsaturated Fat:
8
g
|
Sodium:
302
mg
|
Potassium:
352
mg
|
Fiber:
3
g
|
Sugar:
3
g
|
Vitamin A:
85
IU
|
Vitamin C:
1
mg
|
Calcium:
4
mg
|
Iron:
1
mg
Like this recipe? Consider sharing: