Vegan Sweet Potato Soup Recipe
It's official – the holidays are upon us.
Since Thanksgiving is less than a week away and before you know it, Christmas and New Year's will be here, simple and heartwarming dishes bring a sense of calm in the kitchen during the hectic holiday season. And that is exactly what this sweet potato soup is all about.
It is so easy to make by simply boiling sweet potatoes in vegetable stock and pureeing in a blender, it has become a flavor-packed soup I like to make over and over again. And it just so happens to check all the right boxes – vegan, gluten-free, dairy-free, low-fat, and low-calorie.
The real secret is the addition of spices, ginger, and carrots. These few simple ingredients transform an ordinary sweet potato soup into something extraordinary!
I love to serve it as a warm appetizer on Thanksgiving and Christmas, but this soup is so hearty and delicious, it makes an incredible weeknight meal. No one will ever know it happens to be good-for-you, too!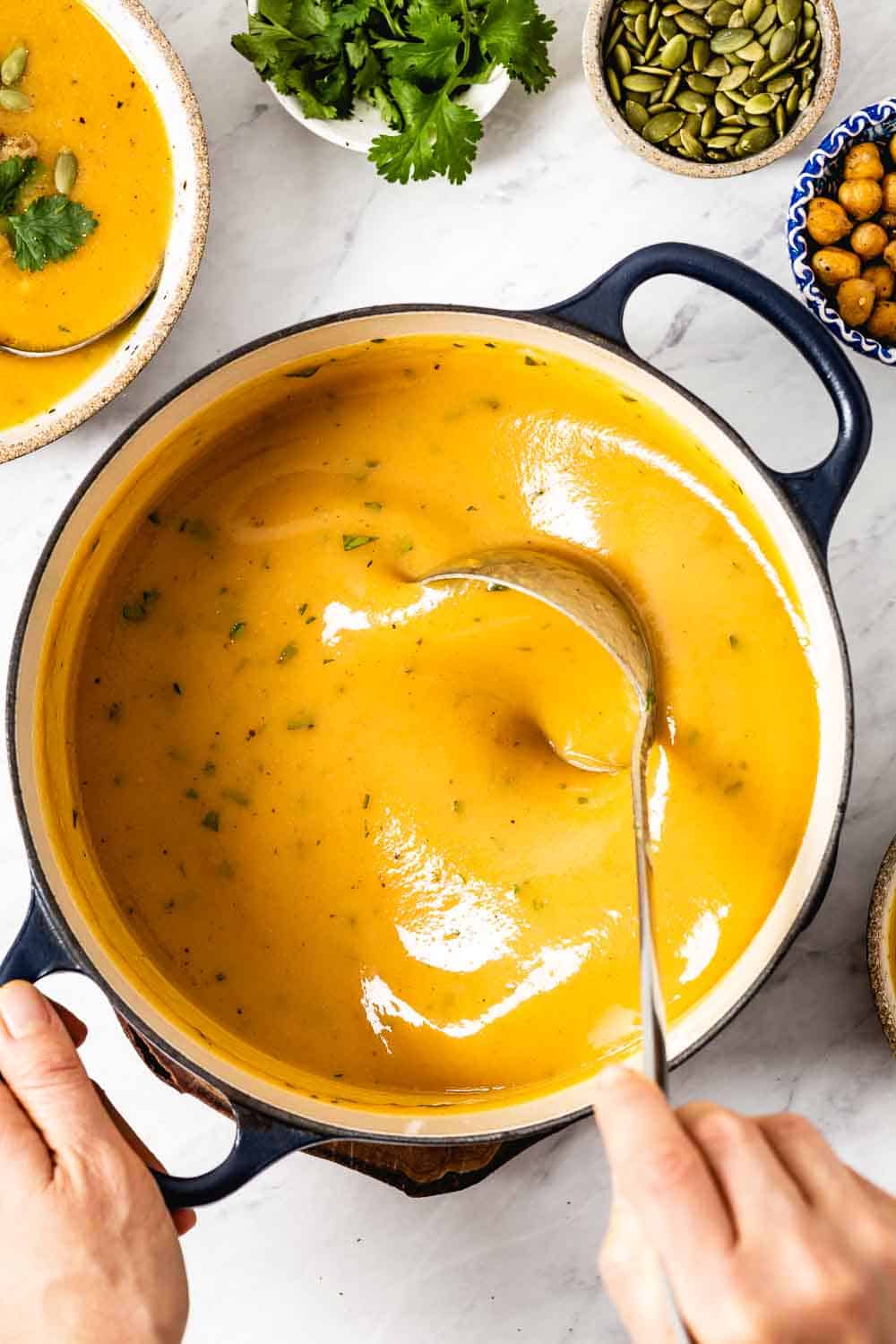 How to make sweet potato soup from scratch
This recipe for basic sweet potato soup with carrots and ginger comes together in 3 folds.
First, make the chickpea croutons. Preheat the oven to 400 degrees and thoroughly dry the drained and rinsed chickpeas with a few paper towels. Place on a parchment-lined baking sheet, mix the oil and spices in a small bowl, then toss with chickpeas, making sure all they are all evenly coated. Roast for 20-25 minutes, tossing a few times to ensure they cook evenly, until golden brown and crispy. Set aside to cool.
A quick note on the spices I used to make these croutons: The beauty of these healthier "chickpea" croutons is that they are endlessly customizable. As you can see in the recipe below, I used garlic powder, ground cumin, salt and pepper, and ground cinnamon. However, you can change it up based on your personal preference.
Second, make the soup. In a large pot (any dutch oven or heavy-bottomed saucepan would also work), heat the vegetable oil (I used olive oil) over medium heat. Add the ground cumin and coriander and stir for 30-35 seconds – this helps to bloom the spices. Add the onion and cook, stirring occasionally, until translucent, about 7-8 minutes. Add garlic, ginger, salt and pepper and cook until fragrant, about 1 minute.
Then, add sweet potatoes and carrots and stir until coated with the oil and spices, 2-3 minutes. Pour in the vegetable stock and bring to boil. Reduce to simmer and cook for 20 minutes, or until sweet potatoes are soft.
Lastly, once the vegetables in the sweet potato carrot soup are tender, blend in a blender or food processor. However, I recommend being very careful, as the soup will be very hot! Return the soup back to the pot and heat until warm. Ladle into bowls, top with crispy chickpea croutons, fresh cilantro or parsley, and enjoy!
If you feel as if your yam and carrot soup is a bit on the thick side, simply add water to reach your desired consistency. Taste and adjust the seasoning, if necessary.
As you can see, with a little bit of advance prep, you can have a light and delicious plant-based soup in just around 30 minutes.
PRO TIP: When blending any hot liquid, always be sure to remove the center cap from your blender or food processor, do not fill more than halfway, and gently cover with a clean kitchen towel. This helps release additional steam from the hot liquid. For an even easier approach, use an immersion blender and blend in the pot you cooked in!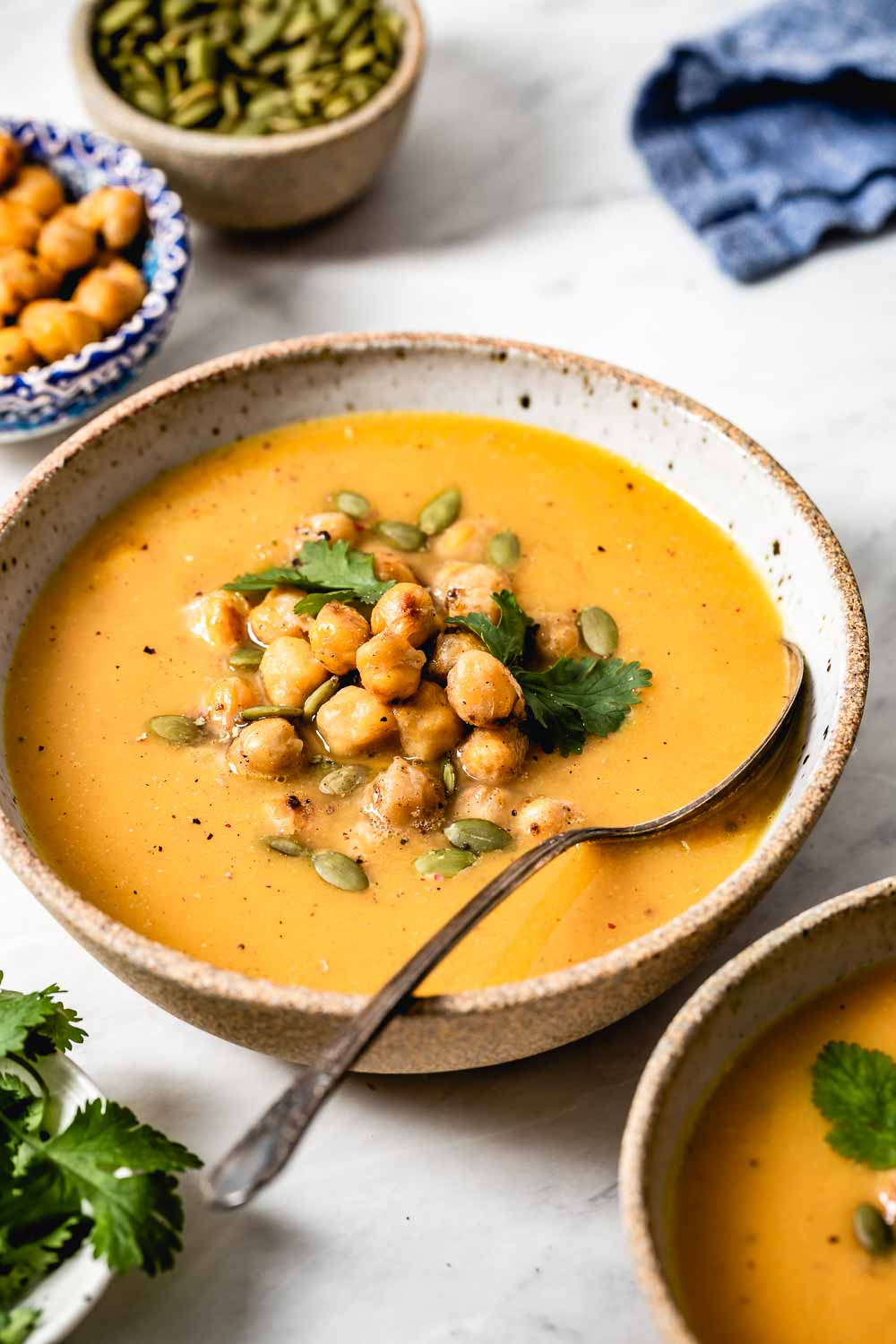 How to make sweet potato soup healthy
The little trick – crispy chickpea croutons! Since we are replacing the bread croutons with lighter and good-for-you chickpeas, this is truly a healthy sweet potato soup recipe.
This plant-based soup is also one made without cream. Vegan, dairy-free sweet potato soup is easy since sweet potatoes pack so much flavor and starch. It is this starch that helps create a luscious and smooth texture when blended to the right consistency.
What else to add to this soup
A sweet potato soup by itself can be boring, but a sweet potato carrot ginger soup takes it up a notch. The addition of freshly ground spices (more on this later!), fresh ginger and carrots make this sweet potato bisque vegan and super flavorful. Your tastebuds will never know what hit them!
FUN FACT: Did you know the word for sweet potato in New Zealand is Kumara? Call it a Kumara Carrot Soup at your holiday gathering and quiz all your friends!
Vegan Sweet Potato Soup with Spicy Chickpea Croutons
This light and creamy vegan sweet potato soup is also gluten-free, dairy-free, low-fat, and low-calorie. Topped off with spicy chickpea croutons, it is ready in just 30 minutes.
Print Recipe
Ingredients
For the Chickpea Croutons:
2

cans

each 15.5 ounces of cooked garbanzo beans (aka chickpeas), drained and rinsed

2

tablespoons

olive oil

1/2

teaspoon

garlic powder

1/2

teaspoon

ground cumin

1/4

teaspoon

ground cinnamon

1/2

teaspoon

salt

1/2

teaspoon

ground black pepper
For The Sweet Potato Soup:
1

tablespoon

vegetable oil

1/2

teaspoon

ground coriander

1

teaspoon

ground cumin

2

medium-sized onions

chopped

2

cloves

of garlic

minced

1

teaspoon

of grated ginger

from 1 inch fresh ginger

1

teaspoon

kosher salt

1/2

teaspoon

black pepper

2

medium-sized Sweet Potatoes

peeled and cut into small cubes (appr. 5-6 cups)

2

carrots

peeled and sliced (appr. 1 cup)

6

cups

vegetable stock

1/4

cup

fresh cilantro or parsley for garnish

chopped
Instructions
Start with roasting the chickpea croutons:
Preheat the oven to 400 degrees. Line a baking sheet with parchment paper. Set aside.

Lay two layers of paper towels on a kitchen counter. Spread the rinsed garbanzo beans (chickpeas) to dry. With the help of another piece of paper towel, dry the beans as much as possible. Once dried, transfer them to a mixing bowl.

Mix the oil, spices, and hot sauce (if using) in a small bowl. Drizzle it over the chickpeas, making sure that they are coated with the oil and spice mixture.

Spread the chickpeas on the baking sheet and bake for 20-25 minutes, until crisp and golden, tossing a couple of times during the baking to ensure even cooking.

Take them out of the oven and set aside to cool.
To make the soup:
Heat the oil in a Dutch oven (or any other heavy bottom pan) in medium heat. Add in the ground cumin and coriander. Add the onion. Cook, stirring occasionally, over medium heat, until translucent, 7-8 minutes.

Stir in the garlic and ginger, salt and pepper, and sautee, stirring constantly, for 45 seconds.

Stir in the sweet potatoes and carrot and mix until coated with the spices and onions, 1-2 minutes.

Pour in the vegetable stock and bring it to a boil. Once boiled, turn down the heat to low and let it simmer for 20 minutes or until sweet potatoes are soft.

Puree the soup in a blender or a food processor in batches. Return it back to the pot and heat until warm.

If you feel that it is too thick, you can add in a little bit of water and bring it to a boil.

When ready to serve, garnish the soup with a handful of chickpea croutons and fresh herbs.
Nutrition
Calories:
217
kcal
|
Carbohydrates:
25
g
|
Protein:
13
g
|
Fat:
8
g
|
Saturated Fat:
3
g
|
Cholesterol:
20
mg
|
Sodium:
1721
mg
|
Potassium:
494
mg
|
Fiber:
4
g
|
Sugar:
8
g
|
Vitamin A:
14828
IU
|
Vitamin C:
9
mg
|
Calcium:
56
mg
|
Iron:
2
mg
Seasoning I used in this light soup recipe
This creamy sweet potato soup is made with the perfect ratio of seasoning:
1 tsp Ground Coriander
½ tsp Ground Cumin
2 Onions
2 Garlic Cloves
1 tsp Grated Ginger
1 tsp Kosher Salt
½ tsp Black Pepper
This will season 4 cups of sweet potatoes and 2 cups of carrots appropriately. If serving a large crowd, simply double or triple the recipe!
Variations
Sweet Potato Chowder Soup: Add 1 cup frozen corn with the sweet potatoes and carrots for a subtle, sweet flavor.
Sweet Potato Ginger Soup: Omit the carrots and replace them with another 2 cups sweet potatoes.
Sweet Potato Vegetable Soup: Replace 1 cup carrots with 1 cup celery for more vegetable variety.
Sweet Potato Soup with Coconut Milk: Replace 1 cup vegetable stock with 1 cup full-fat coconut milk for an ultra-creamy yam soup recipe.
Indian Vegetable Curry Soup: Add 1-2 Tbsp curry powder when you add the coriander and cumin.
Tips for the best sweet potato soup recipe:
Buy whole spices and blend them at home with a spice grinder. The flavor of freshly ground whole spices is far more exceptional than the pre-ground variety. If you don't feel like grinding the spices at home, try to find a local spice shop and purchase the ground spices in small quantities instead.
Use a high quality, low sodium vegetable stock to control the amount of salt in the recipe.
Looking for leftovers? This low-calorie sweet potato soup will keep stored in an airtight container in the fridge for 3-4 days.
Want to freeze this simple vegan sweet potato soup? Completely cool and transfer to 2-3 plastic freezer storage bags, ensuring there is a few inches at the top to release air and seal. Seal tight, label, date and place flat on a shelf in your freezer and freeze for up to 1 month. When ready to reheat, remove from the freezer 1 day beforehand and defrost in your refrigerator. Pour back into the saucepot, bring to boil over medium heat and reduce to low. Prepare your toppings and serve warm!
Other sweet potato recipes you might also like:
Other fall soup recipes you might also like:
Like this recipe? Consider sharing: