Roasting your garlic is a must for this recipe, which is why we've included a step-by-step method for foolproof roasted garlic. Once you roast the garlic, the rest of the recipe comes together in a flash.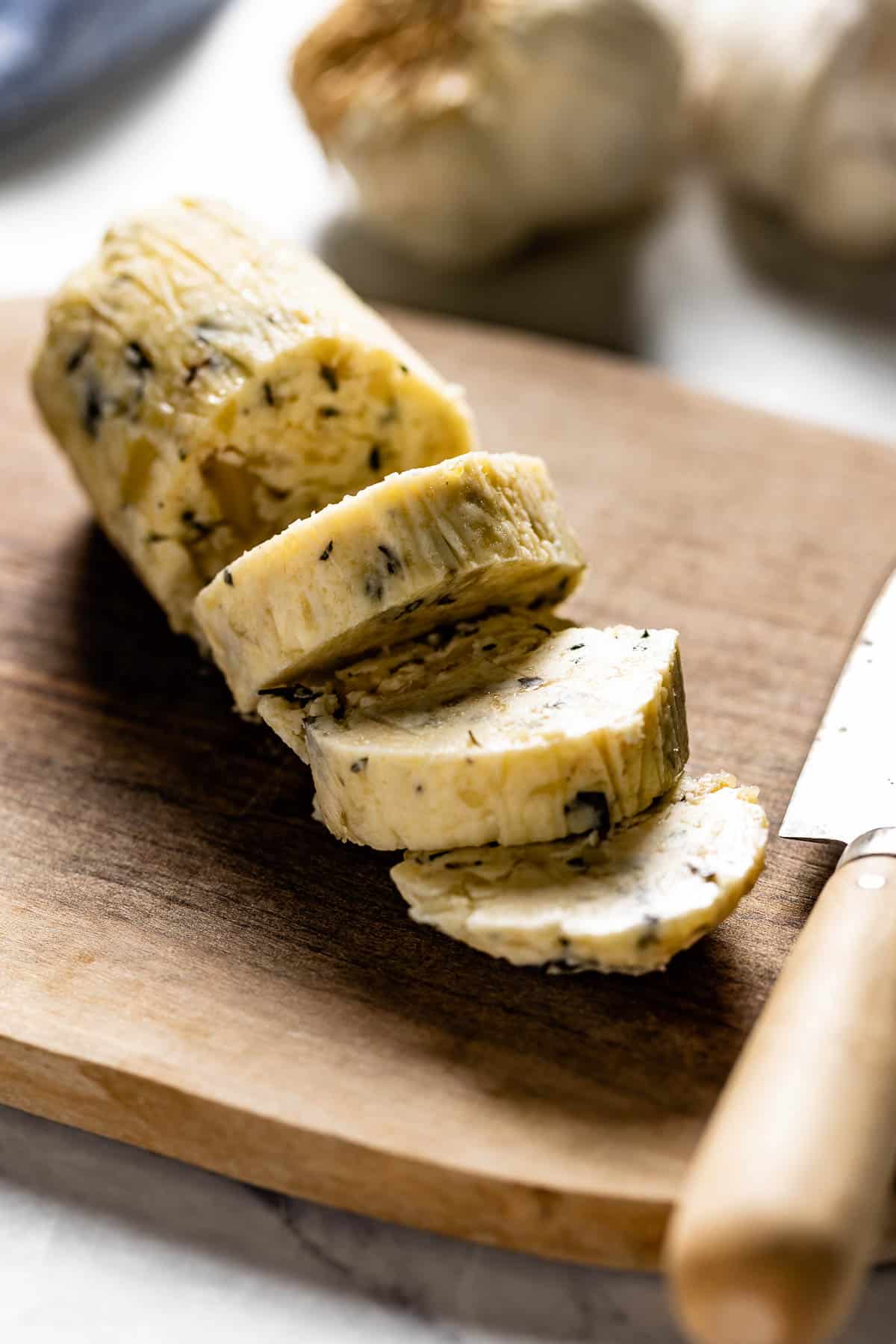 Ingredients
You won't believe how easy it is to take a stick of butter from boring to restaurant-quality with just a few simple ingredients. Our main ingredient, the roasted garlic, adds so much depth and flavor to the butter, while the fresh herbs brighten everything up.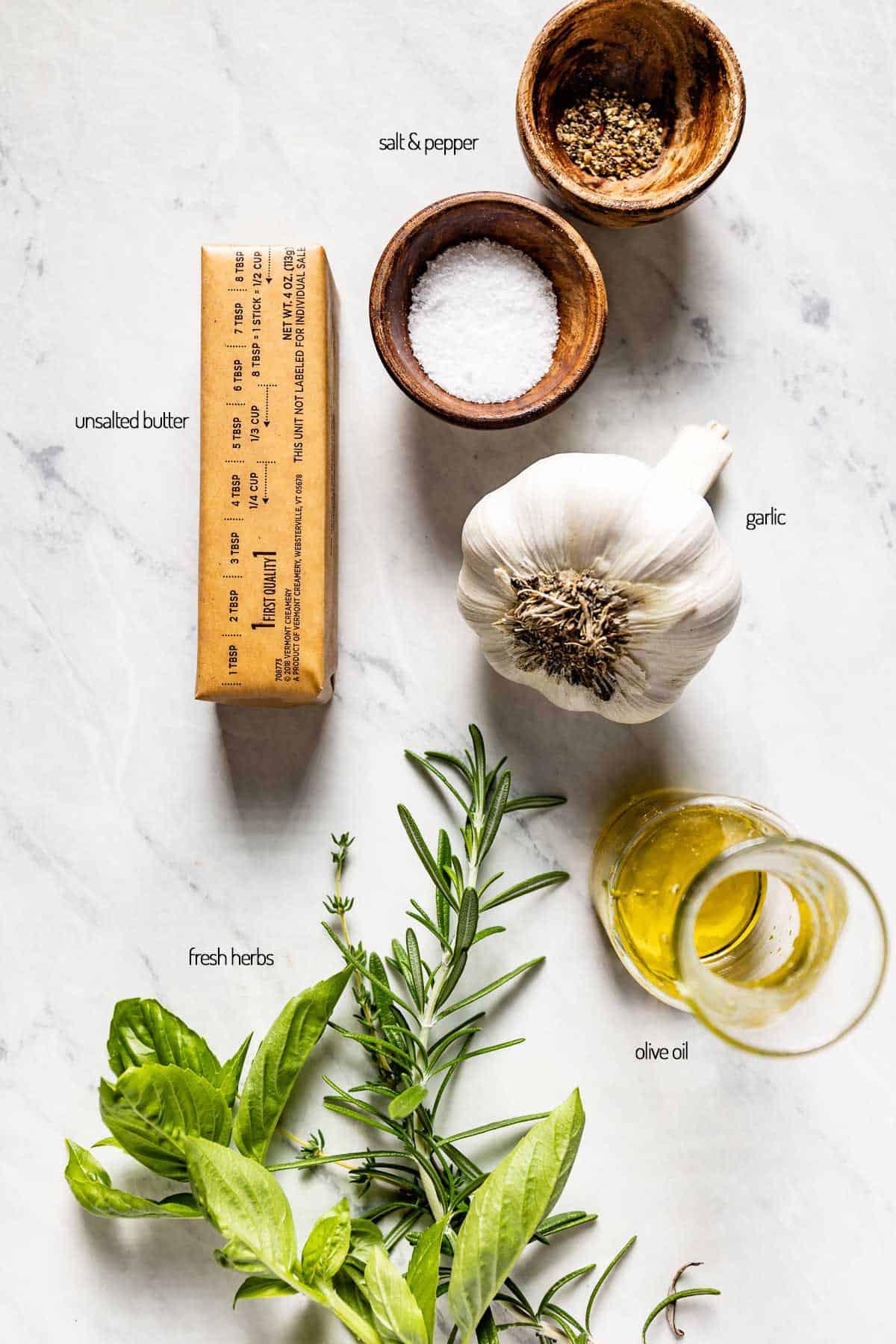 For this roasted garlic spread recipe, gather:
A bulb of garlic
Olive oil
A stick of unsalted butter
Kosher salt
Black pepper
Fresh herbs (I used fresh rosemary, chives, and parsley)
Substitutions & Optional Add-Ins
Whether you're looking for a simple roasted garlic butter for bread or a more complex flavored butter for a specific dish, this butter can do it all. There are a number of swaps and additions you can make to customize the butter to your liking. Here are a few suggestions:
Butter: I use unsalted butter in this recipe to control the amount of salt I'm adding, but feel free to use salted butter instead. Just be careful when adding additional salt if you're using salted butter. This roast garlic butter recipe also works well with vegan butter.
Fresh herbs: Fresh, fragrant herbs take this roasted garlic butter spread to the next level and give it that fancy restaurant-quality taste. You can use your favorite herbs or any you have on hand, but I recommend fresh parsley, rosemary, thyme, chives, or basil. As a rule of thumb, use two teaspoons of finely chopped fresh herbs per stick of butter.
Spices: Amplify the flavor of your butter by adding some spices. You can cater the spices to a specific recipe's flavor profile, so feel free to get creative. Sweet paprika, oregano, or a pinch of red pepper flakes are great additions that complement a variety of recipes.
Flaky sea salt: Topping your compound garlic butter with flaky sea salt brings out all the delicious flavors of this recipe and adds the perfect finishing touch. Trust me on this one. My favorite brands of sea salt are Maldon Sea Salt Flakes and Jacobsen Flake Finishing Salt.
Parmesan Cheese: I usually add a few tablespoons of parmesan cheese if I am using it to make my Rosemary Mashed Potatoes.
How to Make Roasted Garlic Butter?
Once you roast the garlic, all you have to do is add in the rest of the ingredients and give it a mix! We're using our oven-roasted garlic method for this recipe, but if you're in a pinch, you can cut roasting time in half by following my Air Fryer Roasted Garlic recipe. I even have a Roasted Garlic Without Foil version! Here's how to make this easy recipe:
Preheat the oven: Set your oven temperature to 400 degrees F.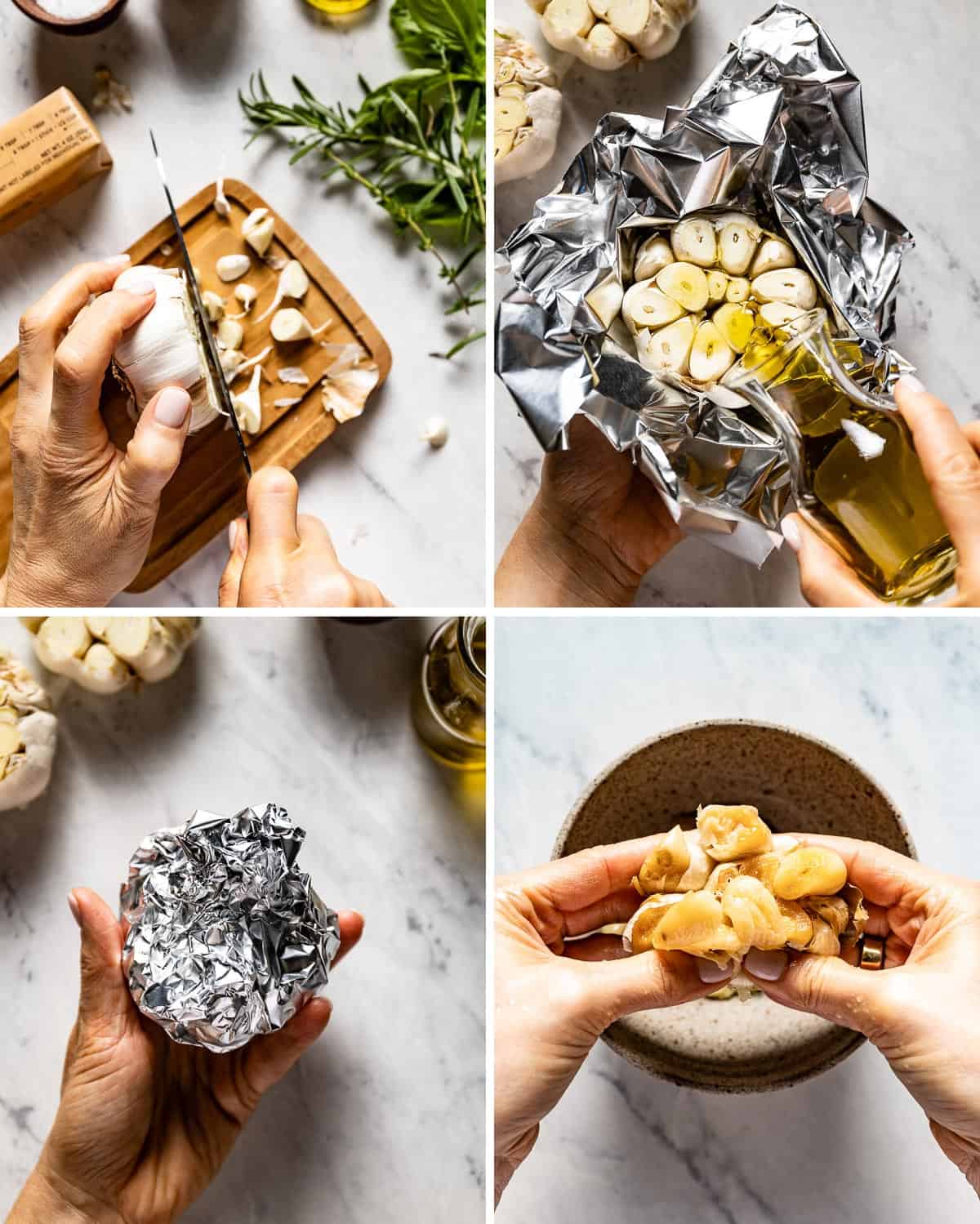 Prep the garlic: Slice the top of the garlic with a paring knife, so the cloves are exposed and place the bulb on a piece of foil. Add a drizzle of olive oil on top of the cloves.
Wrap the garlic: Wrap the whole head of garlic tightly with foil so that it resembles a pouch. Place on a baking sheet or in a baking dish.
Roast: Roast the garlic in the 400-degree oven for 40 minutes. You'll know the garlic is done if it appears soft and lightly caramelized (be careful when opening the aluminum foil pouch, as it will be hot). If it doesn't appear done, wrap the garlic back up and roast for another 5-10 minutes.
Remove the cloves: After letting the garlic cool for at least 20 minutes, remove the roasted garlic cloves by gently squeezing the bulb from the root end until each individual clove is squeezed out. Discard the outer skin and place the cloves in a bowl.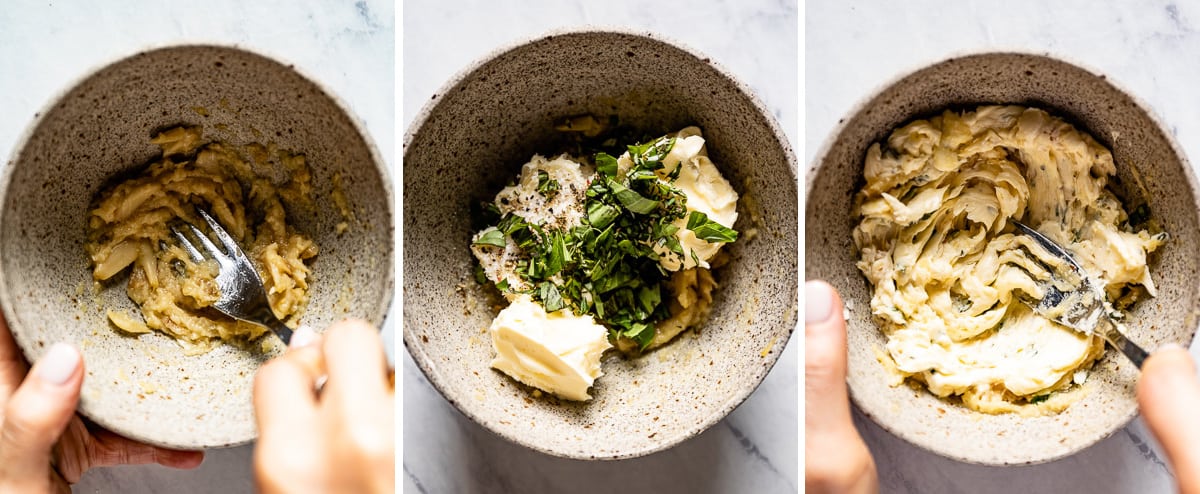 Mash the garlic: In a small bowl or on a cutting board, use a fork to mash the roasted garlic until it's pureed.
Add the remaining ingredients: To the same bowl, add the softened butter, salt and pepper, and (optional) chopped herbs. Mix until well combined, or blend in a small food processor.
How to Roll Compound Butter into a Log?
Now that you know how to make roasted garlic butter, you can stop there and store garlic butter in a bowl. However, I find it easy (and fun) to roll my butter into a log. Doing so makes for easy slicing, and, as a bonus, it looks extra fancy! Follow these simple steps: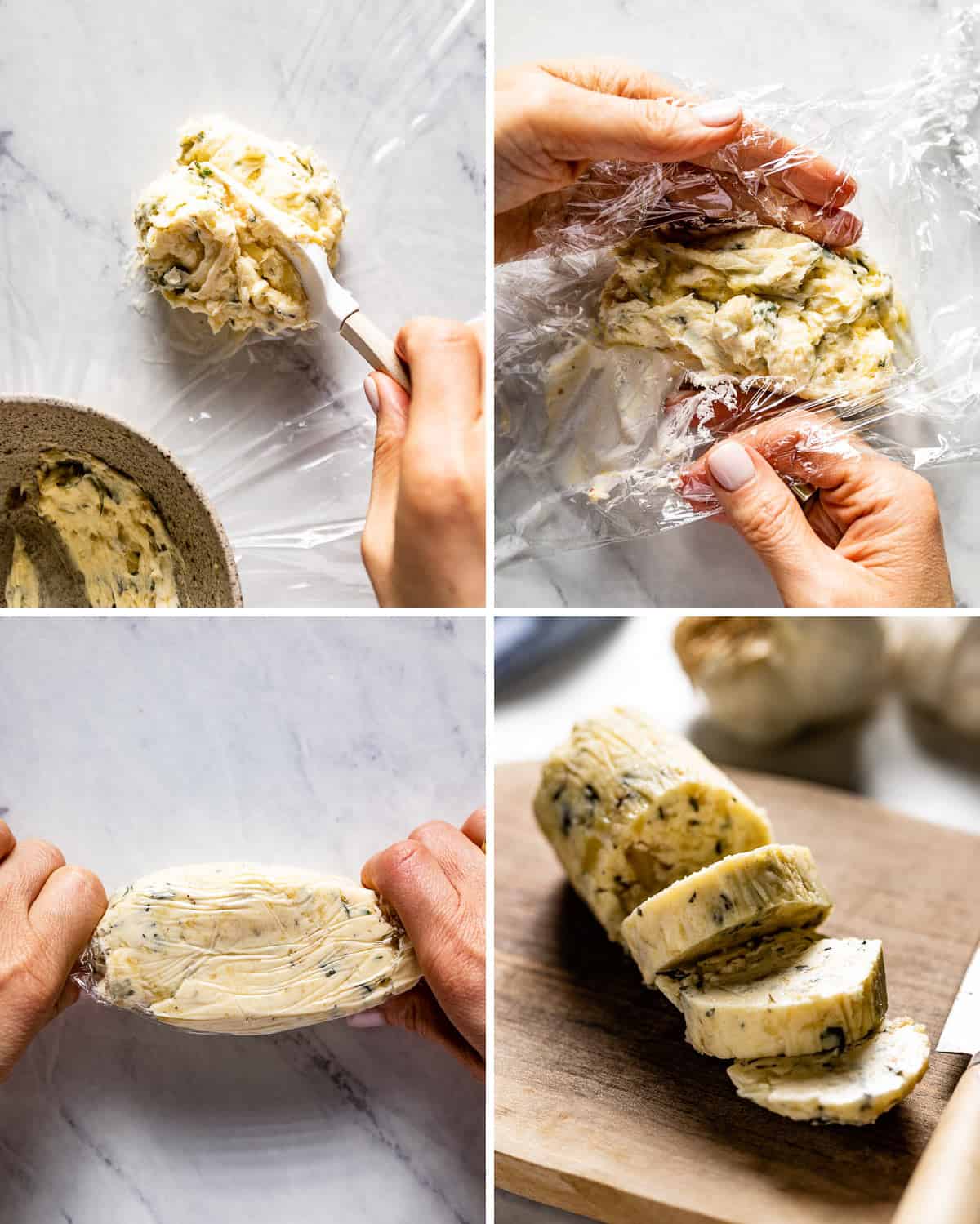 Shape the butter: Place the roasted garlic compound butter on a piece of plastic wrap or parchment paper and shape it into a cylinder. Wrap it up tightly so it holds its shape.
Cool: Place the butter log in the fridge and cool for at least three hours. To serve, unwrap the butter, cut it into slices, and use it in your favorite recipes!
How to Use Garlic Butter?
You can use this homemade roasted garlic butter anywhere you'd use regular butter, so the sky's the limit if you're a butter fanatic! This flavorful butter is the perfect finishing touch to make any meal or snack come to life. Here are a few suggestions to get you started: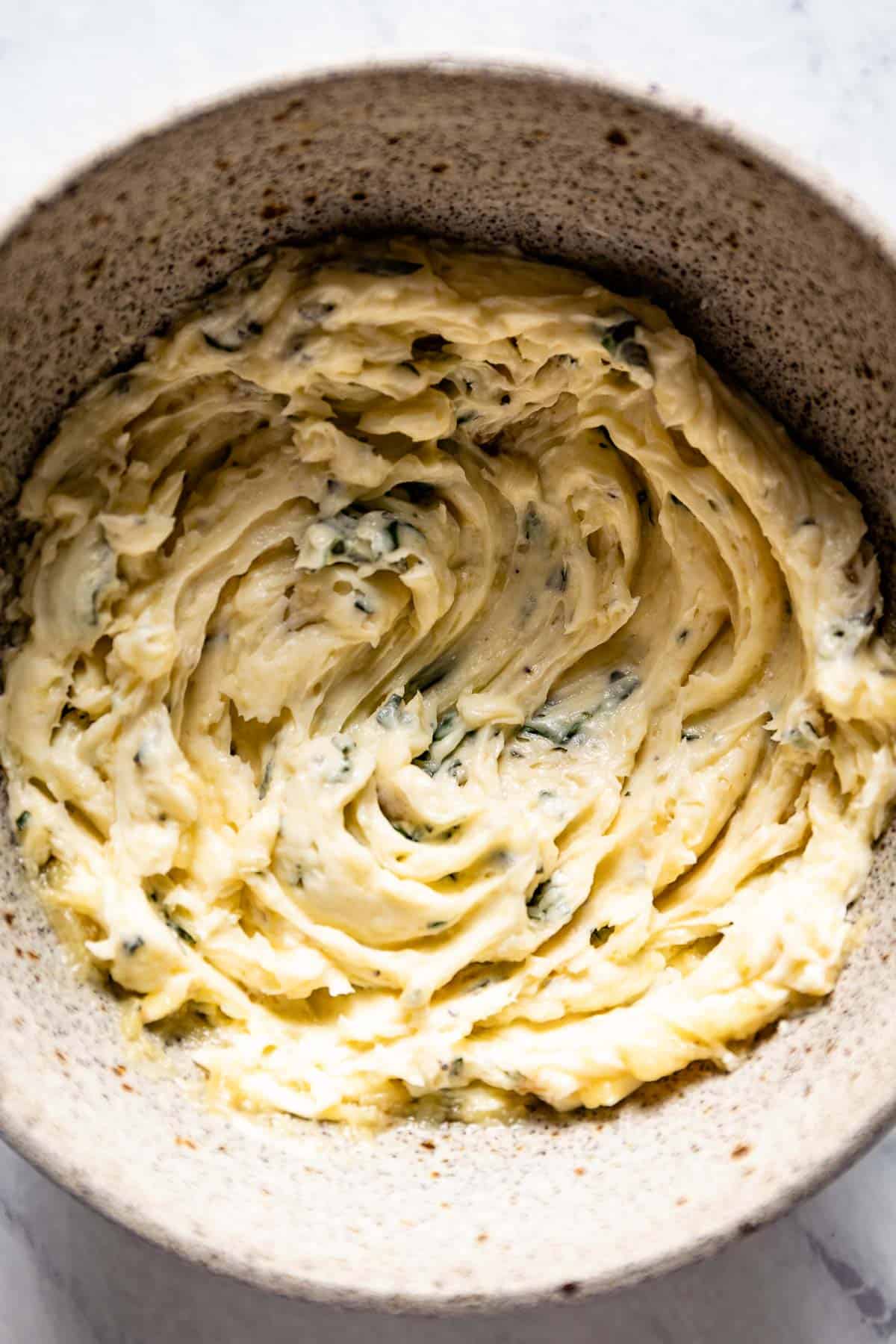 How to Store & Freeze
If you still have some extra homemade garlic butter on hand after spreading it on everything you can think of (we won't judge), then feel free to pop your leftovers in the fridge or freezer so you can enjoy them another day! Here are my storage recommendations:
Make Ahead: If you want to save time, you can roast your garlic a day in advance. Simply combine your roasted garlic with butter when ready to serve.
Store: If stored either tightly wrapped or in an airtight container, this simple compound butter recipe stays fresh in the fridge for up to three days. Be sure to consume your butter within this time period, as a foodborne illness called botulism can occur if garlic sits for too long in an oxygen-free environment. Try making a smaller batch of this recipe or make only one batch at a time to avoid waste and ensure you can consume the butter within the three-day period.
Freeze: Freeze your rosemary garlic compound butter for up to a month, either tightly wrapped or in an airtight container.
Thaw: Thaw your butter from frozen by taking it out of the freezer an hour before you expect to serve it. Make sure only to thaw the amount you want to use.
FAQs
Is garlic butter good for you?
Butter has various health benefits and is a great source of vitamins A and E, which support skin health, the immune system, eye health, and heart health. Garlic is also very nutritious, and a major health benefit of garlic lies in its immune-boosting properties.
Can you get botulism from garlic butter?
Botulism, a foodborne illness, can occur when a homemade garlic-in-oil mixture is stored in a room-temperature environment. Bottled or otherwise enclosed raw garlic creates an oxygen-free environment that supports bacterial growth, which can lead to botulism. To reduce the risk of botulism, per food safety guidelines, always store homemade garlic mixtures, including garlic butter, in the refrigerator and consume them within three days.
How many tablespoons are in a clove of garlic?
There are about two to three tablespoons of garlic in each garlic clove, depending on the size of the garlic bulb.
Can I use salted butter?
Yes, you can. However, if you do so, be sure to adjust the amount of salt you use in the recipe below.
Can I make this with pre-peeled garlic?
Yes, you can. However, keep in mind that it takes much less time to roast pre-peeled garlic, so be sure to adjust the roasting time accordingly.
Other Garlic Recipes You Might Like
If you can't cook a single meal without using garlic, we can definitely relate. That's why we have so many garlic recipes here on the blog! Check out the links below for more garlic inspiration:
If you try this Roasted Garlic Butter recipe or any other recipe on Foolproof Living, please take a minute to rate the recipe and leave a comment below. It is a great help to others who are thinking of making the recipe. And if you took some pictures, be sure to share them on Instagram using #foolproofeats so I can share them on my stories.
Roasted Garlic Butter Recipe
This easy Roasted Garlic Butter combines bold oven-roasted garlic with creamy butter and fresh herbs for a mouthwatering addition to endless recipes. Simply spread on fresh bread or elevate your favorite fish, meat, or vegetable dishes by topping them off with a dollop of this delicious butter.
Print Recipe
Ingredients
1

whole garlic bulb

1

teaspoon

olive oil

4

oz.

unsalted butter, at room temperature

(1 stick)

½

teaspoon

kosher salt

or sea salt

¼

teaspoon

black pepper

2

teaspoon

chopped fresh herbs

rosemary, chives, and parsley
Instructions
Preheat: Preheat oven to 400 degrees F.

Prep the garlic: Slice the top off the garlic and place it on a piece of aluminum foil.

Add oil: Pour olive oil over the garlic bulbs.

Roast: Wrap it tightly. It should look like a small pouch. Place it on a baking sheet and roast it in the oven for 40 minutes.

Check for doneness: To check doneness, carefully remove the aluminum foil (be careful as it is hot and steamy) and see if the garlic cloves are softened and lightly caramelized. If they are, you are good to go. If not, wrap it back up and let it roast for 5-10 more minutes or until the cloves are fully softened.

Remove the cloves: Let the roasted garlic cool for 10-15 minutes. Gently squeeze the head from the root end, pushing out all the soft cloves until you are left with the outer skin. Discard the skin and transfer the roasted garlic into a medium bowl.

Mash: Using the back of a fork, mash garlic until it is fully pureed.

Combine the ingredients: Into the same bowl, add the softened butter, salt, black pepper, and chopped herbs (if using). Mix until everything is combined. Alternatively, you can do this in a food processor.

Shape: You can use your garlic butter right away or shape it into a cylinder (make it a compound butter) for better presentation and portion control. To do so, place the garlic butter on a piece of plastic wrap (or parchment paper), shape it into a cylinder, and wrap it tightly. Place it in the fridge for at least 3 hours before using. When ready to serve, unwrap and cut it into slices and use in your recipe.
Notes
Make Ahead:

Roast the garlic a day in advance and combine with butter and other ingredients when ready to serve.

Store:

Store in the fridge, either tightly wrapped or in an airtight container, for up to three days.

Freeze:

Freeze for up to a month, either tightly wrapped or in an airtight container.

Thaw:

Take the butter out of the freezer an hour before you expect to serve it. Make sure only to thaw the amount you want to use.
Nutrition
Calories:
214
kcal
|
Carbohydrates:
0.3
g
|
Protein:
0.3
g
|
Fat:
24
g
|
Saturated Fat:
15
g
|
Polyunsaturated Fat:
1
g
|
Monounsaturated Fat:
7
g
|
Trans Fat:
1
g
|
Cholesterol:
61
mg
|
Sodium:
294
mg
|
Potassium:
12
mg
|
Fiber:
0.1
g
|
Sugar:
0.03
g
|
Vitamin A:
713
IU
|
Vitamin C:
0.3
mg
|
Calcium:
9
mg
|
Iron:
0.04
mg
Like this recipe? Consider sharing: