Sugar Free Crockpot Applesauce
This past weekend, my husband and I celebrated our 5th wedding anniversary. Between living in the Caribbean and coming back to the U.S., 5 years went by so fast. Marriage could be a difficult thing, but if you are with someone you love and respect, it could be a beautiful thing as well. I feel so lucky to be married to my best friend and could not ask for a better partner.
To celebrate, we made a day-trip to Ellijay, Georgia for a day of apple picking. During this time of the year, there are many farms that allow people to pick their own apples. We went there with our friends Paula and Ian and ended up having a full day of fun.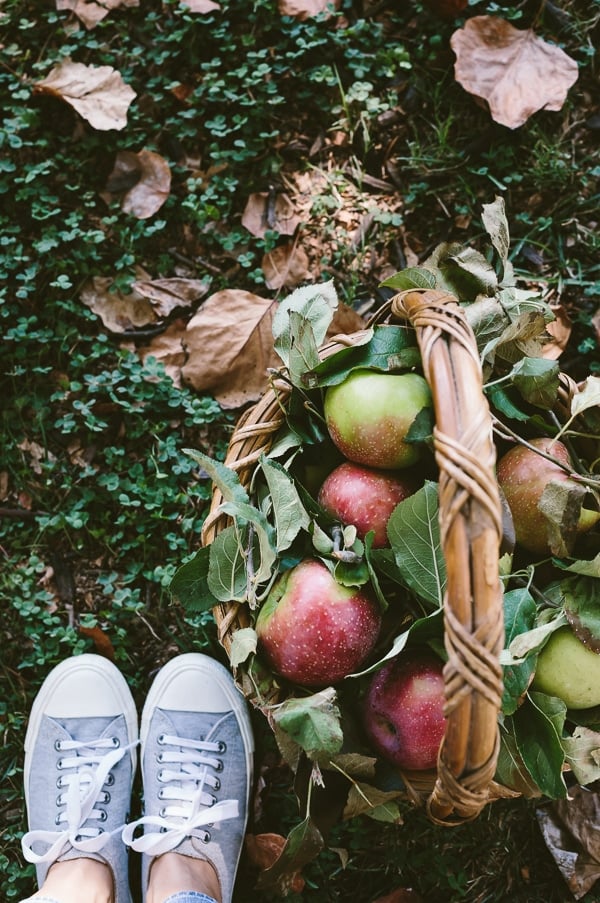 Ellijay, Georgia's popular apple farm town, is located an hour and a half driving distance North-West of Atlanta. There are many farms that offer, what they call, u-pick programs all located within close vicinity from one another. After a quick Google search, we decided to go to the Red Apple Barn and it did not disappoint.
We each paid $7.50, which included the 10-minute tractor ride to the apple orchard, a cup of cold apple cider, and apple cider doughnuts at the end of the trip. In addition, we paid for the apples we picked. They offered several options ranging from a small peck to a large basket with prices between $6 and $24.
After a quick tractor-ride to the orchard, we were welcomed by a young man, who gave us a quick orientation to the orchard and told us about the types of apples we could pick from. This time of the year, Red Apple Barn offers varies kinds of apples like September Wonder, Cameo, Golden Delicious, Fuji, Prichet Golden, and Rome Beauty.
Each apple tree was tagged with a different color to help visitors identify the type of apple it was. During the next hour, we filled our bags with a variety of apple while tasting each variety as we picked through the orchard. Unfortunately, it was too hot for us to stay there longer than an hour. However, we still enjoyed our time immensely.
After we came back from the orchard, we went up to the barn and enjoyed a cup of cold unsweetened apple cider along with a freshly fried apple cider doughnut. I have to say, I have never had an apple cider doughnut before, and since I am not a big fan of fried food, I was hesitant to have one. However, I am glad I splurged, because now I know that apple cider doughnut is a delicious thing.
We came back home with a whopping 10-pounds of apples. All in different sizes and types. Apple pie was definitely on the list of things to make, but I also wanted to have a good supply of applesauce to get me through the upcoming holiday season. I use applesauce in many ways, but mostly in my baking and as a condiment in my cooking.
I also love topping off my morning oatmeal/cereal with a big dollop of applesauce. In the upcoming weeks, you will see me sharing a few recipes using this applesauce as an ingredient. If you want to follow along, make sure to some of this delicious applesauce in your fridge.
About This Slow Cooker Unsweetened Applesauce Recipe:
For this recipe, I used my slow cooker. However, if you do not have one, you could still make this sauce in a large pot. I love the convenience of placing everything in a slow cooker and forgetting about it for a few hours. For the recipe below, I used 3 pounds of apples, which yielded 4 cups of applesauce. If your slow cooker is large enough, feel free to double the recipe.
I personally do not add any sweeteners to my applesauce, because I found that as apples cook they get sweeter and that sweetness is enough for our taste. You could add a few tablespoons of honey or maple syrup, but I urge you to try it without adding any sweeteners. Especially, if you are making it the first time.
In terms of flavorings, I use a few cinnamon sticks and a pinch of freshly ground nutmeg. Since I plan on using my applesauce in various recipes I kept the flavorings to a minimum, but if want you could also add star anise, fresh (or ground) ginger, and/or a few whole cloves.
I did peel my apples, because I prefer a creamy and smooth applesauce. However, if you prefer to cook them with their skin on, you certainly could, but just know that it might take a little longer for them to cook.
I used water as liquid, but I have seen some people use apple juice as well. At first, you might be tempted to add more liquid than listed below, but believe me, half a cup of water for 3 pounds of apples is more than enough.
Even though the timing depends on your slow cooker, in general 3 to 4 hours of cooking in high-heat setting seems to be enough. However, I recommend giving it a stir a few times and keeping a close eye on it after the 3-hour mark.
Once cooked, you could either use a food processor or a high-powered blender. Up until this year, I used my food processor to puree my applesauce, which yielded great results. However this year, I used my Vitamix. And I have to say, a high-powered blender does a really good job of delivering a creamy, almost-pudding like applesauce. With that being said, I know some people like their applesauce on the chunkier side. If that is you, feel free to use your food processor, immersion blender, or even a food mill.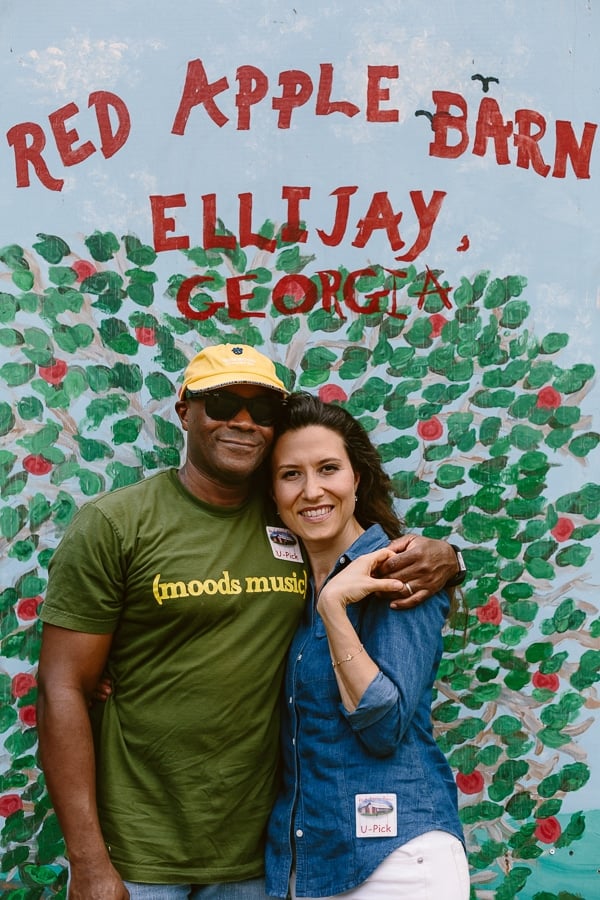 Alternatively, like I mentioned earlier, you could cook your apples in a big pot with some water. However, in my experience the slow cooked applesauce results in more depth in flavor than stovetop cooked apples.
How long will Applesauce Keep Fresh? Can I freeze it?
To store my applesauce, I use various types of glass jars and plastic containers. Glass jars are good if you are planning to consume your applesauce within a few days (up-to 5 days) and keep them in the fridge. However, if you are planning to make a big batch, you could place the sauce in airtight plastic containers and keep them in your freezers up to three months.
If you liked this Unsweetened Applesauce Recipe You Might Also Like:
Slow Cooker Unsweetened Applesauce Recipe
This slow cooker unsweetened applesauce is vegan and made with just a few ingredients. It is a great way to use apples that are in abundance throughout the fall. So get your slow cooker out and make this delicious applesauce to eat as a snack or to use in your cooking and baking for the upcoming holiday season.
Print Recipe
Ingredients
3

pounds

of apples- peeled

cored and cut into small cubes – 6-8 apples depending on their size

½

cup

of water

juice of a ½ lemon

2

cinnamon sticks

pinch

of salt

pinch

of ground nutmeg

freshly squeezed
Instructions
Layer sliced apples in the bowl of a slow cooker.

Pour in the water and lemon juice.

Add in the cinnamon sticks, salt, and ground nutmeg. Give it a gentlestir.

Cook in high heat setting up to 3-4 hours. Depending on your slow cooker the timing may change. However, I recommend keeping a close eye after the 3-hour mark. I also recommend giving it a stir a few times during the cooking process.

Transfer the apples into a high power blender and puree until smooth. Alternatively, you can use a hand mixer, but it might take longer for it to be completely pureed.

Store in glass Mason jars. They will keep fresh up to 5 days in the fridge. If you prefer to freeze your applesauce, store in airtight plastic containers and freeze up to 3 months.
Nutrition
Calories:
181
kcal
|
Carbohydrates:
48
g
|
Protein:
1
g
|
Fat:
1
g
|
Saturated Fat:
1
g
|
Sodium:
5
mg
|
Potassium:
364
mg
|
Fiber:
9
g
|
Sugar:
35
g
|
Vitamin A:
184
IU
|
Vitamin C:
16
mg
|
Calcium:
38
mg
|
Iron:
1
mg
---
Editor's note: I was not compensated in any shape or form by anyone or an establishment to write this post. All opinions written in this posts are mine.
Like this recipe? Consider sharing: