It finally cooled down here in Atlanta and I cannot be happier. As I type this, my windows are open and the crisp morning air feels so good in my face. I love autumn. It feels great to take a break from the 90+ degree weather, put on socks, and wear a cozy sweater. For the last couple of days, I have been in the kitchen testing various recipes for all kinds of baked goods for the upcoming holidays.
My oven has been working overtime and the fridge is full of cookies, tart dough and cake batter. Since sweets do not count for dinner, I needed an easy (mostly hands-off) meal that would balance out all our excess sugar consumption.
And this veggie-packed slow cooker butternut squash lentil stew came to our rescue. It is one of those recipes where you put everything in your slow cooker, forget about it and have dinner ready with minimal effort. Not to mention, it is such a healthy recipe that is made with one of fall's most popular vegetable: butternut squash.
About this Slow Cooker Butternut Squash Lentil Stew:
Now, I know that I said that you can make this with minimal effort, but I have to mention that the mise-en-place includes quite a bit of chopping. I am fine with chopping onions, carrots, celery, and sweet potatoes, but I would be lying if I were to tell you that I find cutting butternut squash easy. Luckily, our local supermarket sells already cut butternut squash and I found that it is a time saver when I am short on time, especially because you only need 2 cups of butternut squash for this recipe.
Once you have all your ingredients ready, all you have to do is to put everything in your slow cooker, turn it on, and forget about it. It is literally that simple. I cooked it in low-heat setting for five and a half hours. You might think that it is relatively a short amount of time, but even in the low-heat setting my slow cooker cooks faster. Also, I prefer my butternut squash cooked al dente. Though it depends on your crock-pot, I recommend keeping an eye on it after the 5-hour mark. If you are home, feel free to give it a stir a few times during the cooking process.
To make it even more nutritious, right before I was ready to serve, I added a few cups of chopped kale and let the residual heat cook it. In my opinion, it was a great way to brighten the dish and sneak in another superfood.
Can't get enough? Be sure to try this Split Pea Soup for a cozy and healthy dinner.
Regular Green Lentils Versus French le Puy Lentils
I have made this dish both with regular green lentils and French du Puy lentils. I found that le Puy lentils do a better job of retaining their share during the long cooking process. Therefore, if you can get your hands on those, I recommend making this dish using le Puy lentils.
In fact, nowadays, I almost never buy regular lentils anymore for that very reason. I found that while the price is not much different, the end result with French lentils is considerably better. Even with long cooking time, they do not fall apart. Still, if you only have green lentils you could still make this dish, but be aware that if you use regular ones your lentils might not look like mine.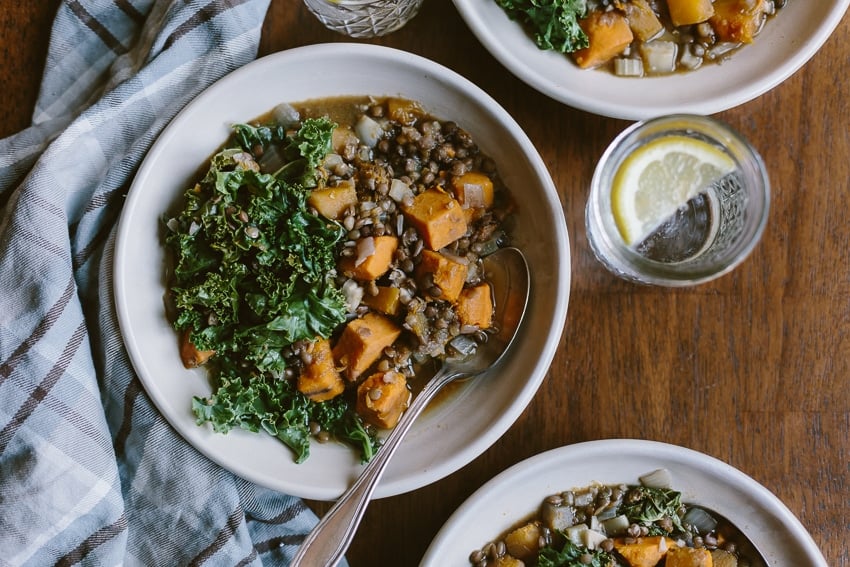 Finally, if you are missing a few ingredients and want to substitute with what you have in your fridge, you could easily do so for this recipe. Perhaps, you could use red potatoes instead of sweet ones or even substitute butternut squash with pumpkin or acorn squash. If you don't have kale add in spinach or both. Seriously, the sky is the limit. I promise you, this vegan autumn stew is not only a great way to feed your family, but also to clean out your fridge.
Other squash recipe ideas
Other crockpot recipes you might like
---
Slow Cooker Butternut Squash Lentil Stew
This Slow Cooker Butternut Squash Lentil Stew is a veggie packed, nutritious, and easy-to-make recipe that will not only help you feed your family in a super healthy way, but also clean out your fridge. Once all your veggies are chopped, all you have to do is put them in your crock pot and let it do all the work.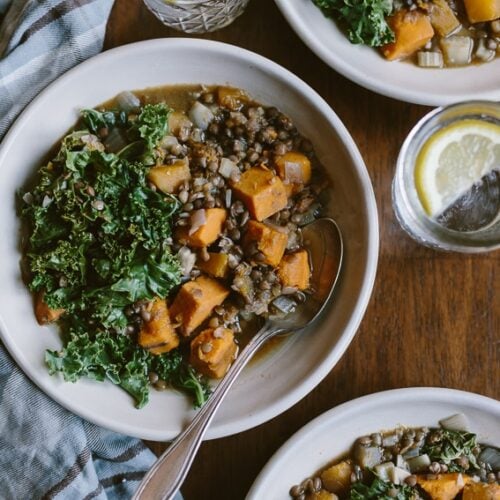 Print Recipe
Ingredients
2

cups

butternut squash

peeled and cut into ½ inch cubes

1

cup

carrots

3-4 carrots, peeled and sliced

2

cups

sweet potato

1 large sweet potato, peeled and cut into ½-inch cubes

1 ½

cup

celery

4-5 stalks, chopped

1 ½

cup

French du Puy lentils

picked over and rinsed

1

cup

onion

chopped

5

cloves

of garlic

minced

5

cups

low-sodium vegetable stock

1

teaspoon

cumin

½

teaspoon

coriander

¼

teaspoon

black pepper

freshly ground

1

teaspoon

Kosher salt

2-3

cups

kale

rinsed, stems removed, and roughly chopped

1

tablespoon

white wine vinegar

or apple cider vinegar or sherry vinegar
Instructions
Place everything, except kale and vinegar, in your slow cooker. Cover and cook in high for 5-6 hours or in low for 6-7 hours (times may vary depending on your slow cooker). Give it a gentle stir a few times during the cooking process.

Add in the kale and vinegar. Gently stir to combine so that the residual heat can soften the leaves.

Serve immediately.
Nutrition
Serving:
1
g
|
Calories:
268
kcal
|
Carbohydrates:
53.6
g
|
Protein:
14.4
g
|
Fat:
1
g
|
Sodium:
430.4
mg
|
Fiber:
9.8
g
|
Sugar:
7.4
g
The inspiration for this recipe came from Pinch of Yum's The Best Crock-Pot Detox Lentil Soup Recipe.
Other lentil recipes you might like
Like this recipe? Consider sharing: