I'll be the first one to admit. I was once that person who took advantage of the convenience of storebought premade salad dressings. I totally get the fact that it is much easier to grab the bottle from the fridge and use it right there and then.
However, I also know that it is now more important than ever to know what goes into your food, especially when it is so easy and quick to put it together. I think a salad dressing made with only 7 everyday ingredients that you can whip up in 5 minutes totally fits in this category.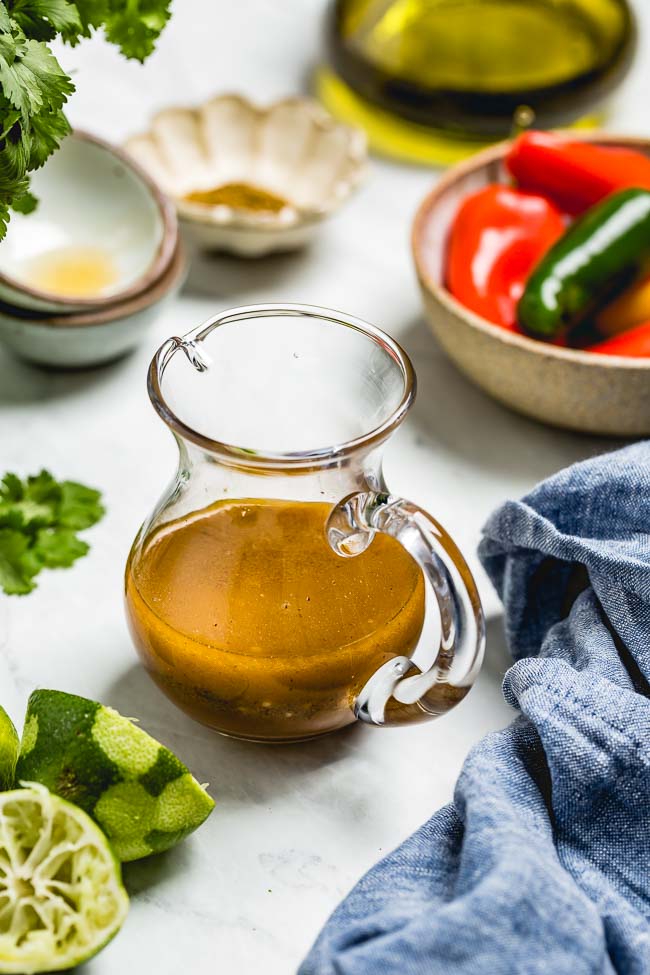 The good thing is that even if you are new to whipping up your own salad dressings I have so many recipes to help you get started. Yogurt Salad Dressing, Lemon Dijon Dressing, Tzatziki Sauce, Soy Ginger Dressing, Pesto Vinaigrette, and Tahini Yogurt Dressing are a few to name.
If you feel the same way join me as I break it down and make my go-to sweet and spicy lime salad dressing recipe.
Ingredients
As I mentioned earlier, you only need 7 ingredients to make this chili lime dressing. They are: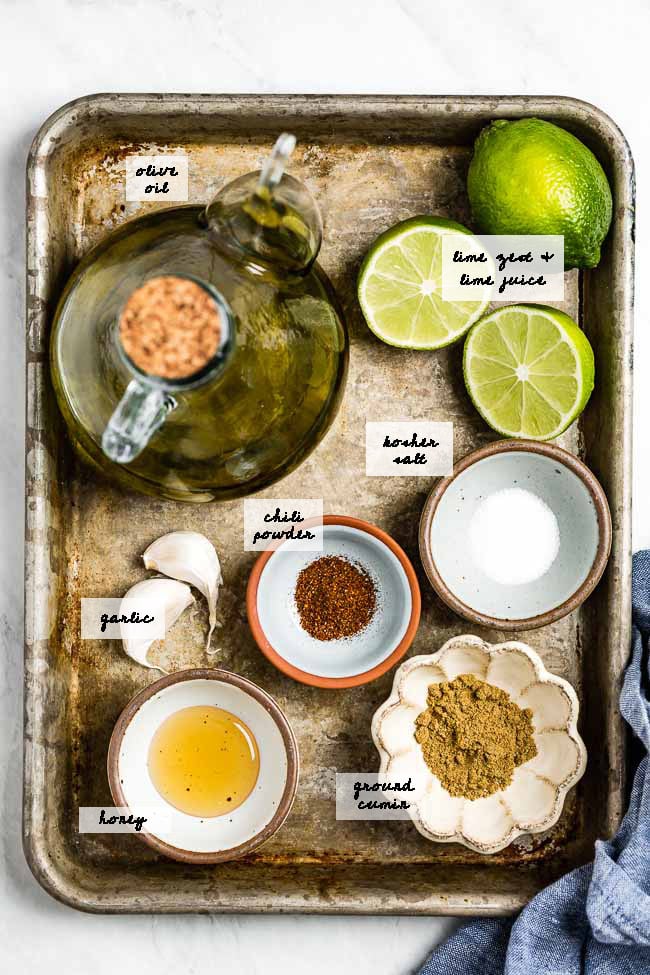 Olive Oil – Use a fruity and mild olive oil, such as Extra Virgin. The dressing is not cooked, so we want the best tasting olive oil available. If you happen to have a Spanish olive oil lingering in your pantry, bonus points! By all means, use it! If you need a national brand, my favorite olive oil brand is California Olive Ranch (affiliate link.)
Lime Zest – To get 1 Tablespoon of lime zest, you will need about 2 limes. Zest the entire surface of the limes with a Microplane (affiliate link), making sure not to get the white, bitter pith underneath.
Lime Juice – Each lime contains about 2 Tablespoons juice, so use the 2 limes you just zested to reach the perfect amount of juice you need for the dressing.
PRO TIP: Limes not juicy enough? Pop them in the microwave for 10-15 seconds, roll them on your countertop with a bit of gentle pressure, slice and squeeze. Prepare to be amazed!
Garlic: Finely minced or chopped, fresh garlic adds that slight savory edge and infuses into the dressing quite nicely.
Chili Powder: Nowadays, you can easily find all kinds of chili powder in your local supermarket. Some super spicy, some on the mild side, some made with a combination of chilis, some made only with ancho chili, etc. I think the most important thing to do is to use one that you like. My recommendation is to try a few and use the one that feels the best for your taste buds. And if you prefer a less spicy version of this dressing, try making our Honey Lime Salad Dressing instead.
Ground cumin: Cumin is my favorite spice and a teaspoon of it truly elevates this vinaigrette recipe.
Kosher salt: I used only ¾ teaspoons of salt but feel free to adjust it to your liking.
Red Pepper Flakes (optional): A pinch of red pepper flakes should suffice.
How to make chili lime vinaigrette?
The process of this making this chili vinaigrette cannot be easier. Simply put all the ingredients in a small jar, put the lid on, and shake vigorously until everything is fully combined.
Can I Make This Recipe In Advance? How long will it keep fresh?
You sure can. I usually make a batch and keep it in the fridge. As long as it is kept in an airtight container, it will keep fresh up to 5 days.
Can I multiply this salad dressing recipe?
You certainly can. Simply double, triple or multiply it to make it work for your recipe.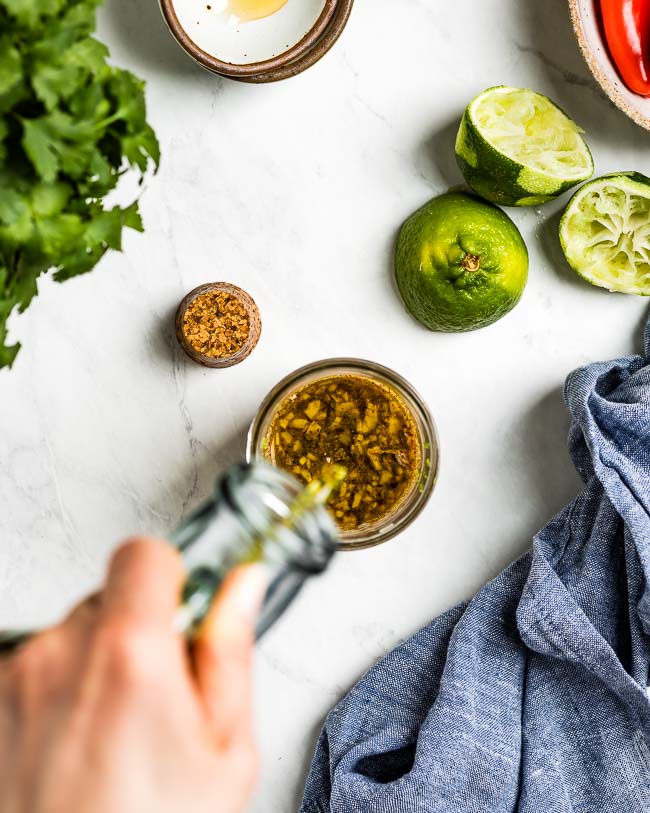 Ways To Use This Chili Lime Vinaigrette Dressing Recipe:
I am glad you asked because I think this spicy lime vinaigrette is one of those recipes that you can use over and over. Here are a few suggestions: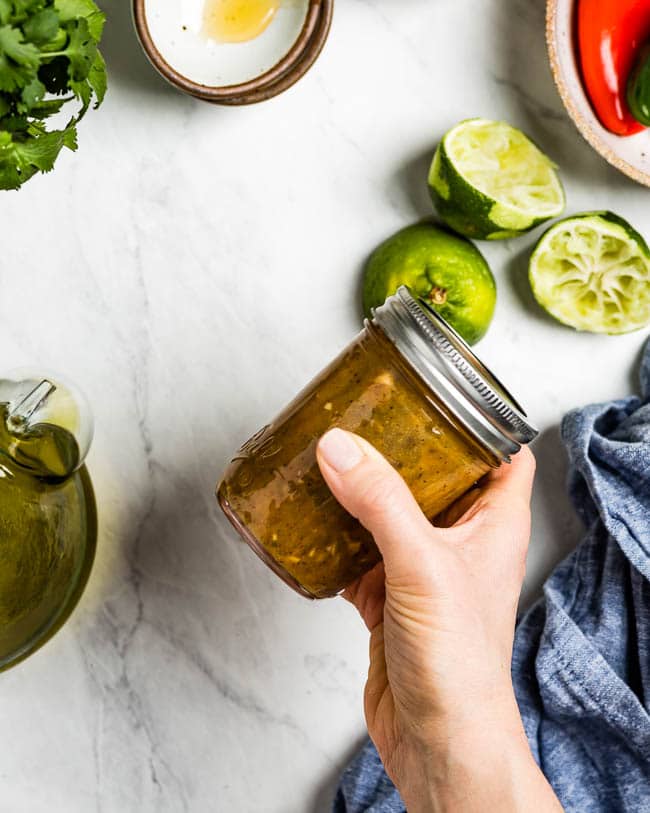 Calories:
The below recipe makes a little less than half a cup of chile-lime vinaigrette, which I think is ideal for a recipe that serves for 4 people. If we base it on that it would 162 calories per serving. You can get more nutrition information in the recipe card below.
Chili Lime Vinaigrette Recipe
Yields:
4
servings (1/2 cup)
Love making salad dressings at home? If so you are in the right place. This chili lime vinaigrette is deliciously tangy and spicy. It comes together in inly 5 minutes and can be multipled. Make a batch, drizzle on salads, or mariande your favorite meets.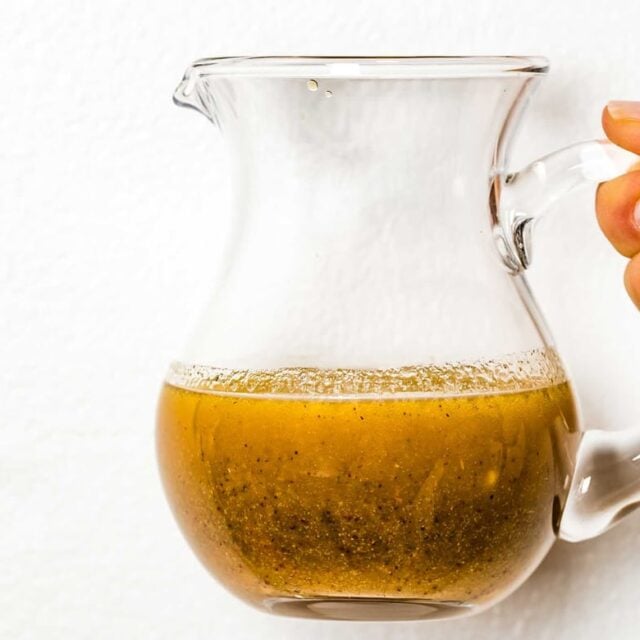 Print Recipe
Ingredients
¼

cup

olive oil

1

teaspoon

of lime zest

4

tablespoons

lime juice

freshly squeezed

2

cloves

garlic

minced

1

teaspoon

ground cumin

½

teaspoon

chili powder

¾

teaspoon

kosher salt

½

teaspoon

honey
Instructions
Place all ingredients in a jar, put the lid on, and give it a good shake.
Notes
This vinaigrette recipe will keep fresh in an airtight container (such as mason jar with a lid) in the fridge upto 5 days.
Nutrition
Calories:
131
kcal
|
Carbohydrates:
3
g
|
Protein:
1
g
|
Fat:
14
g
|
Saturated Fat:
2
g
|
Sodium:
442
mg
|
Potassium:
26
mg
|
Fiber:
1
g
|
Sugar:
1
g
|
Vitamin A:
74
IU
|
Vitamin C:
5
mg
|
Calcium:
7
mg
|
Iron:
1
mg
Like this recipe? Consider sharing: