If you believe that food is medicine, you are in the right place. Today, we are making a delicious green smoothie with turmeric.
Last week I got the flu. The kind that keeps you in bed for days.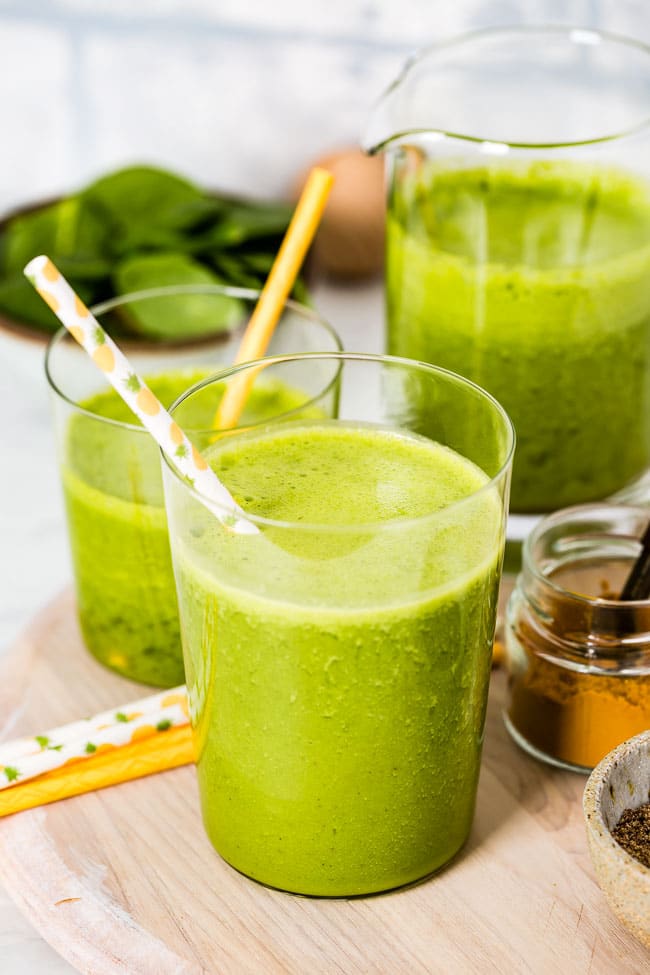 After a few days of not feeling better, I went to see my doctor and she said that unless it is treated within 24 hours there is not much she can do and that I have to wait for it to take its course. She also added that I should increase my intake of green leafy vegetables.
That is where the inspiration for this spinach turmeric smoothie came from. I have always loved treating myself with a cup of my golden milk recipe or my ginger turmeric tea at night so I thought why not make a green smoothie for breakfast to make myself feel better.
With the help of my husband, we tested several turmeric smoothies that week and this green turmeric smoothie is one of the three smoothies coming your way.
Ingredients: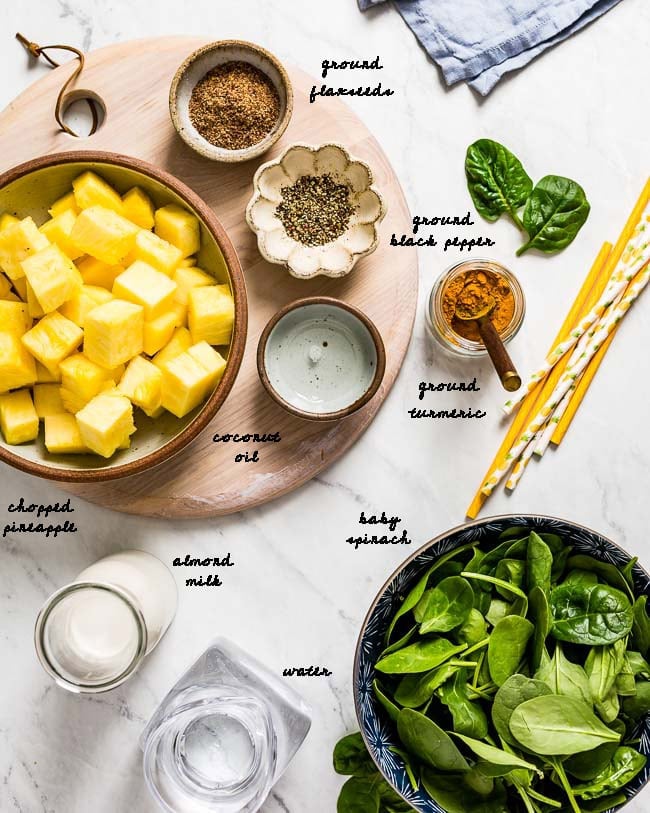 Below are the ingredients for this turmeric green smoothie recipe:
Baby Spinach: I opted for 2 cups of baby spinach, but honestly any of your favorite leafy greens would work. Don't have spinach? Try kale, chard, or even lettuce greens.
Pineapple Chunks: The sweetener of this green smoothie is fresh pineapple chunks, but you can also use frozen pineapple.
Don't have pineapple on hand? You can use any other fresh or frozen fruit. Try frozen bananas, mango or berries.
Unsweetened Almond Milk & Water: While you can use only almond milk or only water, I personally like the creaminess that comes from almond milk so I used a cup of each. Feel free to adjust it to your liking.
Ground Turmeric Spice (aka Turmeric powder): I used ½ teaspoon ground turmeric for this green smoothie. When it comes to adding turmeric to my smoothies my rule of thumb is using ½ teaspoon of ground turmeric for every 2 servings. If you are doubling the recipe be sure to double the amount of turmeric used.
You might ask, what if I want to use fresh turmeric? If you can get your hands on fresh turmeric, then I recommend grating 1-inch peeled turmeric root, which should give you about ¼ teaspoon fresh turmeric.
Ground Flaxseeds: According to Healthline, "Just one tablespoon of ground flaxseeds provides a good amount of protein, fiber, and omega-3 fatty acids, in addition to being a rich source of some vitamins and minerals."
To me, adding a tablespoon of ground flaxseeds in my smoothies is such an easy (and cheap) way of upping my intake of superfoods.
A Pinch of Black Pepper: Using black pepper might come off as a surprise to you, but (without going into too much detail) the most well researched and known active ingredient in turmeric is called curcumin.
It has been known to promote the health of the body with its antioxidant, antibacterial, and anti-inflammatory properties. However, when it is consumed by itself, our bodies are unable to absorb it. This is where black pepper comes to our help. One of the active components in black pepper, piperine, is known to help us absorb the curcumin when it intersects with curcumin.
Coconut Oil: This might also come as yet another surprising ingredient. However, since the magic component of turmeric, curcumin, has poor solubility in water, adding only half a teaspoon of coconut oil helps our bodies absorb all of its goodness. (source)
RELATED: Need a little convincing about drinking more smoothies? Read this "Benefits Of Smoothies" posts and find out why I think smoothies are awesome. And if you want more, check out my favorite Superfood Smoothies.
How to make turmeric green smoothie?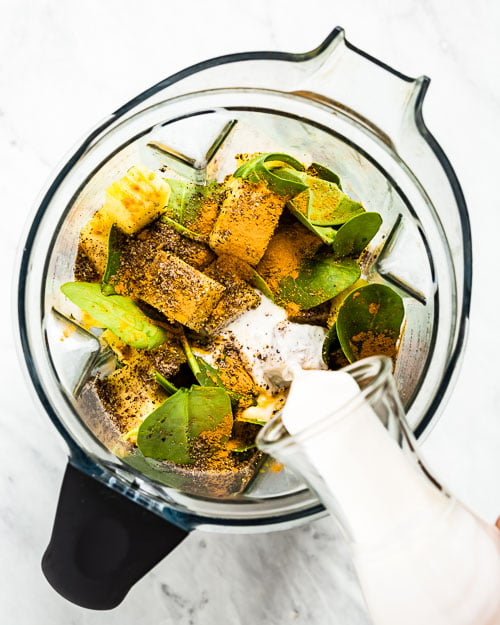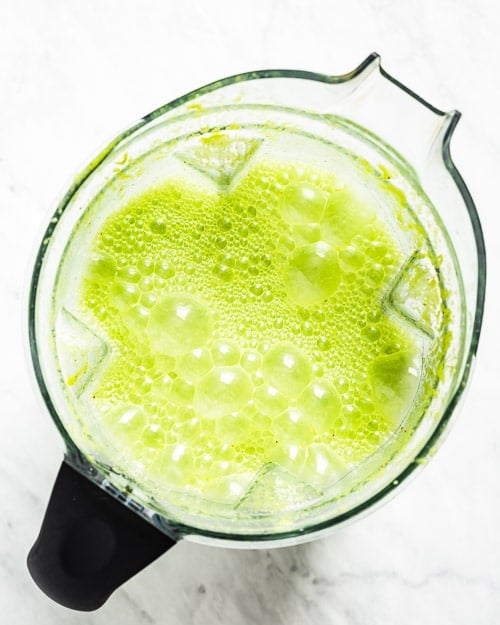 Like it is with any other smoothie recipe, this green smoothie cannot be easier to make. Simply put all the ingredients in the bowl of a blender such as Vitamix (affiliate link) and blend until smooth.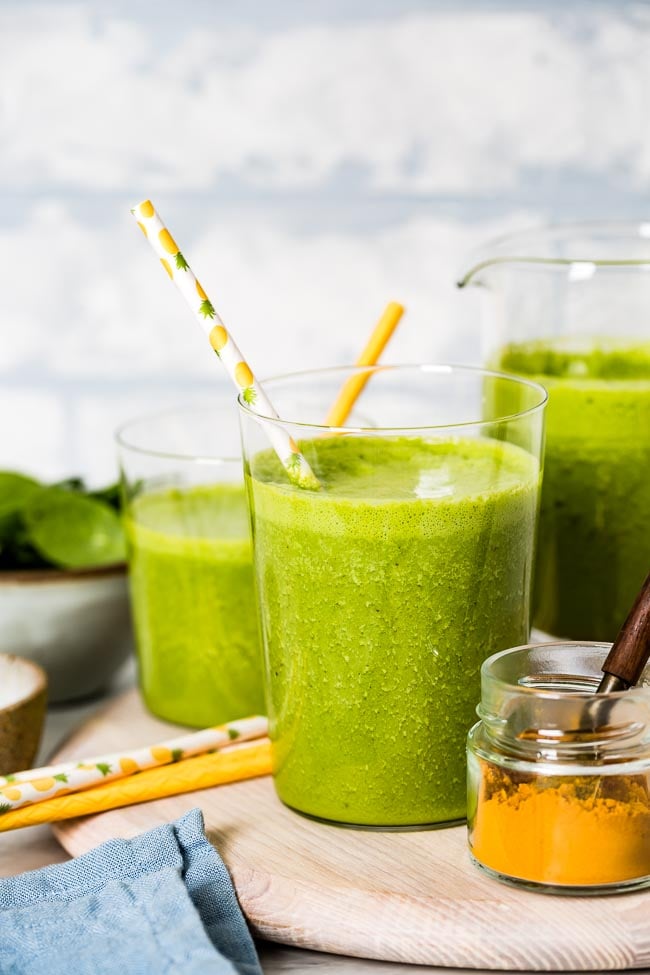 A Few variations:
Want to make it sweeter? I personally think that with 3 cups of pineapple this turmeric shake is quite sweet. However, if you like your smoothies sweeter, try using natural sweeteners like frozen banana, pitted date, maple syrup or coconut sugar and adjust the amount to your liking.
Want to add in more superfoods? If you want to switch things up and add in more of the goodness, grate an inch of fresh ginger into the blender before you mix everything up.
If you decide to do so, try making this recipe using kale (instead of spinach) as kale ginger turmeric smoothie is a powerhouse that not only tastes good but also immediately wakes up all your senses.
Don't like ginger? Try my kale pineapple smoothie recipe.
Enjoy making turmeric smoothies every day? Make a batch of my turmeric paste and use a teaspoon of that instead of black pepper, turmeric powder, and coconut oil.
If you like turmeric and ginger combo I would also recommend trying my Turmeric Ginger Smoothie recipe.
Turmeric Green Smoothie Recipe
Make this dairy-free and naturally sweetened (no sugar added) Turmeric Green Smoothie recipe to start the day on the right foot. Packed with spinach, pineapples, turmeric & flaxseeds.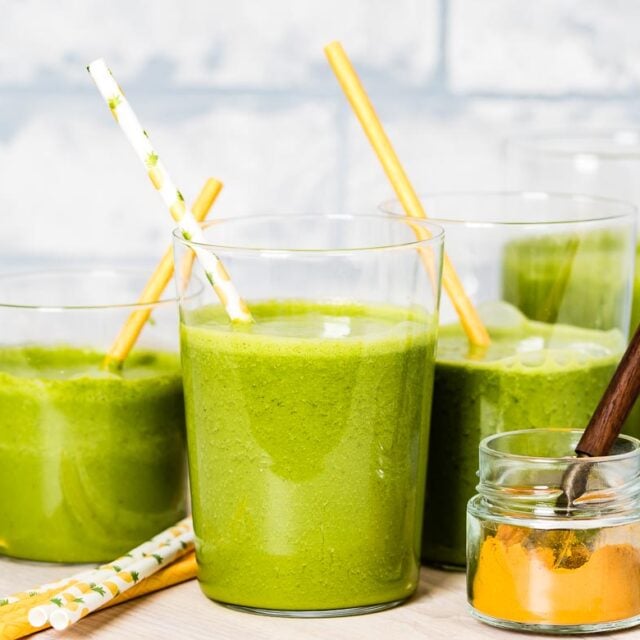 Print Recipe
Ingredients
2

cups

baby spinach

rinsed and washed

3

cups

of pineapple chunks

fresh or frozen

½

teaspoon

of ground turmeric spice

1

tablespoons

ground flaxseeds

1

cup

of water

1

cup

unsweetened almond milk

Pinch

of black pepper

½

teaspoon

coconut oil

melted and cooled
Instructions
Place all ingredients in a blender and blend until smooth.

Serve immediately.
Nutrition
Calories:
177
kcal
|
Carbohydrates:
35
g
|
Protein:
4
g
|
Fat:
4
g
|
Saturated Fat:
1
g
|
Sodium:
196
mg
|
Potassium:
466
mg
|
Fiber:
5
g
|
Sugar:
25
g
|
Vitamin A:
2957
IU
|
Vitamin C:
127
mg
|
Calcium:
221
mg
|
Iron:
2
mg
Like this recipe? Consider sharing: