My love for the turmeric and ginger combo started a few years ago right after we moved to Vermont. The sudden temperature change from our life in the Caribbean to our new life in Vermont made my poor body struggle so much that I had to increase my intake of superfoods.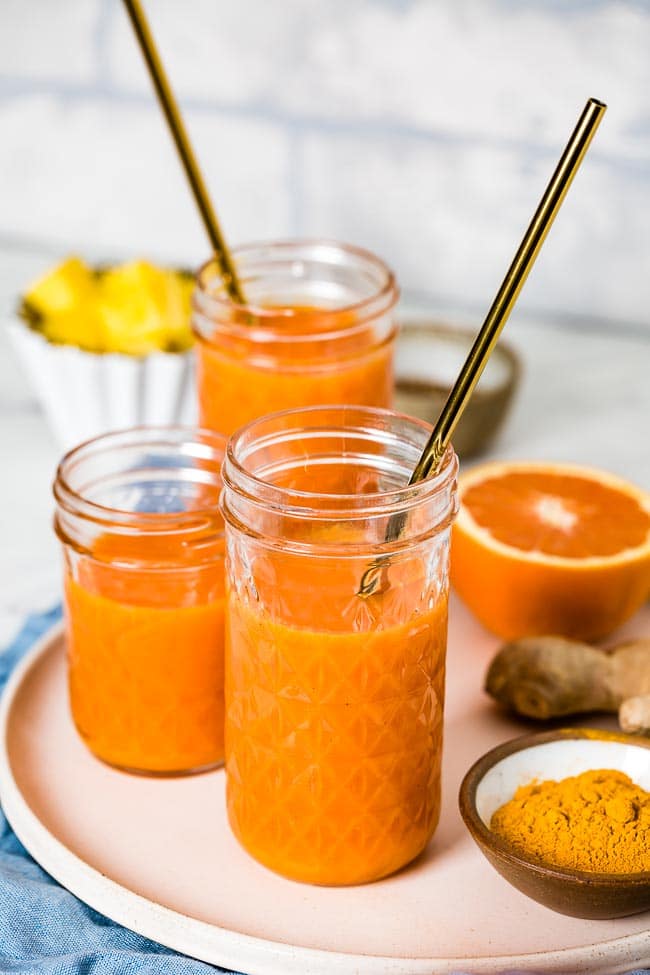 Since then I have taken up the habit of drinking a cup of my ginger turmeric tea during these cold winter months to make myself feel better. Today's recipe, Ginger Turmeric Smoothie, is inspired by that drink.
It is a dairy-free carrot-based smoothie that is flavored with oranges, fresh ginger, and ground turmeric. It is naturally sweetened with oranges and sweet carrots.
CARROT GINGER TURMERIC SMOOTHIE INGREDIENTS
This turmeric smoothie is made in a high powered blender using only 7 ingredients. They are: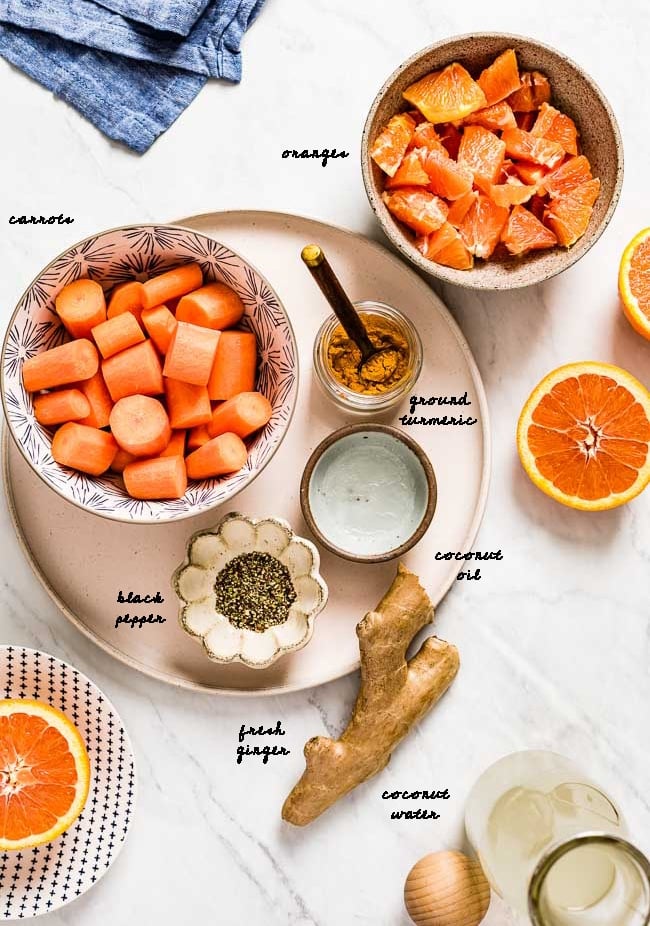 Carrots: I used 3 medium-sized whole carrots and juiced them in my Vitamix (more on that and using other blenders and/or a juicer later)
Whole Oranges: When it comes to smoothies I prefer using whole oranges instead of using orange juice only. In this carrot turmeric smoothie, I use 3 peeled Cara Cara oranges but any type of orange you can get your hands on would work.
Coconut Water: The "liquid" in the recipe is unsweetened coconut water. When it comes to buying coconut water, I highly recommend reading the labels and getting one that has only one ingredient (coconut water) in it. This brand (affiliate link) is my favorite one.
Fresh Ginger: This recipe uses only one inch of fresh ginger.
Ground Turmeric Spice: Since it is widely available I opted for using half a teaspoon of ground turmeric powder. However, if you can get your hands on it, you can use fresh turmeric root as well. If you do so, I recommend using a quarter of a teaspoon of grated fresh turmeric.
Ground Black Pepper: Use a pinch of black pepper to activate the most beneficial compound in turmeric, aka curcumin.
Coconut Oil: Using a half a teaspoon of coconut oil in turmeric smoothies helps our bodies absorb all the benefits of curcumin as it is a fat-soluble compound.
Wondering why we use ground black pepper and coconut oil when we use turmeric smoothies?

The quick answer: One of the most well-researched compound in turmeric is called curcumin. It is known high in antioxidants and known with this antibacterial, anti-inflammatory, and anti-cariogenic properties. (Source) Unfortunately, our bodies are unable to absorb it by itself so we use a pinch of black pepper and coconut oil to reap all of its benefits.

Longer answer: If you would like to learn more about curcumin and why we use black pepper and coconut oil in more detail, you can find more detailed information in this Golden Milk Recipe post.
HOW TO MAKE GINGER CARROT JUICE SMOOTHIE
If you own a high powered blender like Vitamix (affiliate link), blending carrots in smoothies and making carrot-based smoothies is a breeze.
Place all ingredients in the blender, turn the machine on and slowly increase the speed until it is fully blended.
If you think that it is too thick, add in a splash of coconut water and blend until it is to your liking.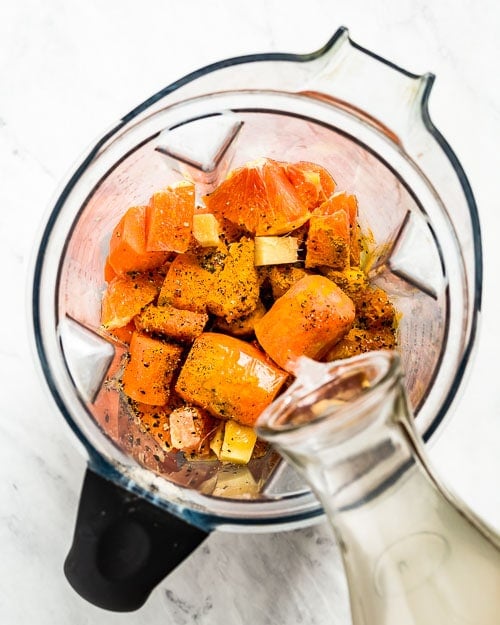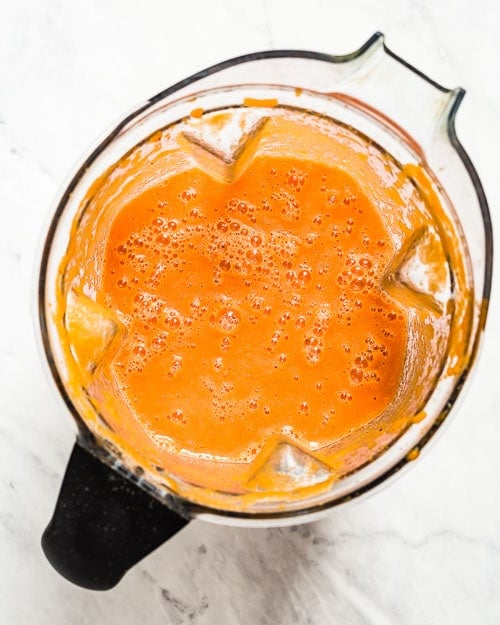 At this point you might ask:
CAN VITAMIX MAKE CARROT JUICE?
As I was testing this recipe I wondered if I could juice a carrot in my Vitamix. Mostly because I wanted to consume the whole vegetable instead of only drinking its juice.
The answer is yes. As a matter of fact, making carrot juice with Vitamix is a breeze. With the help of some liquid (in this case unsweetened coconut water) and whole oranges (that are very juicy), you can easily juice carrots in a high powered blender.
WHAT IF I DON'T HAVE A HIGH POWERED BLENDER?
If you don't have a juicer or a high powered blender or if you prefer a thinner (more of a juice like) carrot juice then I would recommend blending the carrots with coconut water first and straining it through a medium-mesh strainer that is lined with cheesecloth.
Alternatively, you can also use a good quality nut milk bag (affiliate link) to strain the carrot juice.
VARIATIONS:
If you like to make turmeric smoothies on the regular, I highly suggest making a batch of my golden paste recipe. If you decide to do so simply use a teaspoon of it instead of ground turmeric, black pepper, and coconut oil.
What if I wanted to make a juice instead? Can I use the same ingredients? With a few minor adjustments, you can easily make a Carrot Ginger Turmeric juice in no time. If you want to do so, juice the same amount of carrots, oranges, and fresh ginger root. Then mix in a half a teaspoon of ground turmeric spice and a cup of coconut water.
What if it is not sweet enough? If you want to make it sweeter you can do a few things:

Use pineapples instead of oranges: I find that pineapples are one of the sweetest fruits out there. If you decide to do so, use a cup of fresh or frozen pineapples in place of oranges.
PS: Carrot Pineapple Smoothie with turmeric is one of my favorite summer smoothies.
Add in natural sweeteners: Add in a splash of maple syrup or a few pitted dates and blend until smooth.

If you are a lover of Turmeric Smoothies, be sure to try my Turmeric Green Smoothie Recipe as well.
Turmeric Ginger Smoothie
This carrot-based Orange Turmeric Ginger Smoothie recipe is made with oranges, fresh ginger, and ground turmeric. It is vegan and naturally sweetened with oranges and sweet carrots.
Print Recipe
Ingredients
3

medium stalks of carrot

washed peeled and cut into chunks

1 ½

cups

of chopped oranges

1 ½

cups

of coconut water

1-

inch

fresh ginger

grated (about ½ teaspoon)

½

teaspoon

ground turmeric

Pinch

of black pepper

½

teaspoon

coconut oil
Instructions
Place all ingredients in a blender and blend until smooth.

Pour and serve immediately.
Nutrition
Calories:
148
kcal
|
Carbohydrates:
32
g
|
Protein:
4
g
|
Fat:
2
g
|
Saturated Fat:
1
g
|
Sodium:
253
mg
|
Potassium:
987
mg
|
Fiber:
8
g
|
Sugar:
22
g
|
Vitamin A:
15590
IU
|
Vitamin C:
82
mg
|
Calcium:
127
mg
|
Iron:
1
mg
Like this recipe? Consider sharing: