A round-up of my favorite superfood smoothies that I make on the regular. Plus, I am sharing my go-to healthy smoothie ingredients to help you create your own smoothies.
I don't know about you, but the minute 4 o'clock hits I start craving something sweet. I have no idea where it is coming from but after a long day of working, I feel like I am entitled to splurge on a decadent dessert. During the wintertime, I mostly dream about having a big slice of cake or a muffin whereas during the warmer months I find myself wanting a big bowl of ice cream. Sadly, neither one of those are good-for-you-foods that I can splurge every day.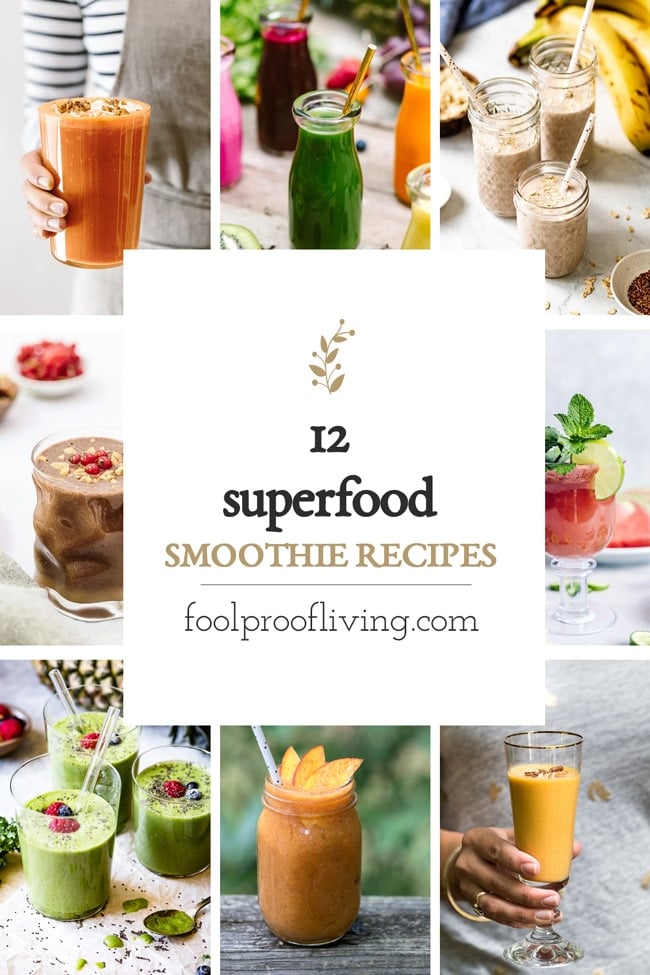 Thankfully, there are healthier ways to help me satiate my cravings when I am in the mood for something sweet. While my wintertime favorite is a big slice of my Almond Flour Chocolate Cake, during the summer months my favorite treat is a healthy homemade smoothie made with superfoods.
Over the last few years I shared so many of my favorite healthy superfood shakes that I thought it would be nice to put them all in a post and share with you.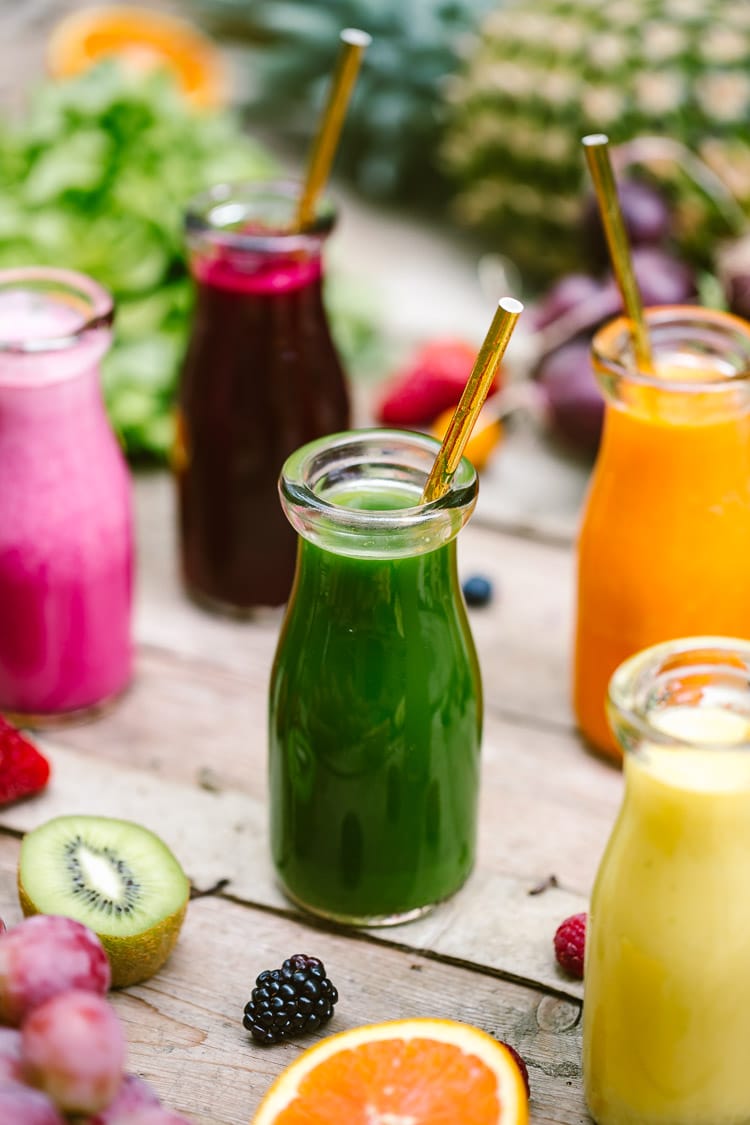 Below are my favorite superfood smoothie recipes that I make over and over again. They are all vegan and naturally sweetened. With the list, I am also sharing my favorite superfoods to use in your smoothies you as you make your own.
Learn about the benefits of smoothies and why they are an awesome way to boost your immune system, satisfy your sweet cravings, increase your fiber intake, and even regulate your bowel movements.
List Of Best Superfoods For Smoothies (Superfoods To Add to Smoothies)
Vegetables
I find that vegetables that are sweet in nature are also great superfoods to use in smoothies. I also think that best vegetables for smoothies are usually what is currently in season.
Some of my favorites are cucumbers, carrots, beets, and pumpkin especially during the end of summer. I usually buy them from the farmer's market and make it a point to incorporate into our breakfasts to consume more of them outside of salads and dinner dishes.
Below are a few great superfood breakfast smoothies you can try. They are all vegan and naturally sweetened.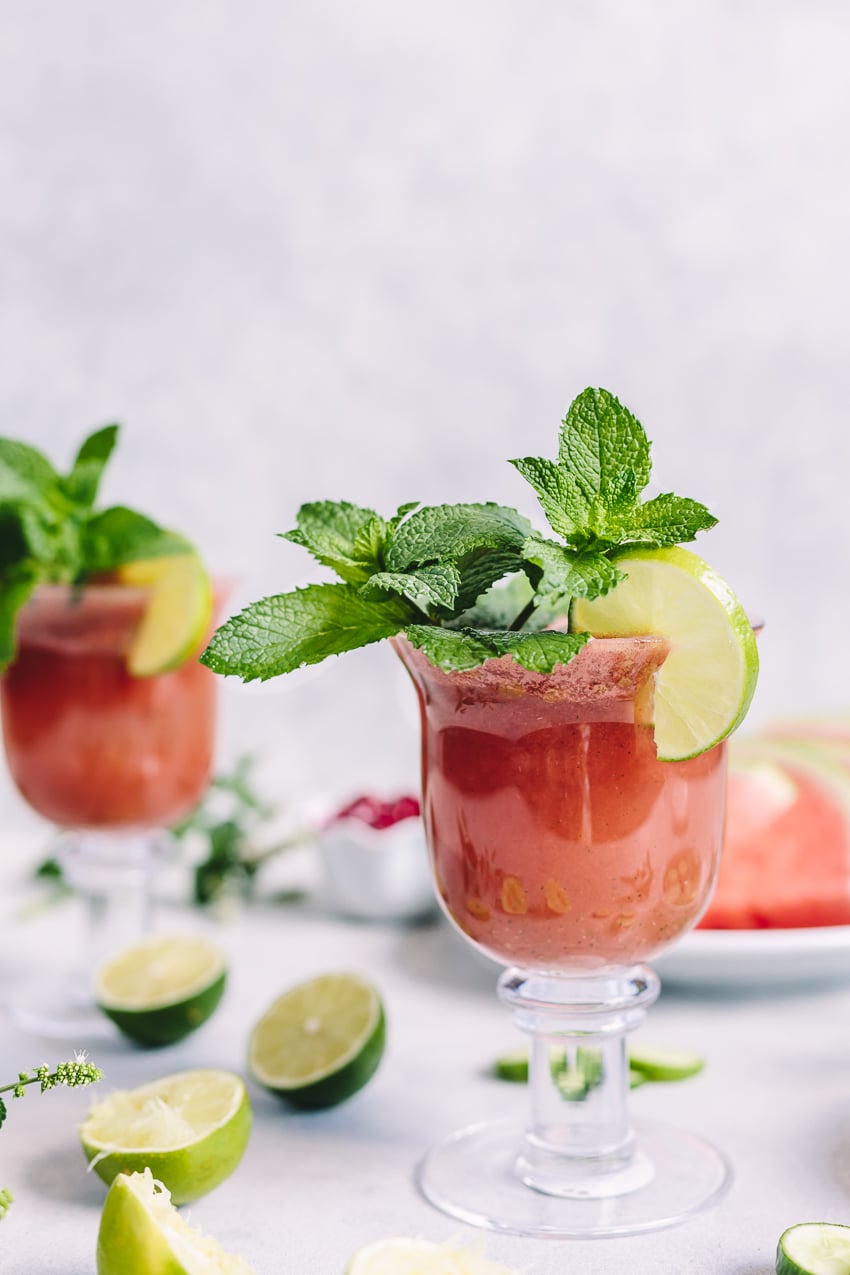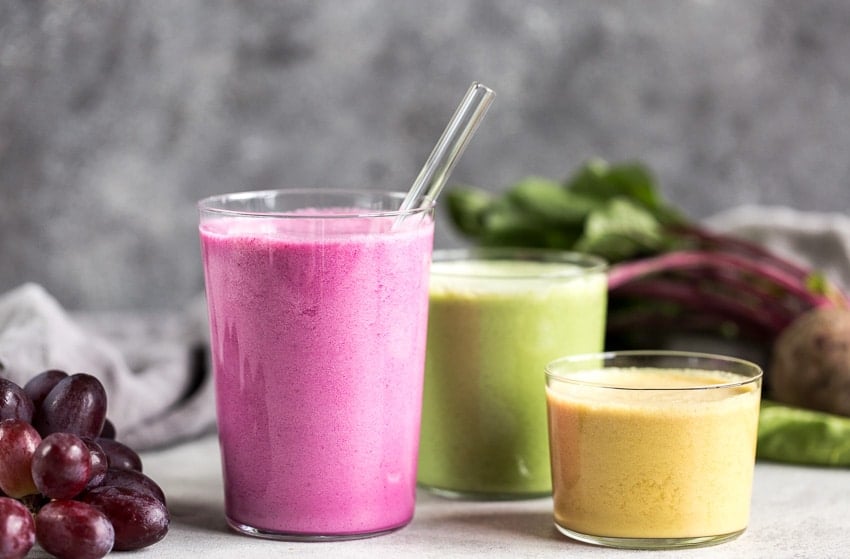 Green Leafy Vegetables
Unless you have been living under a rock, you probably know that one of the best things you can do for yourself is to incorporate green leafy vegetables and like kale and spinach (aka smoothie superfoods) to your diet. While most of the time I serve salads with lunch and dinner, I find that adding a cup of leafy vegetables into a smoothie is such an easy way to increase your intake of daily greens.
Additionally, if you have picky eaters in your family I find that it is easy to disguise the greens, especially when you blend them with other superfoods. Here is one of my favorite superfood green smoothie recipes to incorporate green leafy vegetables into your diet: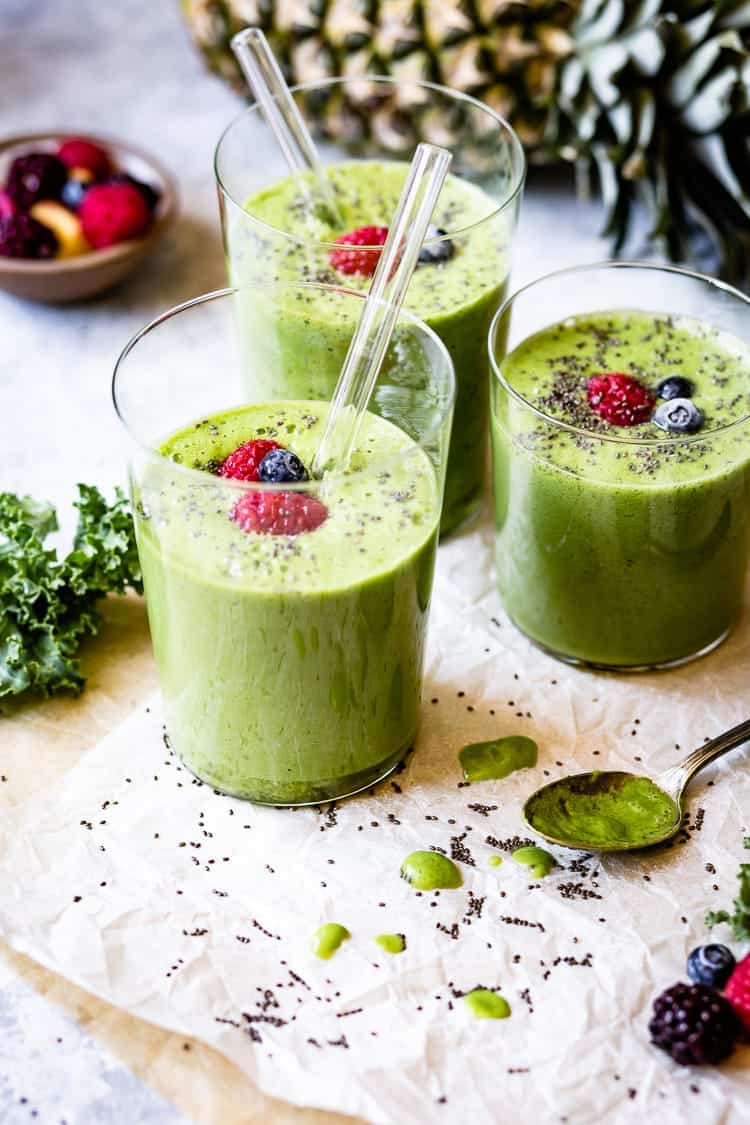 Cocoa Powder
I will be the first one to admit, I am always game when it comes to chocolate and chocolatey desserts. Thankfully, when you mix cocoa powder with fruits it is sweet enough to make it taste super rich and chocolatey. Additionally, unsweetened cocoa powder is extremely high in antioxidants and is a good source of dietary fiber. You can read more about the benefits of cocoa powder here.
Below is my favorite chocolate superfood smoothie recipe. It is made with blending roasted hazelnuts with cocoa powder, dates, and pear. If you are a lover of Nutella like I am, you owe it to yourself to give this recipe a try. I promise it won't disappoint.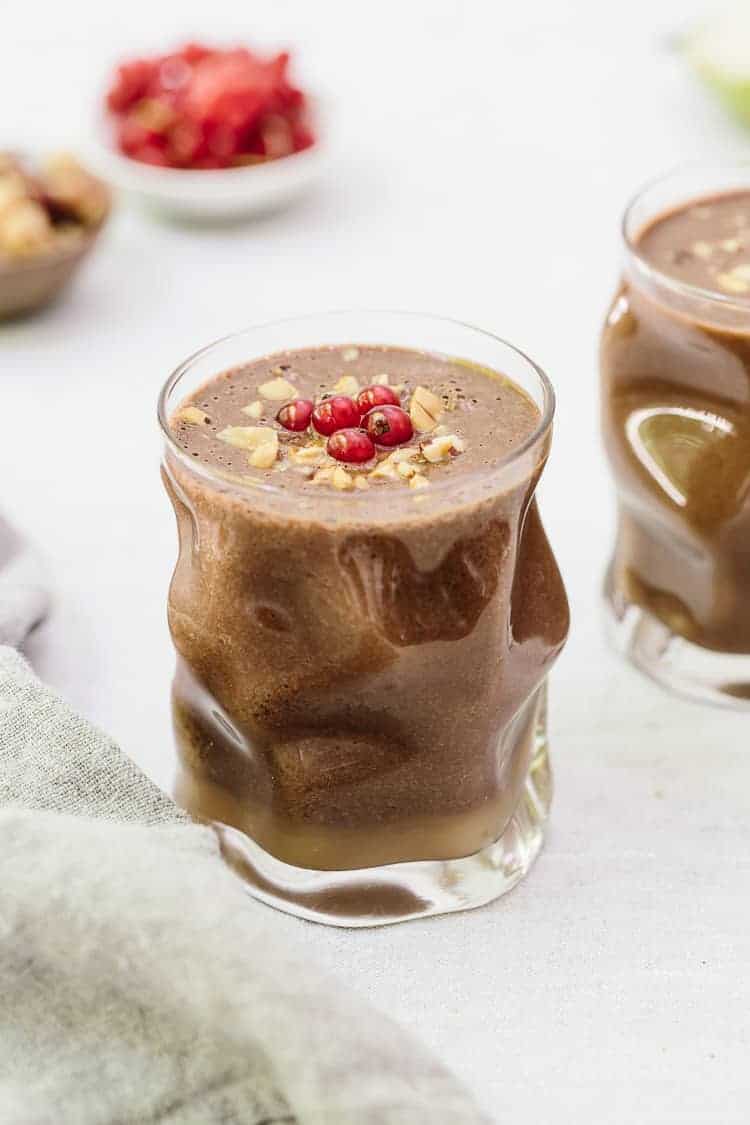 Fresh and Seasonal Fruits
If you think about it fruits are a given for smoothies. They are the "sweetening agent" when it comes to superfood smoothies. I am a big fan of turning well-known and liked recipes like banana split and pina colada into healthy homemade smoothie recipes.
Below are my go-to dessert-like vegan superfood smoothies that I usually make to treat myself for breakfast: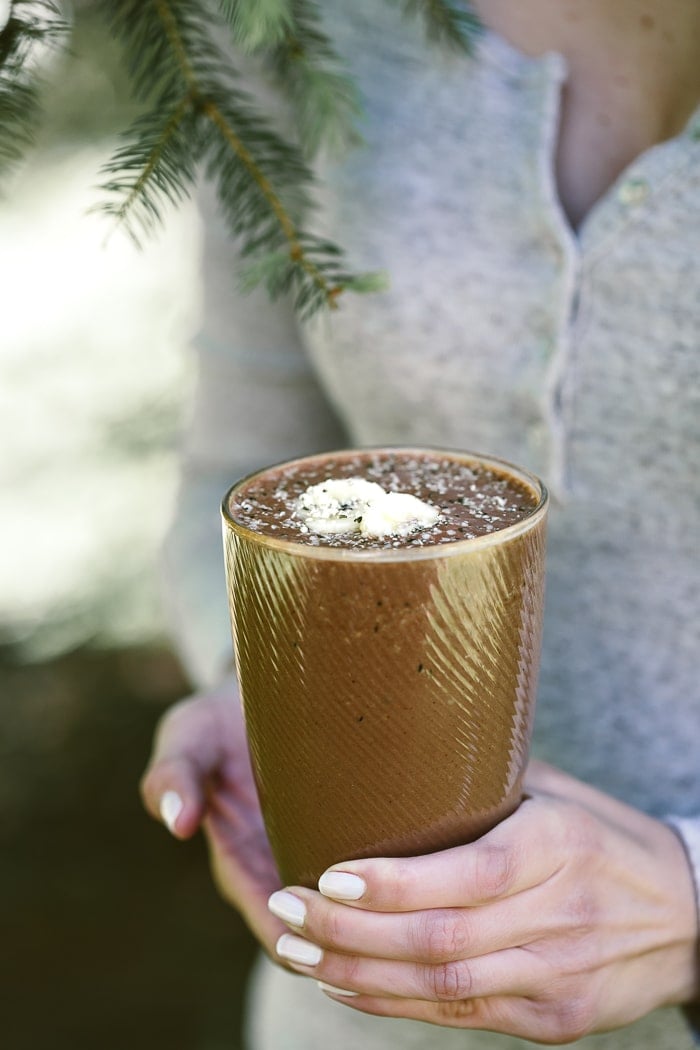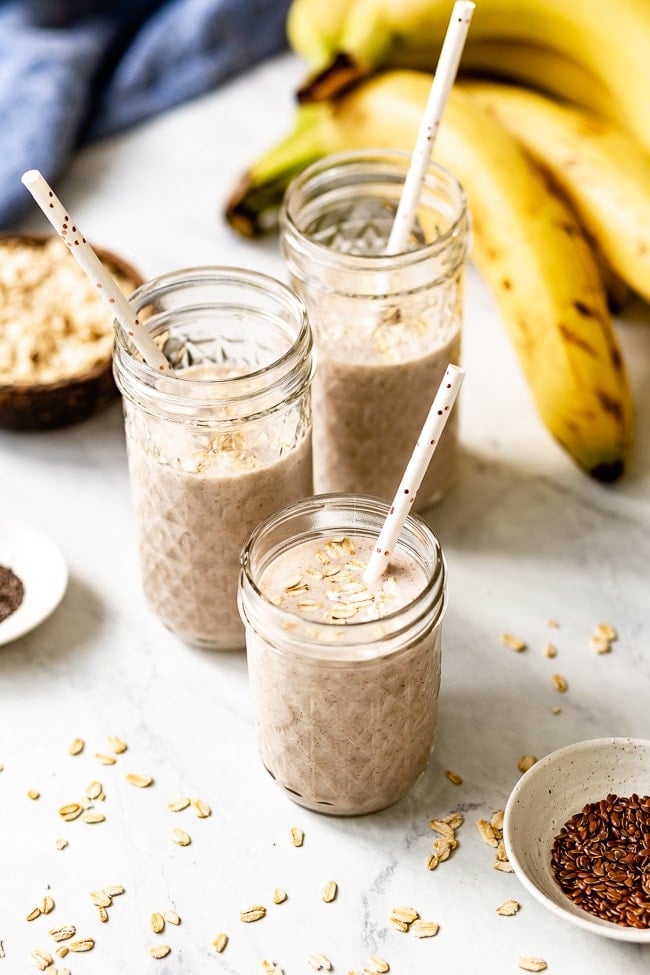 Spices
Spices like cinnamon and cardamom are also considered as healthy smoothie additions. Not to mention, in my opinion, they immediately upgrade the smoothie and turn it into a dessert.
If you don't mind the spiciness, adding a pinch of cayenne pepper is a very good idea as cayenne peppers are known to reduce pain and help boost metabolism. Last but not least, fresh ginger and turmeric are known for their powerful anti-inflammatory and antiseptic properties.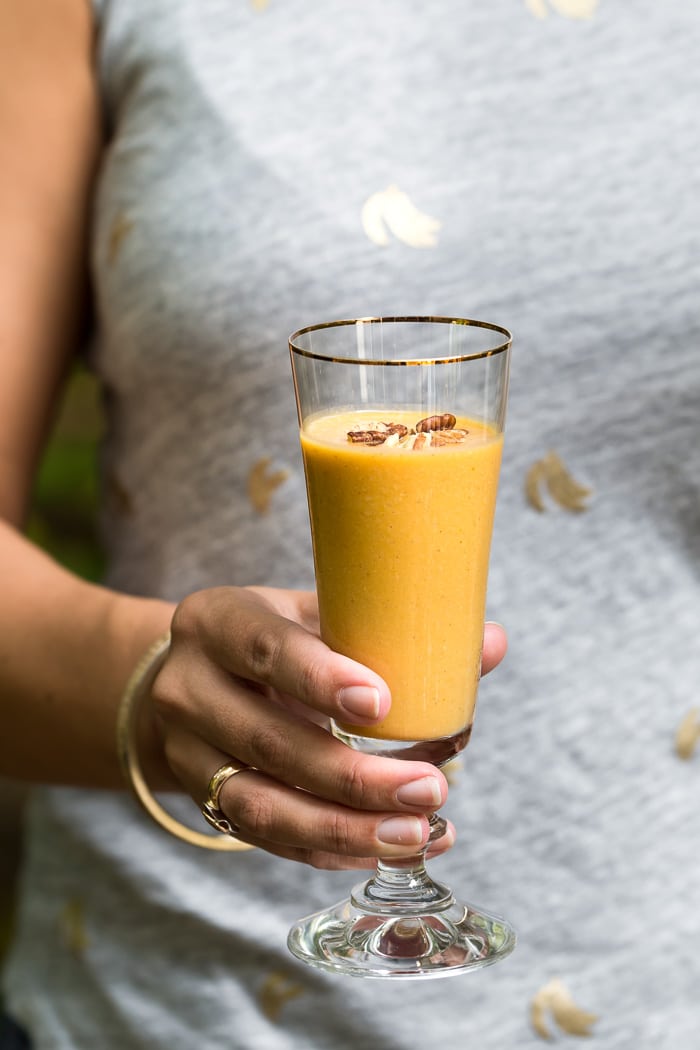 Nuts, Nut Butters and Nut Milks
Unsalted and raw nuts like almonds, walnuts, cashews, and brazil nuts are an easy way to add healthy protein and Omega-3 fatty acids in your smoothies. They are also considered as healthy fats (both monounsaturated and polyunsaturated fats).
I find that using nut milk in smoothies is the easiest way to make them vegan. I usually go for unsweetened almond milk, but any of your favorite plant-based milk is ideal for making delicious healthy smoothies. All of the smoothies you see above are made with plant-based milk.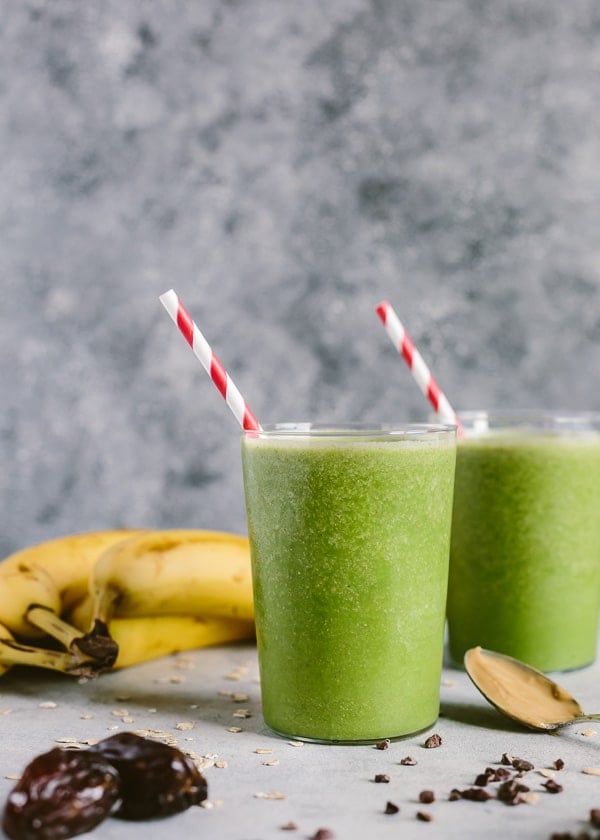 Other Superfoods
You can't make a list of healthy things to put in smoothies and not mention chia, hemp, and flax seeds.
Chia seeds are one of the healthiest superfoods that contain Omega-3 fatty acids, carbohydrates, protein, fiber, antioxidants, and calcium. Similar to chia seeds, hemp seeds are also rich in healthy fats, protein, and soluble fiber.
The best part is that they don't have much of a taste so by adding just a tablespoon you get all those benefits without even tasting them.
A FEW TIPS FOR THE BEST SUPERFOOD SMOOTHIES
Frozen Fruits To The Rescue: During the summer months when berries are at their peak, I buy a bunch and freeze them in freezer bags to use throughout the year.
Green tea for extra goodness: You can play with the liquid you use and use a strongly brewed green tea as "the liquid" for making Weight Loss Smoothies.
Meal prep-style smoothies made with superfoods: Once a week (mostly on Sundays), I individually prep my superfood smoothie packs by distributing ingredients in reusable storage bags (affiliate link) to save on time during the weekdays.
A Favorite Superfood Smoothie Recipe
Immune Boosting Multi-Colored Beet Smoothies
This beet smoothie is one of my all-time superfood smoothies. Made with coconut milk, it is delicious, healthy and satisfying.
Print Recipe
Ingredients
2

small or 1 big beet – red

yellow, or both – peeled and cut into cubes

1

(14 oz.) can of whole coconut milk

1

frozen banana

in small pieces

12-14

red seedless grapes

1

tablespoon

lime juice

freshly squeezed

1

cup

baby spinach or kale

rinsed (optional)

1

cup

ice
Instructions
Place beets, coconut milk, banana, grapes, lime juice, spinach (or kale) and ice in a blender. Blend until smooth. Divide it in between 2 glasses and serve immediately.
Nutrition
Serving:
2
Glasses
|
Calories:
587
kcal
|
Carbohydrates:
41
g
|
Protein:
8
g
|
Fat:
48
g
|
Saturated Fat:
42
g
|
Sodium:
114
mg
|
Potassium:
1226
mg
|
Fiber:
9
g
|
Sugar:
24
g
|
Vitamin A:
3411
IU
|
Vitamin C:
58
mg
|
Calcium:
95
mg
|
Iron:
5
mg
Like this recipe? Consider sharing: